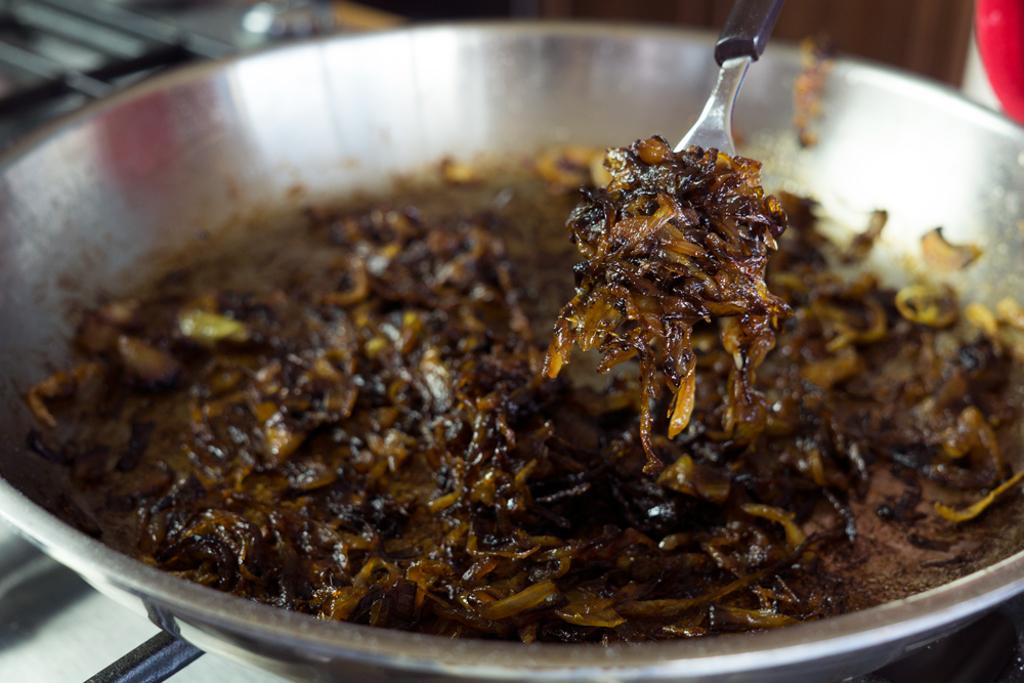 The keys to making perfect caramelized onions are to cook them at the right temperature and, most importantly, be patience. If you try to rush the job, you may scorch the onions.
Directions
Trim the tip and root from the onions and remove the skin. Thinly slice the onions from root to stem at a consistent thickness for even cooking.
Melt 2 to 3 tablespoons of butter in a large fry pan or skillet over medium heat. Add the onions and stir to coat.
There's no rushing the process. Plan for about 1 hour cooking time for the sugars trapped inside the onions to caramelize. Check them every 5 to 10 minutes, stirring and scrapping up any "fond" (sugars) that forms on the bottom of the pan. Adjust the heat as necessary so the onions don't burn
Around 10 minutes: Onions will start to soften and become translucent in spots. They will release a lot of liquid.
Around 20 minutes: Onions will be very soft and start to break down. Some will start to caramelize and there may be some fond starting to form in the pan. They will start to smell caramelized. Adjust the heat if necessary so they don't start to burn.
Around 30 minutes: Onions should be blond in color and start to become "jammy." There should be more fond which you can scrape up.
Around 40 minutes: Onions should be golden and smell very caramelized. Taste them. If you like them, you can deglaze the pan now or continue cooking.
Around 50 minutes: Continued cooking will result in darker, richer caramelization. Watch closely at this point so the onions don't burn.
Deglaze the pan by pouring about 1/4 cup of water (you can also use red or white wine, vegetable or chicken stock, or balsamic vinegar) in the pan. As it bubbles, scrape up the fond and stir it into the onions. Add additional liquid as necessary to scrape up all the fond. Salt the onions to taste. They should have a sweet, buttery flavor.
Cooling and storing: If using right away, just let them cool in the pan and add them to your recipe. If not using immediately, cool in the pan, then transfer them to a storage container. They can be refrigerated for about a week or frozen for up to three months.
Recommended Tools