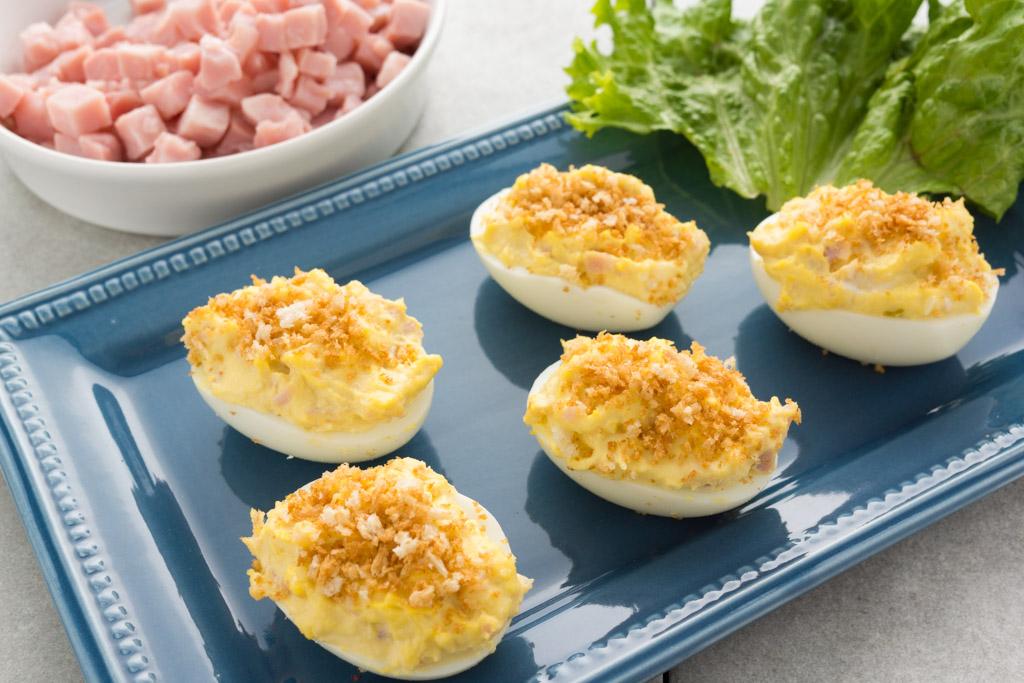 Ingredients
12 large, hard-cooked eggs
1/2 cup mayonnaise
1 1/2 teaspoons white wine vinegar
1 1/2 teaspoons Dijon mustard
1/8 teaspoon kosher salt
Dash of hot sauce (optional)
1/2 cup finely chopped cooked ham
1/4 cup finely grated Swiss cheese
Toasted breadcrumbs
Directions
Place eggs in a single layer in a sauce pan and add enough water to cover the eggs with 2 inches of water. Bring to a boil. Reduce heat to low and cook covered for 1 minute.
Remove from heat and let sit, covered for 14 minutes. Drain and rinse under cold water. To easily crack shells for peeling, return 6 of the eggs to the sauce pan, cover and shake the pan vigorously several times. This will crack the shells and make them easy to peel. Repeat with the rest of the eggs.
Dampen the 4" Paring Knife with warm water and cut each egg in half lengthwise. The damp knife will keep the yolk from sticking to the blade.
Spoon the yolks into a bowl and place the whites on a serving platter. Mash the yolks with a fork. Stir in the mayonnaise, vinegar, mustard and salt. Add hot sauce, if desired. Stir in the ham and cheese.
To toast the breadcrumbs, melt about a tablespoon of butter in a small skillet. Add about 1/2 cup Panko bread crumbs. Stir the butter and crumbs together and sauté until lightly toasted.
Spoon or pipe the mixture into the egg whites. Top with toasted breadcrumbs.
Recommended Tools