Halloween Candy Bark
Featured 536 days ago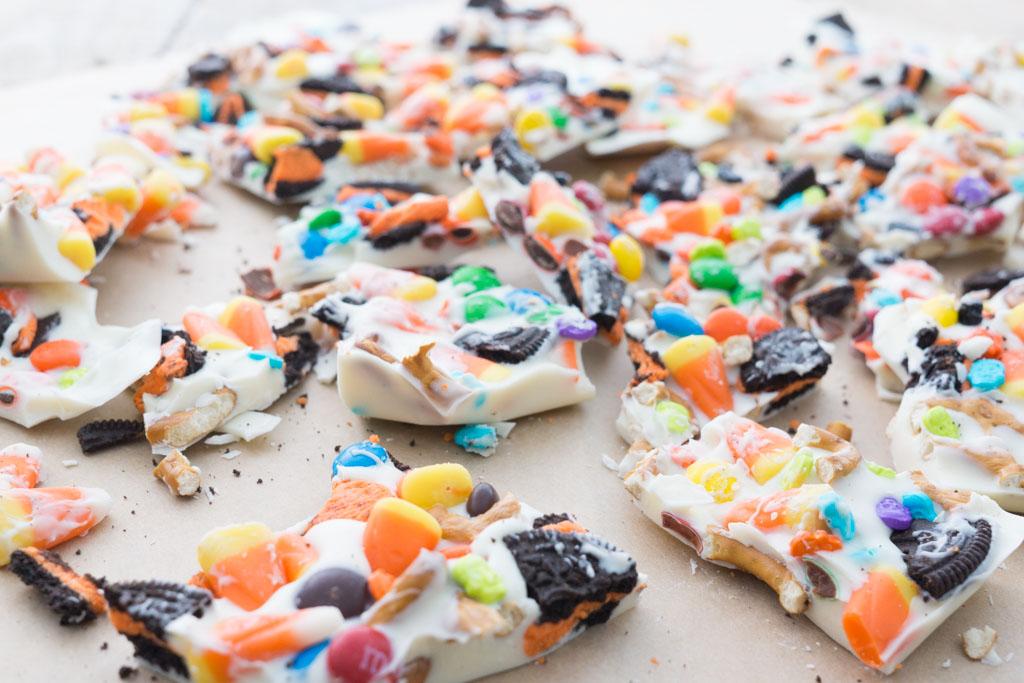 Halloween is the holiday for candy. If you're hosting a get together this year, here's a treat that will trick your friends into thinking it took hours to make. But really, there isn't anything quite as simple as making this Halloween Candy Bark.
Melt. Spread. Sprinkle. Chill. That's all it takes. Make it for a holiday party or to use up leftover Halloween candy.
For this version we used candy corn, Halloween-themed candy sprinkles, and crumbled up cream-filled sandwich cookies, pretzels and M&Ms. Those fixin's are simply sprinkled onto a layer of melted white chocolate and refrigerated. Done.
Cutco's Spatula Spreader is the perfect tool for making candy bark. It's wide, flexible blade spreads the melted chocolate smoothly and evenly on the baking sheet. It is an easy job for kids to help with.
The real fun begins though when the bark is set. The kids will have fun breaking it into pieces, but hopefully won't be eating as they go.
What's great about candy bark, is you can add whatever you want. At Christmas time, add crushed candy canes, cookies, toffee or nuts. Also try versions using fresh fruit, granola or coconut. For a healthy twist, take a look at our recipe for Frozen Yogurt Bark, replacing the melted chocolate with Greek yogurt.
Ingredients
1 pound white chocolate melts
10-12 orange filled chocolate sandwich cookies, broken into chunks
1 cup pretzel sticks, broken into pieces
1 1/2 cups candy corn
1/2 cup M & M pieces
Halloween sprinkles
Directions
Melt white chocolate melts according to package directions.
Line a large baking sheet with wax paper or parchment paper.
Spread melted chocolate evenly onto prepared baking sheet. Quickly sprinkle on the rest of the ingredients, gently pressing them into the melted chocolate.
Place sheet in refrigerator until set. Break into pieces.
Recommended Tools