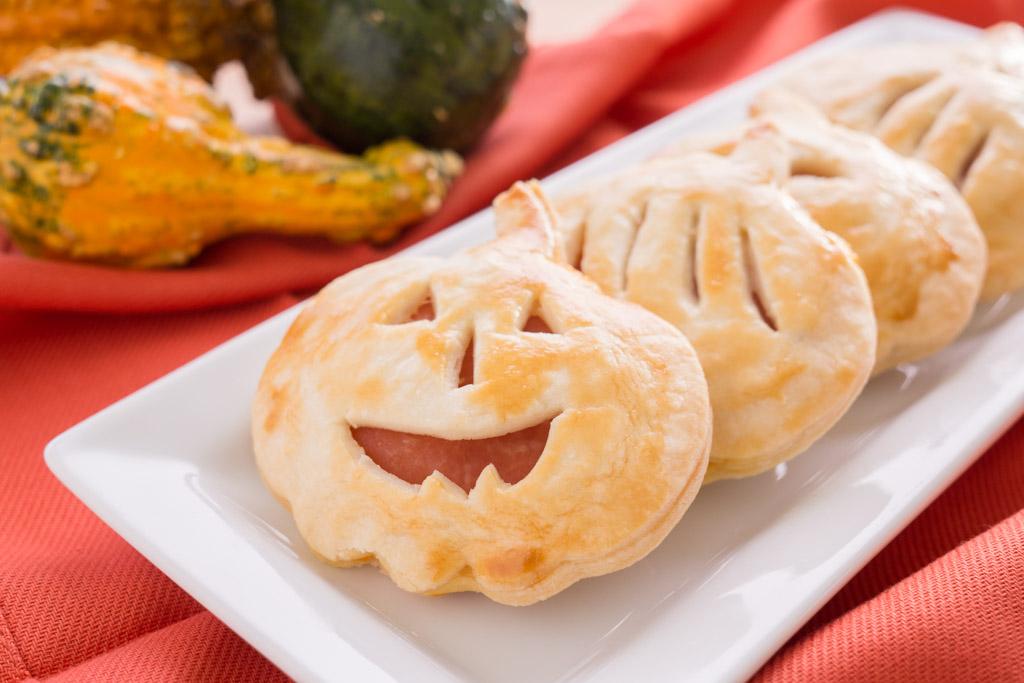 Halloween is still a few weeks away and everyone is already deciding what their costume will be and what they'll serve at the party.
Whether the party is for adults or children these fun little appetizer sandwiches are sure to please all your guests. They are also great to serve little ones just before they head out for a night of trick-or-treating.
For some fun, gather the ingredients and have the kids show off their artistic skills by cutting faces or designs into the dough and assembling the sandwiches for baking. Always be sure to supervise children when they're using sharp knives.
You could even give a small prize or treat to the person whose sandwiches are the most original, funniest looking or scariest. Just have fun with it.
To make the designs, place the cut-out dough on a cutting board and use the tip of a sharp Bird's Beak Paring Knife or 2-3/4" Paring Knife for cutting the designs in the dough.
Ingredients
1 box refrigerated pie crusts
8 ounces thinly sliced Black Forest ham
8 ounces thinly sliced Cheddar cheese
1 large egg, beaten
3-inch pumpkin-shaped cookie cutter
2-inch round cookie or biscuit cutter
Directions
Preheat oven to 425°F. Line a rimmed baking pan with non-stick foil.
Unroll pie crusts. Using the pumpkin-shaped cookie cutter, cut 24 pumpkin shapes. Using the tip of a sharp knife, cut out the eyes, nose and mouth from 12 of the cut-outs.
Using the 2-inch round cutter, cut 24 rounds of ham and 24 rounds of sliced Cheddar.
Place 2 slices of Cheddar on each of the solid pumpkins; top with 2 slices of ham. Brush beaten egg around the edges and top with pumpkins with cut-out faces. Press edges together to seal.
Place on prepared pan. Brush tops with egg wash and bake for 12 to 15 minutes or until a light golden color. Cool on wire rack for 5 minutes before serving.
Serving tip: Have spicy mustard, seasoned mayo or other condiments on hand for dipping.
Recommended Tools