Ground Venison Chili With Tomatoes, Adobo Sauce and Spices
577 days ago
Skip to recipe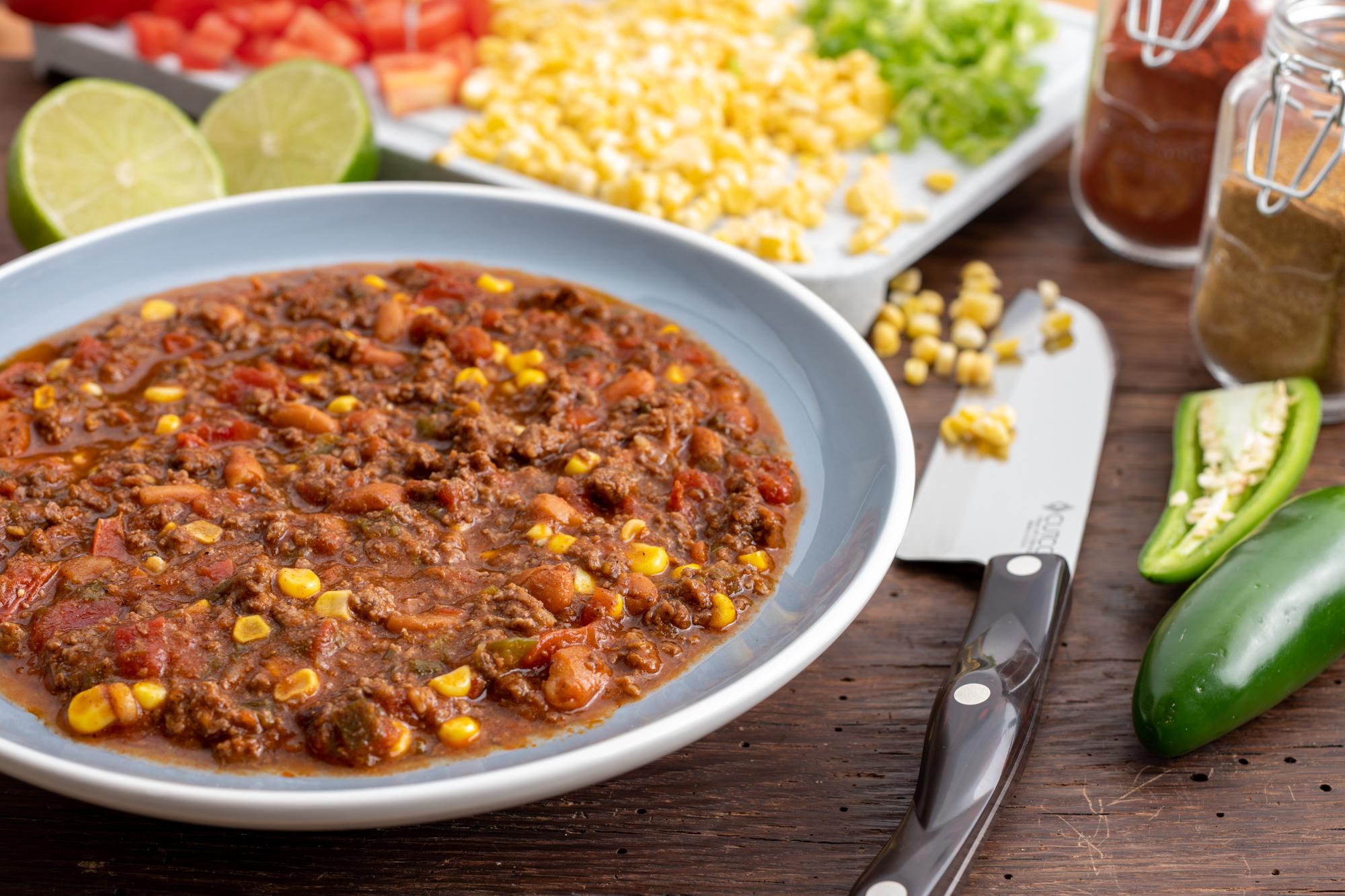 It's that time of year in Western New York when venison (deer meat) becomes more plentiful, and there are a whole range of options on how to prepare it. I basically treat it as beef and substitute venison when a recipe calls for ground or stewed beef.
I've never experienced the gamey taste that some people say venison has although I've also heard it referred to as a more earthy taste. Understandable when you consider that deer feed on leaves, fruits and other foliage. I find it to be a great meat to work with as it's very lean with little fat – typically 50 percent less fat than beef and it's very high in protein. It's also why I love to make venison chili because I don't have any of the beef fat floating to the top.
Over the years, I've come up with my own venison chili recipe. In talking with my colleague, Brett, he had done the same thing so we put our heads together and came up with this Ground Venison Chili with Tomatoes, Adobo Sauce and Spices. We combined the best components of each of our recipes and honestly, we weren't sure whether it would work or not. Since it's appearing on our blog, I can tell you it definitely worked.
This chili has a really full flavor and we opted to use canned tomatoes as well as fresh plum tomatoes. For me, the key ingredients were the dried spices of ancho pepper and chipotle pepper as well as the cinnamon, brown sugar and adobo sauce. Because the venison was so lean, we didn't have to skim any fat and everything came together perfectly for a really thick and meaty chili (we used three pounds of the ground meat).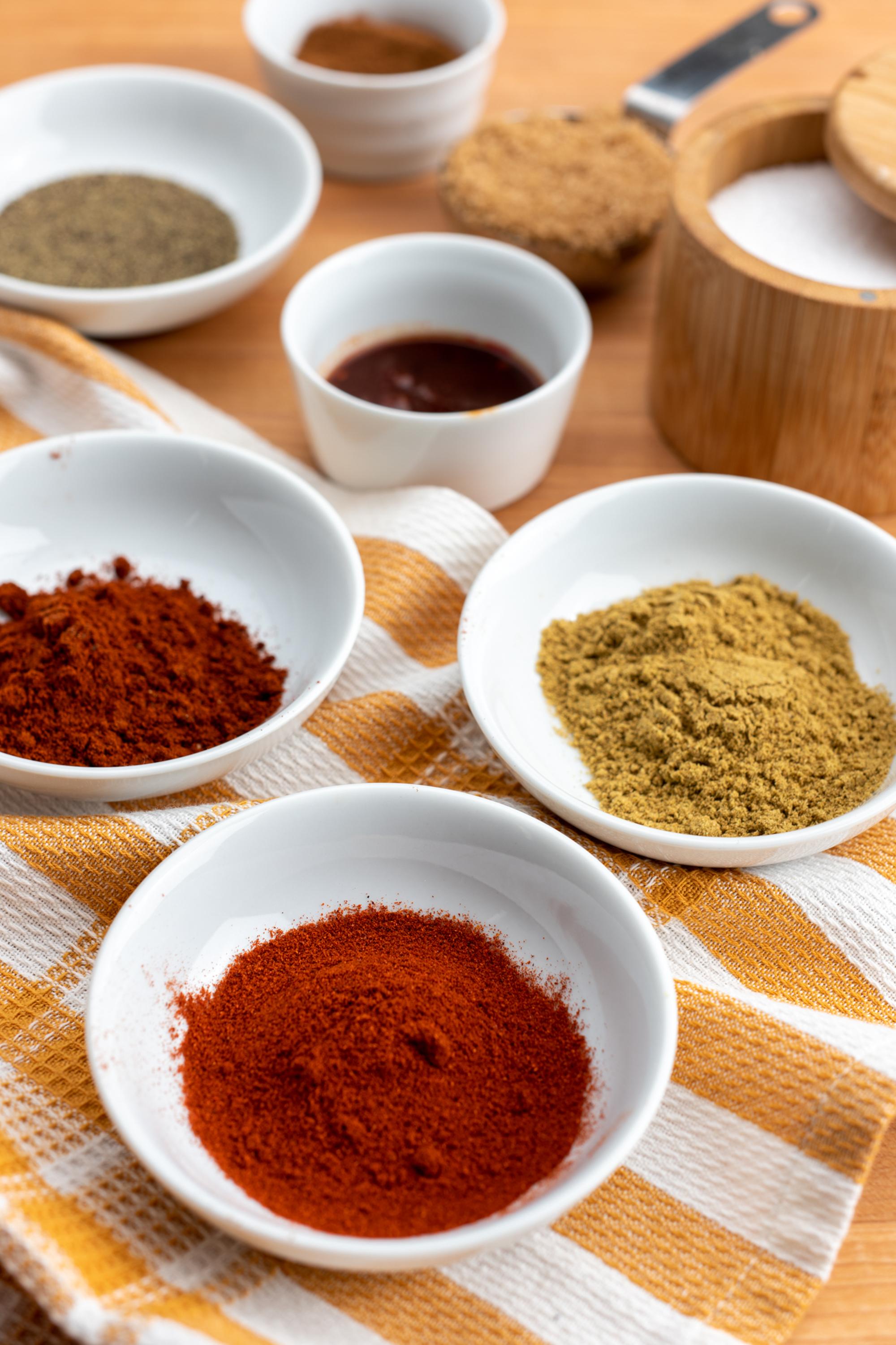 We started by browning the venison in our Dutch Oven Bottom with some olive oil and butter. You want to ensure you break the meat up into crumbles, which is easy since it's lean.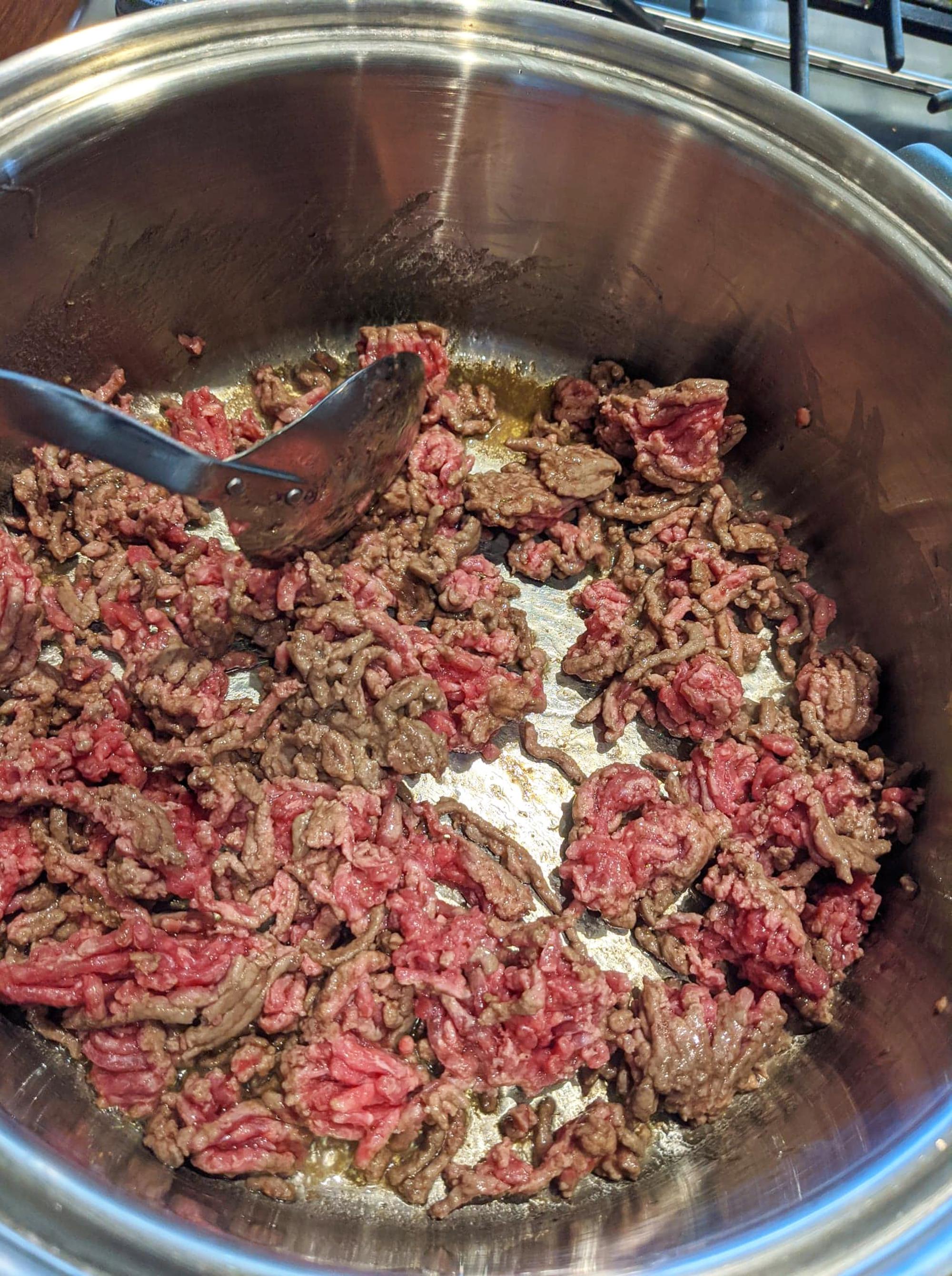 In this recipe, we choose to go with green onions or scallions and used both the white (more onion flavor) and green (milder flavor) part of the vegetable. Make sure you rinse the onions before chopping to remove any grit from the stems and bulb. To slice the onions, we used the 5" Petite Santoku to trim off the roots at the end of the white bulb and the tops of the green stems. Then we simply sliced them evenly.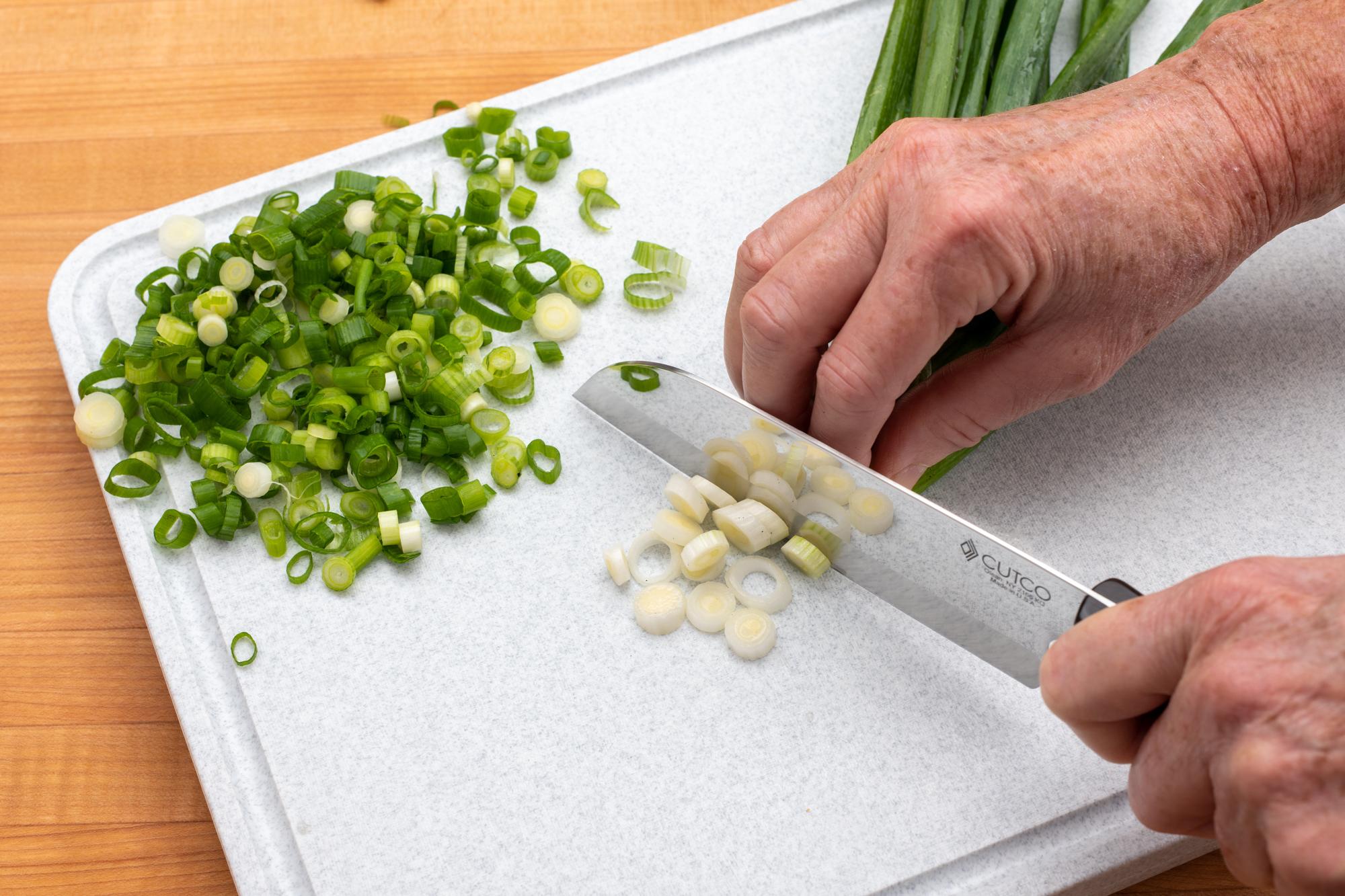 When you're ready to add the spices, don't hold back or omit anything. These spices really complement each other with the heat of the pepper spices, the warmth of the cinnamon, the sweetness of the brown sugar and the additional complex heat brought by the adobo sauce. If you want a bit more heat, I would recommend adding more of the adobo sauce.
While this venison chili recipe does use canned tomatoes, we also added in some plum tomatoes for freshness. We used the Trimmer to easily dice the tomatoes and added them into the chili along with the canned tomatoes, broth, corn and tomato sauce.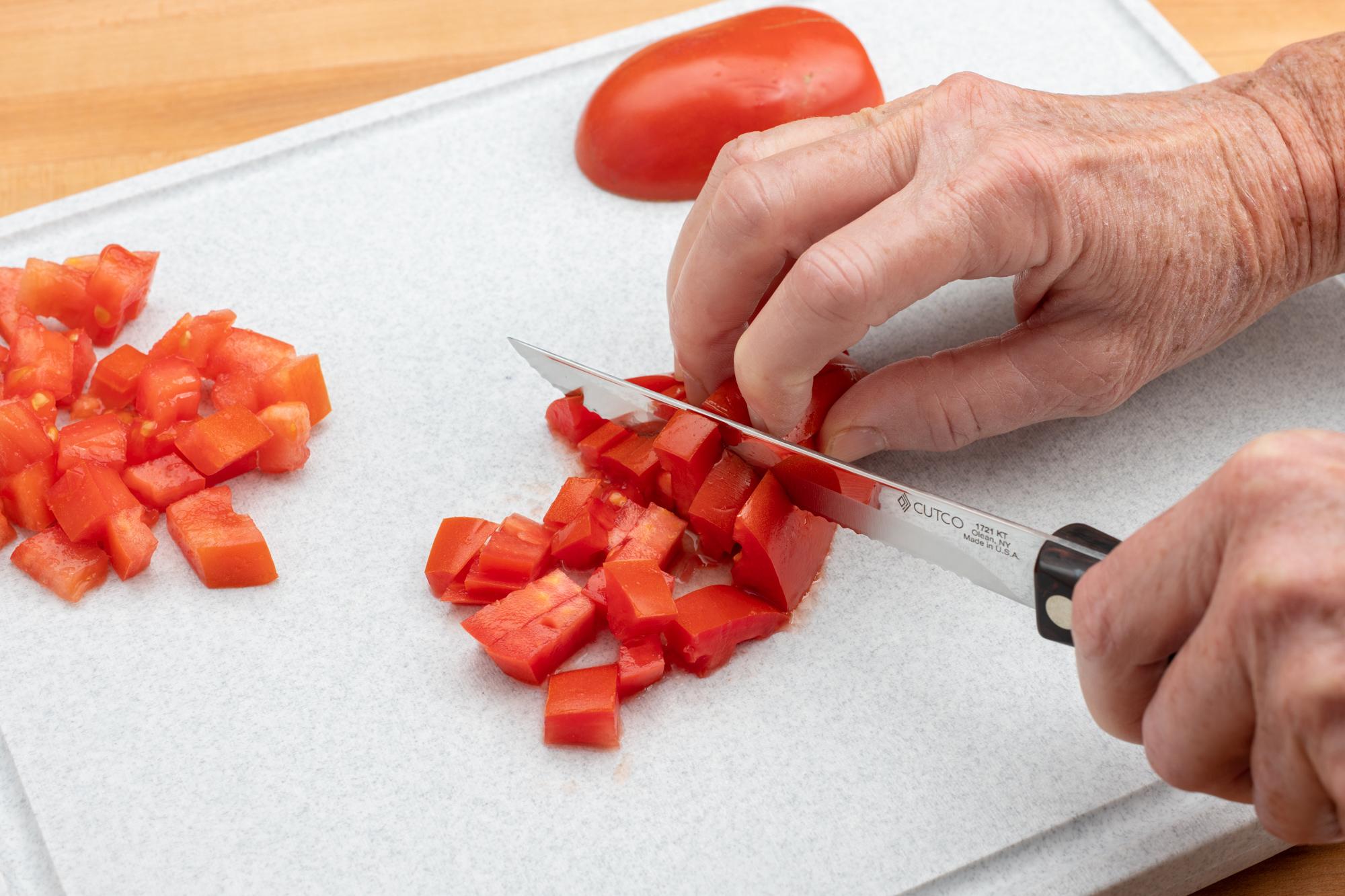 You really need to let the chili simmer for at least 60 minutes to allow all the ingredients to mix together. We do recommend adding the pinto beans last as you don't want to overcook these and end up with mushy beans. Once everything was cooked, we checked to see if it needed some extra salt and pepper and then we were ready to serve.
You can serve this ground venison chili with tomatoes, Adobo sauce and spices over rice, quinoa or pasta but because we used three pounds of venison, this was a pretty hearty dish that didn't need the extras. We also recommend topping it with some sour cream or shredded cheese if you like. For our servings, we kept it simple and it was oh so delicious.
There was such good flavor and the venison really was the star. While it had some kick, it was the type of heat that came after you ate a bite – a slow delicious heat that built up with each additional spoonful. Brett and I both agreed that this may become our go-to recipe for venison chili. We can also tell you it's even better the next day. Give it a try – you won't be disappointed.
Ingredients
2 tablespoons olive oil
1 tablespoon unsalted butter
2 - 4 pounds ground venison (adjust to how meaty you want your chili to be)
3 bunches green onions, thinly sliced
2 cloves garlic, minced
1 large jalapeño, inner flesh and seeds removed and diced
1 tablespoon ground black pepper
1 tablespoon ancho pepper
1 tablespoon chipolte pepper
2 tablespoons cumin
2 teaspoons salt
1 tablespoon cinnamon
1 tablespoon sauce from chipotle peppers in adobo sauce
1/4 cup brown sugar
24 ounces low-sodium chicken broth
1 15-ounce can tomato sauce
2 14.5-ounce cans petite diced tomatoes
6 plum tomatoes, diced
2 ears of corn, kernels cut off the cob
2 14-ounce cans pinto beans drained
Juice of one lime
Serve over rice, quinoa or pasta
Optional: sour cream and shredded cheddar cheese
Directions
Heat the oil and butter in a large pot on medium to medium-low setting.
Add the venison and cook until browned, stirring to break up the pieces.
Add the green onions, garlic and jalapeno and cook until tender, approximately five minutes.
Stir in the black pepper, ancho pepper, chipolte pepper, cumin, salt, pepper, cinnamon, adobo sauce and brown sugar. Stir well and cook for about 10 minutes.
Add the broth, tomato sauce, diced tomatoes, plum tomatoes and corn. Simmer on medium-low for 60 minutes, stirring often.
Add the Pinto beans and lime juice and continue to simmer for an additional 30 minutes.
Check seasoning, add more salt and pepper if needed.
Serve over rice, quinoa or pasta.
Add sour cream or shredded cheddar cheese if desired and serve.
Recommended Tools