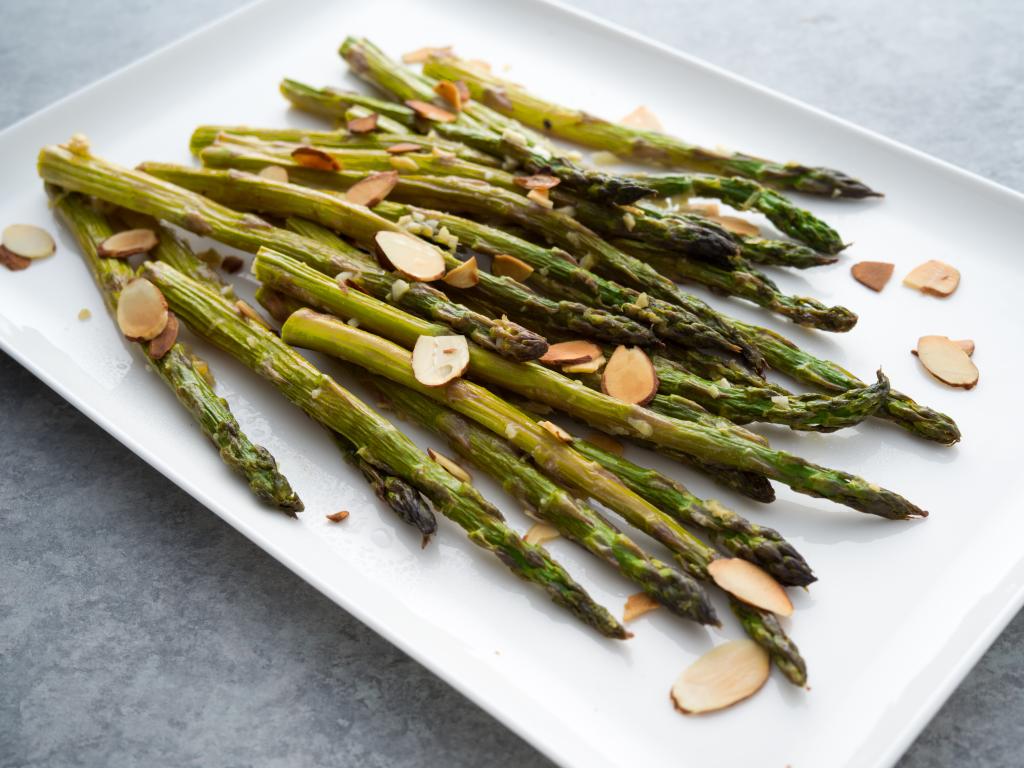 Of all the vegetables that start to fill the farmer's markets come spring, asparagus is one of my favorites. It is also a versatile ingredient in many dishes. You can enjoy it raw in a chopped salad, tossed with pasta or eggs, or pureed in a sauce. Of all the ways to enjoy asparagus, roasting it is my favorite, and this recipe for Ginger Asparagus lets the vegetable shine. The quick marinade in this recipe offers a punch of flavor, while toasted almonds, give a nutty crunch. It makes a great addition to any meal. Fresh ginger is easy to prepare and adds fragrant flavor to the dish. Use a table spoon to peel the ginger. Just run the bowl of the spoon along the skin and it should scrap right off. Then, use a 5" Petite Santoku to slice and mince. The shorter length blade of the Petite Santoku is just the right size to work with fresh ginger.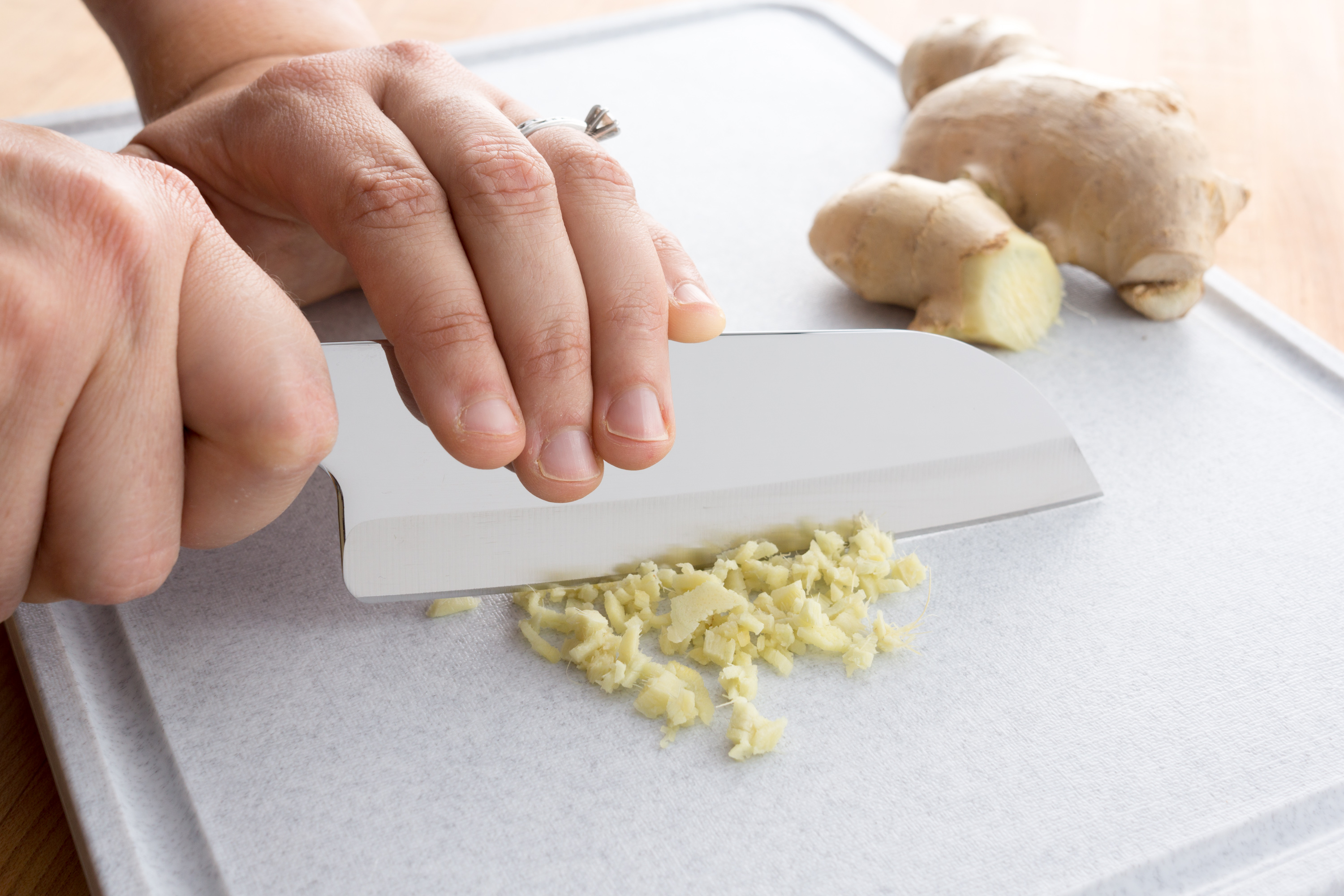 Handy Tip: If you don't have a zester to zest the lemon, learn how to Zest Without a Zester by visiting our step-by-step instructions.
Before roasting, use a sharp utility knife like the Cutco Trimmer to trim off the woody ends of each stalk.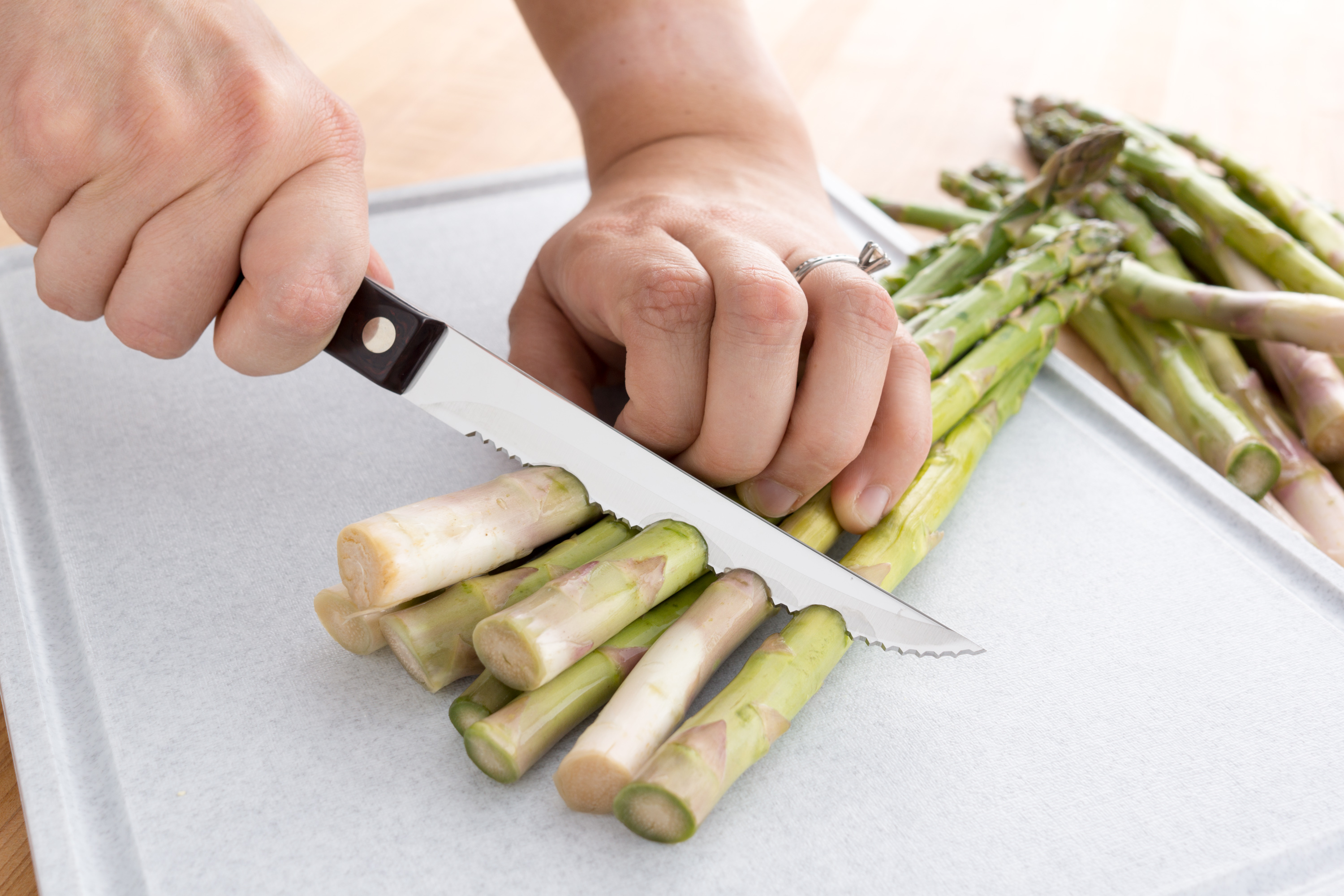 Nutrition info: Per serving : 51 Calories, 3.6g Fat, (0.5g Saturated), 168mg Sodium, 0mg Cholesterol, 4g Carbohydrates, 1.6g Fiber, 1.7g Protein
Ingredients
1 tablespoon olive oil
2 teaspoons red wine vinegar
1-1/2 teaspoons Dijon mustard
2 garlic cloves, minced
1 teaspoon ginger, grated
Zest of one lemon
1/4 teaspoon sea salt
2 bunches of asparagus, ends trimmed
1/3 cup slivered almonds, toasted
Directions
Preheat oven to 400°F. Line two baking sheets with parchment paper.

In a large bowl combine olive oil, red wine vinegar, Dijon mustard, garlic, ginger, lemon zest and sea salt. Add asparagus to bowl and coat with sauce.

Spread asparagus on baking sheets and bake for 7 minutes. After 7 minutes, turn over asparagus and bake for another 8 minutes.

Remove from oven and top with toasted almonds.
Recommended Tools