Fried Zucchini Cakes With Ricotta and Parmesan Cheese
316 days ago
Skip to recipe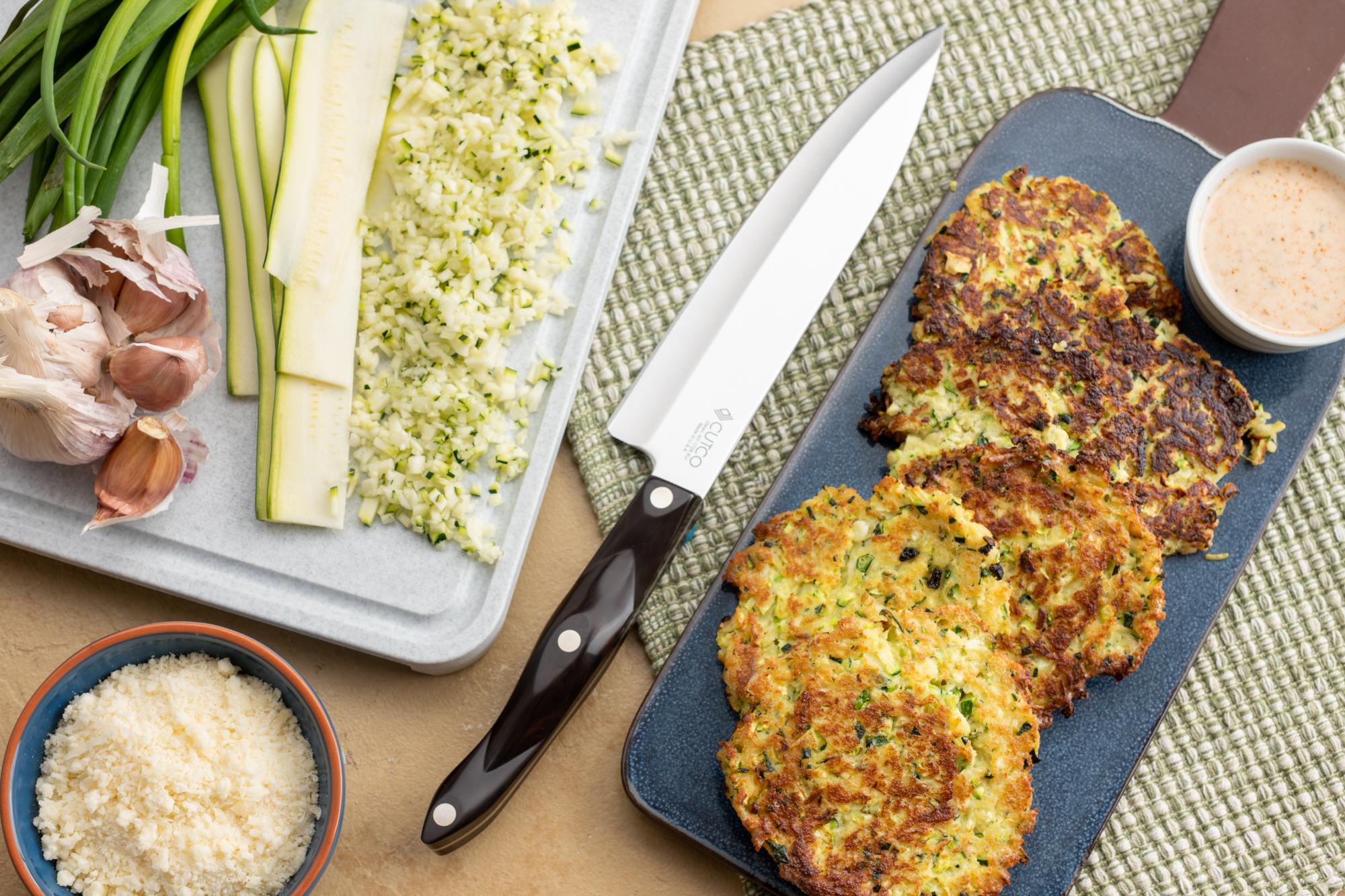 During the summer months here in western New York, I enjoy visiting our farmers markets and exploring the abundance of vegetables available. We gave up a long time ago growing a garden as we simply ended up feeding the deer, rabbits, fox and whatever wildlife needed to munch away at the fresh produce. One vegetable that is always in abundance throughout the summer is zucchini. One of our colleagues has a garden and throughout the summer, she brings in any extra she has for anyone to take home. We've made zucchini bread and zucchini boats. We've spiralized it for pasta, baked it, grilled it – you name it! What we haven't done is fry it, because why not take a perfectly good vegetable and make is slightly unhealthy?!
These Fried Zucchini Cakes with Ricotta and Parmesan Cheese were a nice change from the ordinary and while it did take us a few times to get it right (I'll share with you some tips), the end result was a cake full of flavor that was crunchy on the outside but soft on the inside. The zucchini flavor isn't masked (because there is a lot of the vegetable in these cakes), it's amplified with the addition of the cheese, breadcrumbs and seasoning. Add your favorite dipping sauce and you have a wonderful snack or side dish.
Cutting the zucchini takes the most time in the preparation of this recipe, but we've made it easy with a few simple steps. Once you have cut the ends off of each zucchini, cut them in half lengthwise and then use the 7-5/8" Petite Chef knife and cut each half into thin strips.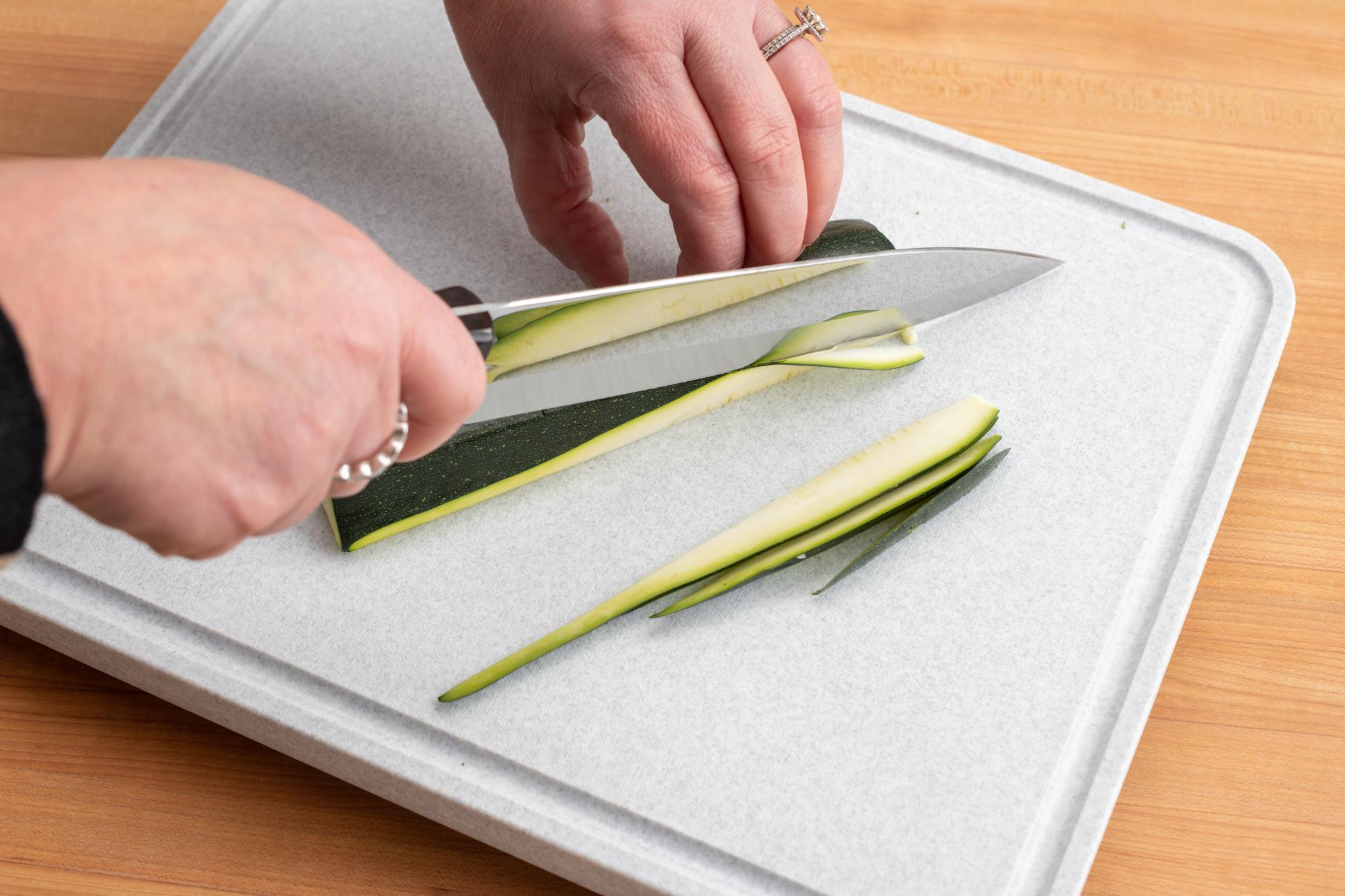 Once you have the thin strips, take a bunch of them and, again using the Petite Chef knife, cut them crosswise so they are in small pieces.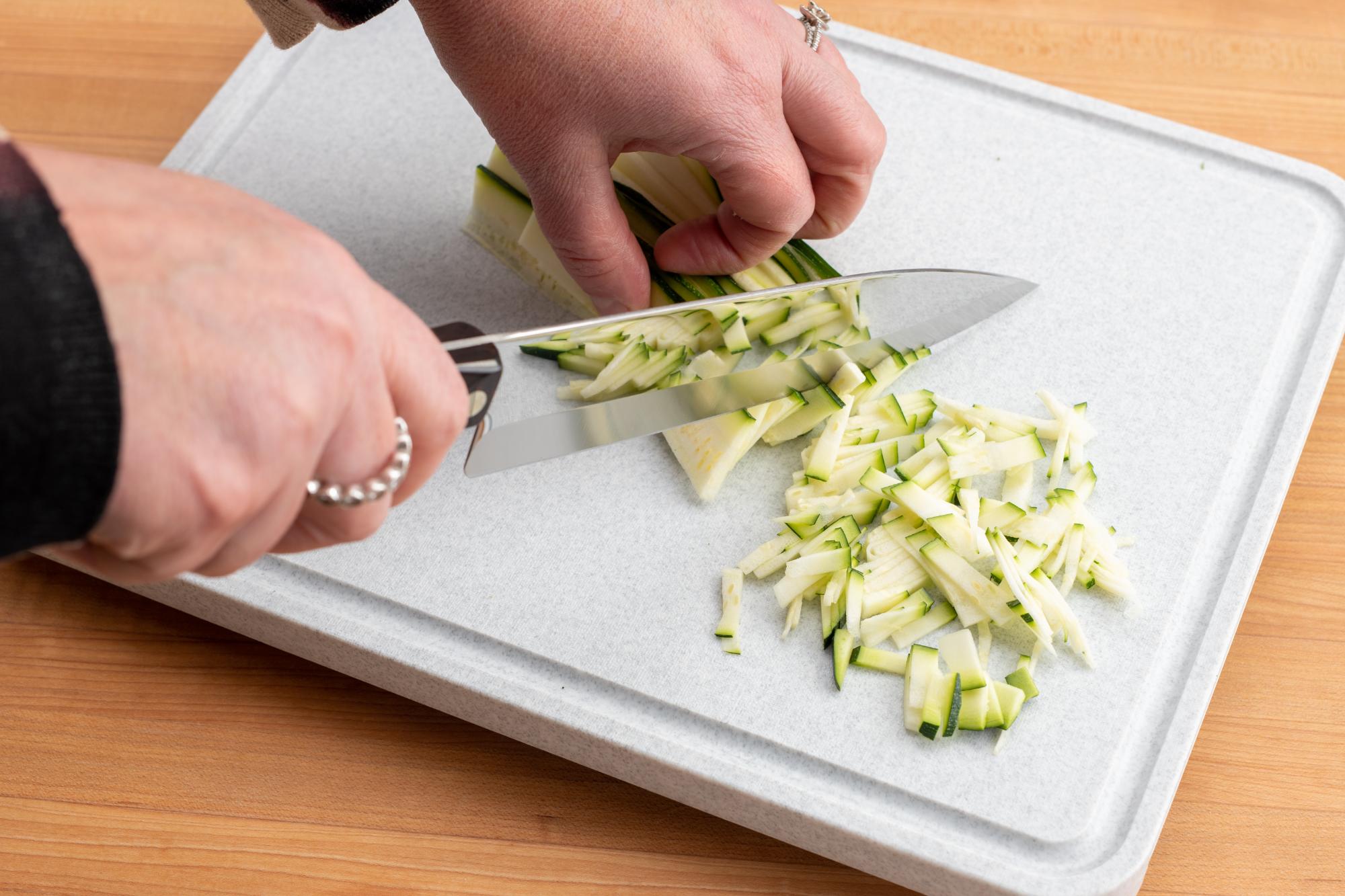 The final step is to mince the zucchini using the knife in a rocking motion. It needs to be almost shredded in texture but still have some substance to it.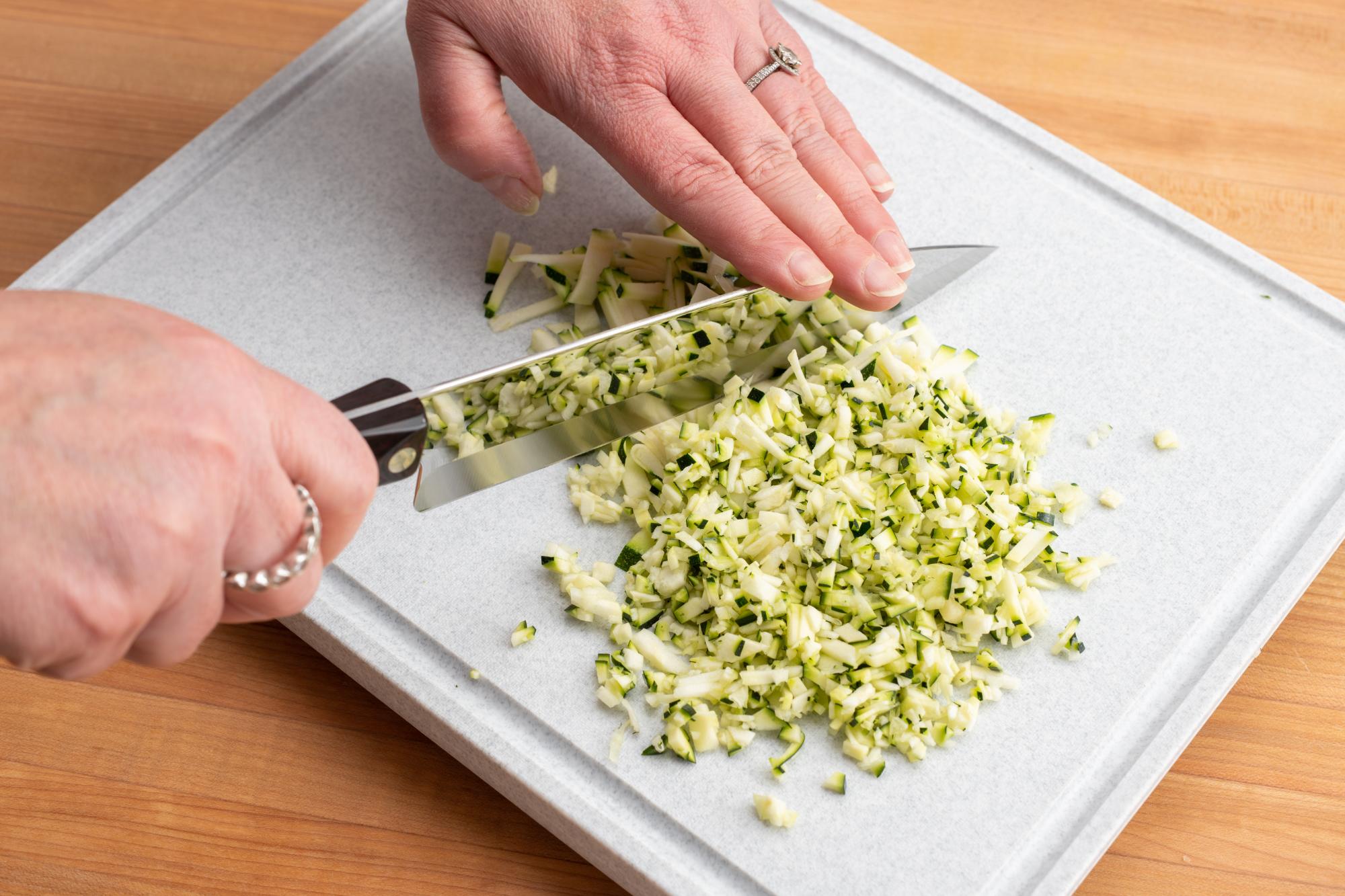 After cutting, it's important to get as much moisture out of the zucchini as possible so the cakes will actually fry. Place the cut zucchini it in a tea towel and wring it out as much as possible, twisting the towel and squeezing to release the moisture. Try to get it as dry as you can.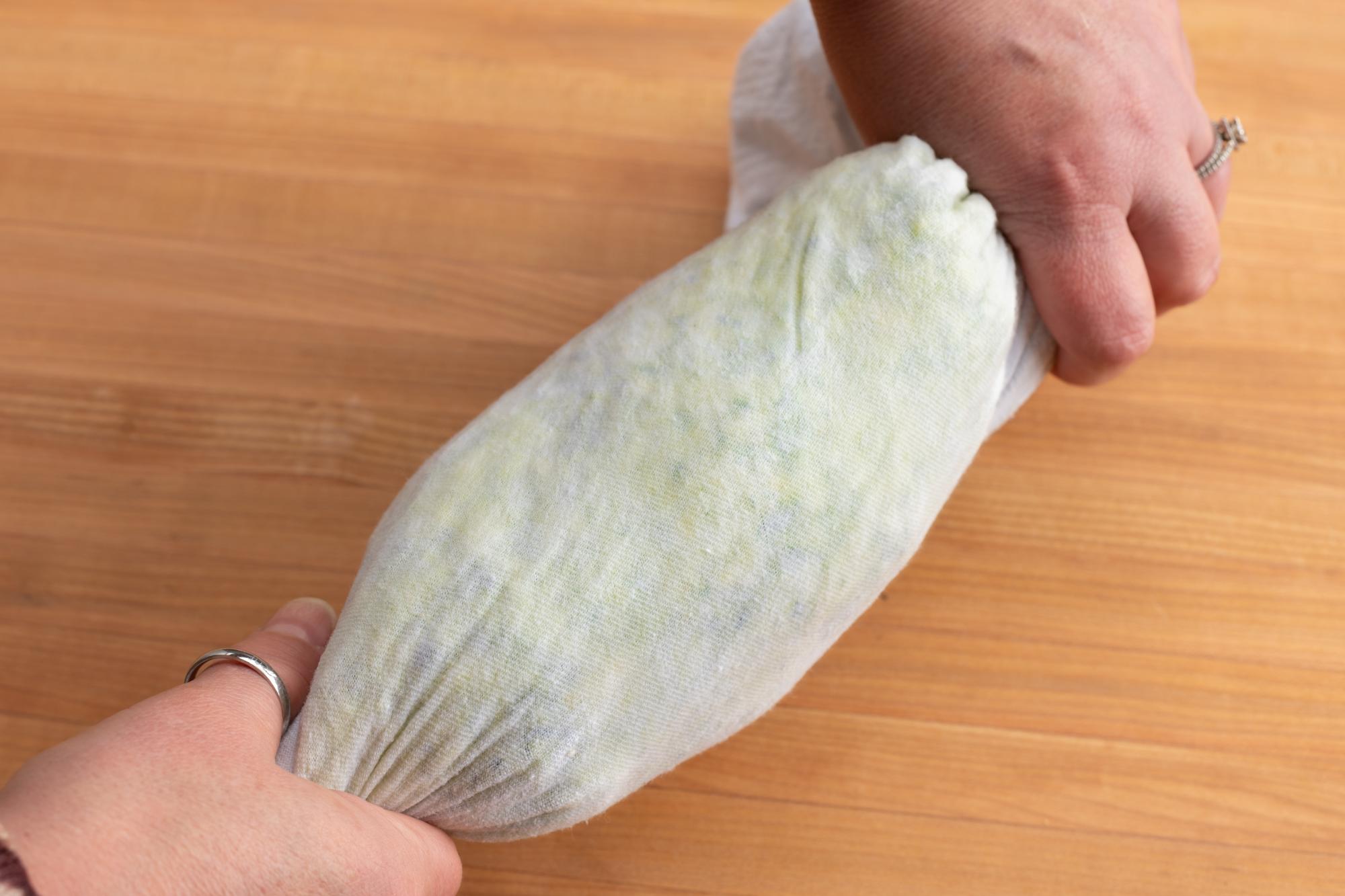 Once your squash is prepped, it's on to mixing everything together. Using a Mix-Stir, whisk the eggs and then add the zucchini, panko breadcrumbs, ricotta, Parmesan, garlic, green onion and seasonings. I actually used my hands to combine everything thoroughly.
Next, it's time to fry. Here are a few tips to make this process more seamless. Make sure to use an oil that has a high smoke point. Some good choices include grapeseed oil, sunflower oil, peanut oil or canola oil. The pan and oil should be heated and ready when you're able to dip the end of a wooden spoon into the oil and bubbles appear. Roll the zucchini cakes into a ball and place in the pan, pressing down with the Slotted Turner to make a patty. Another tip is to spray the Slotted Turner with some non-stick spray to avoid sticking.
The key to pan-frying these zucchini cakes is to let them cook on one side and flip them only once. Otherwise they will start to break apart if you try to flip them too many times. You want to achieve a golden-brown coating.
Once each cake is cooked, place it on a plate that is covered with a paper towel. When all of them are cooked, top the plate with another paper towel to blot the excess oil. Then place on a platter and serve with your favorite dipping sauce.
While I wouldn't make a habit of frying zucchini every day, these Fried Zucchini Cakes with Ricotta and Parmesan Cheese were delicious and a nice treat. Crispy on the outside, soft on the inside and full of flavor. Definitely enjoyable and something I would make again.
Ingredients
2 large zucchini
3 large eggs
3/4 cup panko breadcrumbs
1/2 cup ricotta
1/4 cup grated Parmesan
1 clove garlic, minced
2 tablespoons minced green onion
Sea salt
Freshly ground black pepper
Grapeseed oil (or your choice, but use an oil with a high smoke point)
Directions
Cut the ends off the zucchini and cut each one in half. Slice the halves into long thin strips, turn the strips and cut into smaller pieces and then rough chop the strips so it's almost shredded in texture. Placing the cut zucchini in a clean kitchen towel, ring out as much excess water as possible.
Put the eggs into a bowl and whisk. Add the zucchini, bread crumbs, ricotta, Parmesan, garlic and green onion and combine thoroughly. Season the mixture with salt and pepper, to taste.
Heat oil (about 1/4 inch deep in the bottom of the skillet) on medium heat. When the oil is hot enough, scoop about a 1/4 cup of the zucchini mixture, form into a ball and place in the skillet.
Using a Slotted Turner (that you have sprayed with a non-stick spray), flatten the zucchini into a patty. Cook until golden, approximately 3-4 minutes and flip and cook for an additional 2-3 minutes.
Place the cooked zucchini cake onto a paper towel-lined plate and cook the remaining zucchini cakes.
When done, serve with a dipping sauce, such as ranch.
Recommended Tools