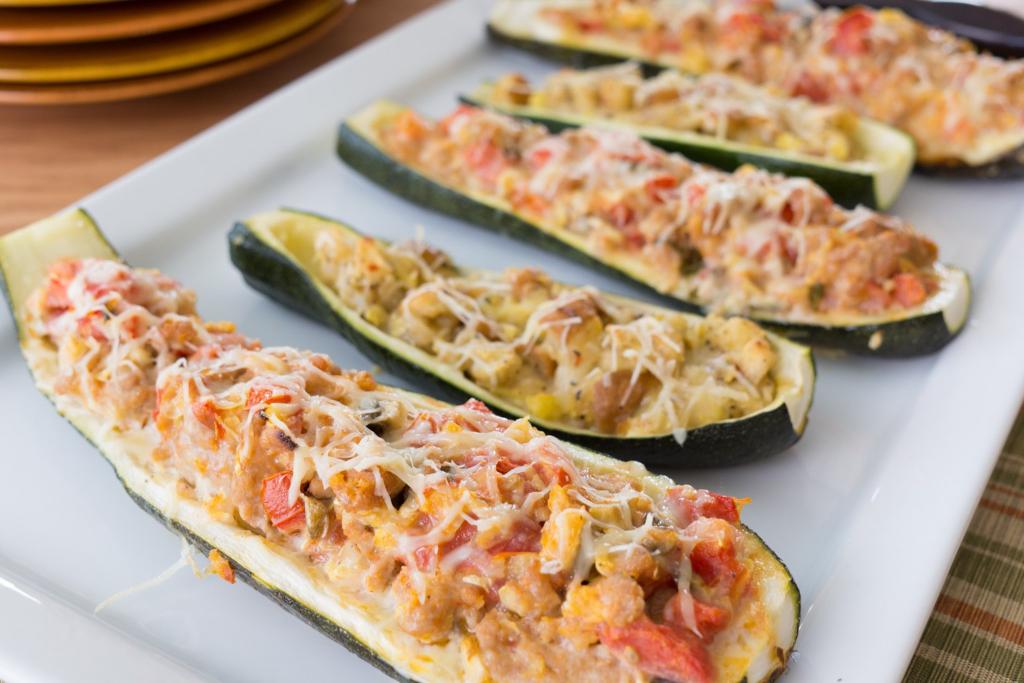 Zucchini is not hard to come by this time of year. In fact, around here, gardens are bursting at the seams with this versatile summer squash. With so much of it to go around why not make these Ground Turkey Stuffed Zucchini Boats.
Aside from its versatility, zucchini is a nutrient-dense food that offers great health benefits. It has zero fat, is low in calories and is in high water and fiber.
To prepare the zucchini, use a sharp 7" Santoku knife. The knife is long enough to cut the zucchini lengthwise. For even cooking, try to use zucchinis of similar size.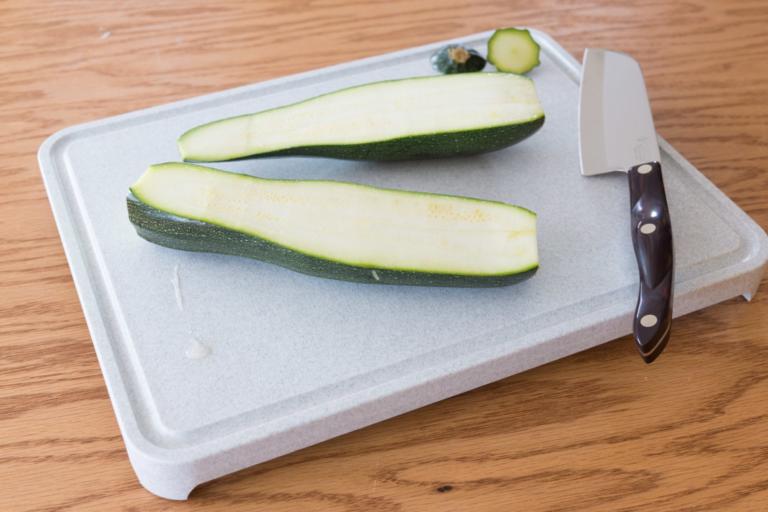 What's also great about this stuffed zucchini recipe is that you can experiment with versions of your own. Stuff them with traditional taco ingredients, maybe make a pizza version or even go all veggie. The sky is the limit on what you can create.
You'll notice that the skin of the zucchini is not removed for this recipe. Once cooked it softens and is easy to eat, plus it has health benefits of its own, containing vitamins and minerals that protect against inflammation.
Who knew zucchini was such a powerhouse vegetable!
Originally published Aug. 10, 2015
Ingredients
2 medium zucchini
3 tablespoons olive oil, divided
1/2 cup chopped onion
3 cloves garlic, minced
1/2 cup minced fresh mushrooms
1 pound Italian seasoned ground turkey
2 tablespoons dry white wine
2 diced tomatoes
1/4 teaspoon red pepper flakes
3 tablespoons fresh basil
1 cup 5 cheese Italian blend shredded cheese
1 egg, slightly beaten
Salt and pepper to taste
Directions
Preheat oven to 400°F.
Wash the zucchini. Cut each in half lengthwise and scoop out pulp with spoon, leaving shells about 1/4 inch thick.
Chop the pulp and set aside. Place zucchini on a sheet pan, brush the inside of the shells with a little olive oil and place in oven. Roast for about 20 minutes.
Heat 2 tablespoons of olive oil in a skillet over medium-high heat. Sauté onion and garlic, add mushrooms and pulp. Sauté 2 minutes.
In another skillet, heat 1 tablespoon of olive oil over medium-high heat. Add the ground turkey and brown well. Stir in the onion and mushroom mixture. Add the wine, tomatoes, red pepper flakes and basil, cook about 1 minute. Drain any excess fat and set aside to cool.
When mixture has cooled, add the cheese, egg, salt and pepper. Fill the zucchini shells with the mixture and bake at 375°For 40 minutes or until golden brown.
Recommended Tools