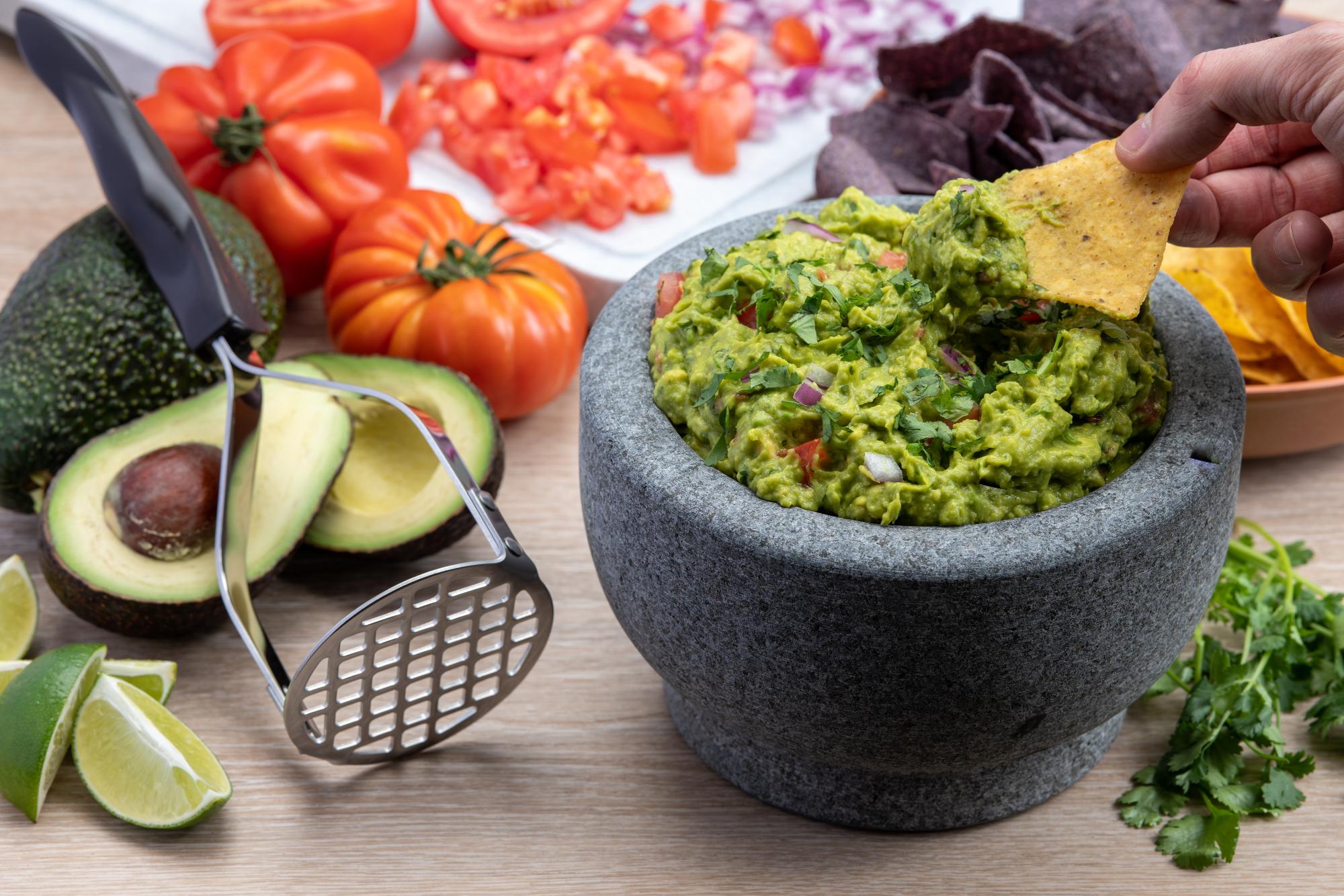 Guacamole is one of those things that is easy to make, so why not make your own and avoid the preservatives found in the store-bought variety. Once you try this Fresh and Easy Guacamole recipe I doubt you'll ever buy it pre-made again.
It is a heart-healthy alternative to creamy dips, thanks to the main ingredient, avocados, which are a good source of healthy fats, fiber and antioxidants.
Prepare the Avocados
When selecting avocados, use those that are ripe and a bit soft. I used some beautiful avocados from California Avocados Direct, a company that grows them on a ranch in Escondido, California, and ships them throughout the country.
Cutco's Spatula Spreader is a great tool for cutting avocados. Use the sharp edge to cut all the way around the fruit from the stem to the bottom. Twist the halves apart and carefully hit the seed with the sharp side of the knife and twist the seed out.
With the non-sharp side of the blade, scoop out the flesh from the skin. Another way to remove the seed is to apply gentle pressure with your thumb to the backside of an avocado half to pop it out. Lay the avocado fruit flat on the cutting board and slice.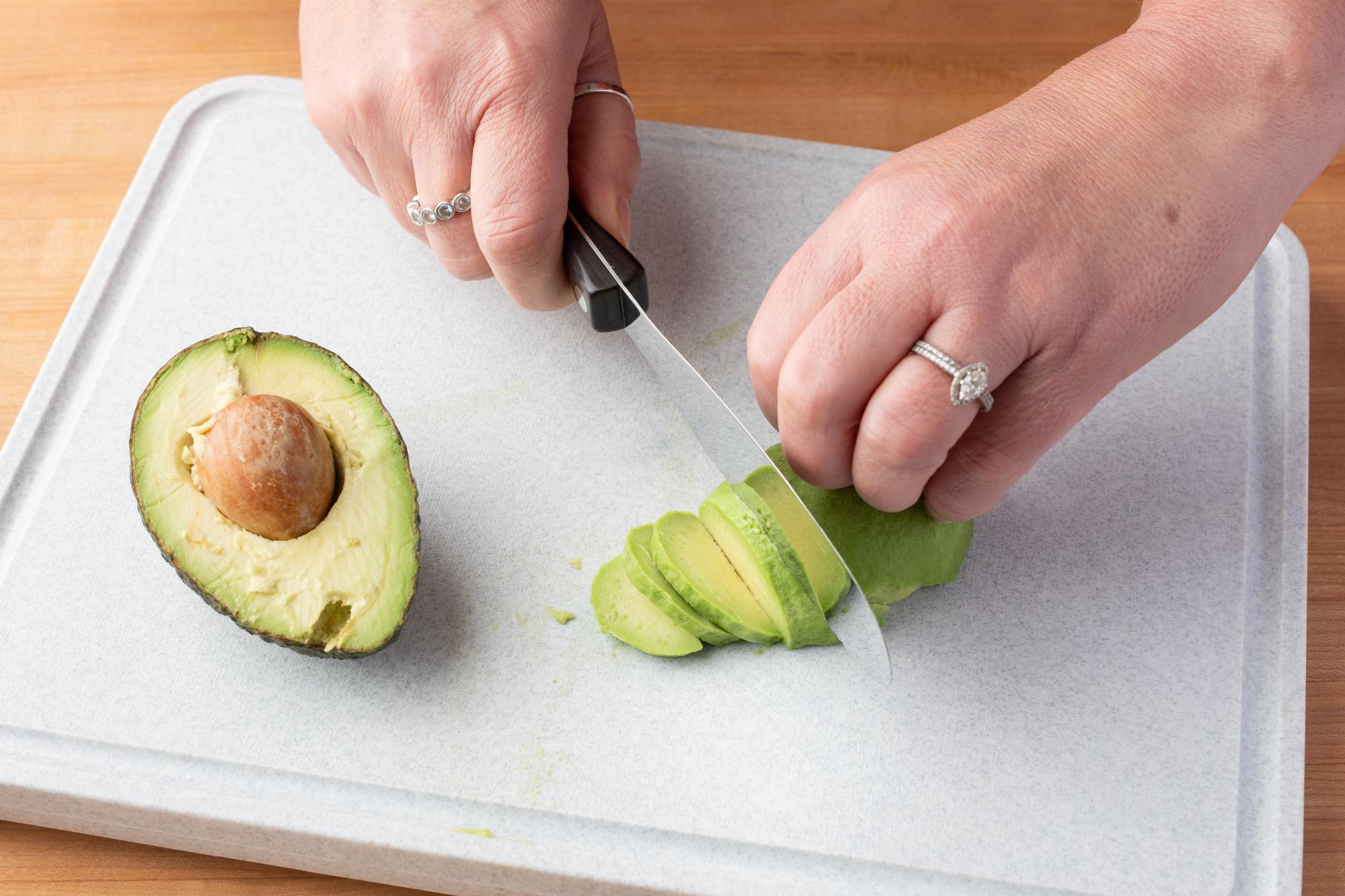 Place the sliced avocado in a large bowl and use a Potato Masher to mash.
Prepare the Rest of the Ingredients
Chop the tomato with a Trimmer. The knife's sharp edge easily cuts through the tough tomato skin and the delicate flesh without crushing it.
Mince the onion and garlic, and chop the cilantro with a 7-5/8" Petite Chef knife. To learn more about how to prepare those ingredients take a look at Cutco's library of knife skills tutorials.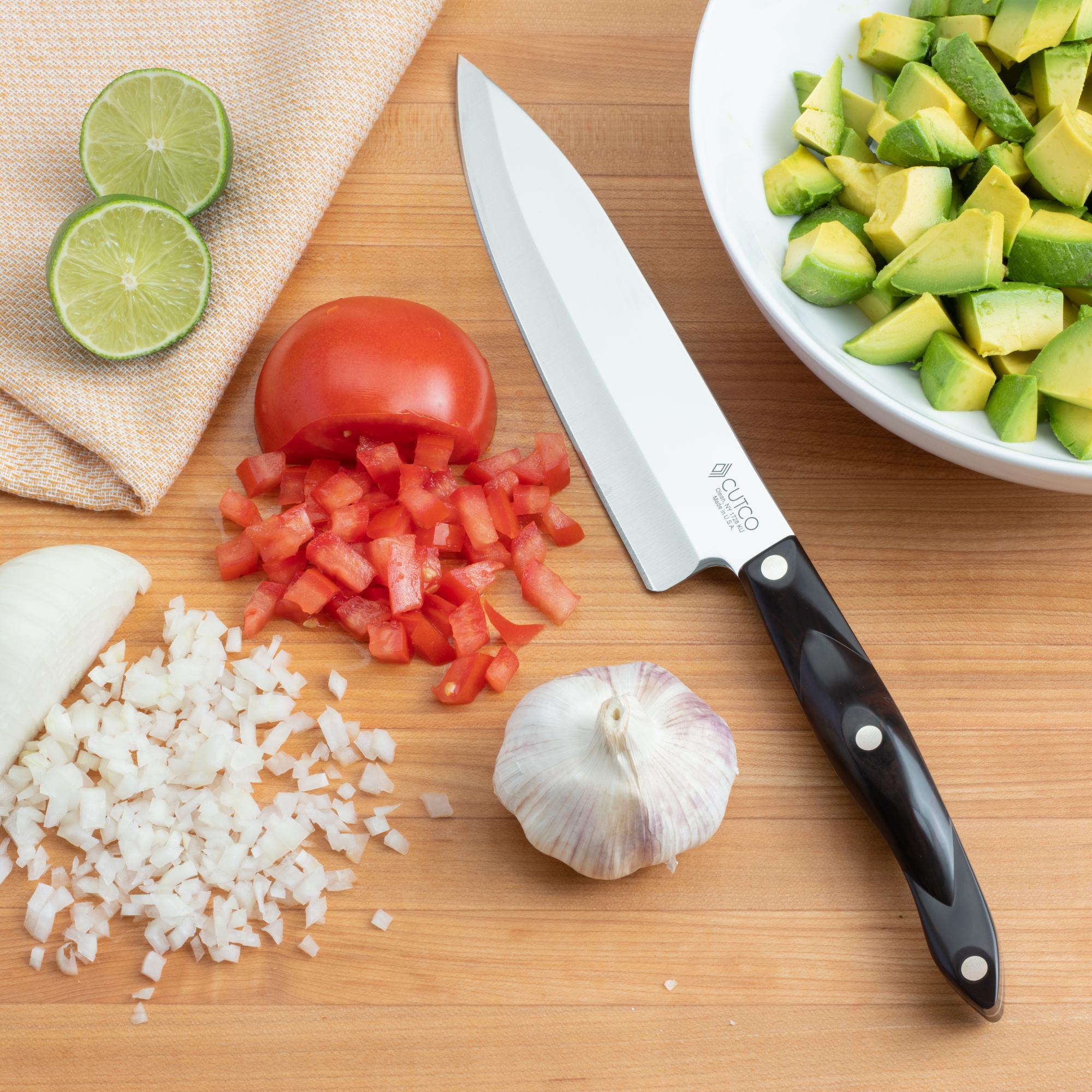 When the ingredients for this Fresh and Easy Guacamole are prepped, just toss everything together and be ready for guac heaven.
To keep the guacamole from browning, place the avocado seed in the bowl and tightly cover it before refrigerating. Sprinkling a little lime juice over the top of it also will help prevent the guacamole from browning.
Serve with tortilla chips, but also try it on chicken burgers or grilled chicken.
Ingredients
2-3 avocados, purchase them soft, about 1 pound or 1 cup mashed
1 lime, juiced
2 tablespoons chopped tomato
2 tablespoons finely minced onion
1 clove garlic, finely minced
1/4 cup chopped fresh cilantro or parsley
1/8-teaspoon fine sea salt,
Directions
Cut avocado in half and scoop flesh out with a spoon. Save seed.
Place flesh in medium bowl and mash with Potato Masher or fork.
Add lime juice, tomato, onion, garlic, cilantro and salt. Blend well.
Put guacamole into a bowl and place avocado pit back into the guacamole. Cover the bowl with plastic wrap tightly (with the wrap laying directly on the guacamole so there is no air) to keep it from browning.
Yield: 1-1/4 cups guacamole
Recommended Tools