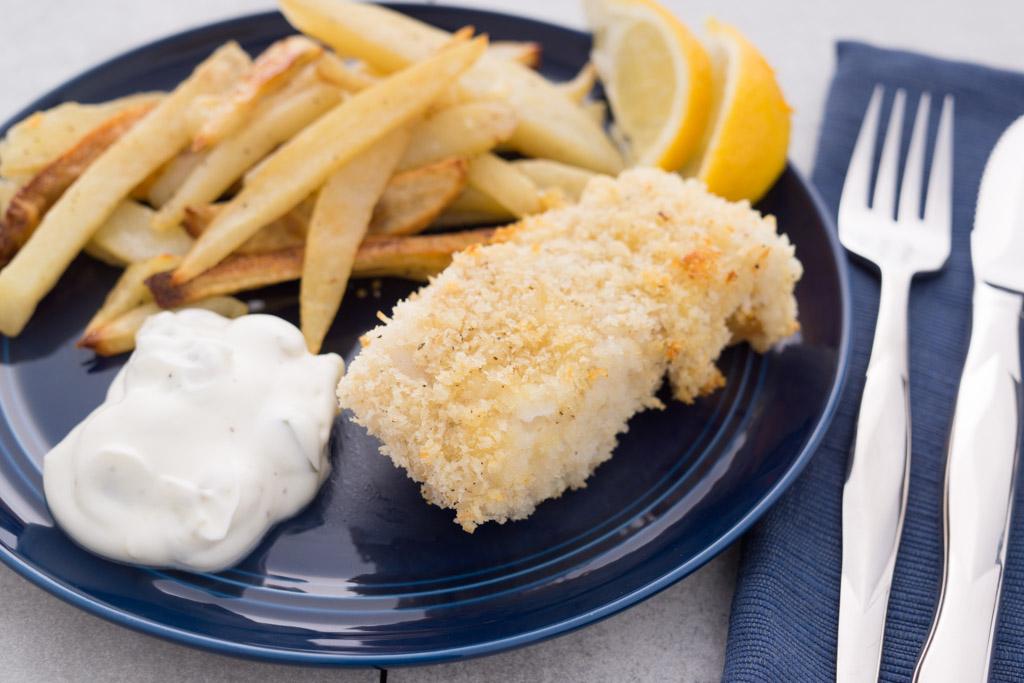 I seldom cook fish at home. I usually end up overcooking it and I don't like the way the house smells if I deep fry it.
This simple recipe for Fish and Chips with Pickle Dipping Sauce has the cod and French fries being baked in the oven. It definitely fills the bill for a delicious and fairly healthy way to eat fish and fries. Plus, baking the fish also helps eliminate fishy or frying oil odors.
The recipe is just as tasty as what a restaurant would serve. Even the dipping sauce which is made with reduced fat sour cream instead of mayonnaise helps lower the calorie count. I'm sure you could make this with haddock or tilapia but I really enjoyed the mild taste and flakiness of the cod.
The fries can be made with the skins left on the potatoes or peeled. Cut them into even baton strips that are 1/4-inch x 1/4-inch.
This meal can easily be made on a weeknight. Start to finish, it was done in about an hour.
Ingredients
Dipping Sauce
1/2 cup reduced-fat sour cream
2 tablespoons chopped dill pickle
1 tablespoon dill pickle juice
1/8 teaspoon pepper
Mix all ingredients together in a small bowl. Cover and refrigerate until serving.
Fries
4 large potatoes (about 2 pounds)
2 tablespoons olive oil
1/2 teaspoon salt
1/4 teaspoon pepper
Fish
1 cup panko bread crumbs
1 teaspoon garlic powder
1 teaspoon onion powder
1/2 teaspoon salt
1/2 teaspoon pepper
2 large egg whites
4 cod fillets (4 ounces each)
Cooking spray
Lemon wedges
Directions
Place one oven rack at lowest rack setting; place second oven rack in middle of oven. Preheat oven to 425°F.
Peel and cut potatoes into 1/4-inch baton strips. Rinse well, pat dry and toss in a large bowl with oil, salt and pepper. Transfer to a baking sheet coated with cooking spray.
Bake on bottom oven rack 30-35 minutes or until golden brown and tender, turning once.
Prepare the fish by mixing bread crumbs, garlic powder, onion powder and salt and pepper in a shallow bowl. Whisk egg whites in a separate shallow bowl. Dip fish in egg whites, then in crumb mixture, patting to help coating adhere to the fish.
Transfer to a baking sheet coated with cooking spray. Spritz fish with cooking spray. Bake on middle oven rack 14-16 minutes, turning once or until fish just begins to flake easily with a fork.
Serve with fries, dipping sauce and lemon wedges.
Recommended Tools