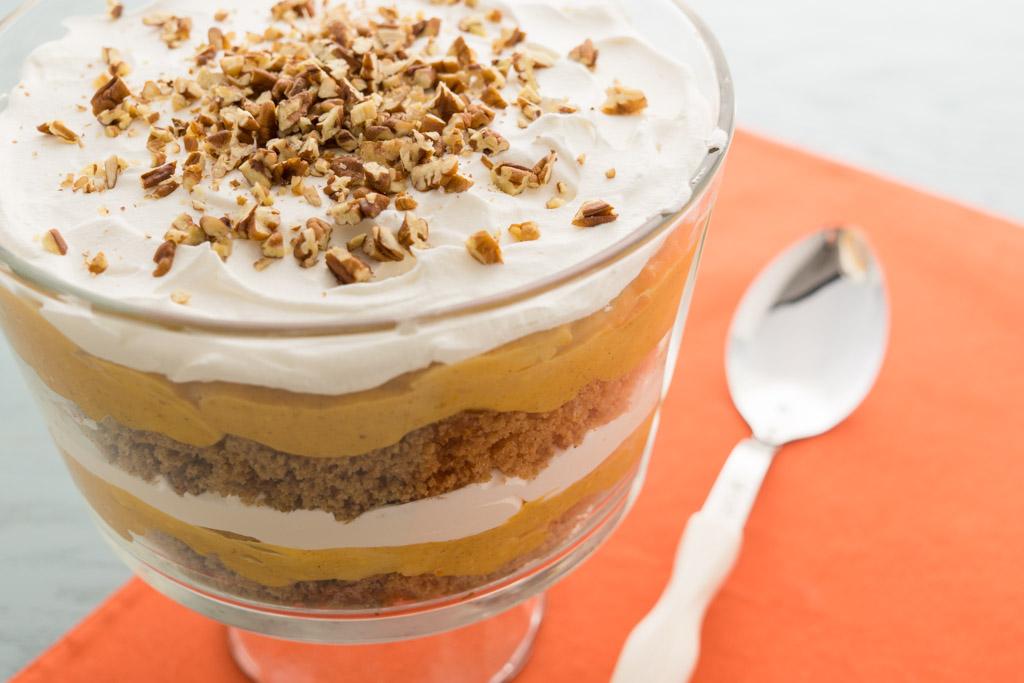 Thanksgiving is a time to gather to share a meal and give thanks for all the blessings in our lives. It's also a time for show-stopping desserts like this Layered Pumpkin Gingerbread Trifle.
Research shows that pumpkin and apple pie are the hands-down favorites for Thanksgiving. I certainly can't argue with that. However, if you're looking for something lighter to satisfy your sweet tooth, you might want to try this layered trifle.
Using sugar free pudding, fat free milk and reduced fat whipped topping reduces the calorie count. I know what you're thinking – after that huge dinner, what difference does it make? Probably not a whole lot, but this dessert is light and airy and almost melts in your mouth. The layers also look elegant when presented in a trifle bowl.
So what exactly is trifle? Traditionally an English dessert, the American version consists of a cake-like layer, pudding and a fruity layer. This trifle recipe, with its flavors of ginger and pumpkin, fits right in to fall.
It's also incredibly easy to make because it uses pre-packaged cake and pudding mixes. The recipe calls for using gingerbread, but you could also use spice cake. Both offer a nice spicy cake layer that tastes so good with the pumpkin, vanilla and butterscotch flavors.
To really get the creaminess of the pudding layer, use Cutco's Mix-Stir to whip the ingredients together. The coiled design helps break up pockets of lumpy dry ingredients for a smooth finish. For chopping the pecans to sprinkle on top of the trifle, use a 7-5/8" Petite Chef to rock chop them. Learn how to chop pecans by taking a look at our handy video tutorial.
For serving this deep dish trifle, the Basting Spoon, with its long handle, can reach to the bottom of the serving dish to make sure each portion includes all the trifle layers.
*Originally published November 22, 2016
Ingredients
1 package (14 1/2-ounce) gingerbread cake/cookie mix
1 1/4 cups water
1 large egg
4 cups cold fat-free milk
2 packages (1 ounce each) sugar-free instant butterscotch pudding mix
2 packages (1 ounce each) sugar-free instant vanilla pudding mix
1 can (15-ounce) solid pack pumpkin (not pumpkin pie mix)
1 teaspoon ground cinnamon
1/4 teaspoon ground ginger
1/4 teaspoon ground nutmeg
1/4 teaspoon ground allspice
1 carton (12-ounce) frozen, reduced fat whipped topping, thawed
1/2 - 3/4 cup chopped pecans
Directions
Heat oven to 350 F. Combine cake/cookie mix, water and egg and beat on low speed for 30 seconds. Increase speed to medium; beat 2 minutes. Pour mix into an ungreased 8-inch square pan. Bake 35 – 40 minutes or until a toothpick inserted in center comes out clean. Cool 10 minutes, remove from pan, place on wire rack and cool completely. When cake has cooled, crumble and set aside.
Whisk milk and pudding mixes together until thickened, about 2 minutes. Stir in pumpkin and spices until blended.
Use half of the cake crumbs and layer them in the bottom of a trifle bowl or 3 1/2 quart glass serving bowl. Spoon 1/2 of the pudding mix over the cake crumbs, spoon 1/2 of the whipped topping over the pudding mix. Repeat layers. Top with chopped pecans. Serve immediately or refrigerate.
If you can't find gingerbread cake mix, a spice cake mix can be substituted.
Recommended Tools