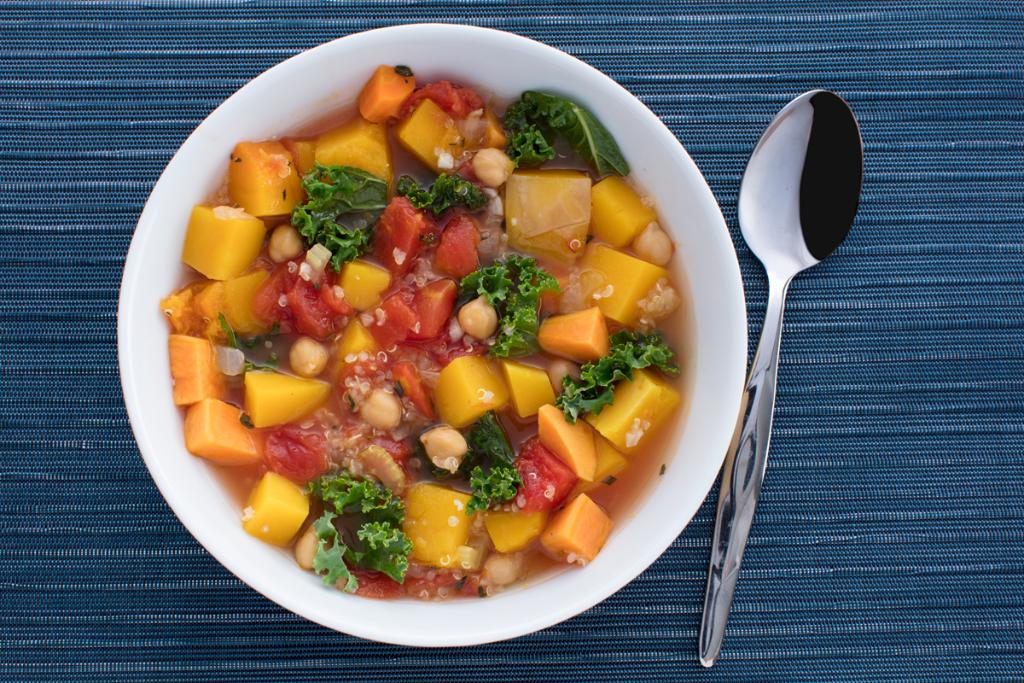 I love everything about fall. The changing of the leaves on the trees from green to bright hues of red, orange and yellow, mountains of pumpkins at roadside stands, fall festivals, apples and apple cider and, of course, fall recipes.
This recipe for hearty Fall Vegetable Soup with Quinoa is perfect for a chilly day and, if there's any left, it can be frozen to enjoy on a day when you just don't feel like cooking.
To make peeling and cutting butternut squash easier, slice about 1/4 of an inch from either end of the squash. Use a fork or the point of a knife to poke several holes in the skin of the squash. Place the squash in the microwave on a microwave safe plate. Microwave for three and a half minutes. If the squash's skin still feels tough, you can microwave it for another 30 seconds and then peel with a Vegetable Peeler and dice.
Cutco's Vegetable Knife is a good-sized knife for dicing the butternut squash. After microwaving and peeling, use it to cut the neck of the squash off and to cut the two pieces into halves. Use a spoon to remove the seed and dice.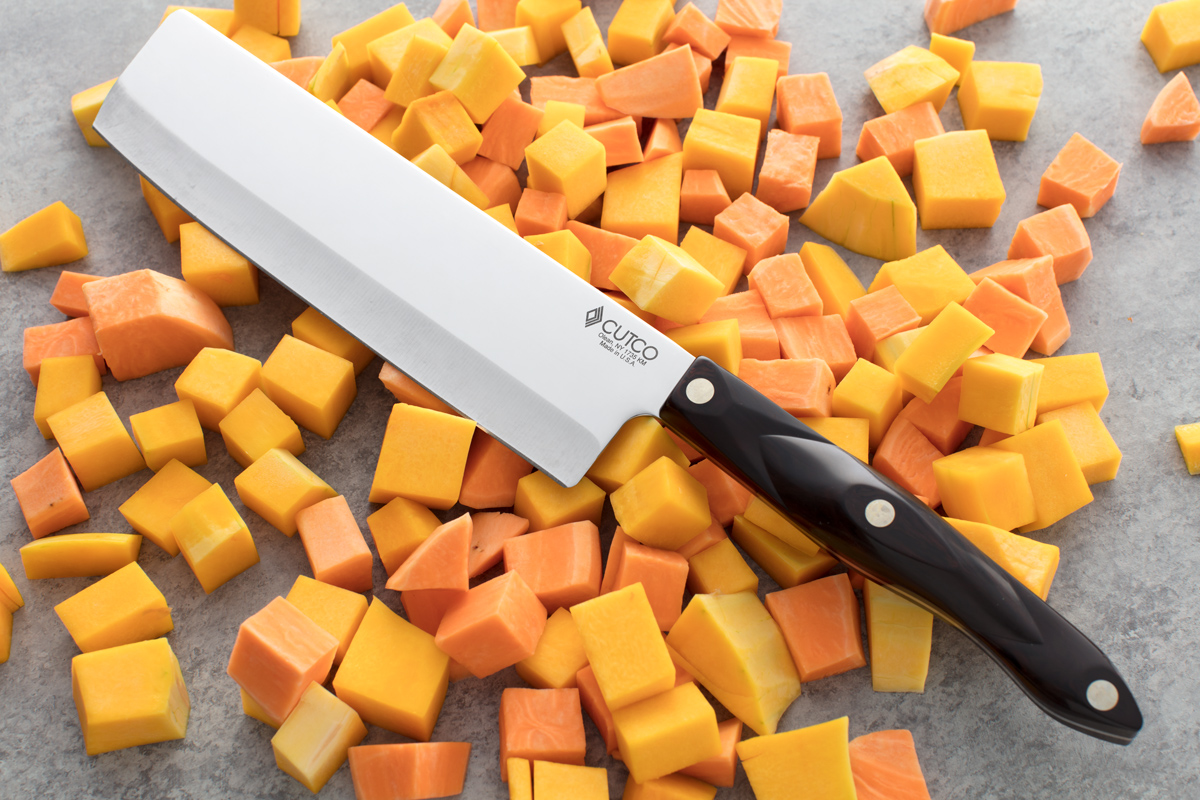 Watch our video tutorial on How to Dice Butternut Squash.
You can also use the Vegetable Knife to slice, chop and dice all the other vegetables for the soup. This sharp, hefty knife cuts through squash, sweet potato and other ingredients with ease. Plus, its wide blade lets you scoop up all the ingredients to toss into the pan.
This soup is chock full of good and good-for-you ingredients. The vegetable broth and diced tomatoes create a delicious broth for the vegetables and quinoa. When my coworkers and I tasted it we were pleasantly surprised by the sweetness that came through from the squash and sweet potatoes. We liked the nuttiness of the quinoa, too. We also all agreed it would be even better with a sprinkle of freshly grated Parmesan cheese on top.
This recipe makes a large amount of soup. This would be a good one for tailgating. Prepare it ahead of time then transfer to a slow cooker to keep warm.
Ingredients
2 tablespoons olive oil
1 medium yellow onion, diced
1 carrot, chopped
2 celery stalks, sliced thinly
3 cloves garlic, minced
1 large sweet potato, peeled and chopped
2 cups chopped butternut squash
3 bay leaves
4 cans (14 1/2 ounces each) vegetable broth
2 cans (15 ounces each) diced tomatoes
1 can (15 ounces) chickpeas, rinsed and drained
1 cup quinoa
1 tablespoon fresh rosemary, minced
2 teaspoons fresh thyme, minced
2 cups chopped kale, ribs and stems removed
Salt and pepper to taste
Directions
Heat olive oil in a large pot over medium heat. Add the onion, carrot and celery and cook until the onions are translucent, about 5 minutes.
Add the garlic, sweet potato, butternut squash and bay leaves. Cook until the vegetables are tender, about 15 minutes. Stir occasionally so the vegetables don't stick to the bottom of the pan.
Add the broth, tomatoes and chickpeas. Stir in the quinoa and season with the rosemary and thyme. Cook for 15 minutes or until the quinoa is soft. Stir in the kale and cook 5 more minutes. Season with salt and pepper.
This soup also freezes well. Cool the soup completely and pour into a freezer container. To reheat, thaw in the refrigerator overnight, and then warm on the stove or in the microwave.
Recommended Tools