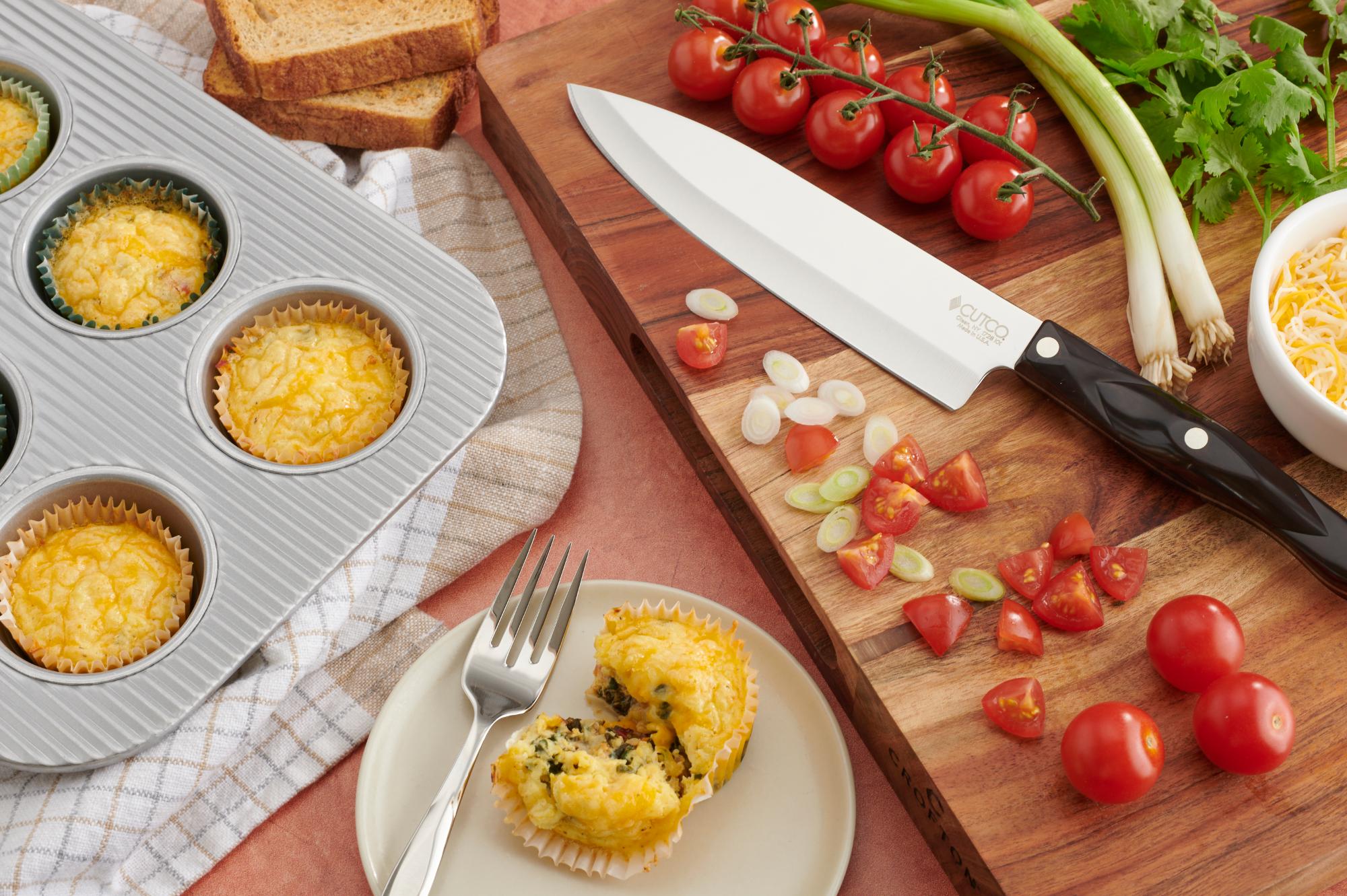 Adding the word "cupcake" before anything will get a kid to eat it. So making these fun-sized Cupcake Frittatas is dedicated to the students in my classes and their love of creating new things.
These are a quick and easy dish for breakfast, lunch or dinner, and they're perfect for on-the-go.
The Chopping
All the vegetables in these frittatas are chopped, since they'll be placed into the cups of a muffin tin.
There is nothing more frustrating than trying to cut a cherry tomato or any tomato for that matter with a dull knife. That's why Cutco's Santoku-Style Cheese Knife is the one I used to cut them for this recipe.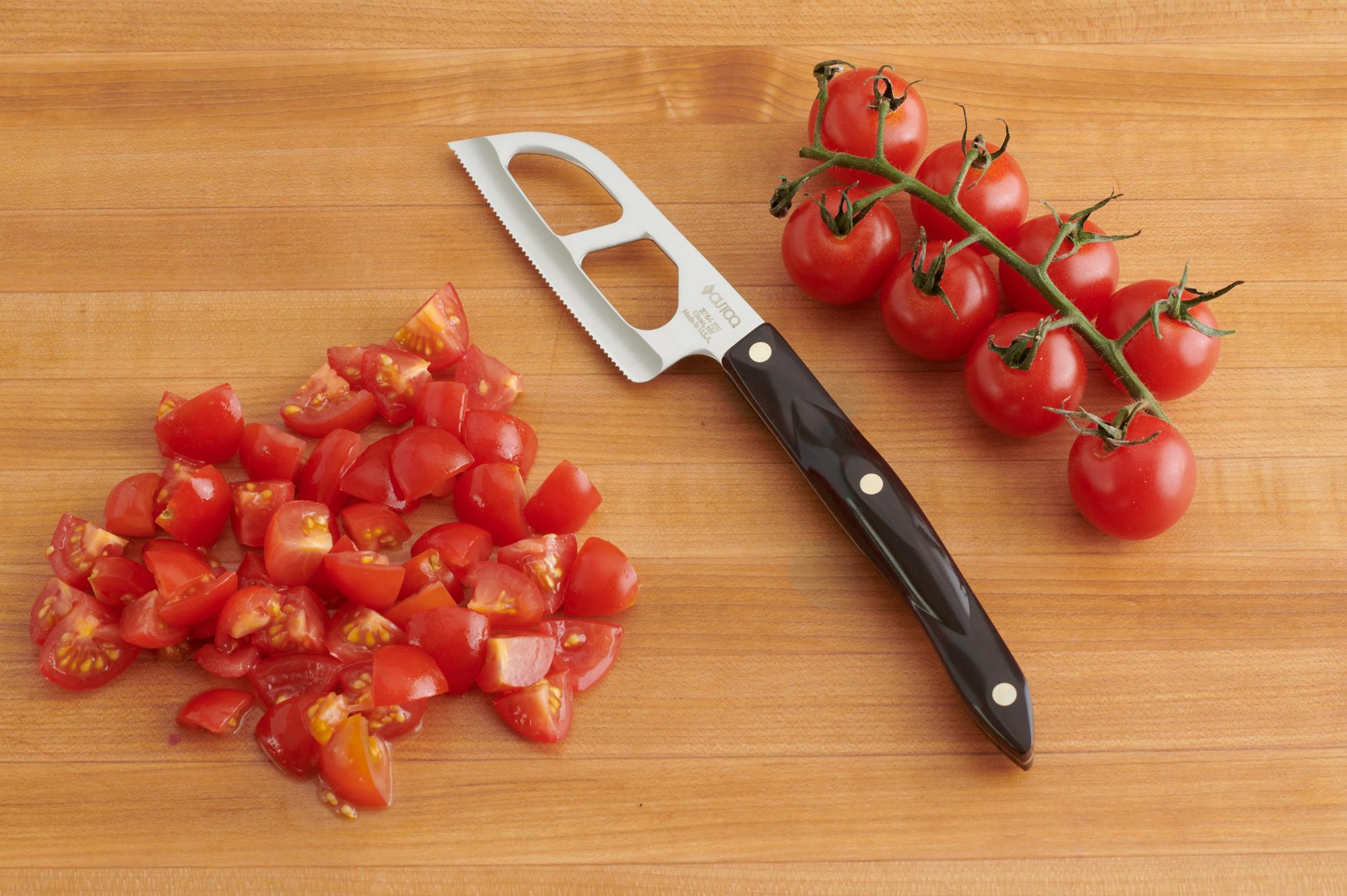 The cheese knife's sharp Micro Double-D™ edge easily cuts through the skin of the tomato without crushing it.
For the fresh spinach, gather the leaves up into a pile on the Cutting Board and use a 7-5/8″ Petite Chef knife to rock chop over the leaves until they're in bite-sized pieces.
Use the same knife to chop up the scallions.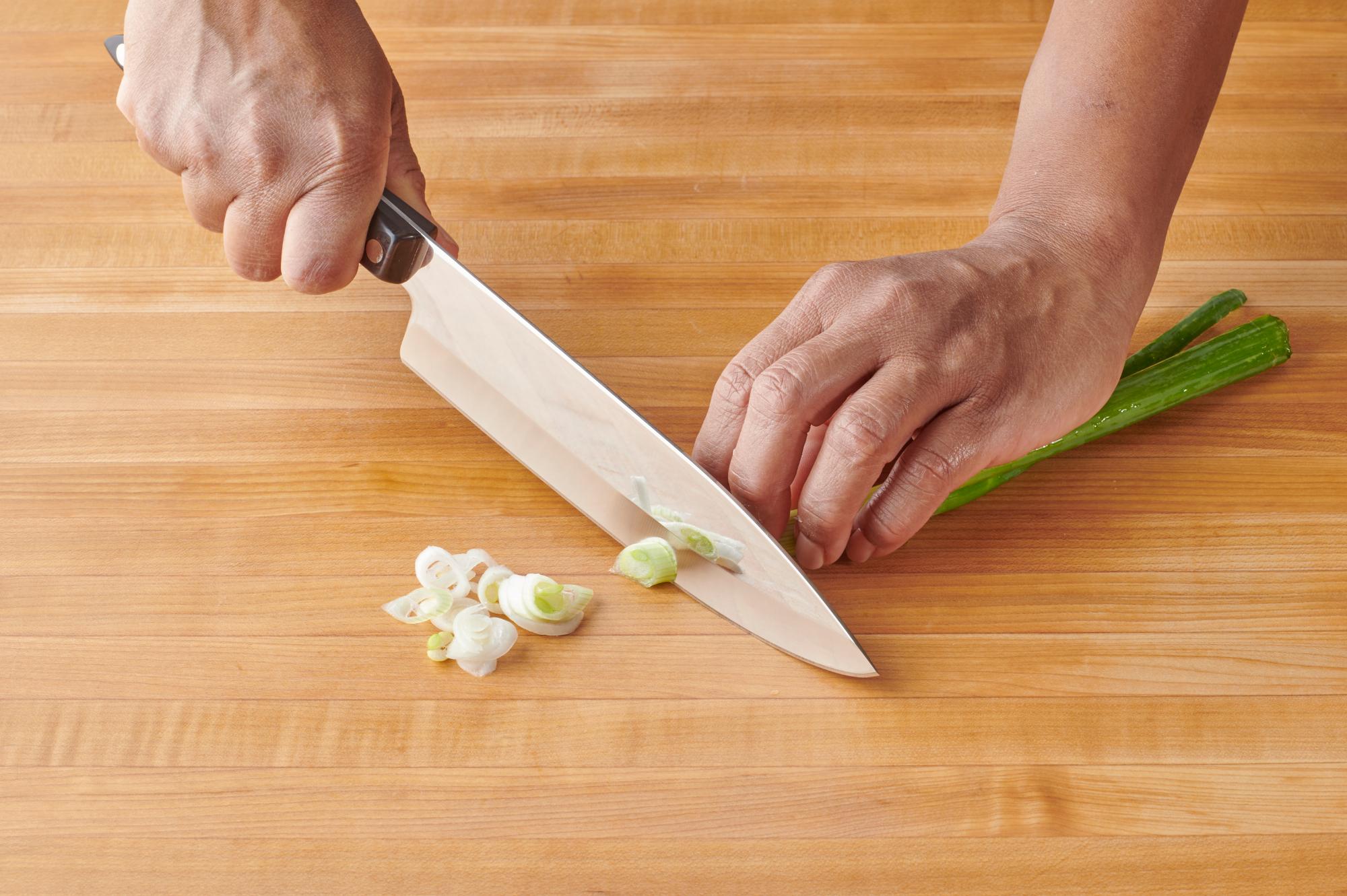 Finally, for the cilantro, try using the Super Shears. These kitchen shears work perfectly for snipping fresh herbs without bruising them.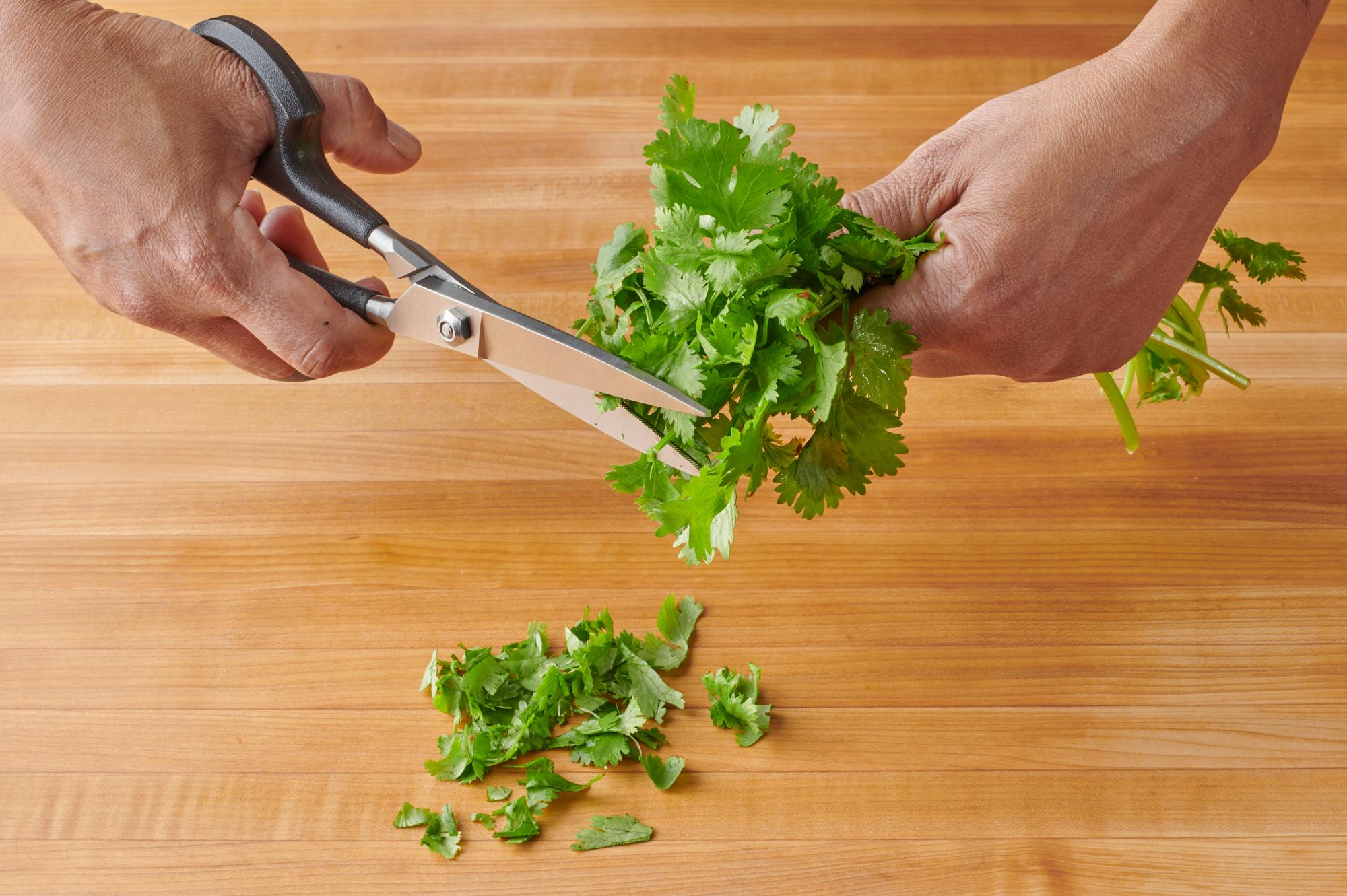 Once all the veggies are chopped, they're tossed into a skillet where they'll cook for about four to five minutes or until the tomatoes burst.
Putting it Together
Prepare the muffin tin by lining it with liners and then lightly spray non-stick cooking spray into the liners. If you're not using liners, generously spray non-stick cooking spray directly into the muffin tin.
Once the pan is prepared, it's a matter of spooning equal amounts of vegetables into the muffin tin cups and then pouring the egg mixture on top. The Cupcake Frittatas will have a delicious custard-like texture when cooked, since the eggs are beaten with some heavy cream.
This recipe is a great way to experiment with vegetables. Replace the spinach with finely-shredded Brussels sprouts. Have some rainbow peppers? Dice them up and throw those in, too. Get creative and healthy at the same time.
Ingredients
2 tablespoons olive oil
1 cup cherry tomatoes, chopped
1 cup fresh spinach, chopped
1/4 cup chopped scallions
1/4 cup chopped cilantro
1 teaspoon fennel seeds, optional
8 eggs
1/4 cup heavy cream
Salt and pepper, to taste
1/2 cup Mexican blend cheese (or whatever cheese you have)
Whole wheat toast, to serve
Directions
Preheat oven to 350 F.
In a large skillet over medium heat, warm the oil.
Add tomatoes, spinach, scallions and cilantro to the skillet and cook for 4 to 5 minutes, just until the tomatoes burst.
Top with fennel seeds, if using and set aside.
Crack eggs in a bowl and beat them well with cream.
Season with salt and pepper.
Line a muffin/cupcake tin with liners, spray lightly with non-stick cooking spray and evenly distribute the sautéed vegetables. (You can forgo the liners, just make sure to generously spray the muffin tins with the non-stick cooking spray). Pour the egg 'custard-like' batter over the individually portioned vegetables and cover each with cheese.
Bake for 10 minutes or until the eggs are just set.
Enjoy with whole wheat toast or a fresh salad.
Recommended Tools