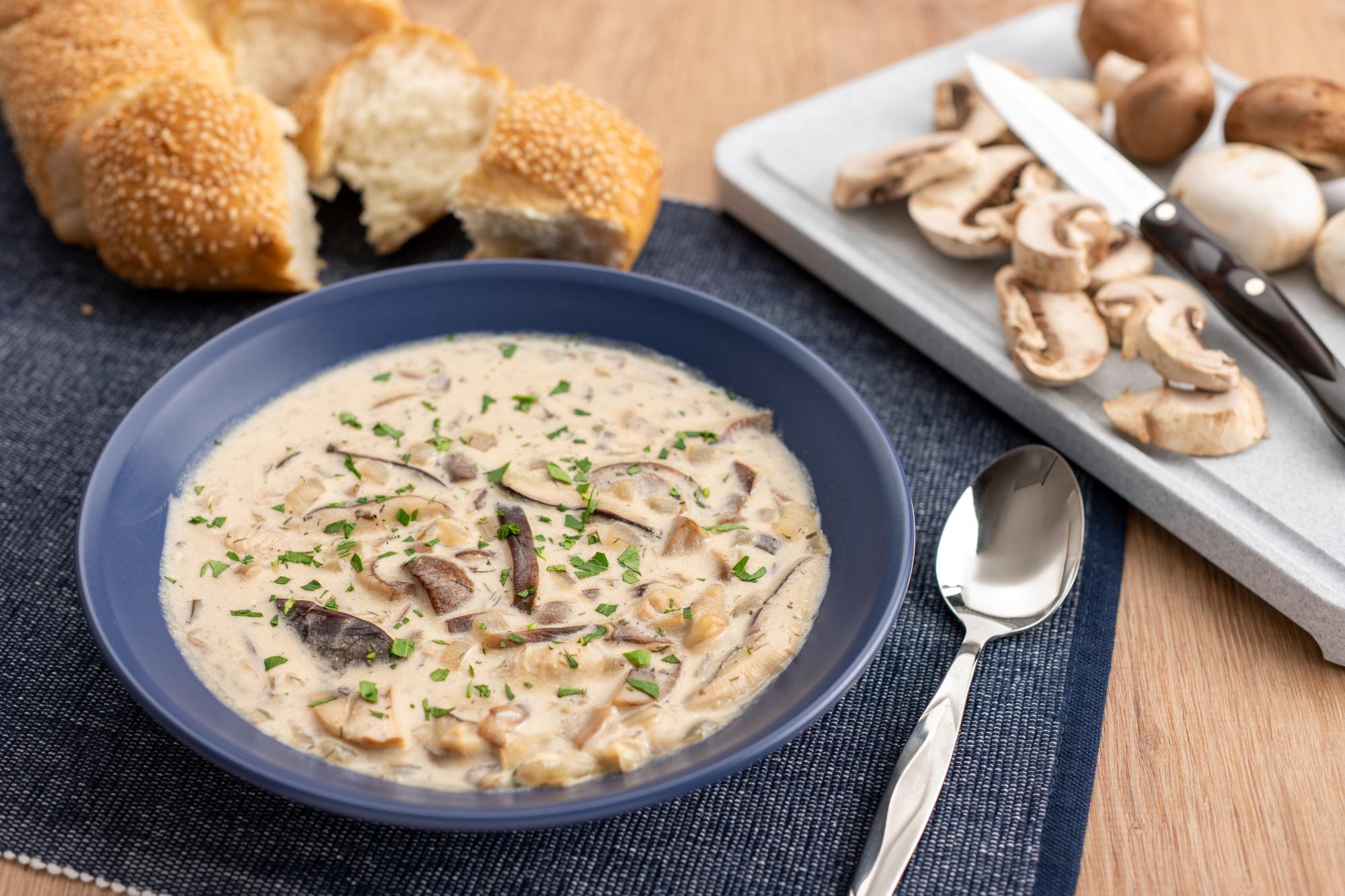 I love a good soup recipe. There is just something about ladling a warm and fragrant mixture into a deep bowl and sitting down with some rustic bread to enjoy a tasty and satisfying meal. This creamy mushroom soup is just that and more. With all of the flavors exploding in your mouth, it's definitely not your regular cream of mushroom canned soup –trust me, that's a good thing.
Why tackle mushroom soup? Well, funny story here as I have somehow become a mushroom farmer. My husband decided to grow his own mushrooms last year and may have been a bit overzealous with his approach. He purchased some mushroom spawn (fungal tissue in sawdust) and then found around 25 logs that he could inoculate by drilling small holes into the logs, filling the holes with the mushroom spawn, sealing the holes with wax and then storing the logs in a shady area. When he was ready to harvest the mushrooms, he soaked the logs in water overnight and in a couple of days, we had hundreds and hundreds of mushrooms to harvest. He cut the mushrooms off the logs and my kitchen counter was piled with these wonderful specimens – shitake mushrooms to be specific. Now, I dehydrated bags and bags of mushrooms so I could to use them throughout the year, but I wanted to take advantage of having these fresh mushrooms. So, of course, I prepared a mushroom risotto and then thought, creamy mushroom soup would be lovely and here we are. Not that I'm complaining.
This Creamy and Flavorful Mushroom Soup recipe is actually quite simple. The first thing you'll want to do is prepare your mushrooms. I cleaned them by wiping them with a damp cloth or you can quickly rinse them. If you do rinse them, make sure you do this quickly as mushrooms absorb water and the more water they absorb, the less overall flavor. I removed the stems and then using the 4" Paring Knife, I sliced all of the mushrooms evenly (take a look at our handy tutorial, "How to Slice Mushrooms").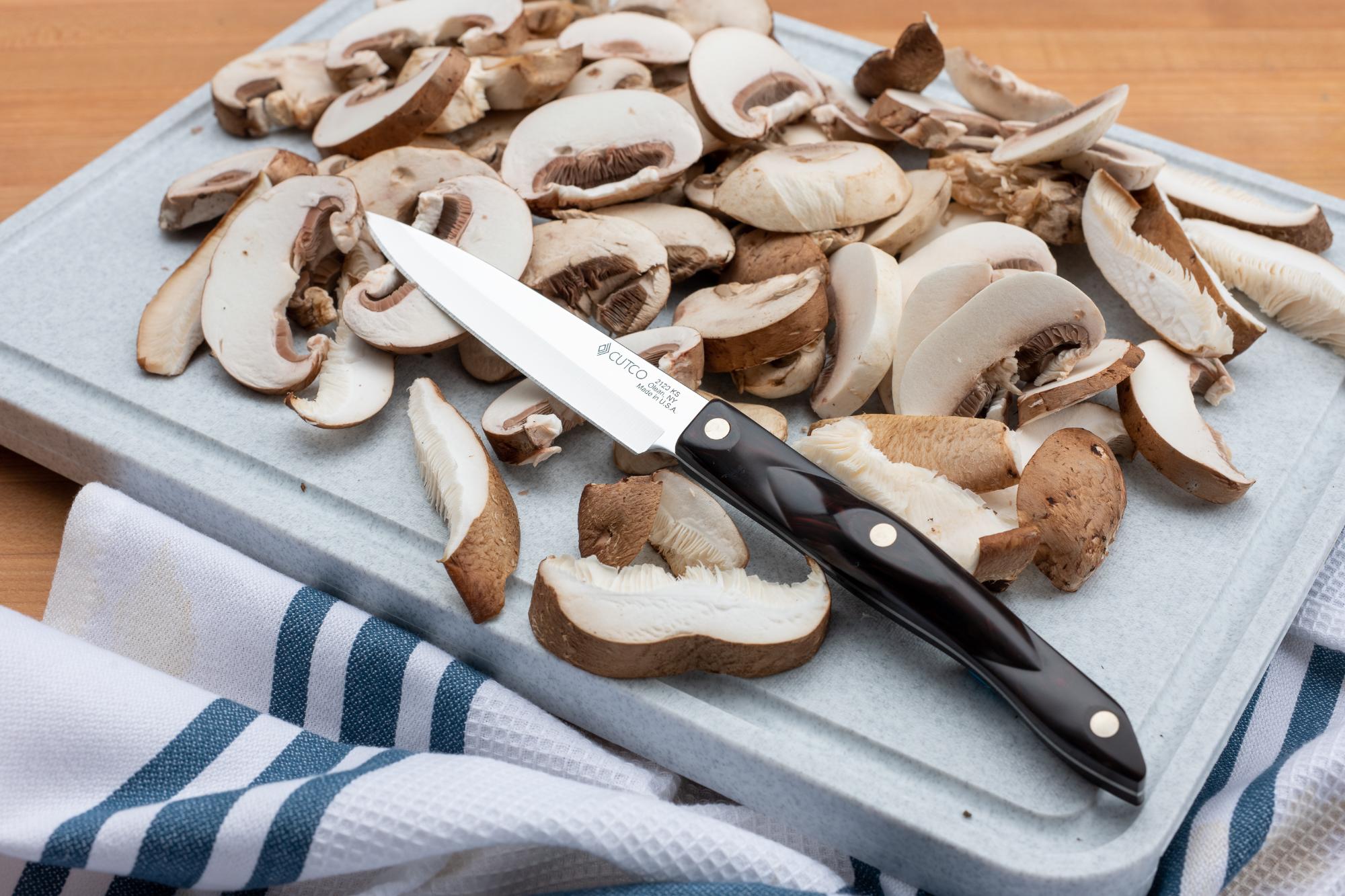 You'll notice I've added a unique ingredient to the list, which is dried mushroom powder. You don't need to use this if you can't find it, but I highly recommend adding it as the powder intensifies the mushroom flavor. You can find it in your spice section at most major grocery stores.
When you have all of your ingredients prepped, this creamy mushroom soup recipe comes together quickly. Add your mushrooms, onions and garlic to the melted butter in a Dutch oven, sautéing them for approximately five minutes and then adding your spices.
While the mushroom mixture is cooking, whisk the stock, white wine, lemon juice and balsamic vinegar in a glass bowl, using the Mix-Stir. Make sure all of the ingredients are well-blended.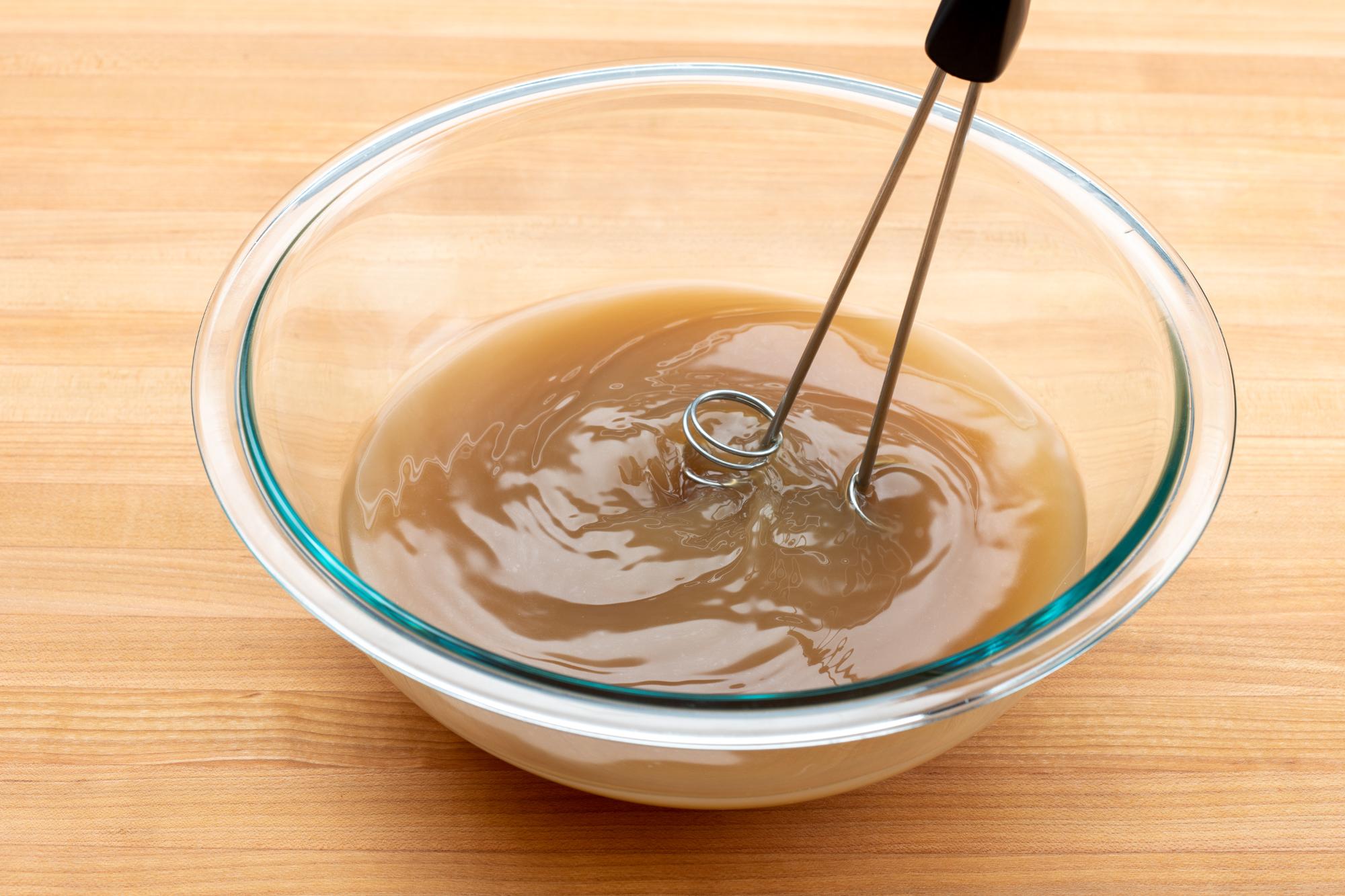 Then pour the liquid over your mushroom mixture, ensuring that you scrape up any of the brown bits from the bottom of the pan.
The next step is crucial as this is what will thicken your soup. Add the flour one tablespoon at a time to the half and half (or whole milk), mixing vigorously to ensure there are no flour lumps. Do this each time you add the flour so that at the end of the process, you have a creamy mixture. Add this to the mushrooms and simmer until the sauce is thickened.
The final secret is to add some crème fraiche (or sour cream) at the end of the cooking process. This ups the creaminess of your soup. Just make sure the crème fraiche is room temperature so it won't curdle. Mix all of this gently, sprinkle with the fresh parsley and you're ready to serve.
Interestingly enough, two of our team members are not big mushroom fans but they were willing to give this Creamy and Flavorful Mushroom Soup a try. They both declared it a winner. There is just so much flavor in this soup, you'll never want the canned variety again. It really is a full meal and the bread was perfect to get those last bits out of your bowl. Everyone took home leftovers, so I think we'll be making this again sometime soon. At least I know where to find the mushrooms.
Ingredients
4 tablespoons of salted butter
1 1/2 cups white onions, chopped
2 cloves garlic, minced
1 1/2 pounds mushrooms, sliced (use cremini, shitake, button, etc.)
1/4 teaspoon kosher salt
1/8 teaspoon black pepper
2 sprigs fresh thyme leaves
2 teaspoons dried dill weed
1 teaspoon dried mushroom powder (umami seasoning blend)
2 1/2 cups low sodium chicken or vegetable stock
1/2 cup dry white wine
1 tablespoon lemon juice
2 teaspoon balsamic vinegar
1 cup half and half (or whole milk)
3 tablespoons all-purpose flour
1 cup room-temperature creme fraiche (or sour cream)
Chopped fresh parsley, for serving
Rustic bread, for dipping
Directions
Melt the butter in a large pot or Dutch oven over medium heat.
Add the onion, garlic and mushrooms, seasoning with the salt and pepper. Sauté the mushroom, onion and garlic mixture for approximately 5 minutes and then add the thyme leaves and dill and cook another 5 minutes, stirring often.
Sprinkle the mushroom powder over the mixture.
In a separate bowl, whisk together the stock, white wine, lemon juice and balsamic vinegar.
Slowly pour the stock mixture into your large pot over your mushrooms, onions and seasonings, scraping the bottom of the pot to loosen anything that may be stuck to the bottom of your pot.
Bring the soup to a simmer and let cook for five minutes, reducing some of the liquid.
While your soup is simmering, whisk together the half-and-half and flour until the mixture is smooth. Pour this into the soup and continue to simmer for approximately 8-10 minutes, or until the soup thickens, stirring often.
Once thickened, remove the soup from the heat and stir a few times to bring down the temperature.
Slowly stir in your crème fraiche (or sour cream) to the soup, making sure it's at room temperature so it won't curdle. Mix gently until combined.
Sprinkle the parsley over the top of the soup and serve immediately.
Add some rustic bread for dipping if you like.
Recommended Tools