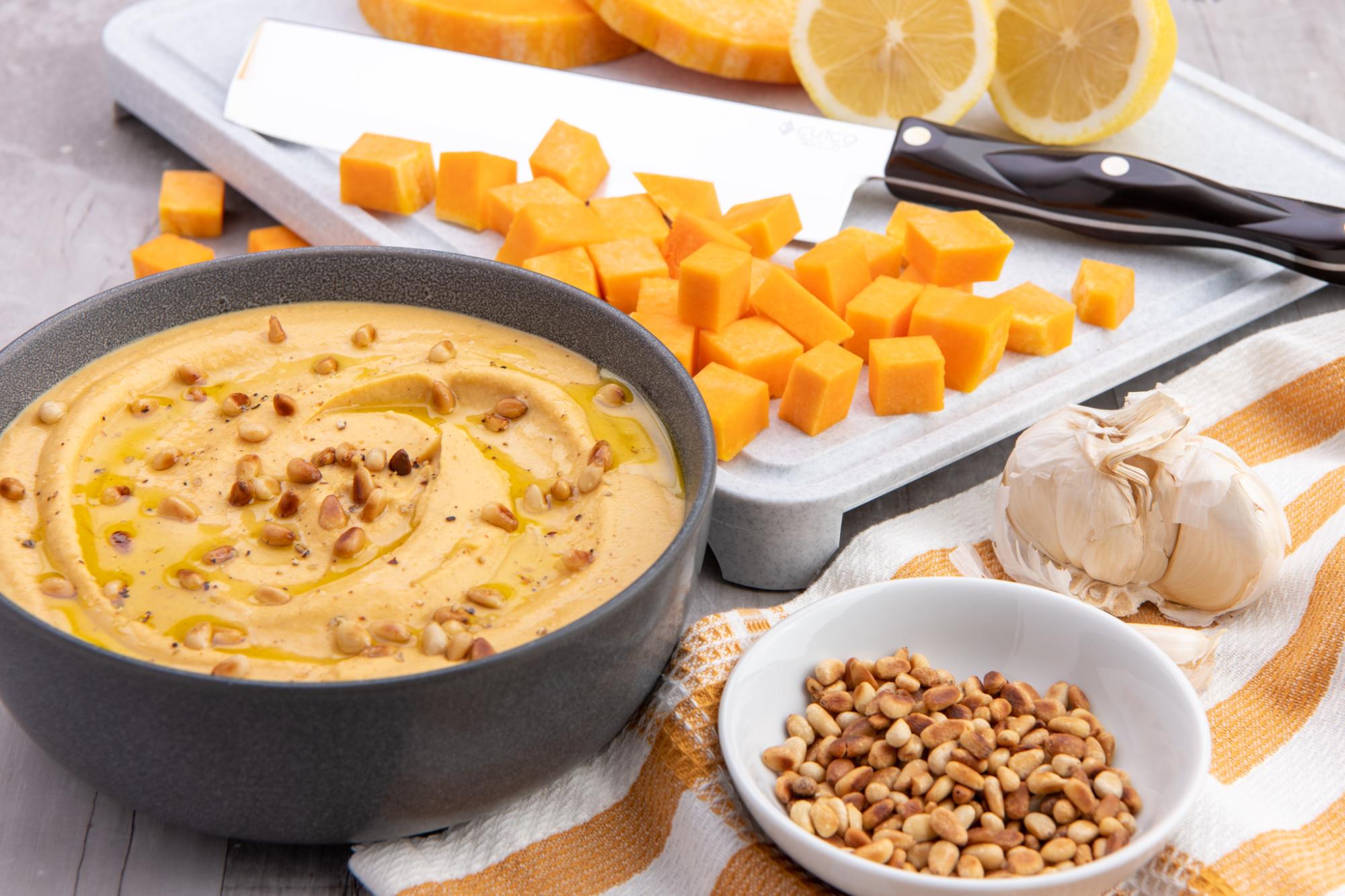 Hummus is my go-to snack, especially when I want something to jazz up my fresh vegetables. Store-bought options are fine but making your own at home is actually simple and it can be an easy appetizer to bring to your next gathering. Traditional, roasted garlic, sun-dried tomatoes and roasted red pepper hummus are some of my favorites, but this Butternut Squash Hummus recipe is rising in the ranks.
The base for hummus is chickpeas, olive oil, lemon juice, garlic and tahini, which is ground sesame seeds. You can typically find tahini near your organic peanut and almond butters. With that foundation, you can build any flavor you prefer.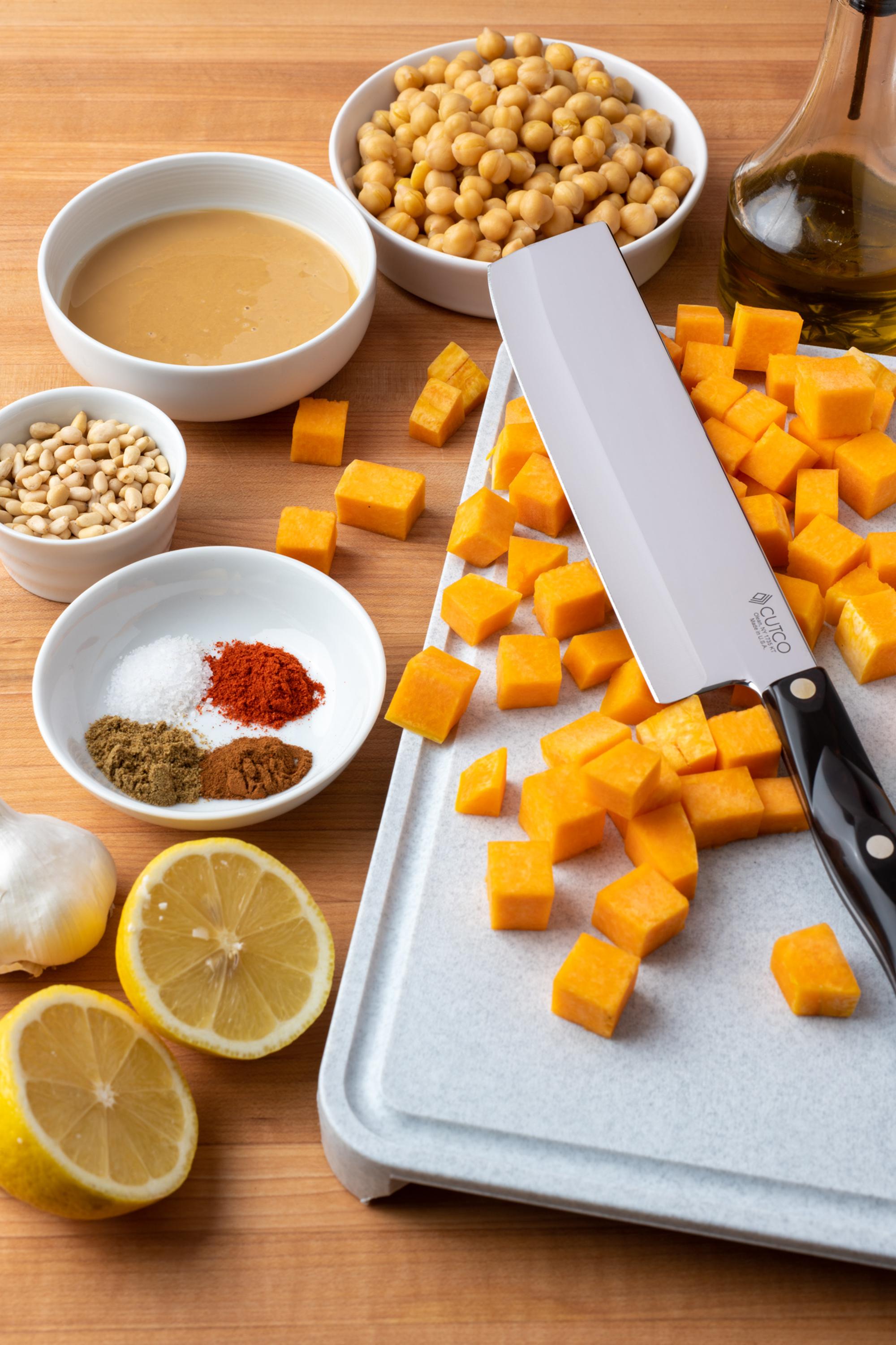 I chose to use butternut squash as my base, simply because this wonderful winter squash is plentiful in our area and I love its nutty and sweet flavor. It's also fun to cut with your Cutco and we have a few tips to make that even easier. What puts this particular recipe over the top is the spice combination we used. Cumin, cinnamon, smoked paprika, kosher salt and some black pepper really pair nicely with the squash for a truly unique flavor experience.
For this creamy Butternut Squash Hummus recipe, choose a small to medium squash if you're only using it for this recipe. If you want to use the leftover squash for a roasted side dish, go with a larger version.
To cut the squash into cubes, you'll first want to poke some holes in the outer skin with a fork and put it in the microwave for 3-5 minutes. This is how you soften it for easy cutting. I used the Vegetable Knife to cut it into cubes. For step-by-step instructions on How to Dice a Butternut Squash, check out our handy tutorial.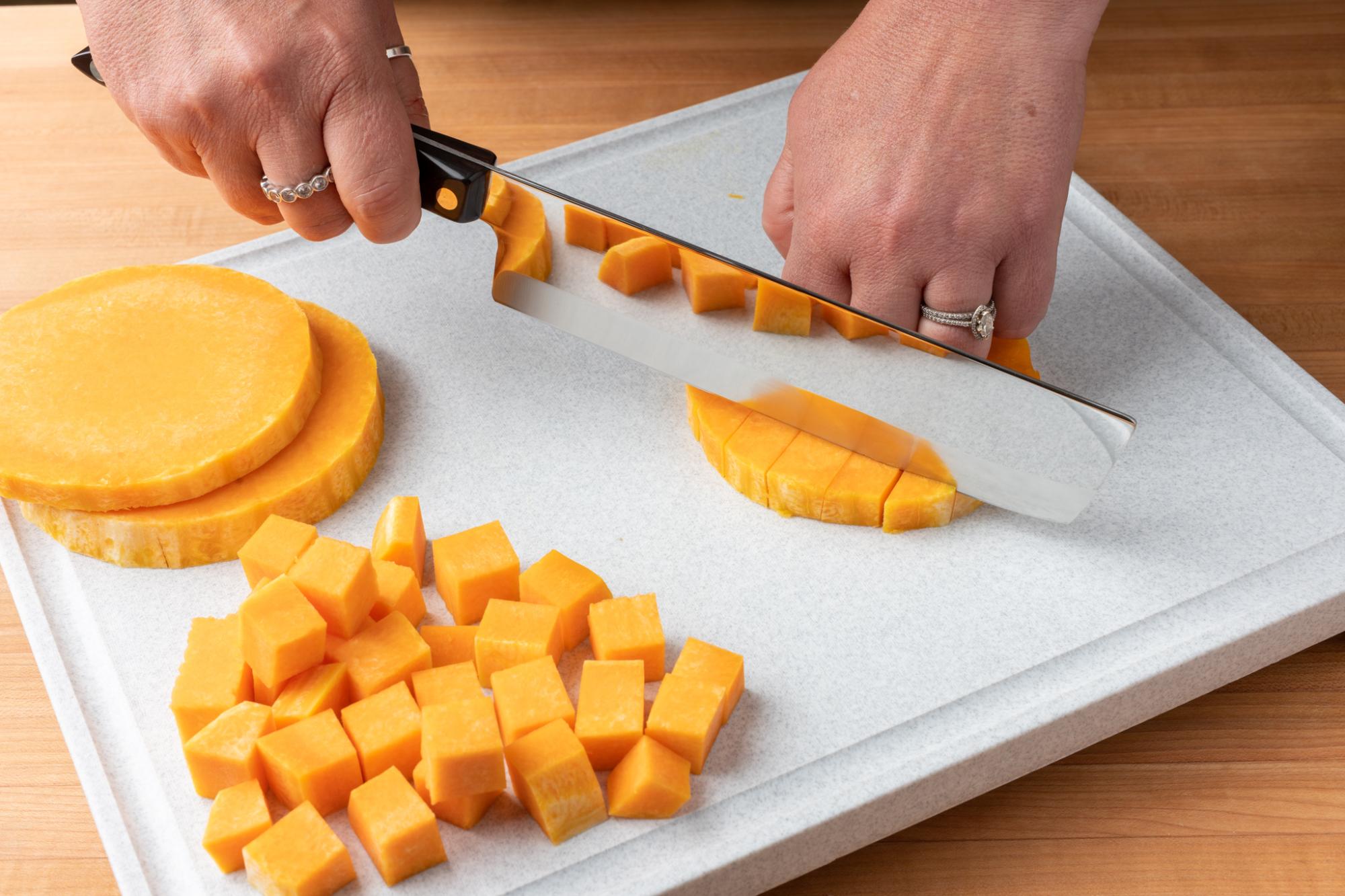 Another little trick we used for this recipe is roasting the butternut squash with the unpeeled garlic. Once the cook time was complete, we peeled the roasted garlic, giving us a wonderfully soft garlic with some additional nutty flavor.
To cut the lemon in half for the fresh lemon juice, reach for the Trimmer. It is a great utility knife for cutting citrus and trust me, you want fresh lemon juice when you make your hummus, as it really makes a difference in the overall taste.
Once all the roasting and cutting is done, this Butternut Squash Hummus comes together quickly. All of the ingredients are put into a food processor. Then you add the olive oil to blend everything together into a smooth mixture. If you find the hummus is still too thick after adding the olive oil, you can add water to get it to your preferred consistency.
We added some additional black pepper and then put toasted pine nuts on top with an additional swirl of olive oil. Oh my! So delicious. This easy appetizer packs a bunch of flavor. We tried it with pita chips, carrots, celery and bell peppers, and everything tasted wonderful. This Butternut Squash Hummus is my next party appetizer and we hope you enjoy it as well!
Ingredients
1 cup butternut squash, cut into ½ inch cubes
4 large garlic cloves, unpeeled
Olive oil
1/2 teaspoon kosher salt
1 15-ounce can chickpeas, drained and rinsed
1/3 cup tahini
3 tablespoons fresh lemon juice
1/2 teaspoon cumin
1/4 teaspoon cinnamon
1/4 teaspoon smoked paprika
1/4 teaspoon kosher salt
1/4 cup olive oil
1/4 cup water, as needed
Freshly ground black pepper, to taste
1/4 cup pine nuts, toasted
Directions
Place a baking sheet into the oven and heat the oven to 400 F.
In a bowl, toss the butternut squash cubes and unpeeled garlic cloves with a drizzle of olive oil (enough to coat the squash) and salt. Take the baking sheet out of the oven and dump the butternut squash and garlic cloves onto the baking sheet into a single layer. Roast for approximately 20-25 minutes until the squash is tender. Let cool.
Peel the roasted garlic.
Place the butternut squash and peeled garlic into a food processor or high-speed blender. Add the chickpeas, tahini, lemon juice, cumin, cinnamon, smoked paprika and salt.
With the food processor or blender running, drizzle in the 1/4 cup of olive oil. If the mixture is still not smooth, add water as needed until you reach a very smooth consistency. Taste and add additional salt and pepper if needed.
Pour the hummus into a serving bowl and top with pine nuts and an additional drizzle of olive oil.
Serve with crackers, pita chips or chopped vegetables.
Recommended Tools