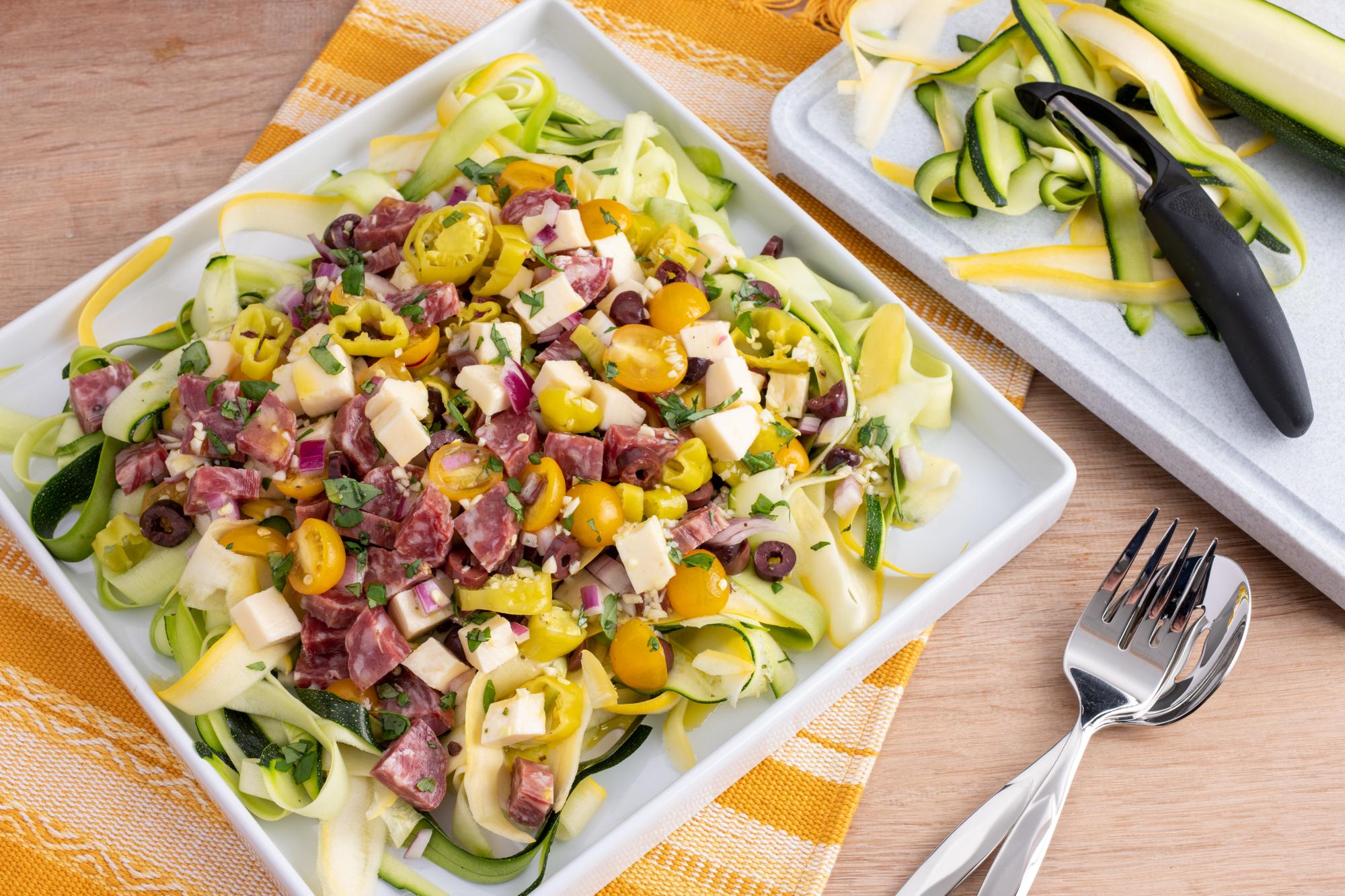 I love zucchini but I may get a bit overzealous when planting this bountiful vegetable in my garden. What seems like just a few nice plants turns into a situation where I'm giving away zucchini to total strangers. Okay, maybe a slight exaggeration but we've all been there. The problem is that all of it ripens at the same time and one can only bake so much zucchini bread, so this Zucchini Salad recipe is a nice departure.
The recipe uses the life-changing application of zoodles, otherwise known as zucchini pasta. It's the concept of cutting the zucchini into noodles and using them as a substitute for pasta. I've prepared my zucchini this way many times and do enjoy it as a meal; however, I sometimes struggle with the zucchini being a bit mushy. Not my favorite texture when it comes to vegetables.
Then I stumbled across the suggestion of making zoodles, where you do not actually cook the zucchini, but allow a vinaigrette to naturally soften the vegetable while still maintaining some crunch. Add some delicious toppings and you have a zucchini salad that is both beautiful and tasty.
The best part about this recipe is that you don't need a fancy device to create your zucchini pasta. Simply grab your Vegetable Peeler and make perfect zoodles every time. Just peel the zucchini into thin strips working your way around the vegetable and stopping once you start to reach the seeds of the squash.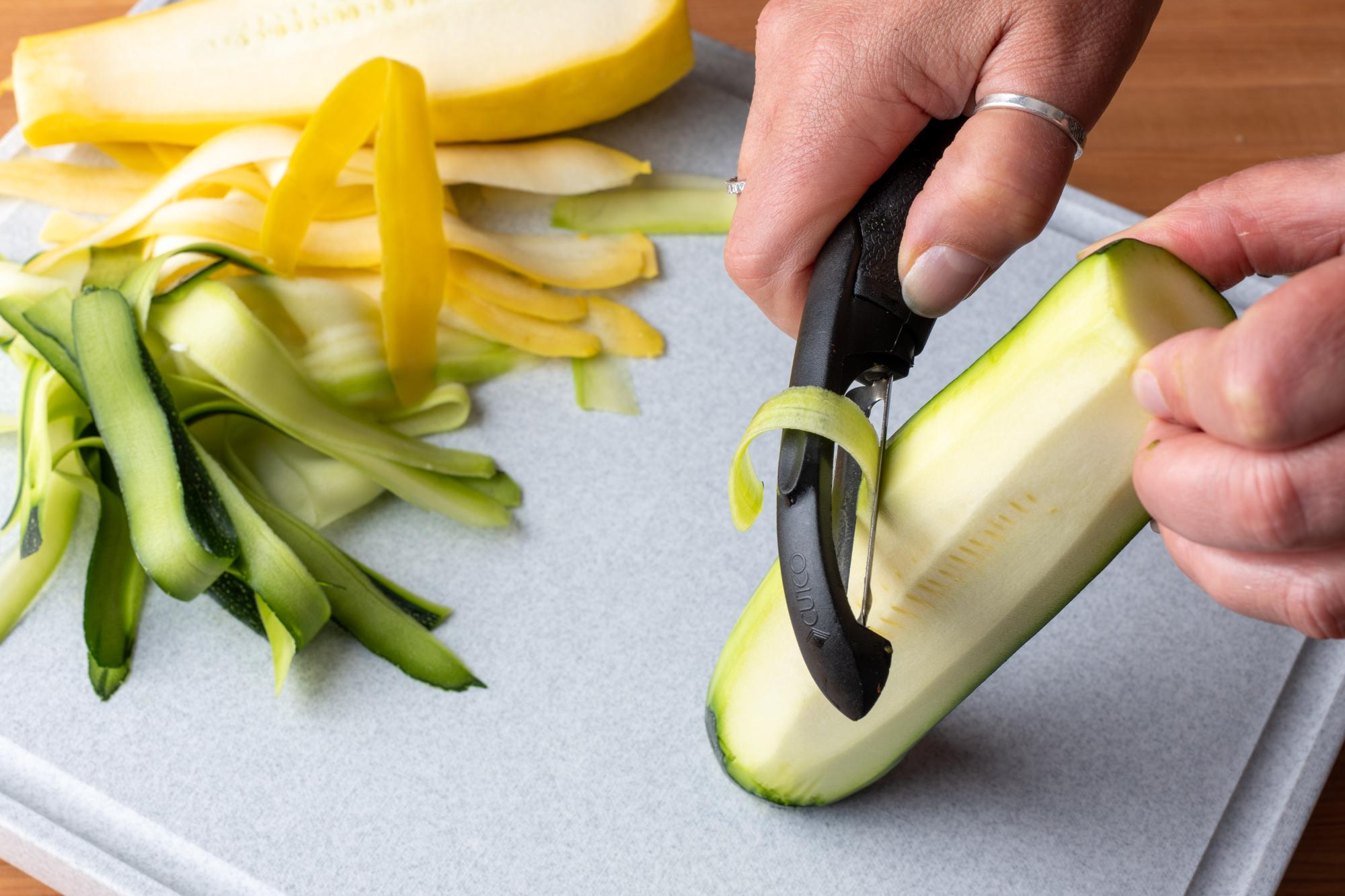 Once you have your colorful pile of zoodles, reach for the Hardy Slicer and begin dicing your cheese and salami. For this particular recipe I chose to go with provolone because of its mellow flavor and sopressata, an Italian dry cured pork salami. If you can't find sopressata, you can use any cured salami.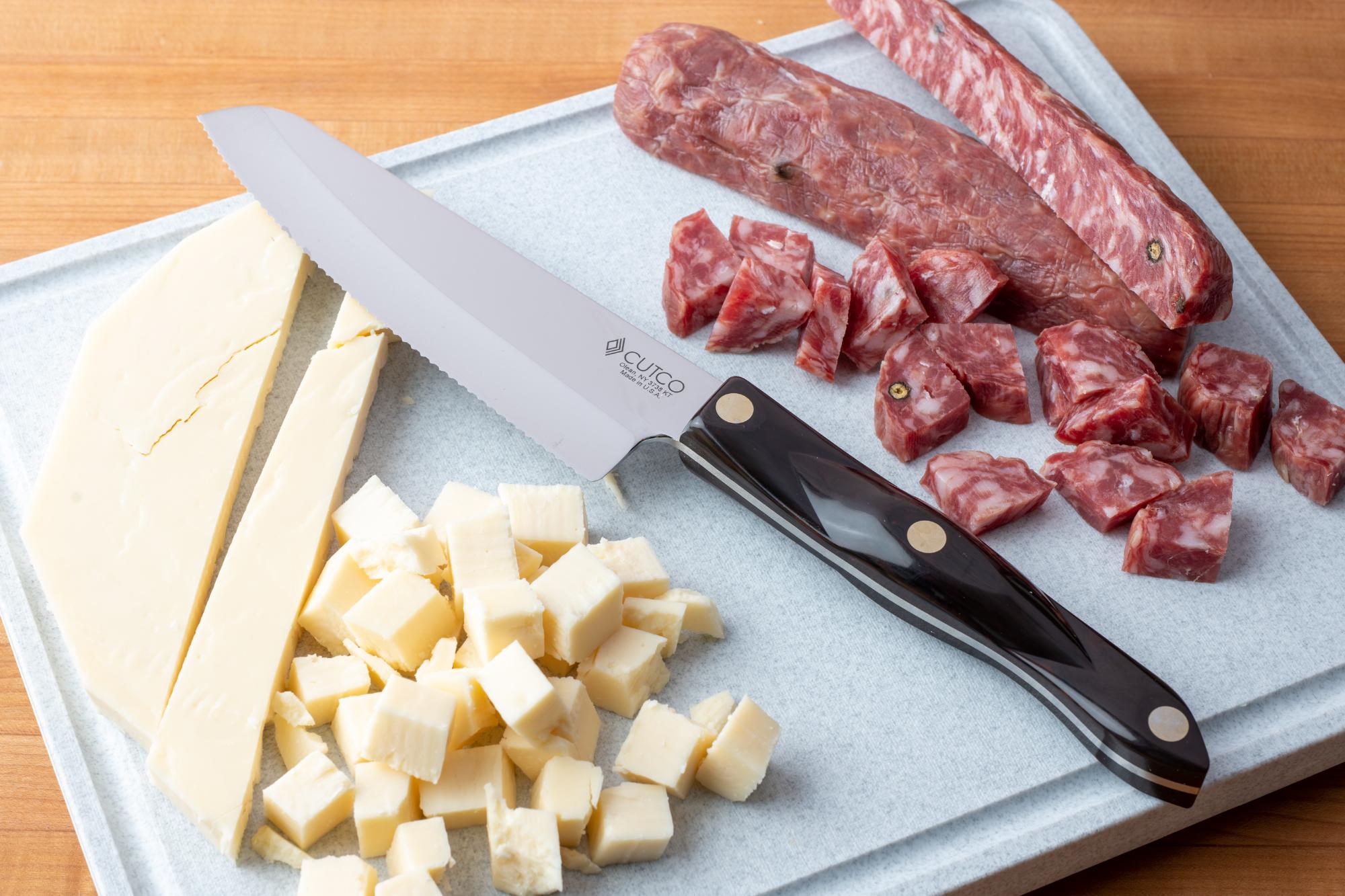 This recipe also calls for pepperoncini and I highly recommend buying whole pepperoncini and then slicing them with the Trimmer. This mild pepper pairs nicely with the cheese and salami and slicing them when you're ready to make this salad keeps the pepper very fresh with some crunch.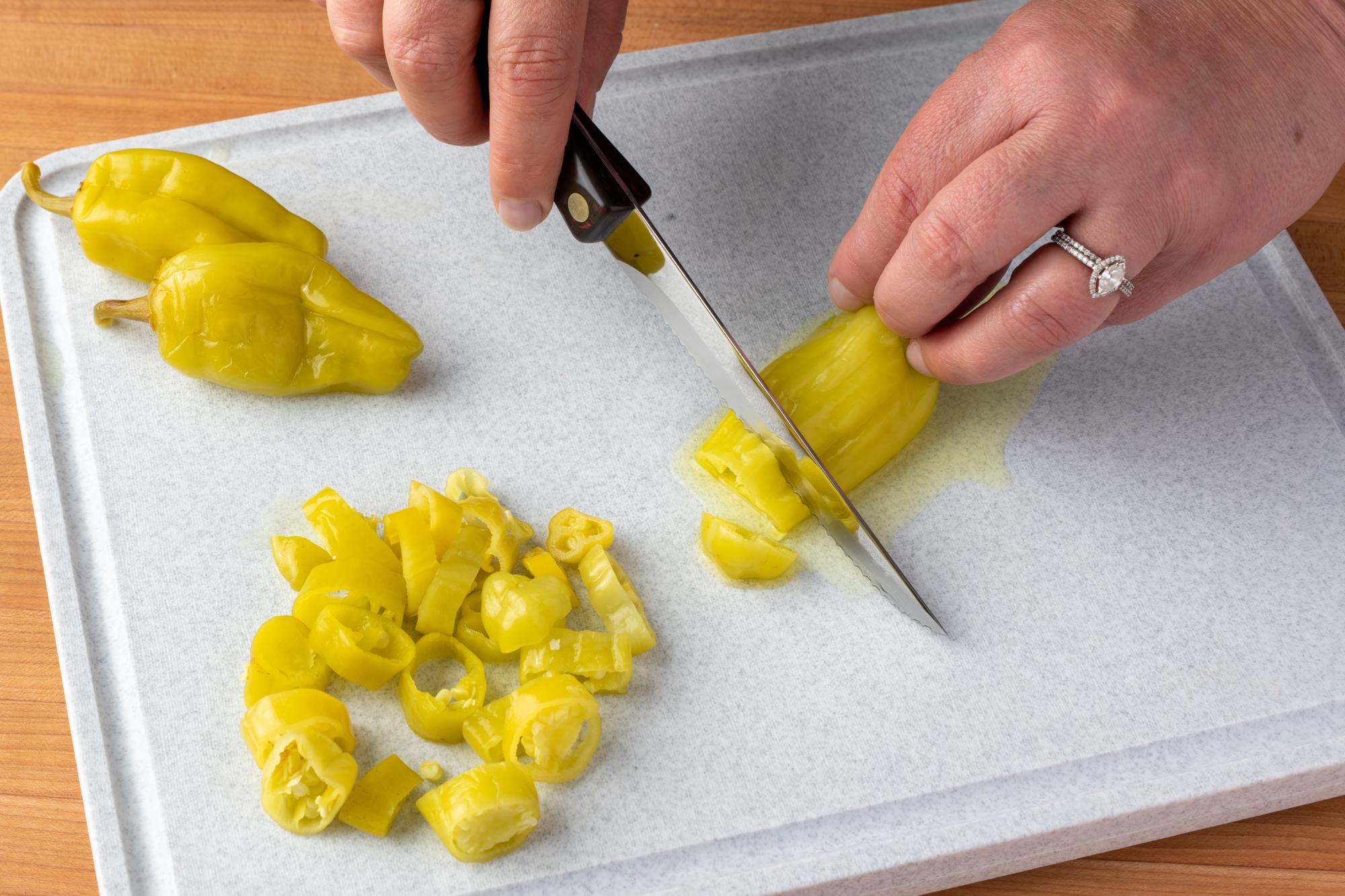 I chose to include sun gold tomatoes, cutting them in half with the Trimmer for nice even bites. You really can choose any small tomato – grape tomatoes would be fine in this dish. I just prefer the color of the sun gold tomatoes as well as their sweet and tart taste.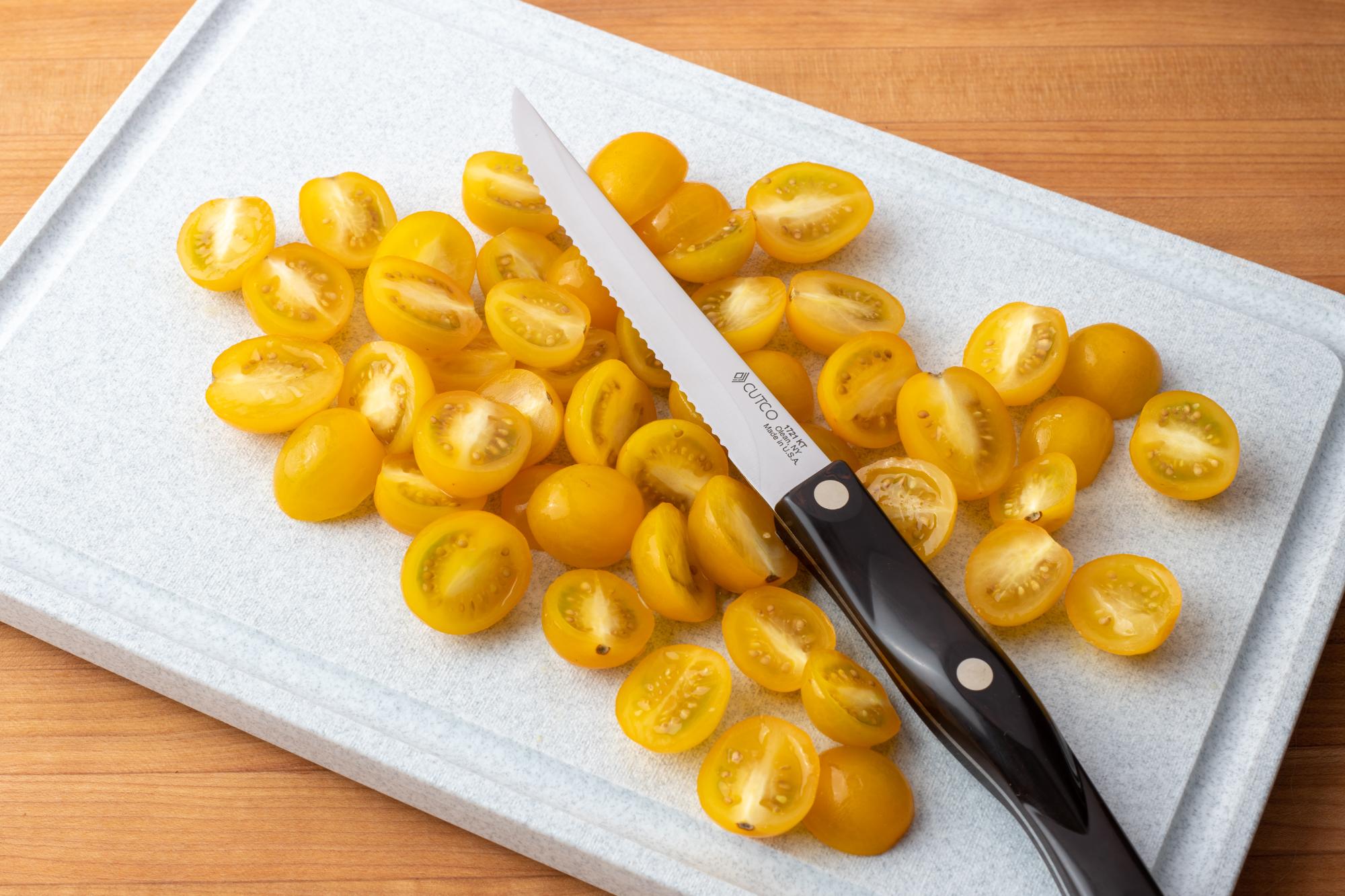 Once everything is cut, this Zucchini Salad comes together quickly. Start by piling the zoodles in a large bowl or flat dish with sides and then layer the remaining cut ingredients, tossing gently. Drizzle the vinaigrette over the salad and you have a dish worthy of serving at your next summer get-together. The flavors come together perfectly and the squash remains the star of this dish, with a delicate crunch in every bite.
Once you've made this Zucchini Salad, trust me, you won't be giving any of your zucchini away! Enjoy.
Ingredients
2 medium zucchini
1 medium yellow squash
1/3 cup olive oil
1/3 cup white wine vinegar
2 cloves of garlic, minced
1/2 teaspoon salt
1/8 teaspoon black pepper
1 teaspoon granulated sugar
8 ounces provolone cheese, cubed
6 ounces sopressata (salami), diced
3 ounces Kalamata olives, sliced
1 cup sun gold tomatoes, halved
1/2 medium red onion, diced
6-8 pepperoncini, sliced
1/2 cup fresh basil, roughly chopped
Directions
Using a Vegetable Peeler, peel the zucchini and yellow squash vertically into thin noodles (stopping when you reach the seeds of the squash).
Place the zucchini and squash noodles on paper towels to allow the noodles to drain any excess moisture.
In a separate bowl, make the vinaigrette by whisking together the oil, vinegar, garlic, salt, pepper and sugar.
Place the noodles into a large bowl and add the cheese, sopressata, olives, tomatoes, red onion, pepperoncini and basil – tossing gently.
Drizzle the vinaigrette over the noodle mixture and serve.
Recommended Tools