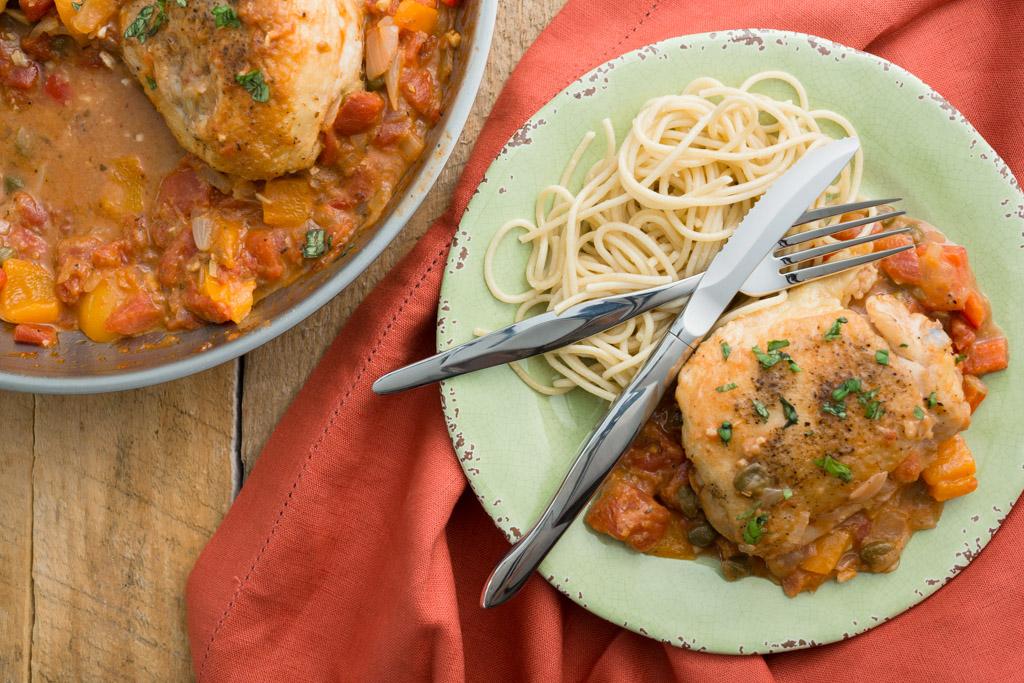 I don't know about you but at my house, we tend to eat the same foods for dinner over and over again. My husband is a "meat and potatoes" guy so getting him out of his comfort zone is not easy. While Chicken Cacciatore is not a new recipe, it's something I haven't made in years.
So, loosely playing off the quote "everything old is new again," I decided to make this dish. Served with a side of spaghetti and a green salad, this is a hearty meal. Simmering the chicken in the sauce makes it tender and moist. Although you can use other color peppers, the red bell pepper adds sweetness to the sauce. The capers add saltiness, creating a nice balance.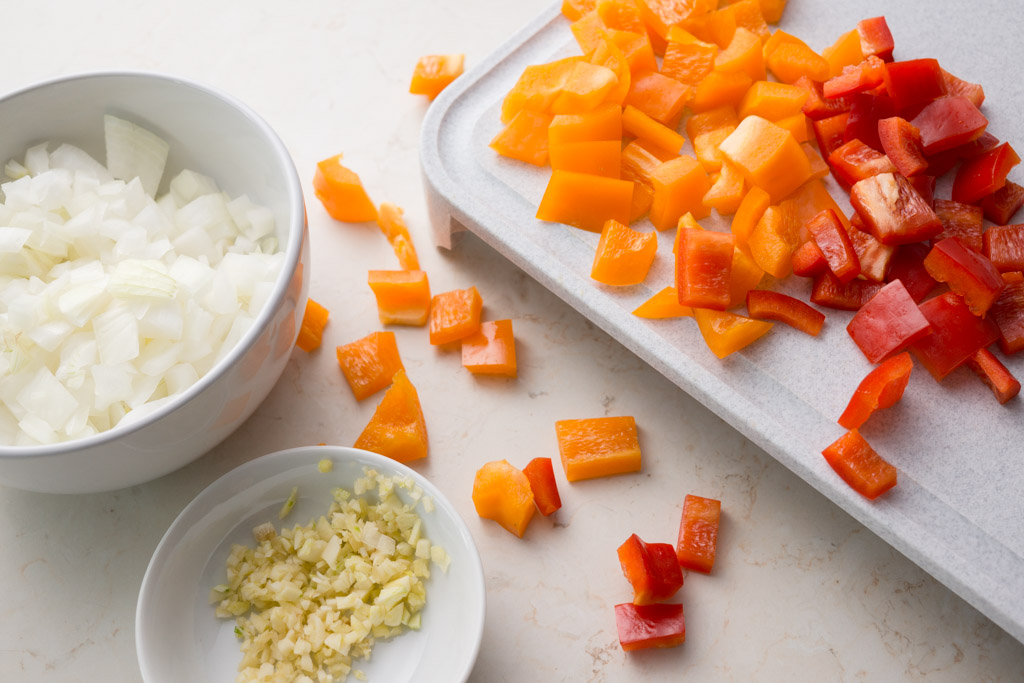 I wouldn't recommend using boneless thighs or breasts in this recipe. Bone-in chicken renders more flavor and moistness to this dish.
I'll be making this at home soon and I predict my husband's reaction will be "Boy, we haven't had this in a long time."
Ingredients
4 chicken thighs, bone-in and skin on
2 chicken breasts, bone-in and skin on
1 teaspoon salt plus more for seasoning
1 teaspoon freshly ground black pepper plus more for seasoning
1/4 cup all-purpose flour for dredging
3 tablespoons olive oil
1 large red bell pepper, chopped (green, yellow or orange peppers can also be used if you prefer)
1 medium onion, chopped
3 cloves garlic, finely chopped
3/4 cup dry white wine
1 28-ounce can diced tomatoes in juice
1 cup reduced-sodium chicken broth
3 tablespoons drained capers
1 1/2 teaspoons dried oregano
1/4 cup coarsely chopped fresh basil
Directions
Sprinkle both sides of chicken pieces with 1 teaspoon of salt and 1 teaspoon of pepper. Dredge in flour to lightly coat. Heat oil in a large, heavy sauté pan over medium-high heat. Add the chicken pieces to the pan and sauté until brown, about 5 minutes per side. Do not crowd the pieces in the pan. If necessary, sauté in 2 batches.
Transfer the chicken to a plate and set aside. Add the pepper, onion and garlic to the pan and sauté over medium heat until the onion is tender.
Season with salt and pepper. Add the wine and simmer until reduced by half. This should take about 3 minutes.
Add the tomatoes with their juice, broth, capers and oregano. Return the chicken to the pan and turn to coat them in the sauce. Bring to a simmer and cook over medium-low heat until the chicken is cooked through, about 20 minutes for the thighs and 30 minutes for the breasts.
When done, transfer the chicken to a platter. Boil the sauce until it thickens slightly, about 3 minutes. Spoon off any excess fat from the top of the sauce. Spoon the sauce over the chicken, sprinkle with basil and serve.
Recommended Tools