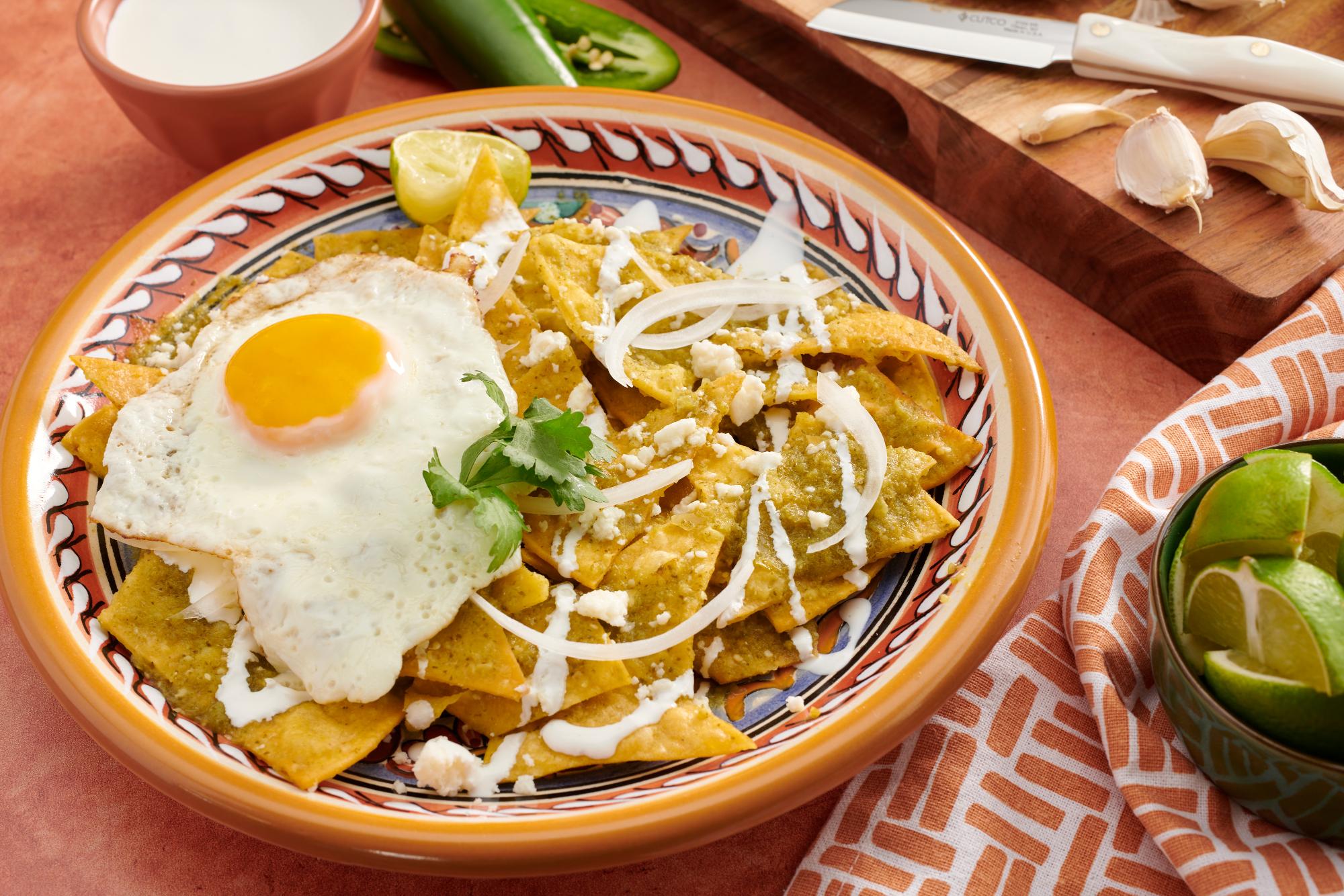 I first visited Mexico City in early 2020 for about a week, and Chilaquiles Verdes was my favorite meal by far. It is common and found in nearly any "fonda," which are smaller restaurants, usually family-run.
There are many variations including with red salsa (roja), green salsa (verde) or a combination of both called chilaquiles divorciados. Now every time I visit Mexico, it's the dish I have to have to make me happy in the morning. I make it regularly at home on the weekends with leftover tortillas, a few tomatoes and an onion. I usually top it off with an over-medium egg – with the yolk adding more flavor.
Making the Homemade Tortillas
If you ask me, you really can't make this recipe without freshly fried tortillas. Store-bought chips can get soggy quickly when combined with the verde sauce.
To fry the corn tortillas, stack them and cut them into triangles using a Pizza Cutter.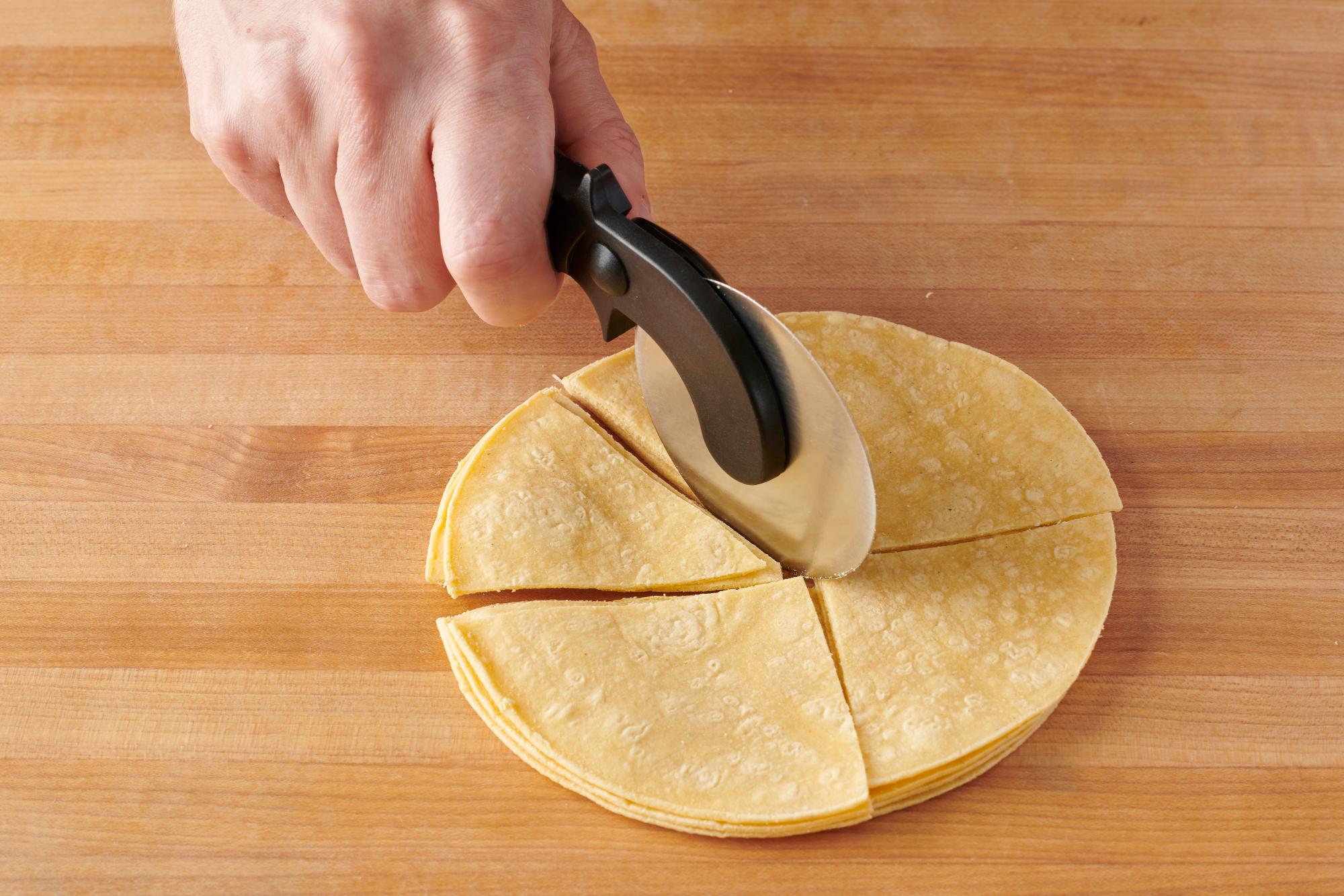 Then lightly fry the triangles in canola oil in a large pan to make them crispy.
Making the Chilaquiles Verde Sauce
Roasting the tomatillos, onion and jalapeños before blending the sauce together offers a deep, caramelized flavor to the dish.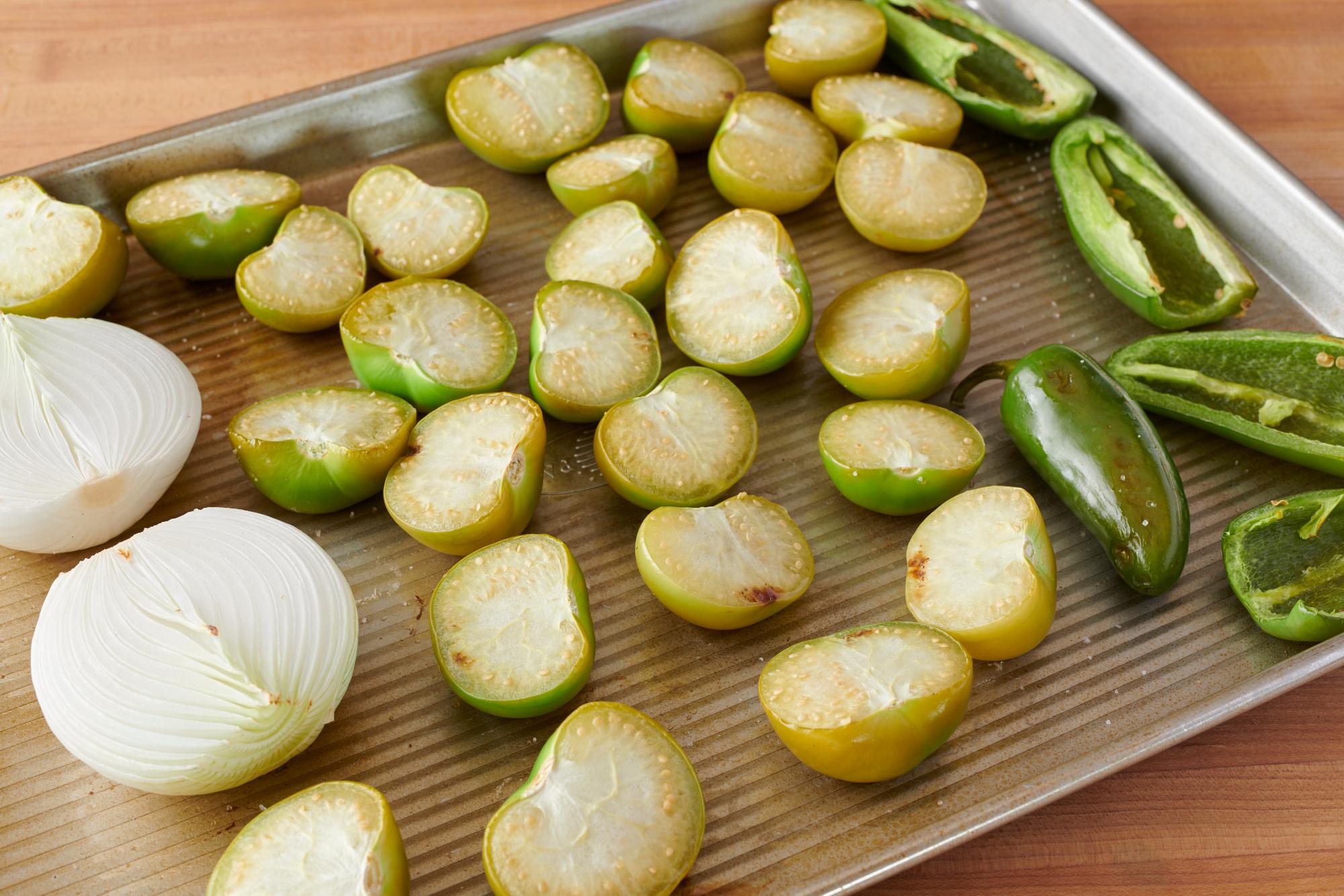 The garlic in this recipe only needs to be rough chopped since it will be blended up with the roasted vegetables. Don't drop the garlic cloves in whole. Chopping the garlic will allow them to easily blend with the rest of the sauce.
The Santoku-Style 3″ Paring Knife works great for prepping the garlic.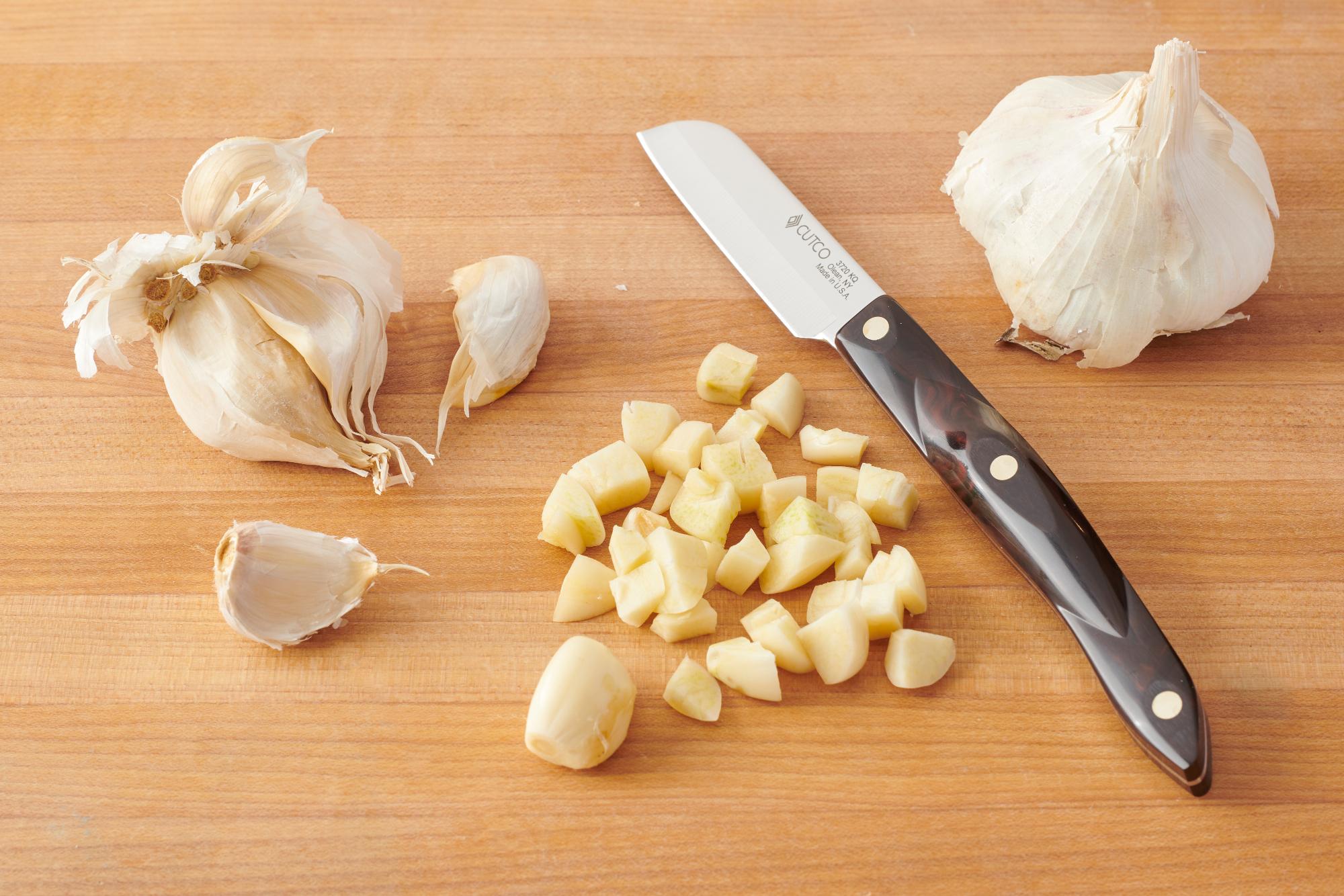 Trust me when I say this verde sauce is delicious. Use it for the chilaquiles, but also on its own as a dip.
When the verde sauce is done, heat it in the large fry pan with a bit more canola oil. Add the crispy tortilla chips and gently toss together to coat them with the sauce.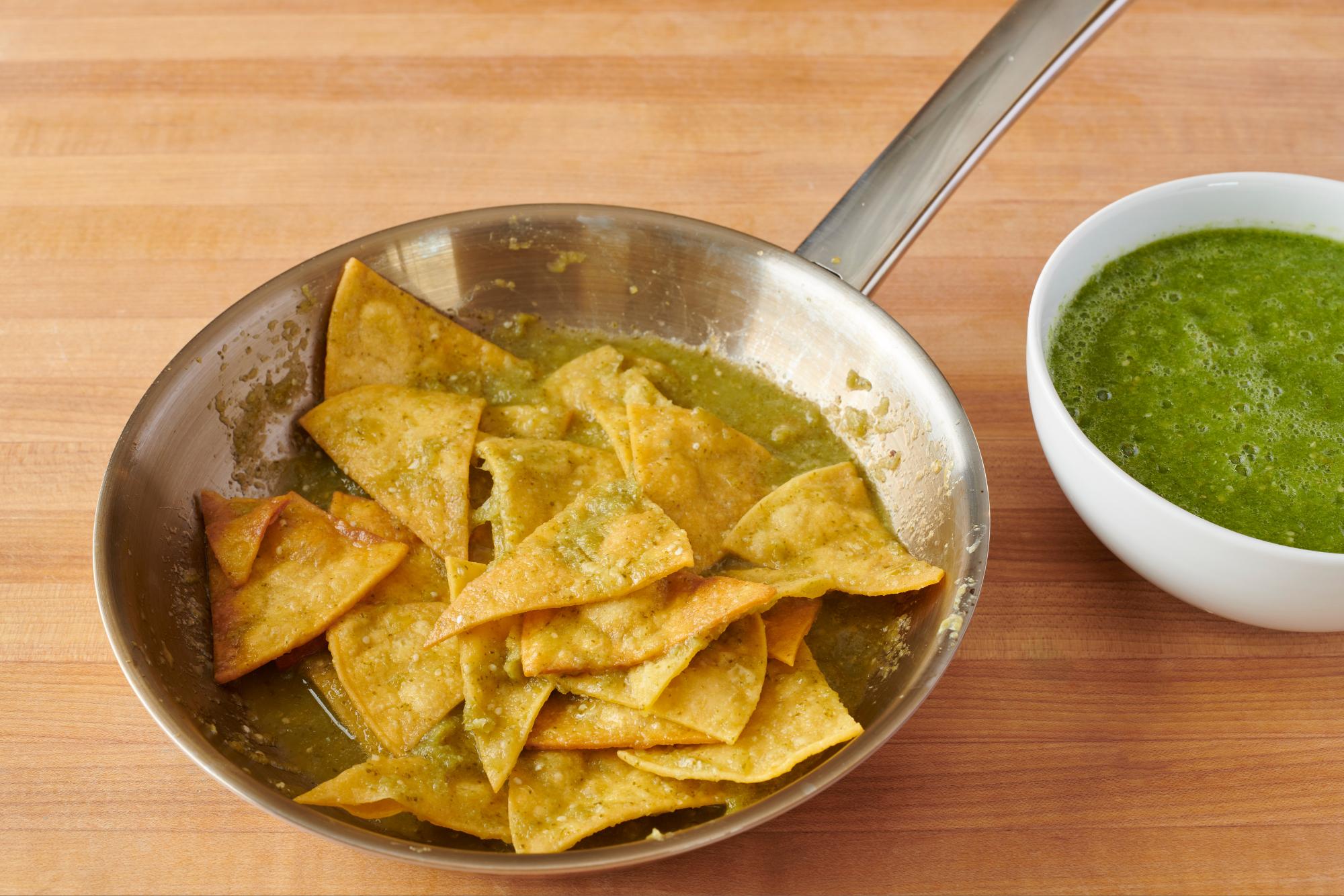 Serve the chilaquiles immediately, topped with onion, crema, cheese and a fried egg.
The crunchy, salty tortillas paired with the cheese and tangy, fresh sauce make the perfect combination. I also like to add a chile de árbol for a little heat.
The best part of this Chilaquiles Verdes recipe is how easy it is to make and all of the variations you can consider. Topping it with an egg makes it feel more like breakfast or you can add shredded chicken to make this a hearty lunch or dinner.
Ingredients
For the tortillas:
16 corn tortillas
1/4 cup canola oil
For the sauce:
1 pound fresh tomatillos
2 jalapeños, halved with seeds removed
1/2 white onion, roughly chopped
1 teaspoon chicken bouillon
2 garlic cloves, roughly chopped
1 cup water
2 teaspoons canola oil
Garnishes:
1/2 cup white onion, diced
1/2 cup Mexican crema
1 cup queso fresco
4 fried eggs
Cilantro leaves
Lime wedges
Directions
Heat one-quarter cup of canola oil to 350 F in a large fry pan. Fry the tortillas in batches, flipping them occasionally until they are brown and crisp.
Move fried tortillas to a plate lined with paper towels to soak up any additional oil. Set aside.
Set oven to broil.
Place tomatillos, jalapeños, and onion on a baking sheet. Broil for a few minutes until slightly softened and browned.
Place the broiled ingredients into a blender, then add the chicken bouillon, garlic and water, and blend until smooth.
In a large pan over medium heat, heat 2 teaspoons of canola oil. Add the blended sauce and cook for approximately 8 to 10 minutes, stirring occasionally and cooking until the sauce is thickened.
Add the previously fried tortilla chips to the sauce and mix them to coat evenly.
Serve immediately, garnished with onion, crema, cheese and a fried egg. You can also add a cilantro leaf or wedge of lime for additional flavor and color.
Notes: You can replace the sauce with enchilada sauce to save time. Use freshly fried corn tortillas as flour or store-bought chips will get soggy. The green sauce is actually a salsa verde which can also be used in general on many other dishes, like carnitas.
Recommended Tools