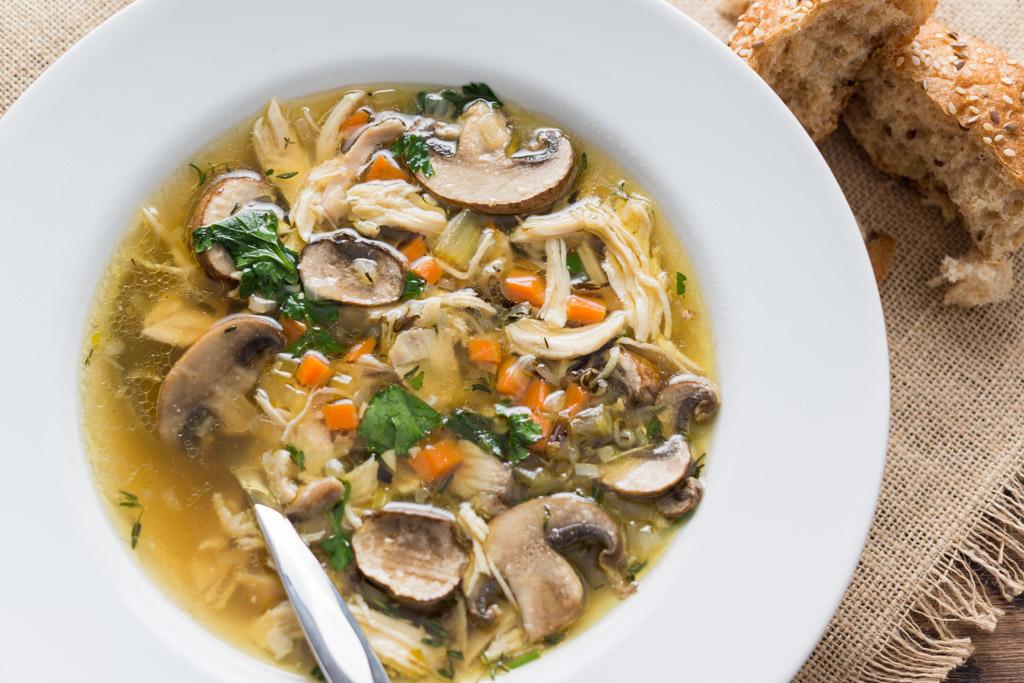 Soup season is here! Celebrate with this Chicken Soup with Mushrooms and Rice recipe. It's hearty enough to be a meal unto itself. It's also a great recipe to make ahead and eat throughout the week or freeze for a quick meal when you need it.
Be sure to use cremini mushrooms, not white button mushrooms for this soup. Creminis are a more mature white mushroom which accounts for their browner color, firmer texture and better flavor. You can truly taste the difference. They also hold up better in liquids like soups and stews and are sometimes packaged as baby bellas or baby Portobello's.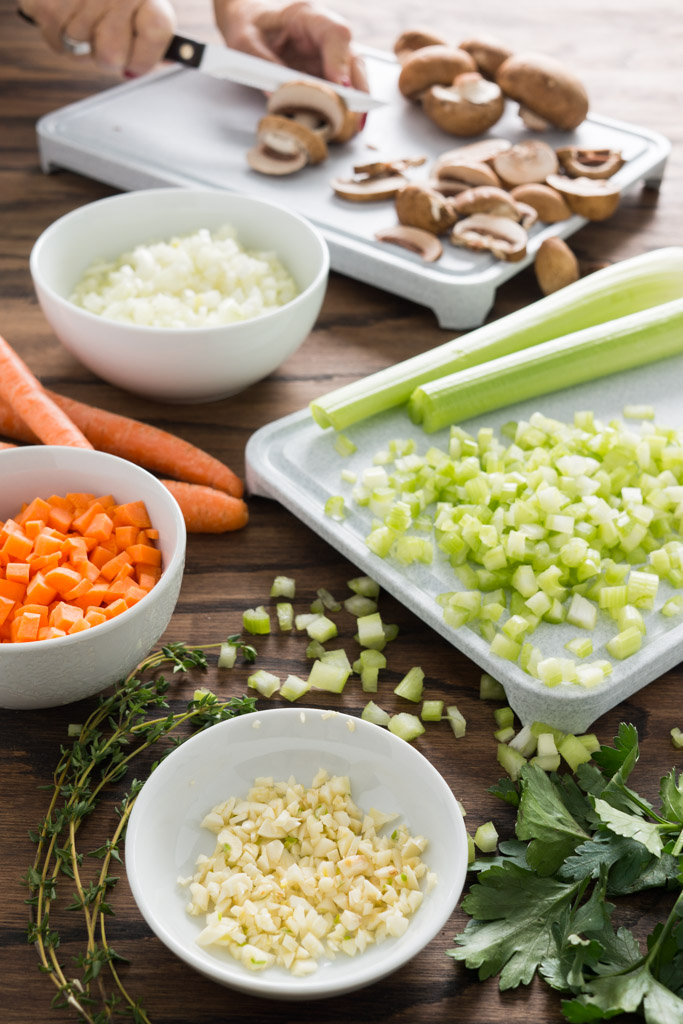 Add some crusty bread or whole grain crackers for a satisfying, warming, stick to the ribs dinner any night of the week.
For more information on types of mushrooms, how to clean them and how to cut them, watch our video tutorial.
Ingredients
5 pounds of bone-in chicken parts
12 cups low-sodium chicken stock
1 tablespoon olive oil
1 1/2 cups diced onion
4 large garlic cloves, minced
1 1/2 cups wild rice blend
1 cup diced carrots
1 cup diced celery
1 3/4 teaspoons salt
1/2 teaspoon pepper
6 ounces cremini mushrooms, sliced
1/2 cup flat leaf parsley
1 tablespoon chopped fresh thyme
Directions
Place the chicken and chicken stock in a large stockpot. Bring to a boil over high heat. Reduce heat and simmer uncovered for 30-45 minutes. Periodically skim off any foam that rises to the top.
Remove chicken from the pot and let cool. Remove skin and pick meat off the bones, shred and set aside.
Heat the oil in a large pot over medium high heat. Add onion and cook, stirring often, until starting to brown. Reduce heat to medium and continue cooking, stirring often until onion is soft, about 5 minutes. Add garlic and cook, stirring about 1 minute more.
Stir in the stock, scraping up any brown bits. Add rice, carrot, celery, salt and pepper. Cover and bring to a boil over high heat. Reduce heat and simmer, covered, until rice is tender, 25 to 30 minutes.
Add mushrooms, parsley, thyme and shredded chicken. Cook until the mushrooms are tender, 5 to 8 minutes.
Recommended Tools