Chicken and Papaya Stir-Fry With Ginger and Lime
725 days ago
Skip to recipe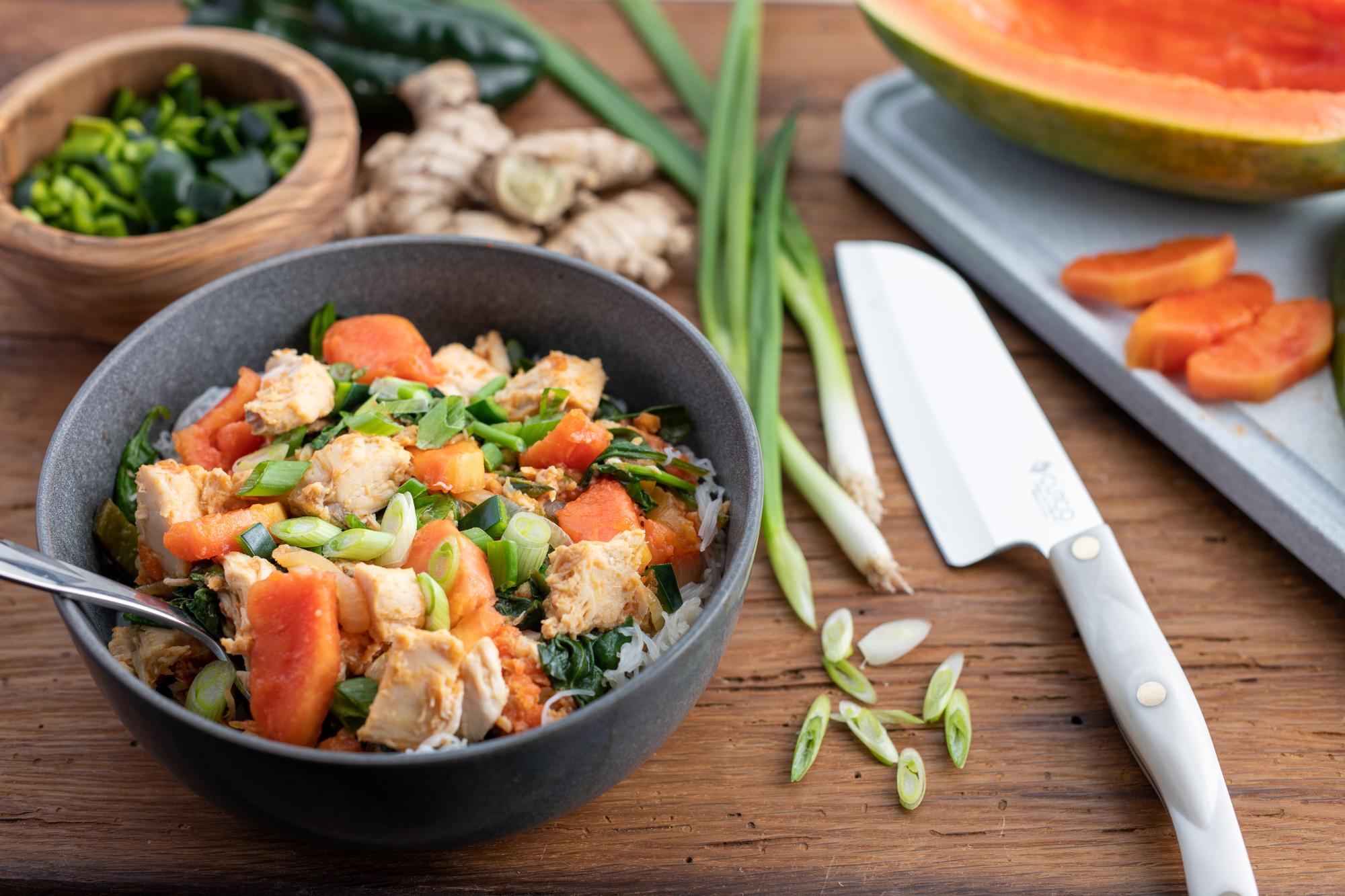 Making a stir-fry is an easy dinner option, especially during the week when I don't have a great deal of time. This Chicken and Papaya Stir-Fry with Ginger and Lime takes it one step further as it relates to easy, using a cooked rotisserie chicken that you can pick up from your local grocery store. And the flavor is unique, combining papaya with poblano peppers and ginger.
Poblano peppers are typically a mild chili pepper so don't expect them to add any heat to this dish. If you want something with a bit more kick, you could substitute a jalapeño pepper but be careful not to overpower the papaya, which has a sweet and delicate flavor. Papaya is also high in water content so we've added some cornstarch to this stir fry so it doesn't have too much liquid.
Prepare the Stir-Fry Ingredients
The secret to this recipe is using a cooked rotisserie chicken that is cold, and cutting the chicken into chunks. If you need some assistance in breaking down a rotisserie chicken, check out our tutorial that will take you step-by-step through the process.
Because the poblano pepper is not a hot pepper, you don't need to use gloves when cutting it, although I still advise being careful around the seeds. To dice the pepper, I used the 5" Petite Santoku knife to cut around the core, cut it into strips and then diced.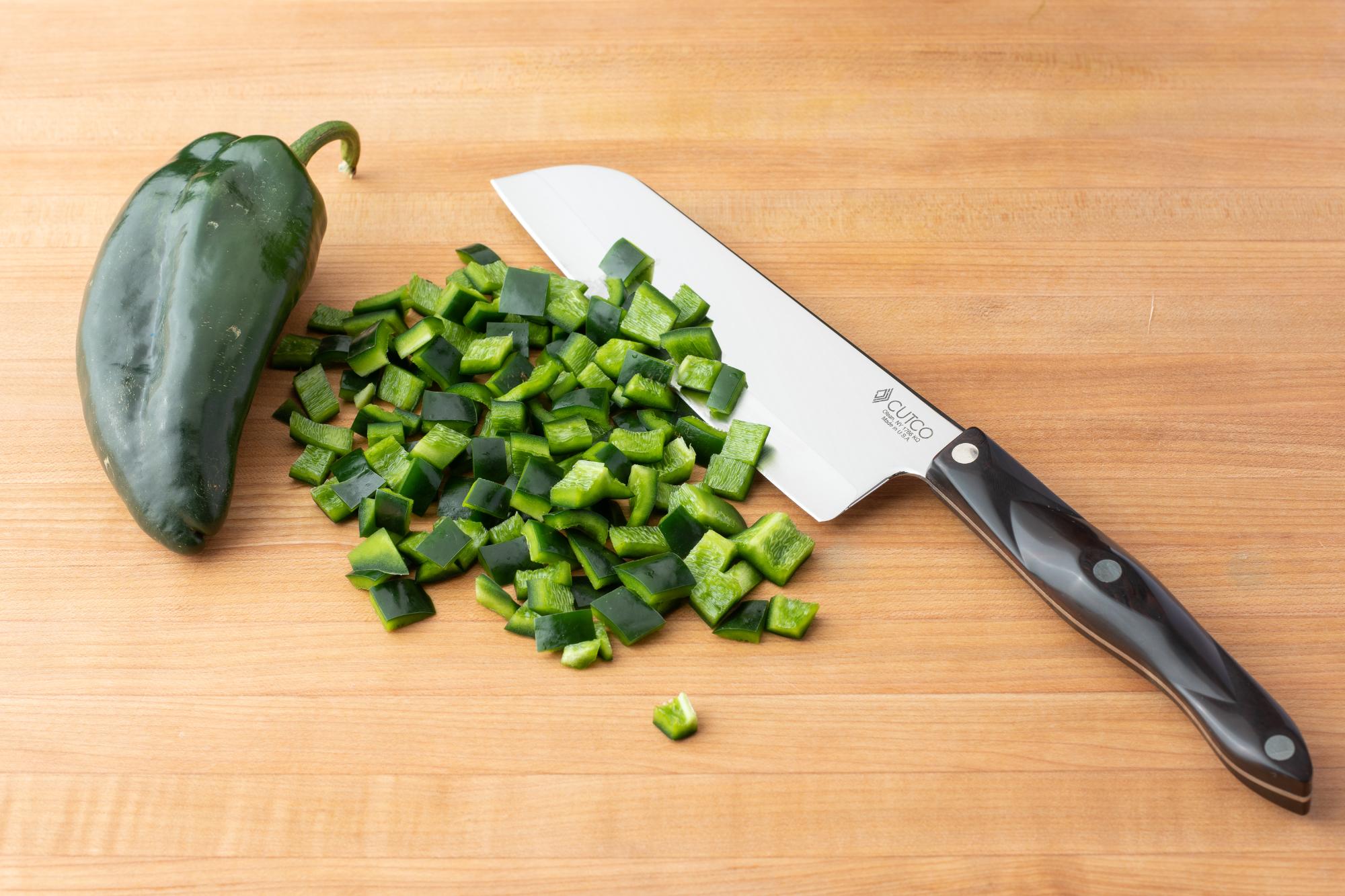 For the papaya, I used the 7" Santoku to cut this delicate fruit into slices. Take a look at our How to Cut a Papaya tutorial and learn the basic steps in handling this wonderful fruit.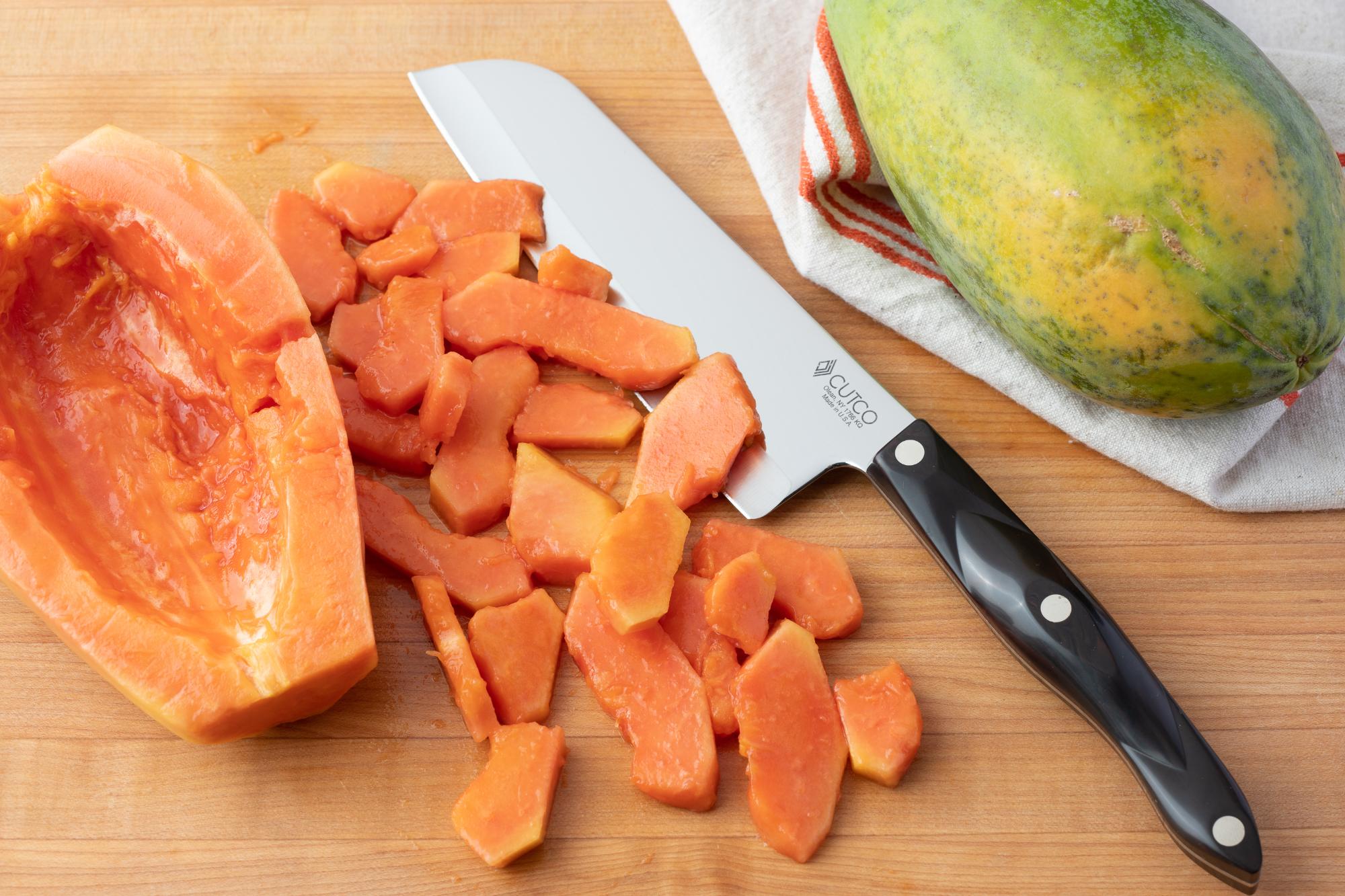 Papaya has a mildly sweet flavor that pairs nicely with the poblano pepper and ginger, and it's very easy to cut.
Once the prep work is complete, this stir-fry comes together easily. So that it doesn't become too watery, make sure to coat the chicken with the soy sauce, white wine and cornstarch mixture. This will give you more of a sauce for your final dish.
Making the Stir-Fry
You can use a Wok or large skillet for this recipe, just make sure the oil is hot before adding in your ingredients. Start with sautéing the onion, ginger and garlic together and then adding the poblano pepper, followed by the chicken mixture.
The papaya and the spinach are the last ingredients you'll add as they are the most delicate. The spinach should be just wilted when you take the Wok or Skillet off of the heat.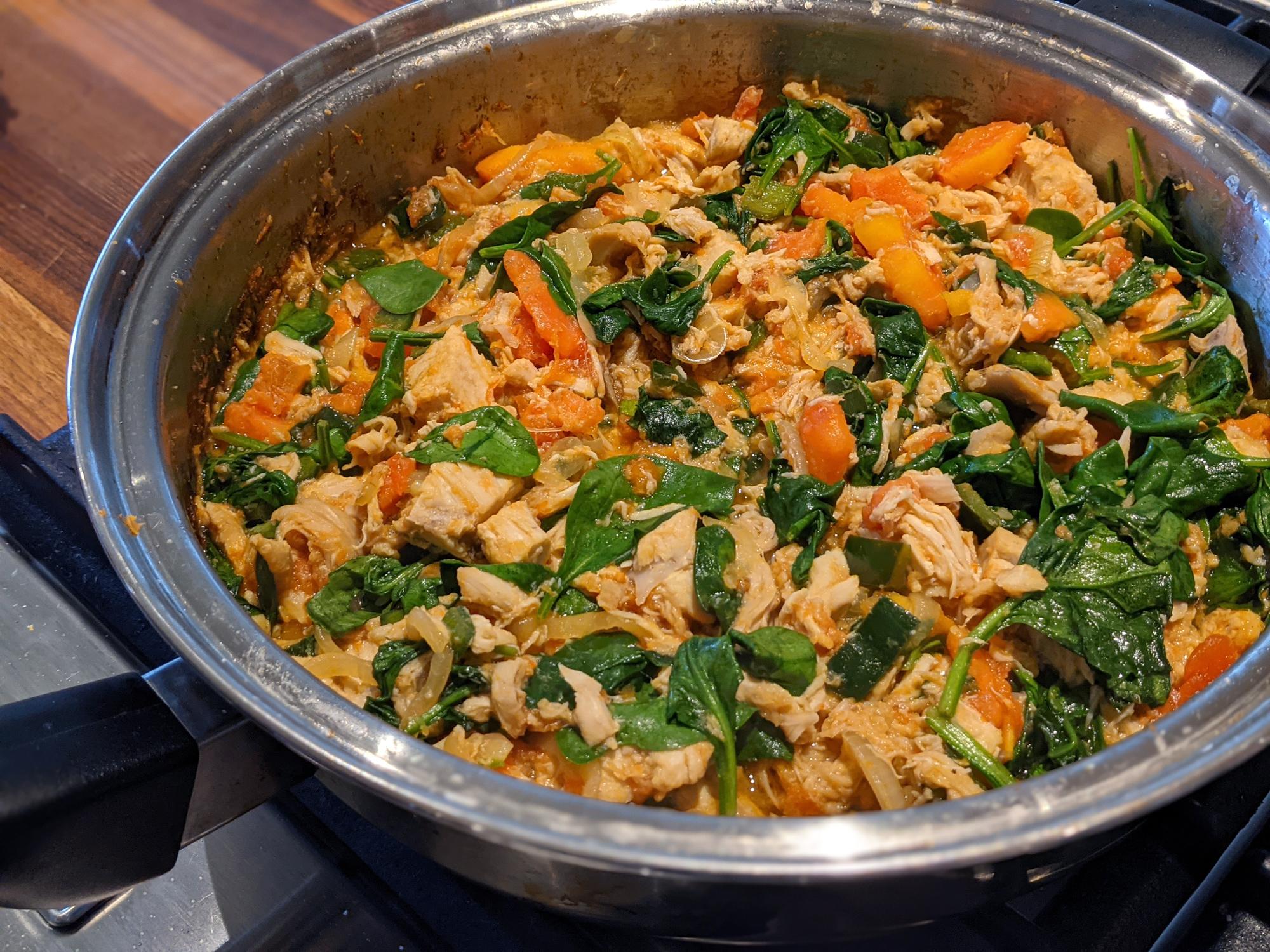 We chose to serve our Chicken and Papaya Stir-Fry with Ginger and Lime over thin noodles and garnished the finished dish with some additional lime juice and scallions. You could just as easily serve this over rice or quinoa. Whatever you choose, it will still be delicious. The papaya had a sweet and buttery flavor that worked well with the chicken, pepper and ginger, while the lime juice added some necessary acidity to the dish. I don't use papaya a great deal in my cooking, but I just may need to add it to the rotation after tasting this dish. Enjoy.
Ingredients
4 teaspoons soy sauce
6 teaspoons dry white wine
2 tablespoons cornstarch
1 cold rotisserie chicken, carved and cut into 1- to 1½-inch pieces
1 tablespoon vegetable oil
1 small yellow onion, thinly sliced
3 teaspoons fresh ginger, minced
2 garlic cloves, minced
1 poblano pepper, seeded and diced
2 limes, juiced
1 tablespoon soy sauce
1 large ripe papaya - peeled, seeded and cut into slices
2 cups baby spinach leaves
Salt and freshly ground pepper
Thin noodles or rice
2 large scallions, thinly sliced
1 lime, juiced
Directions
In a small bowl, combine the soy sauce, white wine and cornstarch. Put the rotisserie chicken pieces in a large bowl. Pour the soy sauce mixture over the rotisserie chicken pieces and coat thoroughly.
Heat the oil in a large skillet (or Wok) over medium-high heat. Add the onion, ginger and garlic and sauté for 3 minutes. Add the poblano pepper and sauté for 1 minute. Add the chicken mixture and sauté for 3 minutes.
Add the lime juice and soy sauce and cook for an additional 2 minutes.
Add the papaya and sauté for 3 minutes
Add the spinach leaves, salt and pepper and cook until the spinach is wilted. Stir to combine all of the ingredients.
Remove from heat. Serve over thin noodles or rice, sprinkling the scallion and additional lime juice over the top of each plate.
Recommended Tools