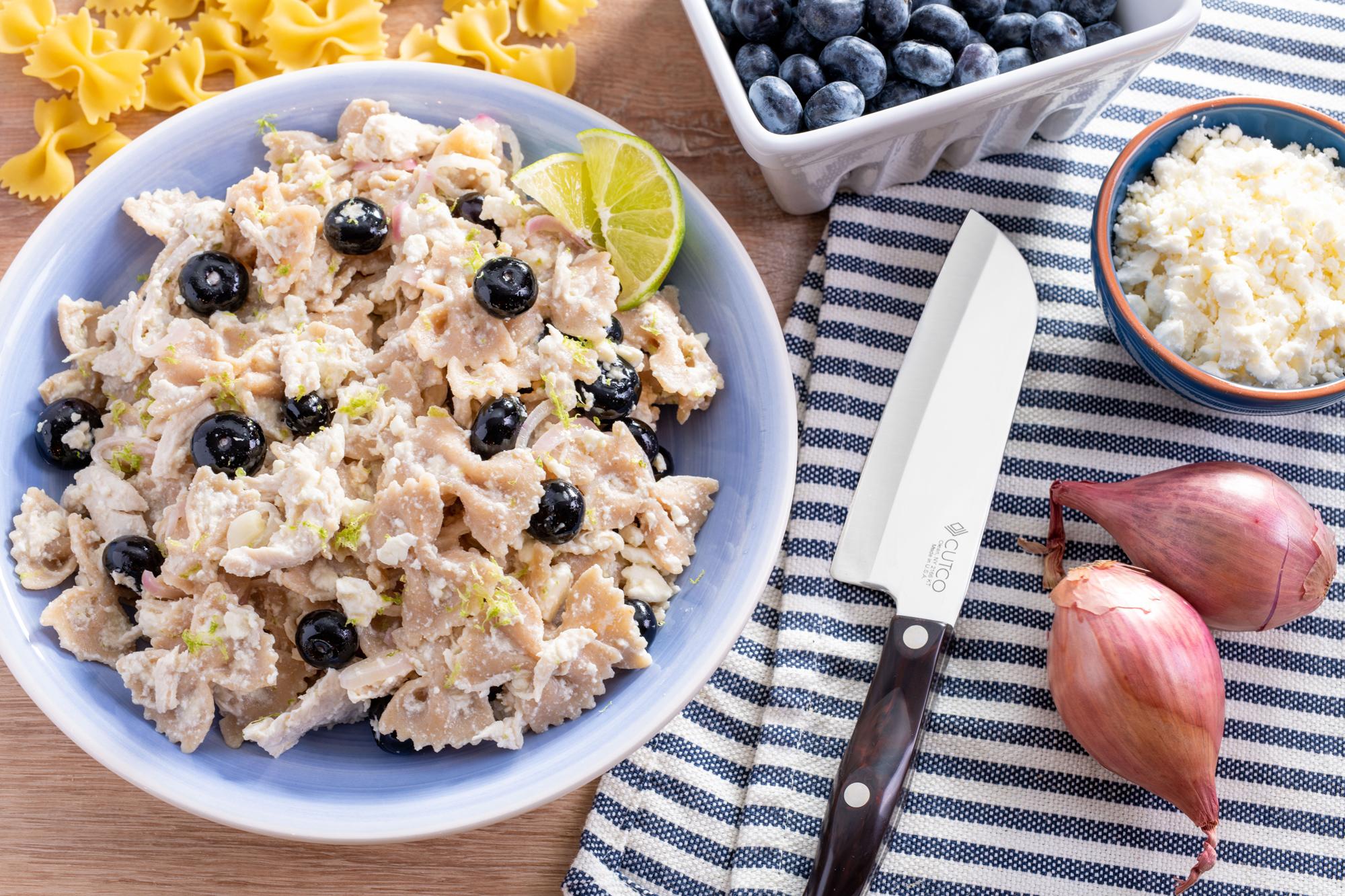 As the warmer weather approaches, I'm always looking for quick and easy meal ideas or potluck dishes to share. Instead of the mayo-laden chicken salad, this recipe for Chicken and Blueberry Pasta Salad is a fresh and unique twist, packed with distinctive flavors that just work.
At first, it may seem odd to include blueberries in a chicken salad, but they're actually the perfect way to add just a hint of sweetness. Plus, they have gorgeous color and cancer-fighting antioxidants. Pair them with the saltiness of the feta and you're going to have a burst of flavor in every bite.
Preparing the Salad
To prepare the chicken, I boiled it to save some time, but if you wanted to roast the chicken in the oven, you can do that too. Or, make it even easier on yourself and use a pre-cooked rotisserie chicken. No matter how you cook the chicken, all you need to shred it are two dinner forks.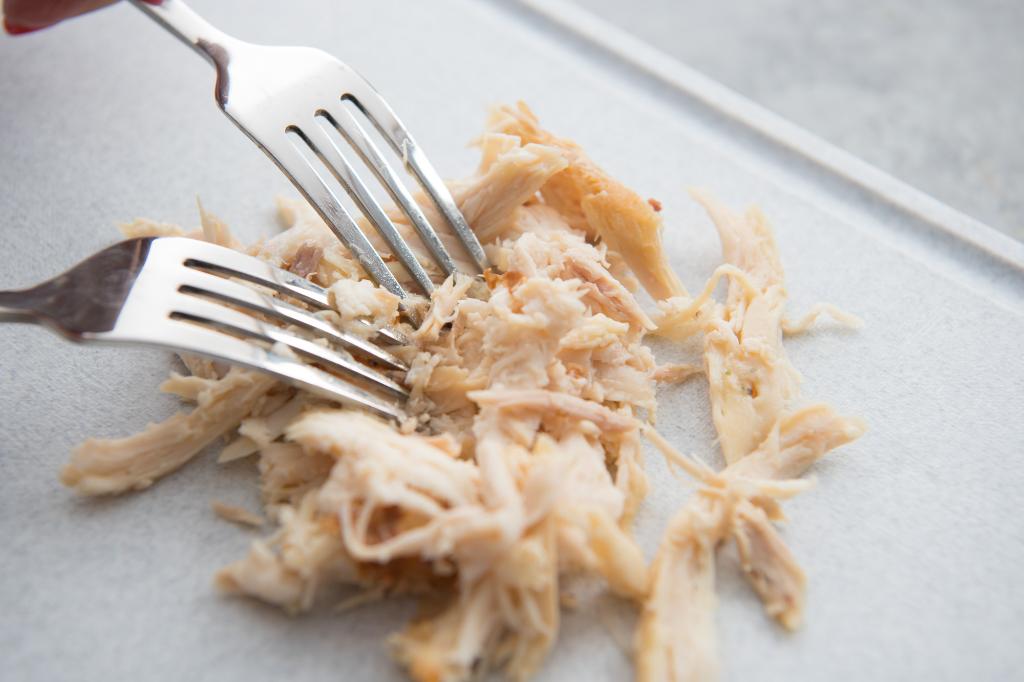 Another handy tip is, the next time you're grilling chicken breast, cook extra to have ready for a second meal of fresh pasta salad.
The pasta salad gets a little bite from a thinly sliced shallot. Because shallots are typically smaller than onions, the 5" Petite Santoku knife is great for getting nice thin pieces.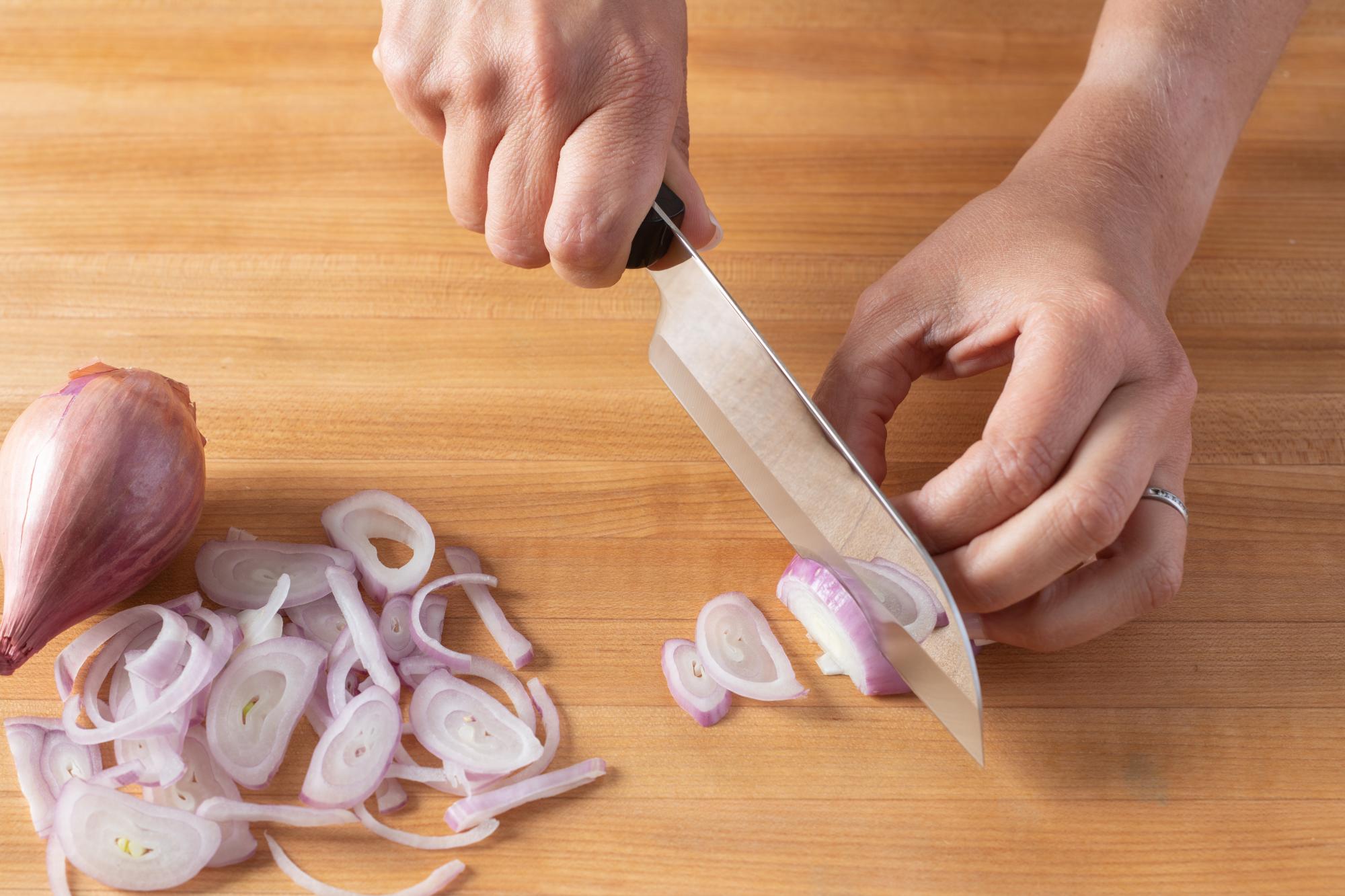 The shallot, paired with the chicken broth, feta, lime juice, lime zest and blueberries offers a surprisingly delicious and unexpected flavor.
Recipe Notes
When using whole wheat pasta, the pasta can often soak up the dressing. So, this salad will be enjoyed more if served right away. However, it can also be served both cold and warm.
My favorite thing about Chicken and Blueberry Pasta Salad is how skeptical people are when I bring it to parties or serve it at brunch. But, once they taste it, they are blown away by the amazing flavors. It all seems to work together to make a wonderfully unique recipe.
Nutrition per serving: 306 calories, 8.5g fat, 33.6g carbohydrates, 407mg sodium, 24.1g of protein, 2g fiber
Ingredients
1 pound boneless, skinless chicken breast, trimmed of fat
8 ounces whole-wheat farfalle or rotini
1 tablespoon extra-virgin olive oil
1 large shallot, thinly sliced
2/3 cup reduced-sodium chicken broth
2/3 cup crumbled feta cheese
6 tablespoons lime juice
1 cup fresh blueberries
1 teaspoon freshly grated lime zest
1/4 teaspoon salt
Directions
Place chicken in a skillet or saucepan and add enough water to cover; bring to a boil. Cover, reduce heat to low and simmer gently until cooked through and no longer pink in the middle, 10 to 12 minutes. Transfer the chicken to a cutting board to cool. Using two forks, shred into bite-size strips.
Bring a large pot of water to a boil. Cook pasta until just tender, about 9 minutes or according to package directions. Drain. Place in a large bowl.
Meanwhile, make the dressing. Place oil and shallot in a small skillet and cook over medium-low heat, stirring occasionally, until softened and just beginning to brown, 2 to 5 minutes. Add broth, feta and lime juice and cook, stirring occasionally, until the feta begins to melt, 1 to 2 minutes.
Add the chicken to the bowl with the pasta. Add the dressing, blueberries, lime zest and salt and toss until combined.
Recommended Tools