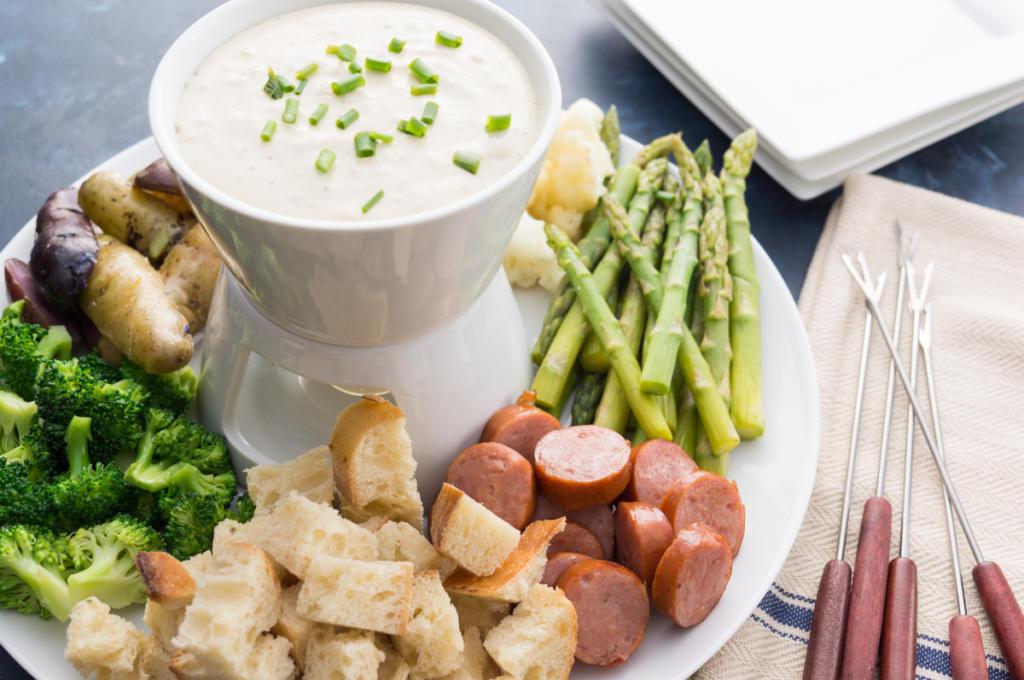 Valentine's Day is coming up and people often mark the day with a special meal either at home or in a restaurant. If you prefer quiet private time at home rather than a noisy restaurant, go retro this year. Make Cheese Fondue and include variety of dippers.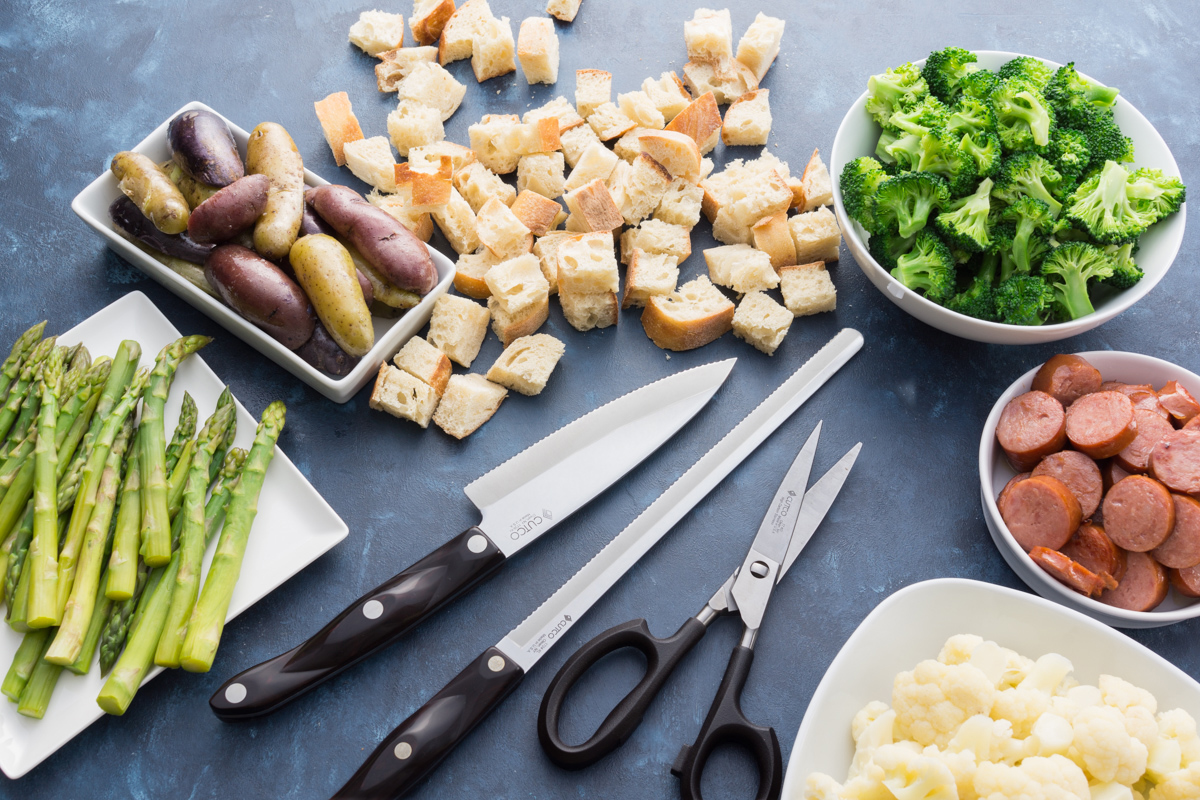 I remember years ago when fondue was all the rage. There were fondue parties that started with appetizers, went on to a main course and ended with dessert. Those parties may have gone by the wayside but who can resist the gooey goodness of flavorful melted cheese dripping from cubes of bread, potatoes and tender vegetables? Paired with a glass of Riesling or Chablis, it's a relaxing way to spend an evening at home.
This Cheese Fondue recipe is easy, doesn't require a lot of cooking expertise and the prep work can be done ahead of time.
Prepping the dippers
Cutco will be your sous chef as you cut, slice, chop and snip everything you need for an impressive food presentation. The newest addition to our line, the Gourmet Prep Knife, with its Double D® edge easily slices through the tough stems of the asparagus.
Use the same knife to cut the cauliflower into quarters and remove the core. The Gourmet Prep Knife's pointed blade easily lets you maneuver it into the crevasses of the cauliflower to remove the florets.
Cut these into smaller bite-sized pieces for dipping.
See our step-by-step tutorial on how to cut cauliflower.
Kitchen shears, like Cutco's Super Shears, work great for snipping off broccoli florets.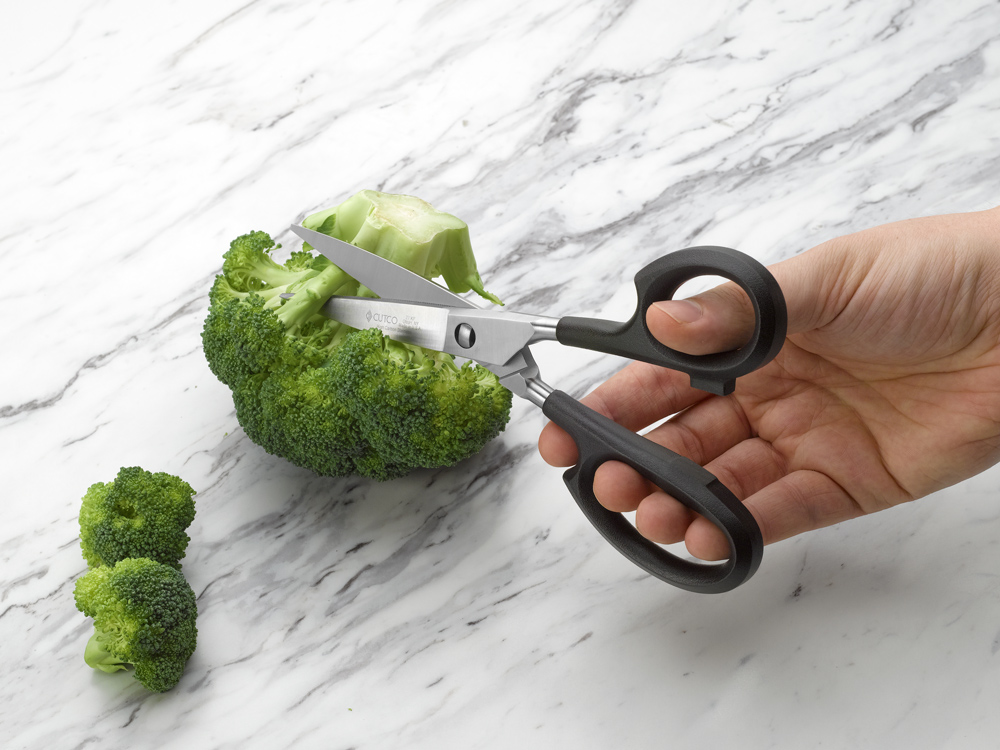 We had fun time dipping everything on the platter. We also purchased some baked soft pretzel nuggets and dipped those, too. Delicious!
To add to the fun, complete the meal by making a chocolate fondue for dessert. There are lots of recipes on the web you can try. Dip cubes of angel food cake, strawberries, banana slices, pineapple cubes, apple slices and marshmallows to name just a few.
Ingredients
French baguette, cubed and lightly toasted or any kind of rustic, hardy bread
12 fingerling potatoes cut in half or 12 1-inch baby potatoes
1 tablespoon olive oil, plus some for drizzling on potatoes
2 cups steamed broccoli florets
2 cups steamed cauliflower florets
1 pound asparagus, trimmed, tips reserved
1 shallot, finely chopped
1 cup half and half
8 ounces cream cheese
1/2 cup grated Parmesan cheese
1 cup grated Gruyere or Swiss cheese
1 teaspoon lemon juice
1/2 teaspoon grated nutmeg
1/2 teaspoon freshly ground black pepper
1 clove of garlic, smashed
1 package fully cooked smoked sausage, sliced into rounds
2 tablespoon fresh chives, snipped
Directions
Preheat oven to 400º.

Place cubed bread on a large sheet pan and lightly toast.

Place the potatoes in a large skillet or saucepan. Cover the potatoes with water and bring to a boil. Salt the water and simmer the potatoes 10-12 minutes, just until tender. Drain and return to warm pot to dry the potatoes. Drizzle potatoes with a little oil so they don't discolor and to make the skins shine.

Fill another skillet or saucepan with 2 inches of water. Cover and bring to a boil. Salt the water, replace the cover and reduce the heat to a simmer. Add the broccoli and cook, covered, about 3 minutes. Remove the broccoli with a slotted spoon and place on a plate. Add the cauliflower to the water and cook, covered, 3-4 minutes. Remove the cauliflower with a slotted spoon and place on another plate. Add asparagus tips, cook, covered, about 2 minutes. Remove from pan and place on a plate.

Add 1 tablespoon of oil to a heavy saucepan and heat. Add the shallots and sauté for 2 or 3 minutes. Add the half and half and reduce the heat to low. Cut the cream cheese into 1 inch slices and add to the pot one at a time, allowing them to melt into the half and half. Add the Parmesan and Gruyere or Swiss cheese and stir until the cheese is melted. Stir in the lemon juice, season with nutmeg and black pepper.

Rub the inside of a fondue pot with the smashed garlic. Transfer the fondue to the pot.

Arrange the dippers on a large serving platter. Sprinkle the potatoes with the chives. Use fondue forks or bamboo skewers for dipping.

If sauce thickens, add half and half a little at a time to thin.
Recommended Tools