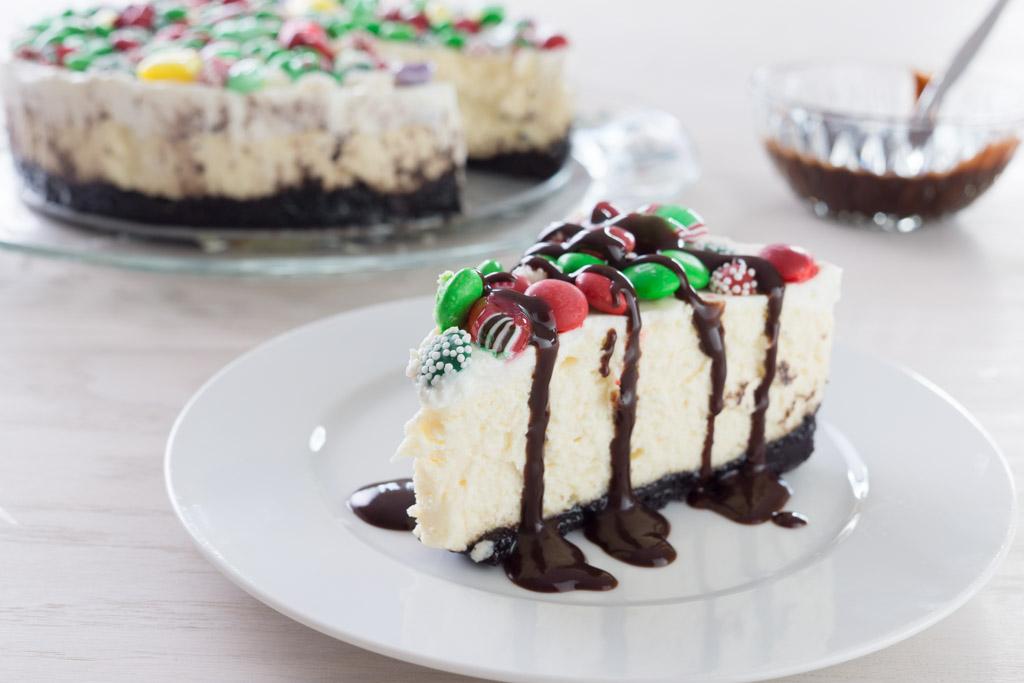 I'm all about preparing food ahead of time, although I have to admit that is not always the case. I don't have a large kitchen at home so it's pretty much chaos when I start dragging out the mixers, bowls, ingredients, cookbooks, etc. and start cooking and baking.
One thing I have learned over the years is not to try to do too much at once and to make too many different dishes at the same time. For example, I try to prepare potato and vegetable casseroles one day and prepare and bake desserts another.
As I've mentioned before, I really love to bake, and a dessert I particularly like is cheesecake. Because it is so calorie-laden I don't make it very often. So, the holidays are the perfect time to splurge and enjoy the rich decadence of this creamy dessert. I sometimes use low-fat cream cheese in place of the full-fat version and really don't notice much of a difference. This make-ahead cheesecake tastes delicious and is so festive looking with its toppings of various, colorful candies. Serve it to your guests or offer to bring it to a holiday dinner. Either way, get ready for the compliments and requests for the recipe.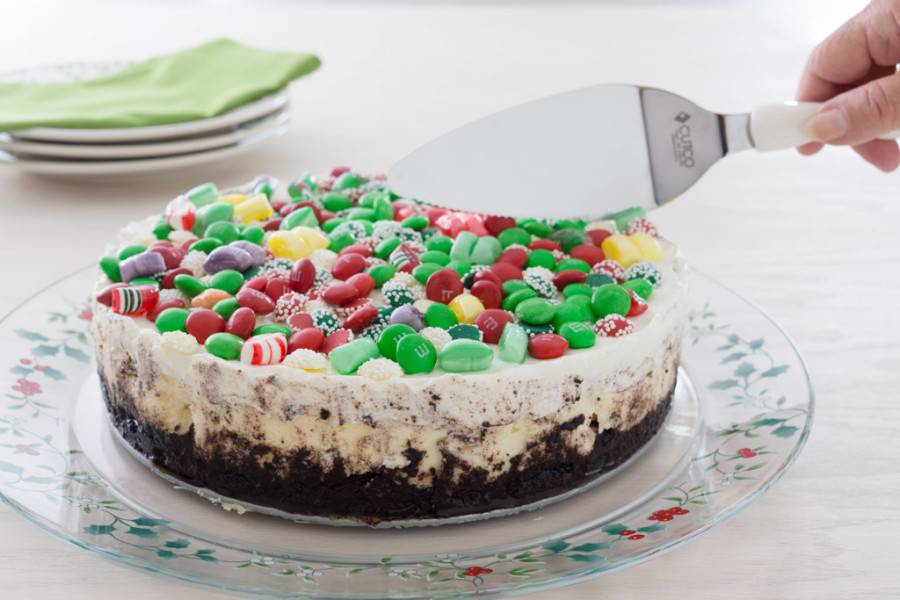 Ingredients
Crust
1 1/4 cups crushed chocolate wafers
1/3 cup sugar
1/2 cup butter, melted
Filling
4 8-ounce packages cream cheese, softened
1 cup sugar
3 teaspoons pure vanilla extract
4 eggs, lightly beaten
Topping
2 cups (16 ounces) sour cream
1/4 cup sugar
Assorted candies
Chocolate syrup
Directions
Place an ungreased 9-inch spring form pan on a double thickness of heavy duty foil (about an 18 inch square). Securely wrap foil around the pan.
Combine the wafer crumbs and sugar in a small bowl. Stir in butter. Press onto bottom and about 1/2 inch up the sides of the pan. Place in freezer for 15 minutes.
In a large bowl, beat cream cheese, sugar and vanilla until smooth. Add eggs; beat on low speed until just combined. Pour into crust. Place pan in a larger baking pan; add 1 inch of hot water to the larger pan.
Bake at 325°F for 1 1/2 hours or until center is just set and top appears dull. Combine sour cream and sugar in a small bowl until smooth. Spoon over hot cheesecake and spread to cover. Bake 5 minutes more or until topping is set.
Remove spring form pan from water bath. Cool on wire rack for 10 minutes. Run a knife around the edge of pan to loosen cheesecake. Cool 1 hour longer. Refrigerate overnight. Remove outer ring of pan. Garnish with candies of your choice such as red and green M & Ms, Andes candies, chocolate chips, crushed peppermint candies, chopped peppermint bark. Drizzle with chocolate syrup.
Recommended Tools