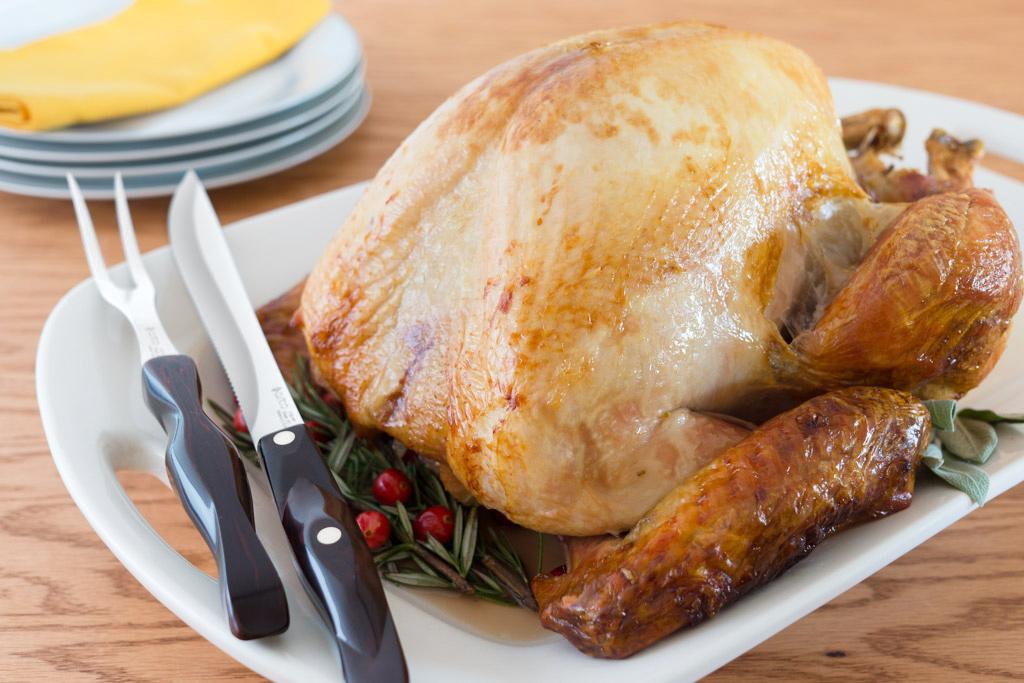 The talents of the workforce here at Cutco is amazing. Beyond the awesome work they perform here, many of our employees are equally adept in other areas as well.
One of these talented individuals is Dominic Rogers, director of Cutco's IT Department. Dominic is an accomplished home cook, specializing in Italian cuisine. He and his wife, Jennifer, along with his parents, volunteer their time to make traditional Italian dishes from recipes that have been handed down for generations for the annual Italian festival held at their church.
For Thanksgiving, Dominic, Jennifer and their children host dinner at their home for 20 to 25 people. He cooks one whole turkey and two turkey breasts using a brining method. The rest of the menu includes traditional dishes as well as some Italian dishes such as stuffed manicotti. Adult guests also are treated to a glass or two of Dominic's homemade wine.
We asked him to share his brining method and he was happy to do so, although exact measurements are a little lacking. He and I headed to the Cutco kitchen and I served as his sous chef while he put together the brine. I did ask him if he needed any measuring cups and he just laughed. I understood completely. I do the same thing, which sometimes makes it difficult to share a recipe because there are no precise measurements. I think we probably all have done a pinch of this and a handful of that. So I watched and tried to get a handle on how much he was using of each ingredient. We did have some guidelines but Dominic said the brine can be whatever you want it to be. If you're not a fan of sage, leave it out or cut back on the amount. If you like sweet, use more brown sugar. Everything can be adjusted to suit your family's taste. Just be sure to use enough liquid.
We invited our usual taste testers along with members of the IT department and even our vice president of finance to critique the finished product. There was nothing left but a pile of bones. It was moist, tasty and tender and best of all, an easy way to prepare a turkey of any size.
Ingredients
For the Recipe
1 thawed turkey, any size (remove giblets)
NOTE: Depending on size, allow 3 to 5 days for the turkey to thaw in the refrigerator
1 5-gallon food-grade plastic bucket with lid
Brine
1 gallon of vegetable stock
1 to 2 gallons of water or enough to cover the turkey
1 to 2 cups kosher salt
1/2 cup light brown sugar
1 tablespoon black peppercorns or black pepper
3 tablespoons minced garlic or 3 cloves of garlic
2 to 3 dried bay leaves
1 sprig fresh rosemary
1 onion quartered
1 large bag of ice
Aromatics
1 red apple, sliced
1/2 onion, sliced
1 cinnamon stick
1 cup water
4 sprigs fresh rosemary
6 fresh sage leaves
Olive oil
Directions
Prepare the brine the day before you plan on cooking the turkey.
In a large pot, combine all the ingredients, except the ice. Bring to a boil, stirring occasionally to dissolve the salt and brown sugar. Once boiling, remove from heat and cool to room temperature.
Combine the cooled brine and ice in the bucket.
Place the thawed turkey, breast side down, in the brine. Make sure the turkey is fully covered with liquid (add more water if needed).
Cover, refrigerate or set in a cool area for 8 to 16 hours. Turn the turkey once half way through brining time.
Day of cooking: Preheat oven to 500°F. Remove turkey from the brine, rinse inside and out with cold water. Discard the brine. Place turkey on roasting rack and pat dry with paper towels. Place turkey on rack in a roasting pan or large rimmed cookie sheet.
Combine apple, onion, cinnamon stick and water in a microwave safe bowl and microwave on high for 5 minutes. Add the steeped aromatics to the turkey cavity along with the rosemary and sage. Tuck the wings underneath the bird.
Coat the skin liberally with olive oil. Insert a probe thermometer into the thickest part of the breast. Create a large triangle with aluminum foil and shape so it covers the entire breast of the turkey. Do not cover the wings. REMOVE THE FOIL for now. You will use it later.
Place the turkey in the oven and roast at 500°For 30 minutes. Remove the turkey from the oven; cover the breast with the foil tent. Reduce the oven temperature to 350°F. Set the thermometer to 161°F and return turkey to the oven. When temperature reaches 161°F, remove turkey from oven.
Loosely cover the entire bird with foil and allow to rest for at least 15 minutes before carving.
Recommended Tools