Baked Acorn Squash With Three Butter Sauces
150 days ago
Skip to recipe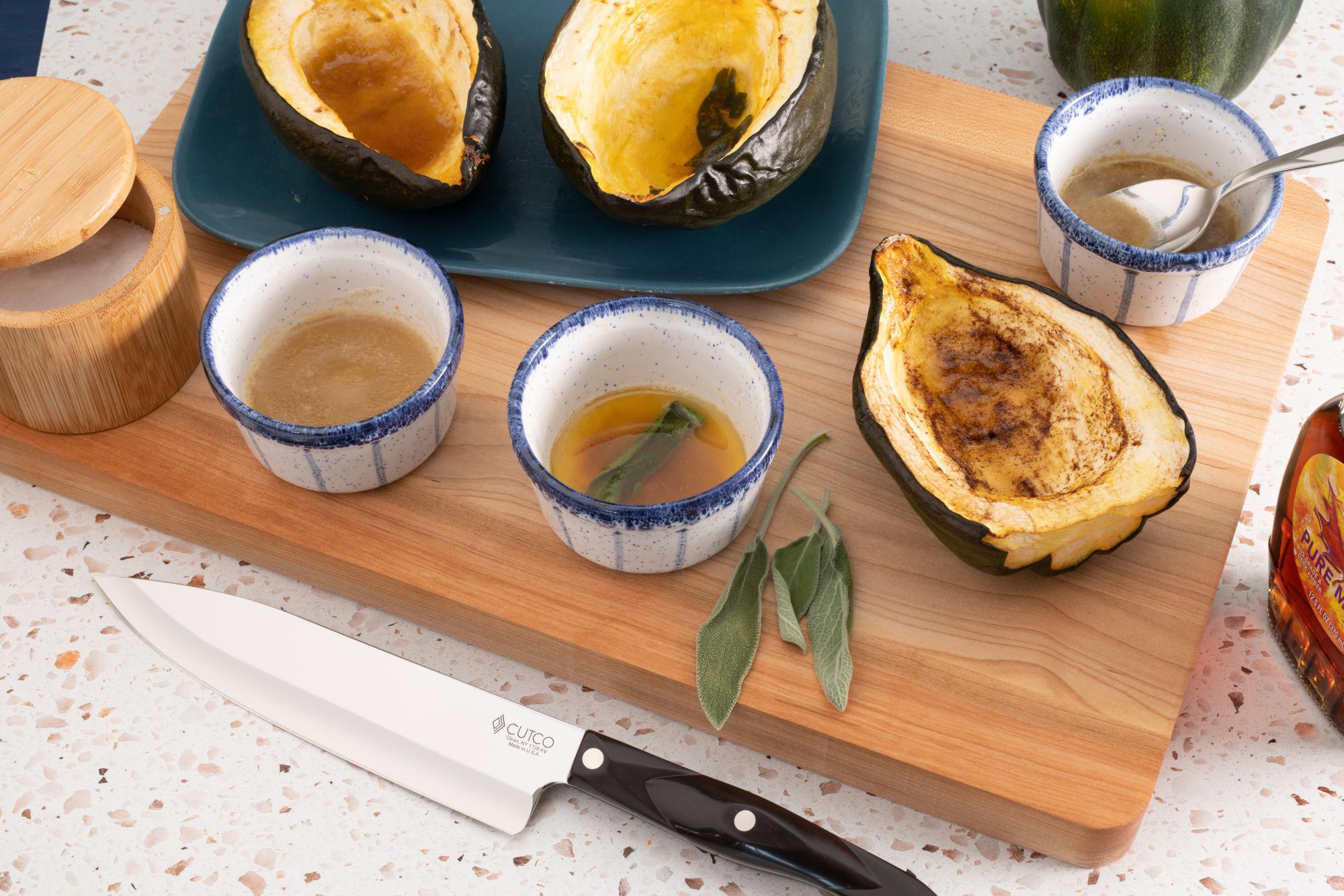 This is an acorn squash recipe you will never get tired of eating. Baked Acorn Squash With Three Butter Sauces delivers on the yum factor. The baked squash on its own is delicious, but adding butter sauce takes it to a whole new level.
A well-prepared vegetable with a great butter sauce (actually, three of them!) make this side dish soooo good!
Preparing the Acorn Squash
Before cutting the squash, pierce the skin with a 2-3/4" Paring Knife and microwave for a minute or two to slightly soften it, making it easier to cut.
Using a 7-5/8" Petite Chef knife, trim off about a half inch from the stem side.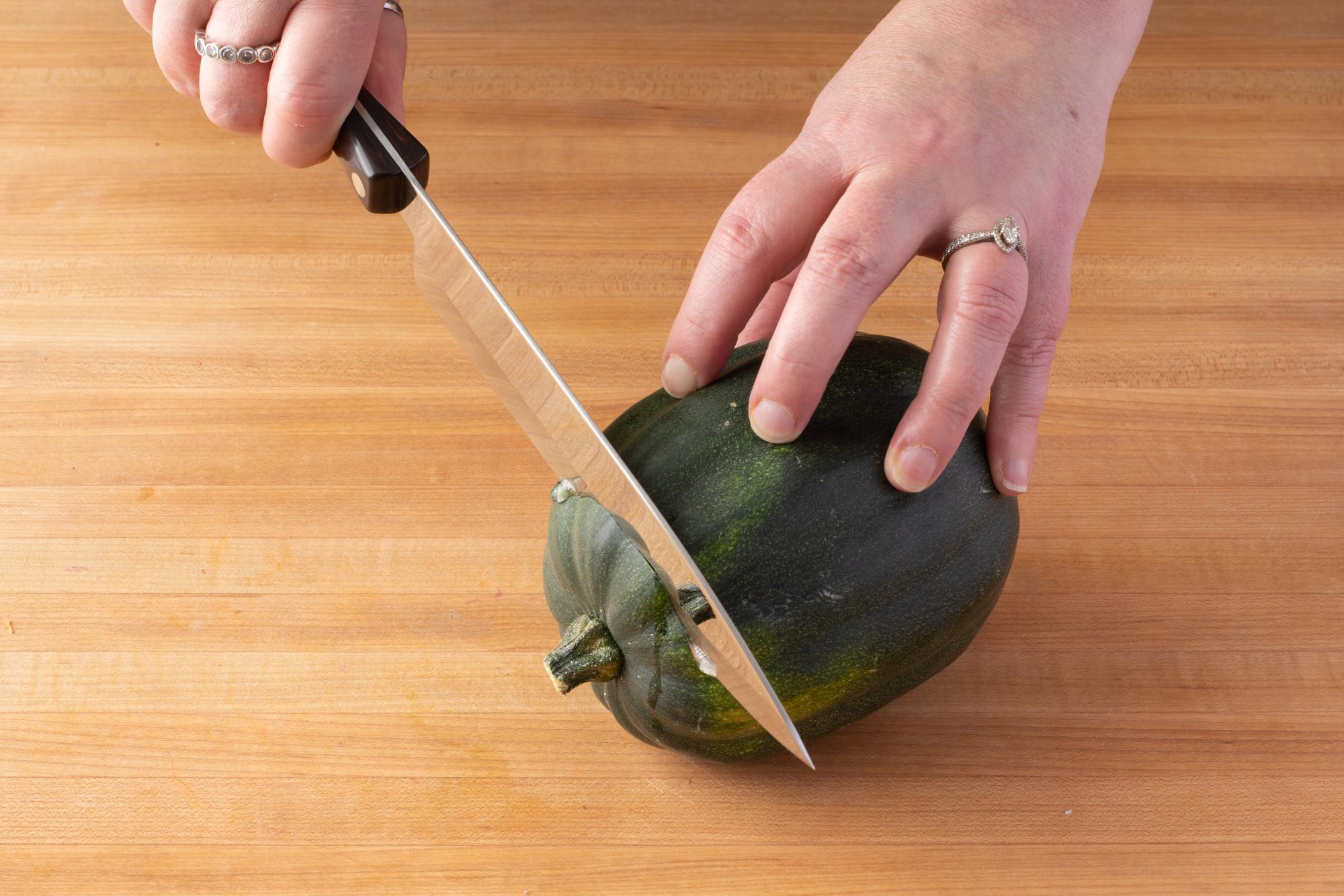 Rest the cut end of the squash flat on the cutting board, cut in half. Then, use a sturdy spoon or Ice Cream Scoop to remove the seeds from the center of each half.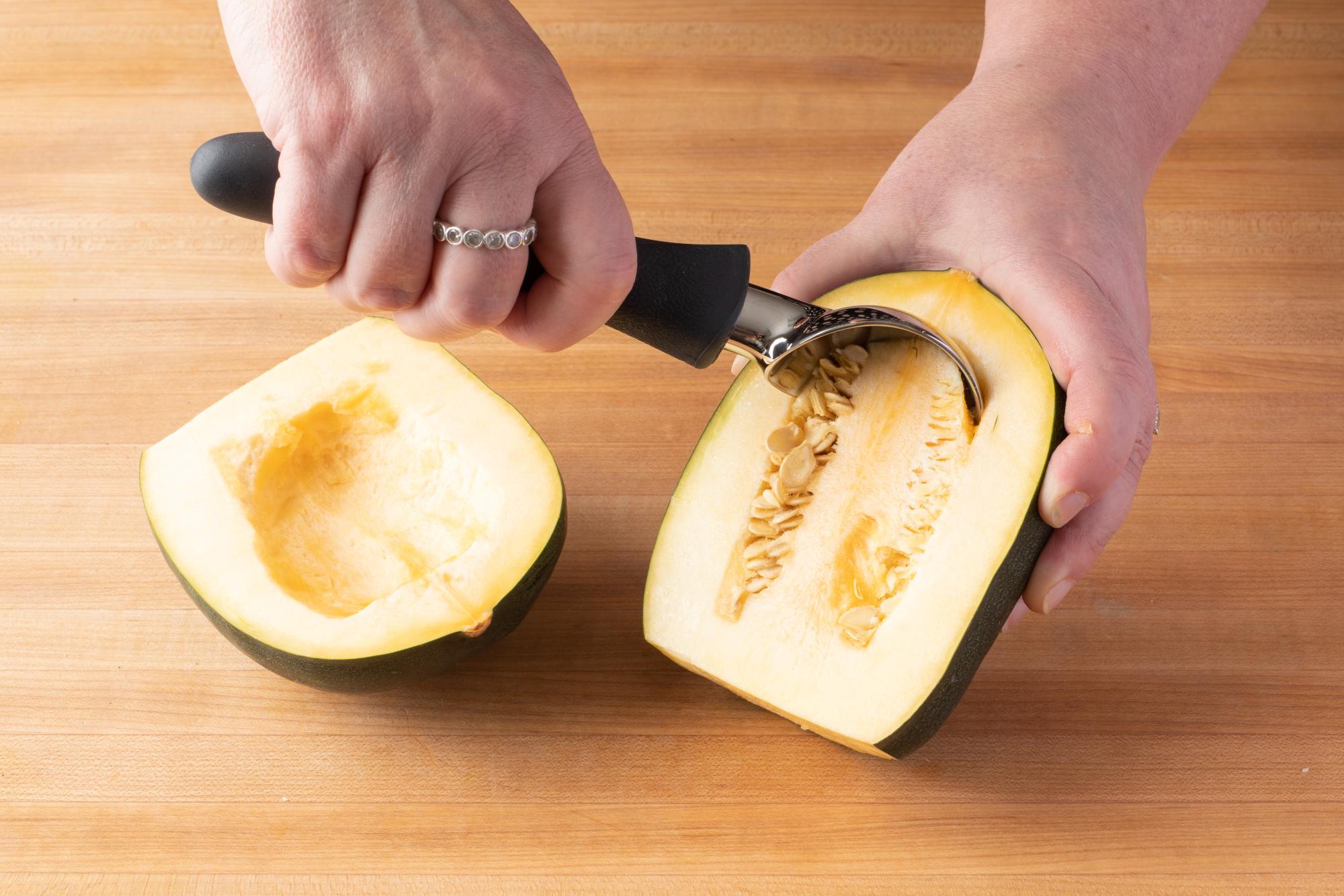 The acorn squash is now ready for baking. At this point you could just drizzle the halves with olive oil, sprinkle with salt and pepper and bake. But, making the butter sauces elevates the flavor to something sensational. Because…butter!
Making the Butter Sauces
This recipe features three different butter sauces, and they can be used on any vegetable, really.
All of them begin with two tablespoons of butter. One is seasoned with brown sugar and maple syrup, another with sage leaves and the third is just browned butter with kosher salt. When making them, use a pot with light-colored interior so you're better able to see the subtle changes in the butter as it cooks.
Once the sauces are melted, they are poured into and around the interior of the squash halves.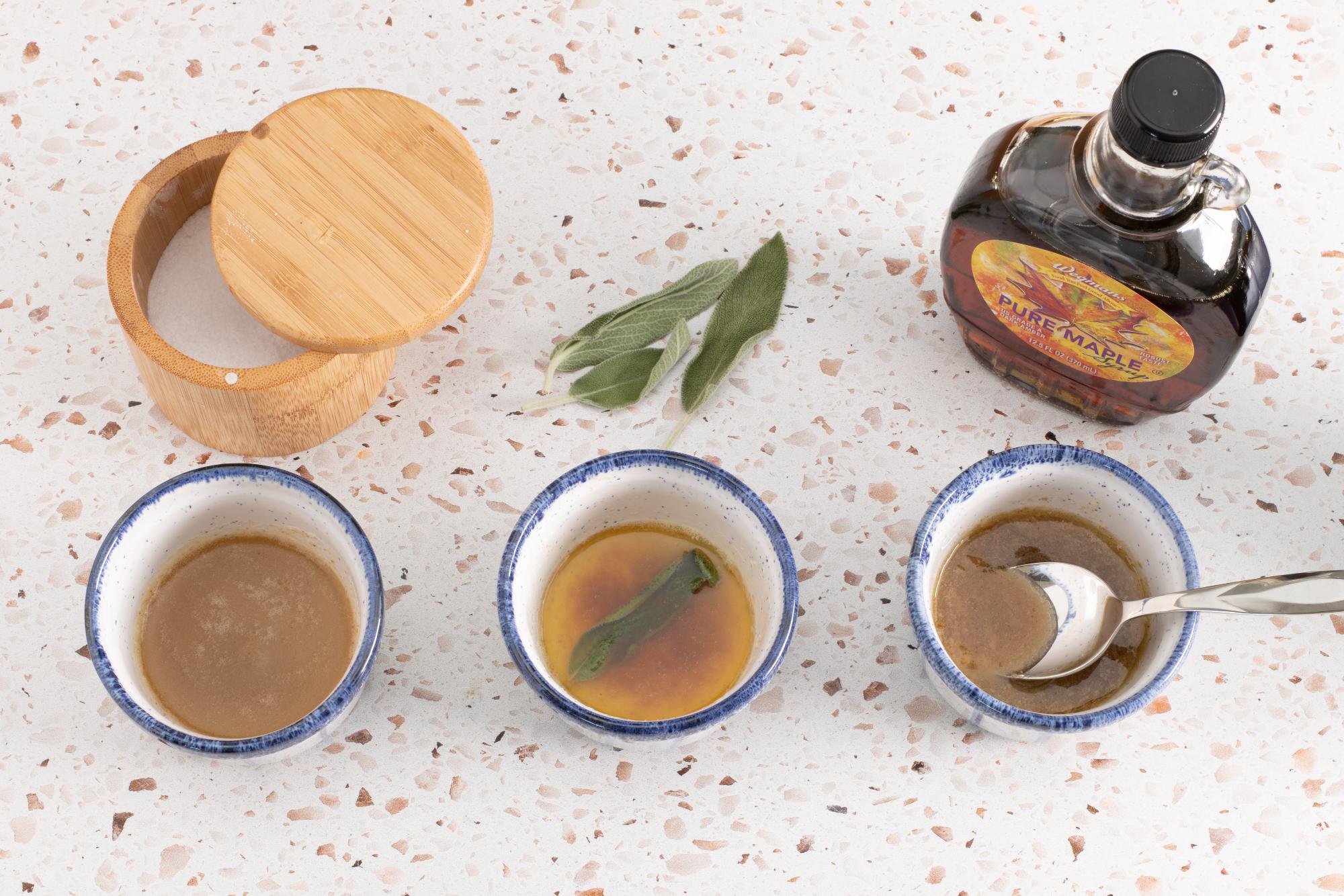 Use a different sauce in each half for variety. Also, consider making butter sauces with other herbs like thyme, rosemary or sage.
I like when winter squash is in season so I can serve Baked Acorn Squash With Three Butter Sauces as an easy side dish that delivers on flavor. I can serve it a couple times a week without getting tired of it – just by changing up the sauce.
If you're serving acorn squash in other ways, learn how to cut it by checking out Cutco's handy step-by-step tutorial.
Ingredients
Butter Sauce #1
2 tablespoons unsalted butter
4 tablespoons brown sugar
4 teaspoons maple syrup
Pinch of kosher salt
Butter Sauce #2
2 tablespoons unsalted butter
4-5 fresh sage leaves
Pinch of kosher salt
Butter Sauce #3
2 tablespoons unsalted butter
Pinch of kosher salt
Directions
Heat the oven to 400 F
To prepare the squash make a series of small cuts with a paring knife in several places outside of the squash (this is to keep the squash from exploding when it is softening in the microwave). Place one squash in a microwave for one minute. This should soften the squash enough to make cutting easier. Repeat with remaining squash.
Place the acorn squash on its side on a cutting board and using a sharp chef's knife trim off about 1/2 inch from the stem end to provide a flat stabilizing area. Set the squash on the flat side and using a sharp, sturdy chef knife, carefully cut the acorn squash in half, from bottom to stem. This is a safer way to cut the squash because if the squash is on its side, it can roll on the board. If the squash is too hard to cut, return to microwave for another 30 seconds.
Use an ice cream scoop or strong metal spoon to scrape out seeds and stringy bits inside, until the inside is smooth. Repeat for all other pieces.
Place the squash halves cut side up in a roasting pan. Pour 1/4 inch of water over the bottom of the pan (this prevents the squash from burning and keeps it moist).
Make the butter sauces.

Butter Sauce #1:

In a small pan over medium heat, melt the butter, add the brown sugar, and syrup. Stir until sugar is dissolved.

Butter Sauce #2:

In a small pan over medium heat, melt the butter, add the whole fresh sage leaves and allow to steep off the heat for 5 minutes.

Butter Sauce #3:

In a small pan over medium heat, melt the butter, continue to heat the butter until it just begins to brown and smells nutty. Remove from heat immediately.

Pour 1/4 of butter sauce of your choice into each of the insides of the squash. Sprinkle with a little kosher salt if you are using unsalted butter.

Bake at 400 F for about 1 hour to 1 hour and 15 minutes, until the tops of the squash halves are browned and the squash flesh is very soft and cooked through. It is hard to overcook squash as it just seems to get better with more caramelization, so be sure not to take it out of the oven before it is done.

Remove from the oven and let it cool about 5 minutes. If there is any butter pooled in the center spoon it over the exposed areas.
Recommended Tools