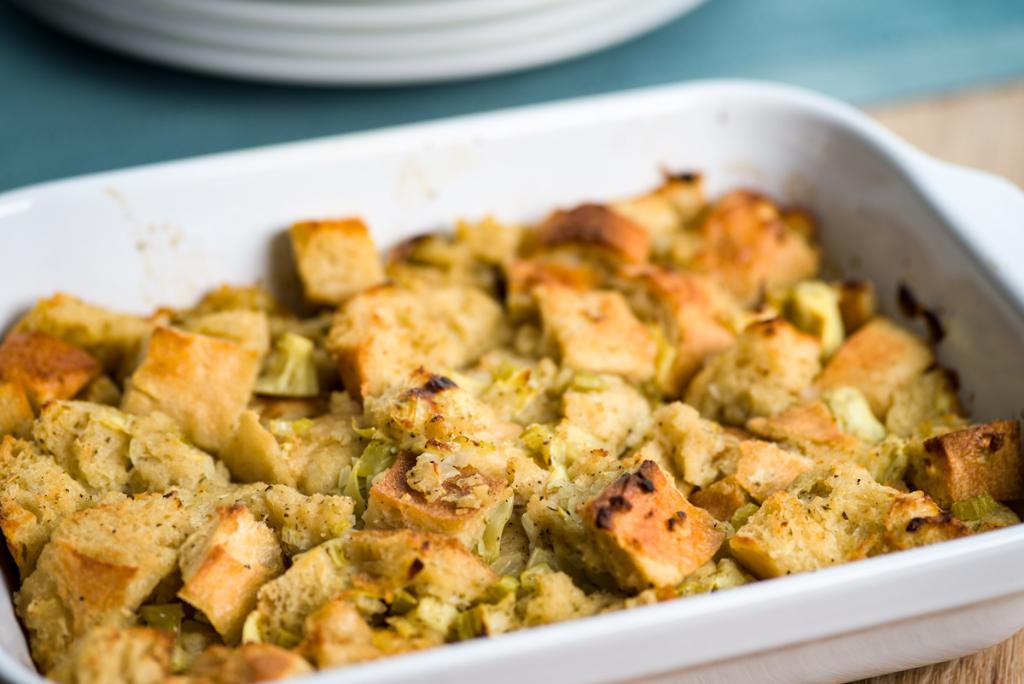 Every year at holiday time I see new recipes for stuffing or dressing. I read somewhere that you should call it dressing since it's not stuffed into the bird. Whatever you call it, we found this Artichoke Heart Bread Stuffing to add to your Thanksgiving recipe collection. What's nice about this recipe is that it requires just a few ingredients, primarily staples that you probably have in your pantry.
Cubing the Bread
If you choose to cube your own bread, rather than buying it, and the bread is fresh, cube it a day before you plan on making the stuffing and leave it on a sheet pan to dry out. Cutco's bread knives, the 9-3/4" Slicer or the 7-3/4" Petite Slicer work beautifully for this task. Either one, with their narrow blades and sharp Double-D edges, will slice uniform bread cubes without squishing the bread.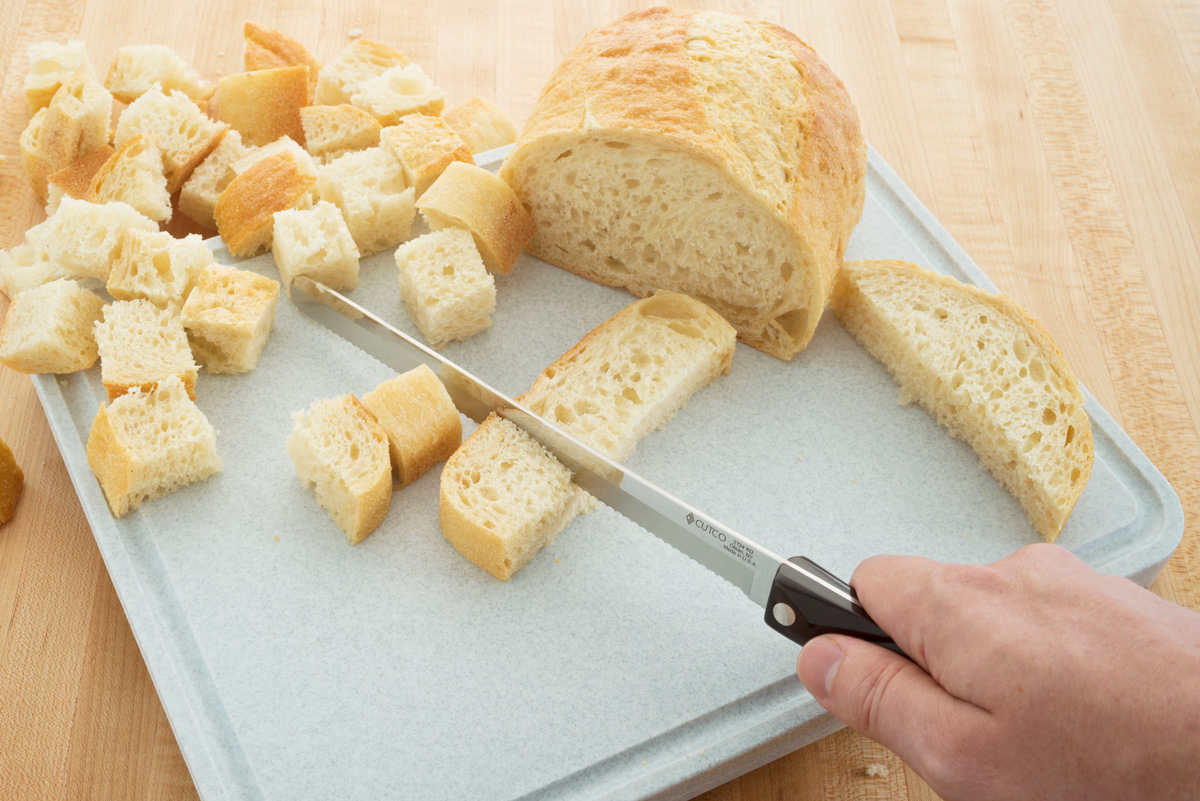 The multi-functional 7-5/8" Petite Chef will easily help you dice the celery, chop the artichokes and mince the onion.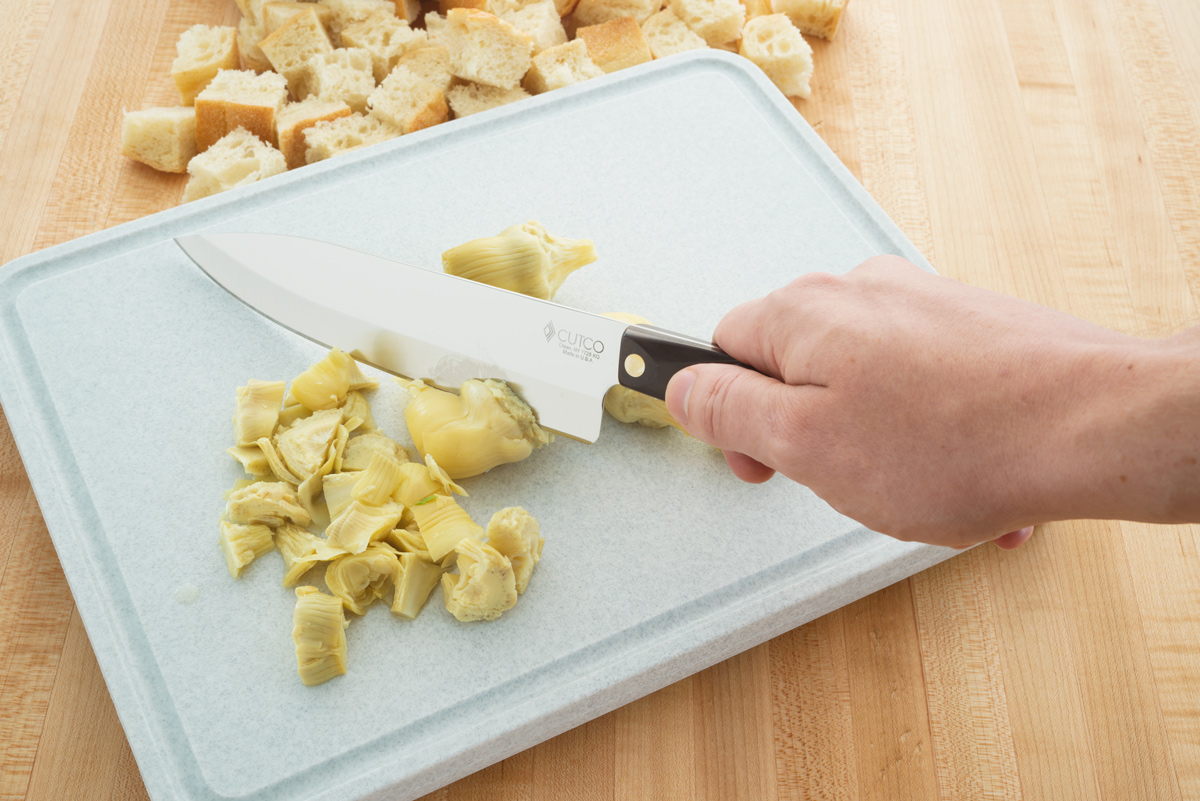 The artichokes are a pleasant addition to this bread stuffing and pair nicely with the celery and onions. Not only is this recipe good with turkey, it is a great side dish for chicken or pork.
Ingredients
1 bag (14 oz.) bread cubes
3 to 4 stalks celery finely diced
2 cans artichoke hearts drained and chopped
1 medium to large onion finely minced
1 box (32 oz.) chicken broth
3 teaspoons oregano
2 teaspoons kosher salt
1-1/2 teaspoons fresh ground black pepper
2 sticks butter
Directions
Preheat oven to 375°F. In a large fry pan melt one stick butter and sauté the onion until translucent. Add the celery and cook another 10 to 12 minutes.
Place bread cubes in large mixing bowl then pour over the onion and celery mix, add artichokes, seasonings and pour in the chicken broth.
When stuffing is well mixed adjust taste and adjust seasonings if necessary – pour into casserole. Melt second stick of butter and pour over the top of the stuffing.
Bake for 20 minutes to heat through and brown top. Tip: This is a moist stuffing and is best cooked in a casserole, not in the turkey.
Recommended Tools