Why Cutco is the Choice of Home Cooks.
Kitchen knives are a cook's trusted culinary companion, and it's important to select quality cutlery that will perform at its peak through years of family gatherings, holiday feasts and backyard barbecues. High quality knives make food preparation easier; they are safer to use and, with Cutco, you have a partner in the kitchen for a lifetime.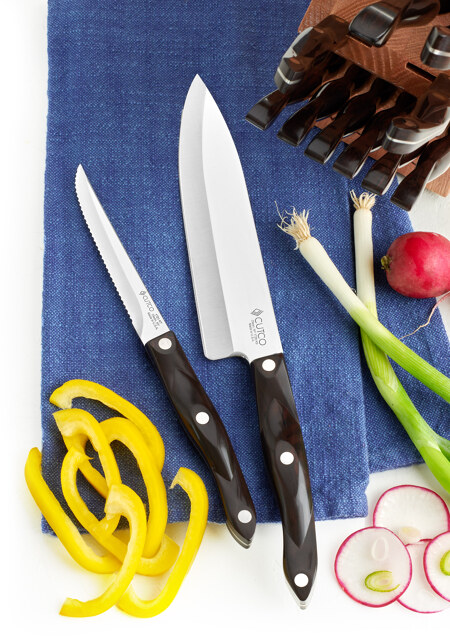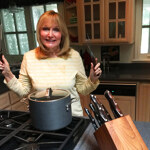 What makes Cutco different?
Handle Design
Cutco's universal wedge-lock handle is ergonomically designed to comfortably fit large, small, right or left hands. This "hand-perfect" handle is contoured providing a sure grip with less effort. Thumb and forefinger lock into place for safety and control. Fatigue-resistant design maximizes the power of the thumb and fingers while distributing the workload equally to all parts of the hand.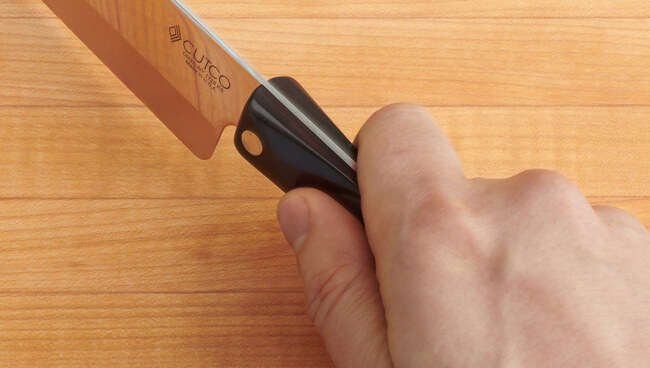 Materials
Cutco's handles are made from a highly engineered thermo-resin that will not crack, chip or absorb moisture and they are dishwasher safe.
The blade of a Cutco Knife is made from high-carbon, stainless steel for sharpness, superior edge retention, beauty and easy care. This material also resists rust and corrosion. A three-step heat-treating process ensures the innovative Double-D®- and straight-edge blades are durable, flexible and hold a razor-sharp edge.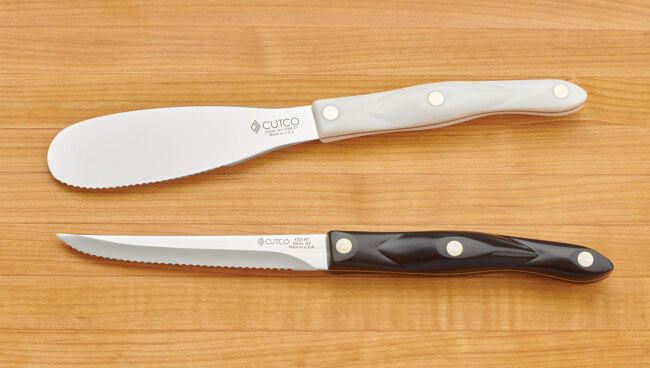 Double-D® Edge
The Cutco exclusive Double-D® edge provides a clean, smooth cut every time and stays sharp longer than straight-edge knives. The Double-D® edge consists of a series of three razor sharp cutting edges that are recessed and run along the blade edge. These cutting edges are angled to cut forward, backward and straight down with equal efficiency. Between these three-part cutting edges are points that protect the cutting edges by preventing them from coming in contact with china, glass, bone, metal or other surfaces that can quickly dull cutting edges. This protection of the cutting edges maintains the sharpness of the blades for many years of normal kitchen use. And when it does need a fresh edge, Cutco will sharpen it for you at our factory in Olean, New York.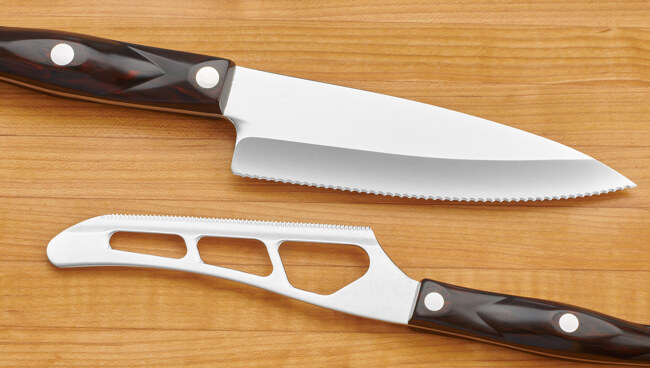 Construction
Cutco Knives feature a full tang, where the blade extends the full length of the handle, to provide strength and balance. Nickel silver rivets securely attach the handle to the blade and will resist pitting and tarnishing while staying flush with the handle for comfort, strength and durability.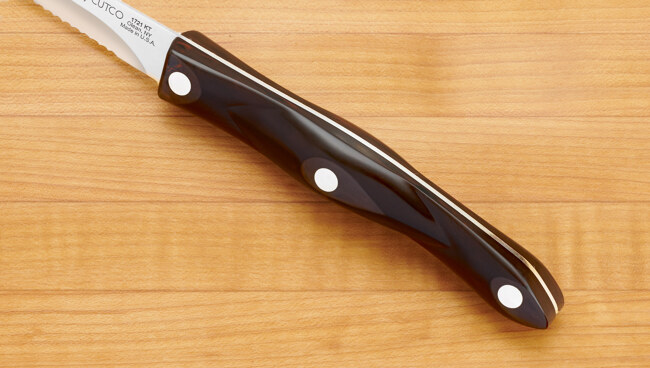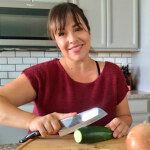 The Forever Guarantee
All Cutco Products are backed by The Forever Guarantee. This is Cutco's unwavering promise and it is at the heart of everything we do. Performance is guaranteed and this includes free sharpening.* If at any time you are not satisfied with the performance of your product, we will correct the problem or replace the product. Whether you made the initial purchase or you received Cutco as a gift, it is Cutco's guarantee that your products will perform like new forever.
*A nominal return shipping fee applies.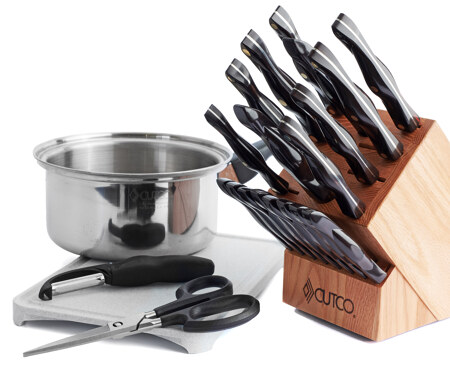 American Made
Cutco Knives have been made for more than 70 years at our factory in Olean, New York. Made in America is more than where we manufacture our knives. It is a deep-rooted commitment to providing American jobs that support families, quality American products and exceptional American service. All Cutco Knives are American made, and we are committed to keeping it that way.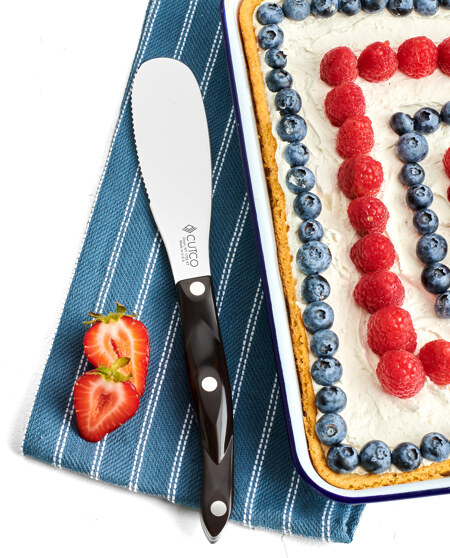 The Service
We consider our customers to be part of the Cutco family, so if you're not satisfied, we're not satisfied. Our highly trained customer service representatives make every effort to exceed customer expectations, whether it's in person, on the phone or online.
After all, great customer service is at the heart of The Forever Guarantee.
"When I come to work each day, it is not about just coming to a job, but working with my extended family. Cutco's commitment to providing high-quality products backed by The Forever Guarantee, as well as their commitment to our community and their employees, are reasons I am proud to say I am part of the Cutco family!" Lynn A., logo engrave specialist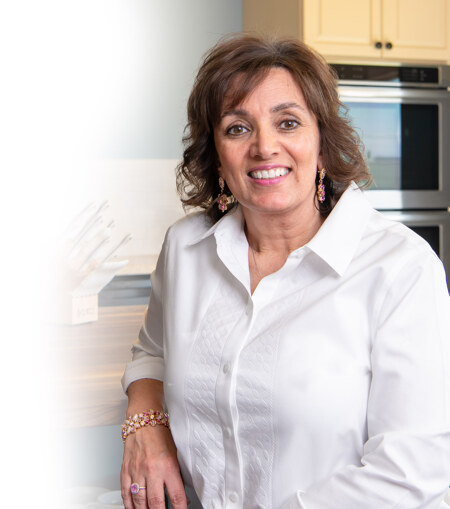 15-day Unconditional Money Back Guarantee
If at any time within fifteen (15) days after receipt of your Cutco you are not satisfied with your purchase for any reason you may get a full refund of your purchase price.