Weeknight Easy Pantry Pasta
Published 1832 days ago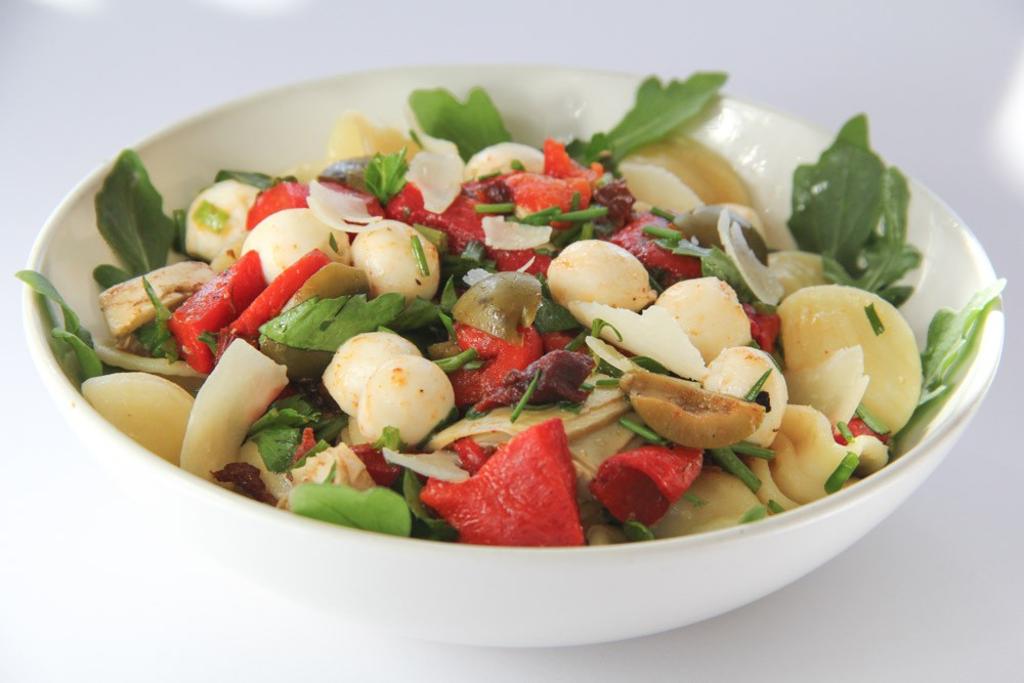 From Dorothy Reinhold of www.shockinglydelicious.com
If you think you have nothing to eat in the house, think again. With pasta and a handful of pantry items you can have a delicious dinner. Add a few fresh selections and it becomes sublime!
Ingredients
Pantry Items
1 (12-ounce) box orechhiette pasta (or your favorite shape)
1 (15- to 16-ounce) jar roasted red peppers
1 (6-ounce) package steamed artichoke hearts
24 jarred pitted olives (black or green, your choice)
3-4 tablespoons finely chopped jarred sun-dried tomatoes in oil
3 tablespoons extra-virgin olive oil
Cold/Fresh Items
1 cup chopped Italian parsley
1 (8-ounce) container fresh mozzarella pearls
3 tablespoons finely chopped fresh chives (try snipping with your kitchen shears!)
Baby arugula
1/2 cup Shaved Parmesan
Directions
Cook pasta in salted boiling water, following package instructions for timing to cook al dente.
While pasta is cooking, chop roasted red peppers and add them to a large mixing bowl. Chop artichoke hearts and quarter olives and add them to the bowl. Add sun-dried tomatoes and olive oil. Add parsley, mozzarella and chives to the bowl, and stir gently to combine.
When pasta is done, drain it in a colander.
Add a handful of baby arugula to 4 wide, shallow bowls (or dinner plates). Top with hot pasta (which will slightly wilt the arugula), then portion the sauce among the 4 bowls, spooning it atop the pasta.
Garnish with shaved Parmesan and serve.