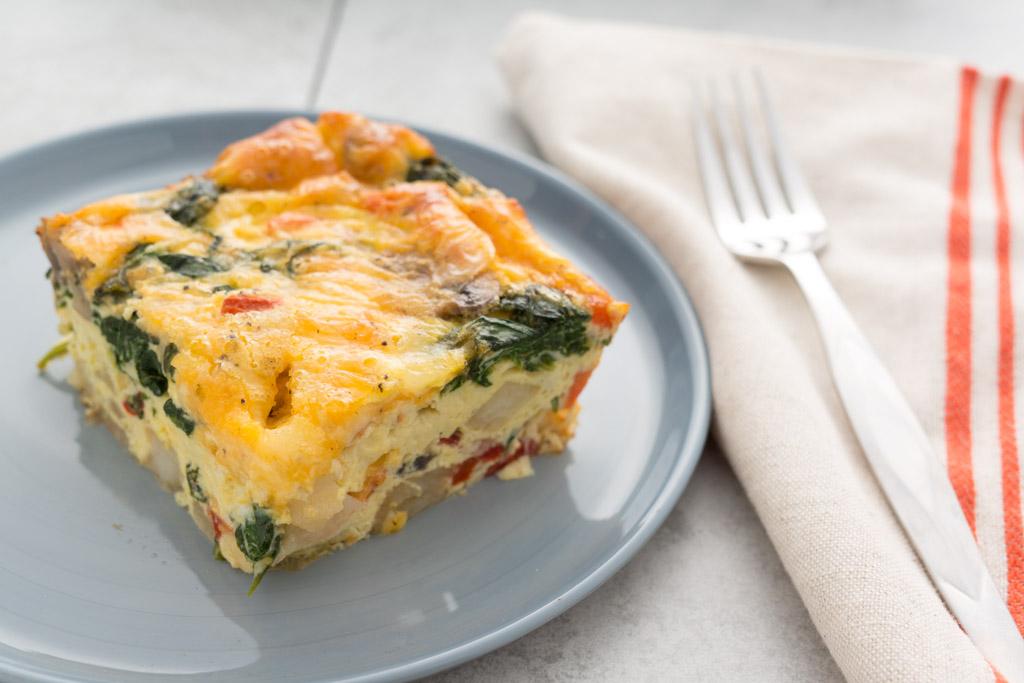 I've been on a breakfast/brunch binge lately when it comes to recipes. When you don't know what to have for breakfast, lunch or even dinner, some eggs and whatever else you might have on hand can be combined for a tasty and satisfying meal. Whether it's just you, you and your significant other, or a houseful, this Veggie Egg Bake recipe can fill the need.
Some egg bakes use cubed bread that soak up the eggs and become heavy. This bake, however, has substance from the potatoes but is lighter and more soufflé-like in texture. Plus, with all the delicious vegetables, you don't even miss that there's no meat in it.
The prep for this dish is easy and I only used one knife, the Trimmer, for slicing the mushrooms, carrots and roasted red peppers.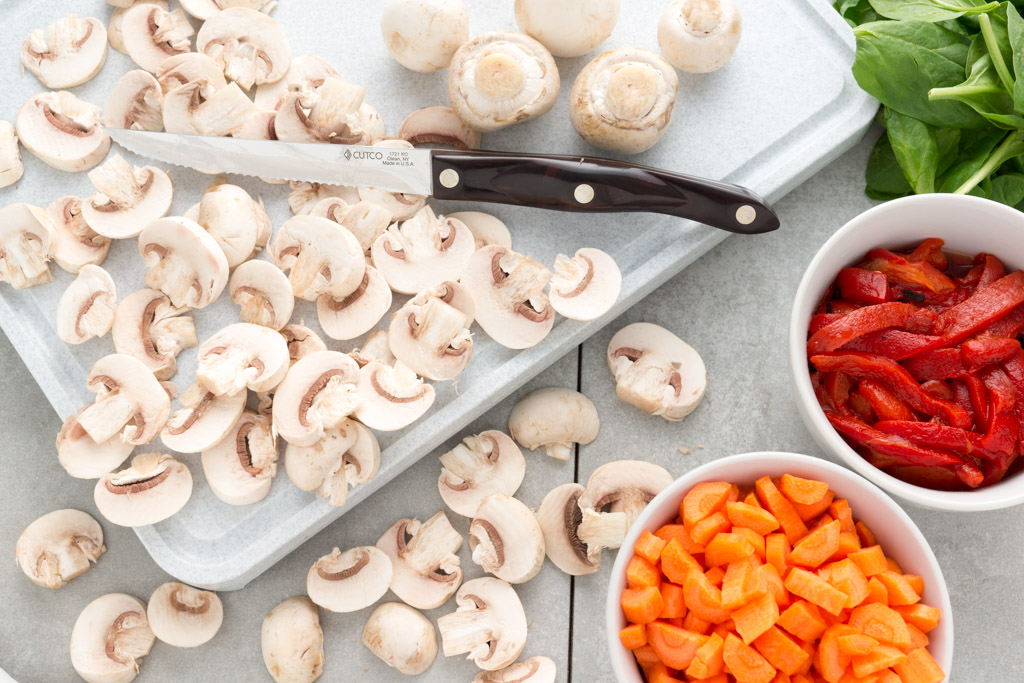 This is also a great make-ahead dish. You can put it all together and bake it immediately, or assemble it the night before and bake it the next day. You can also assemble it and put it in the freezer for up to three months before baking.
With summer coming, maybe you'll be opening your home to vacationing family and friends. Think about making this egg bake now and freezing it to bake later for your guests.
Ingredients
1 tablespoon olive oil, plus more for the baking dish
8 ounces white button mushrooms or cremini mushrooms, sliced
2 cups chopped or thinly sliced carrots
5 ounces baby spinach (about 5 packed cups)
2 cups frozen diced potatoes, unthawed
1 cup jarred roasted red pepper strips
1 cup shredded sharp Cheddar cheese
1 cup shredded pepper jack cheese
12 large eggs
2 cups half and half
2 teaspoons kosher salt
1 /4 teaspoon freshly ground pepper
Directions
Place oven rack in the middle of the oven and preheat to 375°F.
Coat a 9 x 13 pan with olive oil; set aside.
Heat the tablespoon of oil in a large skillet over medium-high heat until shimmering. Add the mushrooms and carrots and cook until tender, about 5 minutes.
Add the spinach and toss until wilted and almost all the liquid is evaporated, about 5 minutes. Remove from heat and stir in the potatoes and pepper strips.
Spread in the baking dish in an even layer. Sprinkle with cheese. In a large bowl, whisk the eggs, milk, salt and pepper together. Pour over the vegetables.
Bake until the top is golden-brown and a knife inserted in the middle comes out clean, 50 – 55 minutes. Cool for 5 minutes before slicing and serving.
Recommended Tools