Vegetable Stew With Chickpeas, Eggplant and Zucchini
640 days ago
Skip to recipe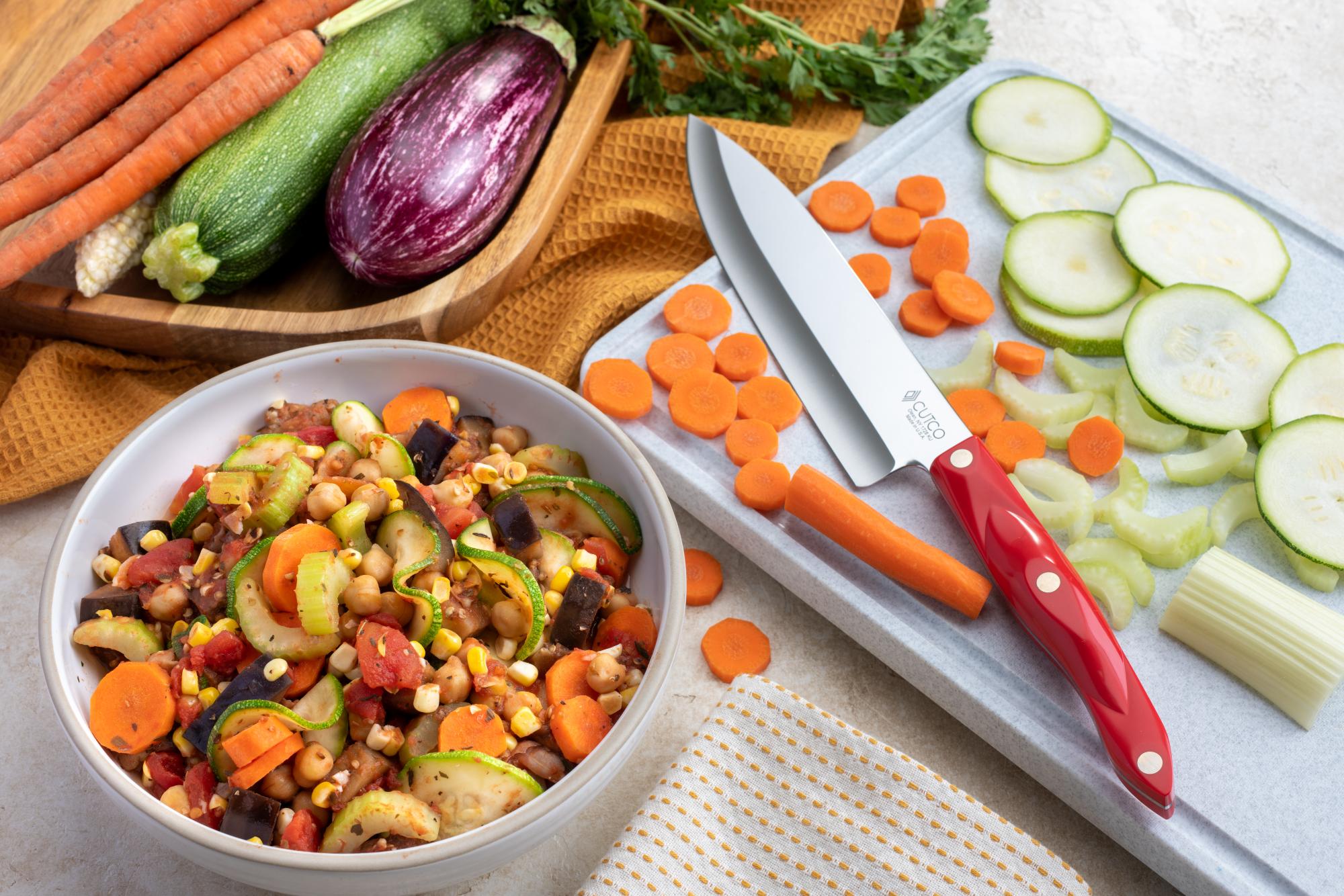 If an occasional vegetarian meal is appealing to you, this Vegetable Stew with Chickpeas, Eggplant and Zucchini is a great choice. It uses many different vegetables, providing nice texture and chew for a plant focused dish.
Salting Eggplant
One key step in preparing this recipe is to salt the cut eggplant to draw out some of the moisture so that it won't absorb too much oil while cooking.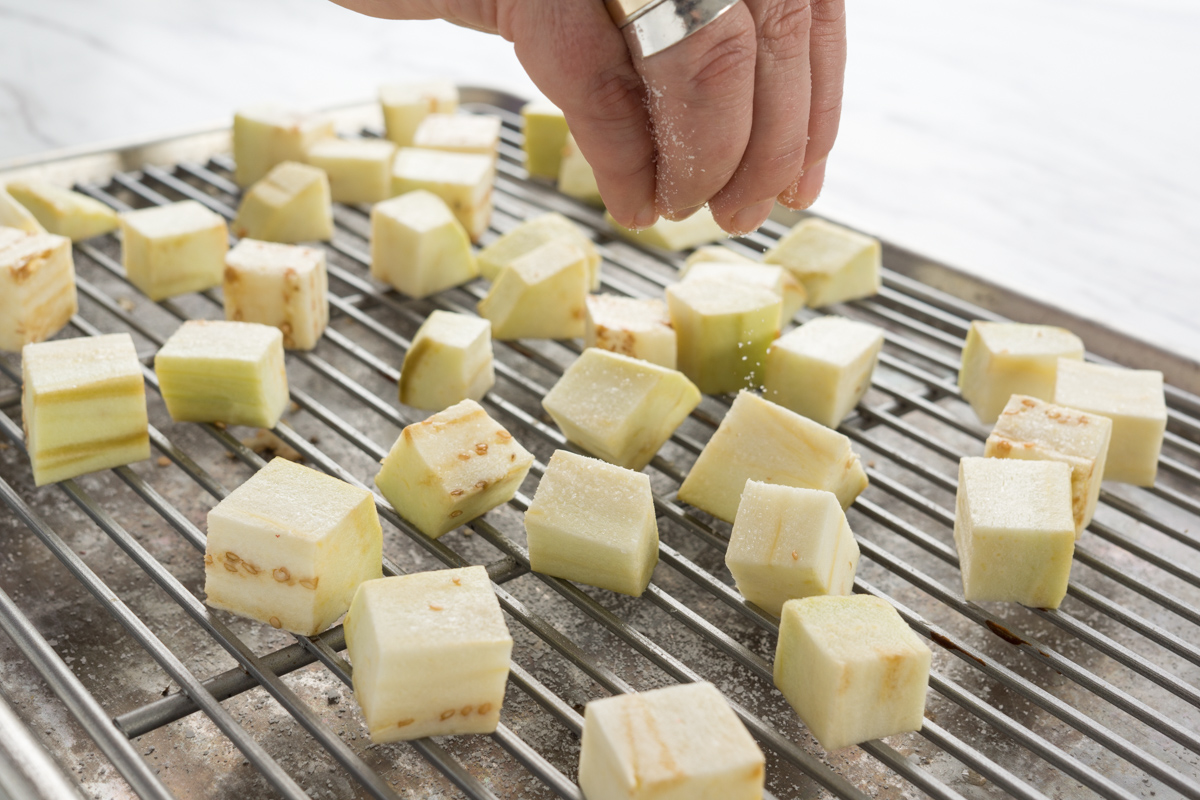 It used to be that you would salt eggplant to remove some of the vegetable's bitterness, but in modern day, eggplant is bred to be milder. The salting in the recipe is really more to preserve the texture while cooking.
Preparing the Vegetables
For preparing the vegetables the 7-5/8" Petite Chef knife is about all you need.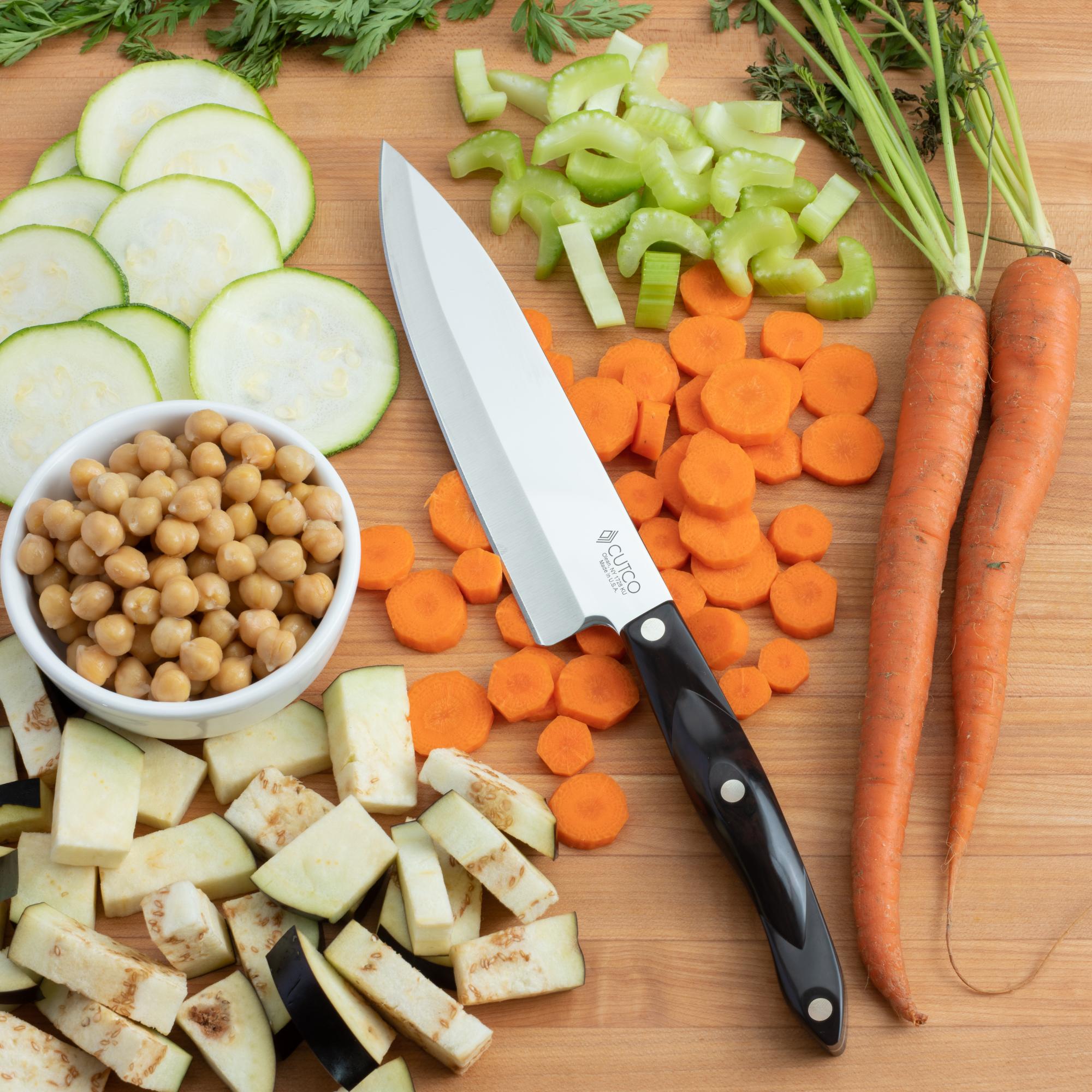 To cube the eggplant, trim off each end and then cut in half lengthwise. Lay the halves flat on the cutting board and cut the halves into strips lengthwise. Rotate and cut crosswise to dice. You may need to cut some of the pieces down, as you want them all to be of uniform size so they cook evenly.
For step-by-step instructions on how to do it, take a look at Cutco's handy step-by-step tutorial, How to Dice Eggplant.
The Petite Chef can also be used to slice the zucchini, carrots and celery but, as with the eggplant, try to keep everything of uniform size, as best you can.
The same knife also works great for removing the kernels from the ears of corn.
Take a look at Cutco's informative tutorials for cutting vegetables, if you want to brush up on your knife skills.
For the chickpeas, I recommend draining and rinsing before adding them. It helps to remove any preservatives and some of the gas.
This Summer Vegetable Stew with Chickpeas, Eggplant and Zucchini is a great way to showcase all the fresh produce coming from the garden this summer. It's also a good recipe to play around with, using other vegetables like bell peppers, green beans and yellow squash.
Serve it with some crusty bread for an easy summer meal.
Ingredients
1 medium eggplant, cubed (bite-size pieces)
1/2 teaspoon fine sea salt
2 tablespoons extra-virgin olive oil
3 cloves garlic, minced
2 teaspoons Italian seasoning blend
1 medium-to-large zucchini, thinly sliced rounds
2 large carrots, peeled and sliced
2 stalks celery, sliced
1 can chickpeas, drained and rinsed
28 ounces no-salt-added diced tomatoes
3 bay leaves
2 ears corn, kernels cut from the cob
Fine sea salt and ground black pepper to taste
Directions
Place eggplant in a bowl and sprinkle with ½ teaspoon salt. Toss well and let sit for up to 30 minutes (This will help to prevent eggplant from absorbing too much oil) and then blot the cubed eggplant dry
Place the olive oil in the skillet over medium heat. Add garlic and eggplant and cook until they begin to soften. Clear a space in the bottom of the pan and add the Italian seasoning. Cook 1 minute until the seasoning becomes fragrant. Add zucchini, carrots, celery, chickpeas, tomatoes and bay leaves and cook for 10 minutes. Add corn and cook another 2 minutes.
Season with salt and pepper to taste.
Remove the bay leaves before serving. They are sharp and can cause injury if swallowed.
Cook's Tips: Draining canned chickpeas helps to remove any preservatives and some of the gas.
Recommended Tools