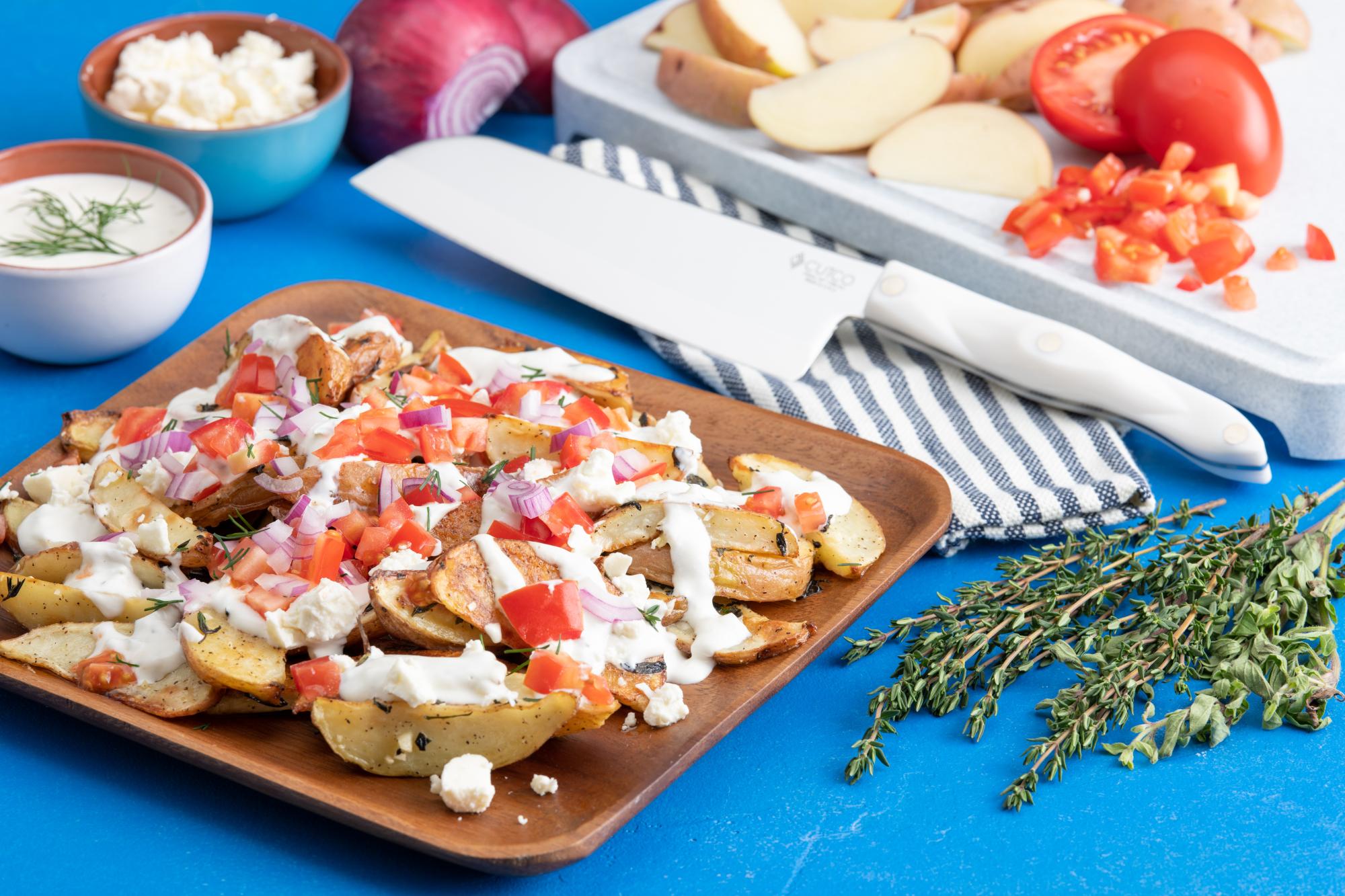 Potato fries are a simple addition to any meal. I usually prepare them by tossing potatoes with salt, pepper and oil, roast them and call it a day. But then I began to realize there is so much more we could do with them from a flavor perspective. The inspiration for this recipe comes from tzatziki, one of my favorite foods to have on hand for dipping pita bread into or topping on to seasoned meat. It is basically a salted yogurt and cucumber dip and, while you can easily make your own, we went the easy route by using store-bought tzatziki.
Tzatziki Greek Red Potato Fries combines red-skinned potatoes, fresh oregano and thyme, crumbled feta cheese and of course, tzatziki. When it comes to the final presentation of this dish, you can pour the sauce over the fries, which is what we did, or serve it on the side. My recommendation is to do both because you really can never have enough.
Prepping the Ingredients
Using a 7" Santoku knife, cut the potatoes in half and then cut them again into wedges.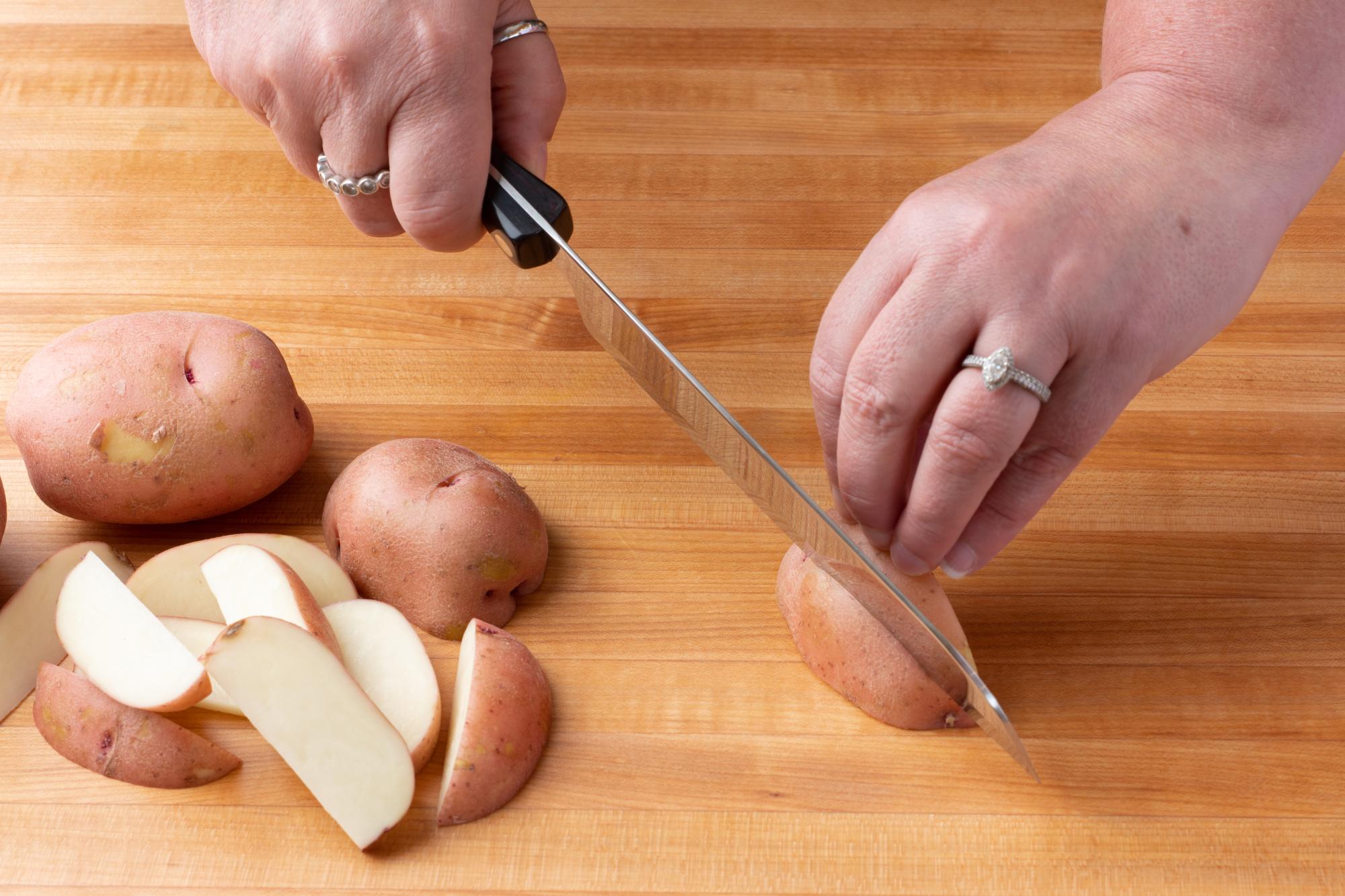 Mince the garlic and chop the fresh oregano using a 7-5/8" Petite Chef knife.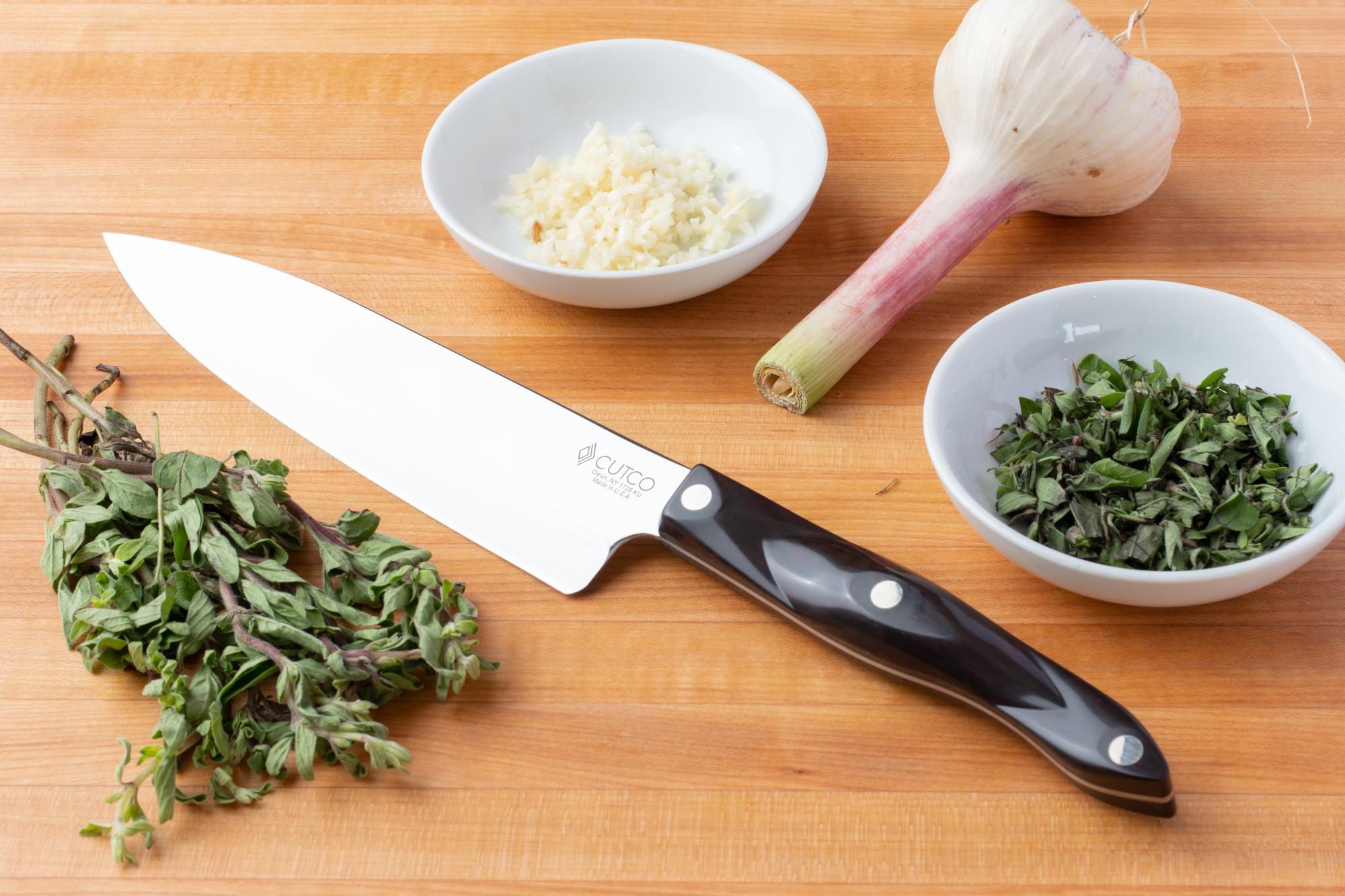 Making the Dish
This dish is quite easy to prepare. Start by sprinkling the potato wedges with salt and pepper and toss with olive oil. Bake until they are golden brown, approximately 30-35 minutes.
In a large bowl mix together the remaining olive oil, minced garlic, oregano and thyme. Once the potatoes are done cooking, dump them immediately into the spice mixture and ensure they are thoroughly coated. You can add some additional salt and pepper if needed.
Arrange the roasted potatoes on a nice serving platter and sprinkle the crumbled feta cheese and parsley on top. Spoon the tzatziki sauce over the potatoes (feel free to use more if you really like it). You can also sprinkle some tomatoes and red onion over the fries for additional color and flavor. Then serve.
That's all there is to making Tzatziki Greek Red Potato Fries. This dish is a nice change from the standard roasted potatoes and honestly, it's not that much more work, especially if you use store-bought tzatziki. There were no leftovers when we prepared this dish, so I think this recipe is a keeper.
Ingredients
4-5 large red skinned potatoes cut into wedges
Kosher salt and freshly cracked black pepper
5 tablespoons olive oil, divided
4 garlic cloves, finely minced
3 tablespoons fresh oregano, chopped
1 tablespoon fresh thyme leaves
2/3 cup crumbled feta
Fresh parsley
2/3 cup tzatziki
Plum tomatoes, chopped for topping
Red onion, diced for topping
Directions
Heat oven to 450 F.
Place the potato wedges into a large bowl. Sprinkle salt and pepper over the potatoes and toss with your hands. Add 2 tablespoons of olive oil and toss again, making sure all the wedges are well coated.
Arrange the potatoes onto a lightly oiled baking sheet, ensuring they are in one layer. If you don't have enough room, use two baking sheets. Bake the potatoes for 30-35 minutes, flipping once, until evenly baked and golden brown.
In a large bowl, whisk together the remaining olive oil, garlic, oregano and thyme.
As soon as the potatoes come out of the oven, dump the hot fries into your olive oil and spice mixture and toss to combine. Taste and season with extra salt and pepper if needed.
Arrange the potatoes on a platter and sprinkle with feta and parsley. Spoon the tzatziki over the fries and add some tomatoes and red onion and serve.
Recommended Tools