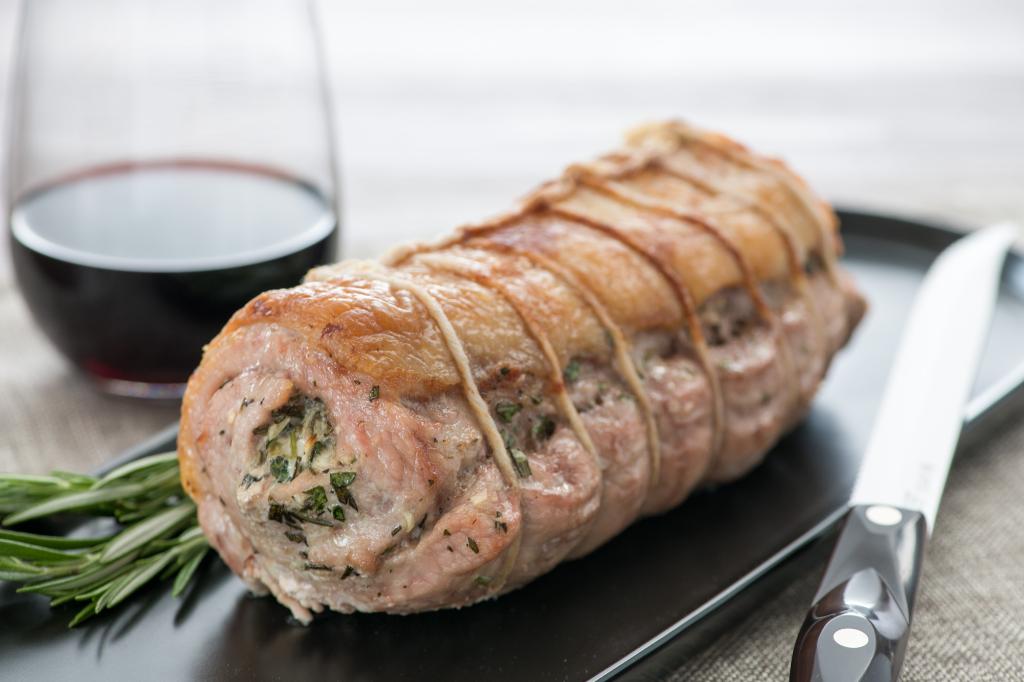 Tuscan Pork Roast is great for a family dinner, but its impressive presentation also makes it great to serve on special occasions.
To make prep a little less messy, instead of searing the roast on the stovetop before placing it in the oven, use the "reverse sear" method that you might know from cooking beef. Roast the pork at a low temperature (325 F), remove it from the oven when it is almost done and then return it to a hot oven (450 F) to crisp the outside. An instant-read meat thermometer is required to get an accurate internal temperature of 145 F.
To be sure lots of flavor permeates the whole roast, cut the pork into a flat piece (butterfly it), spread it with a flavorful filling and then tie it into a rolled roast. For help doing that, check out my easy -step-by-step instructions on How to Butterfly and Tie a Pork Loin Roast, using Cutco's 9" Carver.
Feel free to change the herbs in the filling if you wish by substituting 2 teaspoons herbs de Provence or any other dried herb blend for the fresh rosemary. Also, remember to take the marinated roast out of the refrigerator 30 minutes before cooking.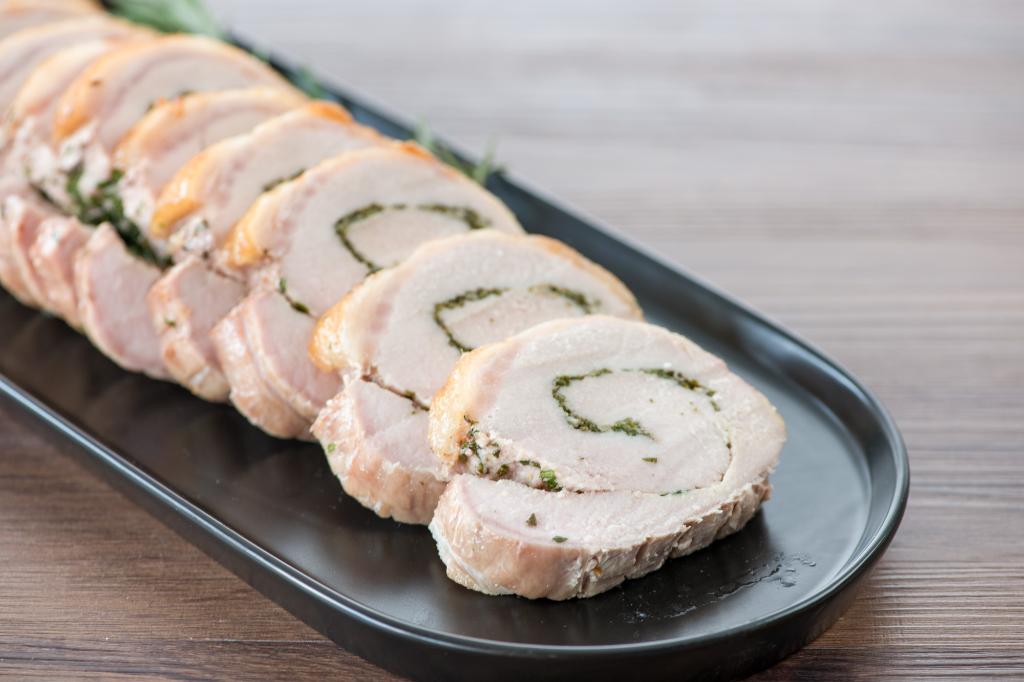 Ingredients
4 cloves garlic, peeled and minced
2 tablespoons chopped fresh rosemary
2 teaspoons kosher salt, divided
2 tablespoons extra virgin olive oil
1/4 teaspoons freshly ground black pepper
1 - 2 1/2 to 3 pound center cut pork loin, butterflied
Directions
Mince together the garlic and rosemary. Add 1 teaspoon salt to the cutting board and use the side of your knife to smear the mixture into a paste. Transfer to a small bowl and stir in the olive oil and ground pepper.
Rub herb mixture on the inside surface of the butterflied pork roast. Roll up the roast starting from the short side and tie at 1-inch intervals with butcher's twine, with the fat on the outside (twine should be four times the length of the roast).
Cover loosely with plastic and refrigerate for at least one hour, and as long as 8 hours. Remove from the refrigerator at least 30 minutes before roasting.
Preheat oven to 325 F with rack in middle position. Sprinkle roast with remaining 1 teaspoon salt on all sides. Place fat-side up on a rack in a shallow roasting pan. Place in preheated oven and roast for 50-65 minutes or until an instant-read thermometer reads 145 F. (Add water to the pan if the juices start to burn.) Remove pan from oven, tent roast with foil, and turn the oven up to 450 F. When the oven is preheated, return pan to oven and roast another 5-10 minutes until the top is nicely crusted and the internal temperature in the thickest part of the roast is 145 F.
Remove to a cutting board and let rest for at least 10 minutes before slicing. Cut and remove twine and slice into ¼-inch pieces to serve.
Variation: French style filling
In Step 1, replace the garlic and rosemary with 3 garlic cloves, thinly sliced, and 2 teaspoons herbs de Provence, and substitute 2 tablespoons butter for the olive oil.
Melt the butter in a small frying pan over medium- low heat. Add garlic and cook over low heat, stirring frequently, until garlic is golden, about 5 minutes. Stir in herbs de Provence and cook for 1 minute longer. Stir in ¼ teaspoon ground pepper and transfer mixture to a small bowl and refrigerate until cold (Butter does not need to harden).
Transfer mixture to a bowl and proceed with Step 2 of recipe.
Recommended Tools