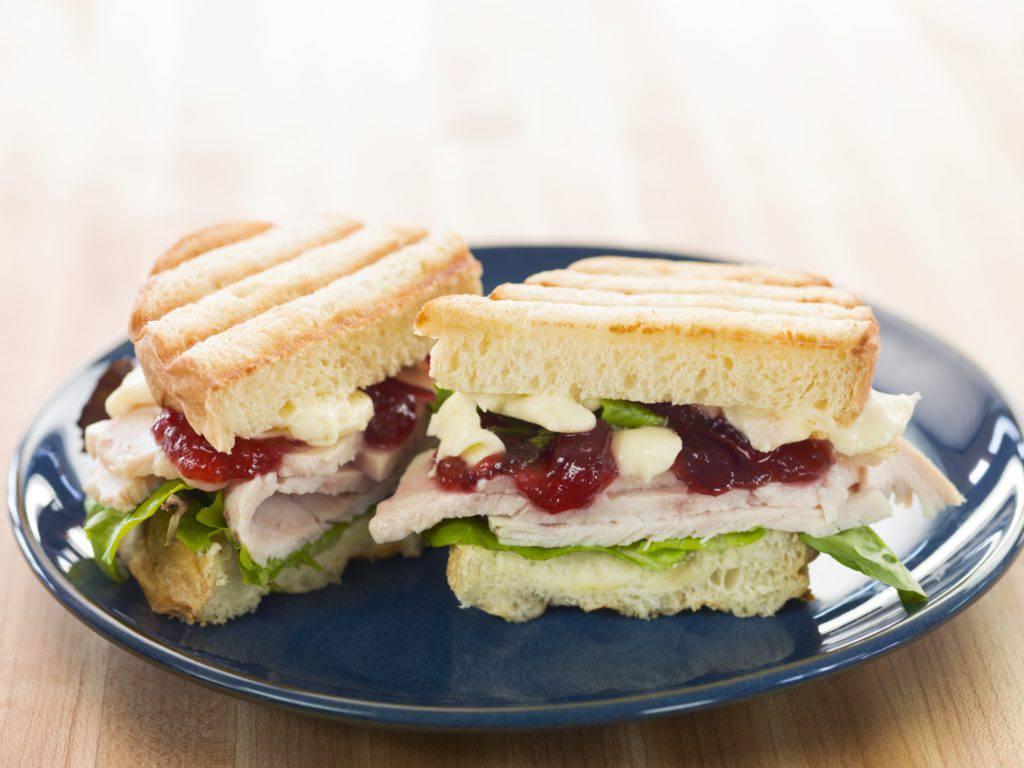 Ingredients
Sandwich
Slices of sturdy bread (Italian, Ciabatta)
Olive oil
Sliced turkey
Slices of Brie
Cranberry Apple Chutney (recipe follows)
Salad greens
Cranberry Apricot Chutney
1 tablespoon olive oil
1/3 cup chopped yellow onion
1 spicy red pepper (like serrano), seeded and chopped
1 clove garlic, minced
Juice of 1/2 lemon
Juice of 1 orange
1 teaspoon Worcestershire sauce
3 tablespoons brown sugar (plus more if desired)
Pinch of ground ginger
1 12-ounce bag fresh cranberries
12 – 15 dried apricot rounds, chopped
1 cup water
Pinch of salt
Directions
Heat oil in a saucepan over medium heat. Add onion and pepper and cook 3 minutes, until onions are soft.
Add garlic and cook 1 more minute. Add remaining ingredients and bring to a boil. Cover and cook for 10 minutes until cranberries have softened.
Remove lid and cook until nearly all the liquid has cooked away, about another 10 – 15 minutes. Taste for sweetness and add another tablespoon or 2 of brown sugar if you want it sweeter.
Remove from heat, cool and transfer to a jar or bowl. Store in refrigerator. It will last approximately 2 weeks.
To assemble sandwiches, heat a panini maker or grill pan to high. Brush the outside of the bread slices with olive oil.
Put a generous smear of chutney on the inside of the bread and pile the turkey, Brie and salad greens on top. Grill until golden brown.