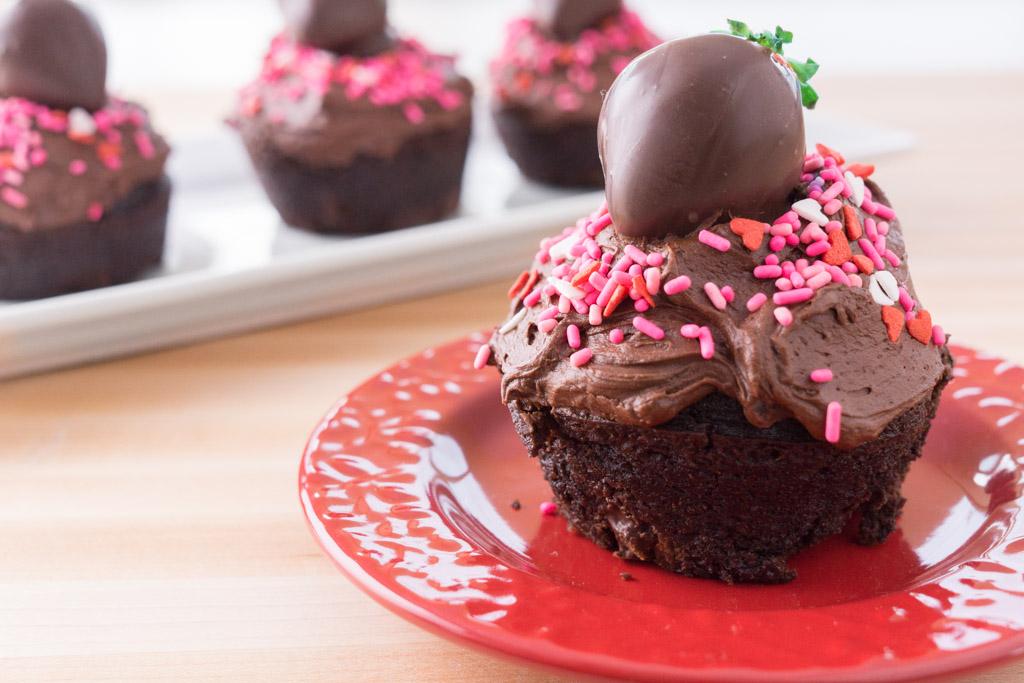 Your mom deserves chocolate this Mother's Day. In fact, she deserves triple the chocolate for how special she is.
My motto is "life is short, eat dessert first, especially anything chocolate." Seriously, though, chocolate or not, these Triple Chocolate Mini Cakes are a wonderful way to celebrate the day.
Topped with a fluffy chocolate frosting and chocolate dipped strawberries, they have all the ingredients that will bring a smile to mom's face. Enjoy one with a cup of hot coffee, a glass of red wine or even a big glass of cold milk. Take your time and savor each bite of this heavenly concoction. The richness of the dark chocolate used to dip the strawberries is a nice balance with the sweetness of the strawberries.
Please don't substitute milk chocolate for the dark chocolate called for in the recipe. The slight bitterness of the dark chocolate is an important component in the taste of this dessert.
I used the remainder of the melted chocolate to dip more strawberries, which can be served on their own.
Ingredients
For the cakes
1 1/2 cups all-purpose flour
1 cup sugar
1/4 cup unsweetened cocoa powder
1 teaspoon baking soda
1/2 teaspoon kosher salt
1/4 cup plus 1 tablespoon vegetable oil
1 tablespoon white vinegar
1 teaspoon vanilla
1/2 cup brewed black coffee; slightly cooled
1/2 cup water
1/2 cup 60% cacao bittersweet chocolate baking chips
Frosting
1 cup confectioners' sugar, sifted
3 tablespoons unsalted butter at room temperature
1/3 cup unsweetened cocoa powder, sifted
Whole milk
Chocolate Covered Strawberries
6 large fresh strawberries
Dark chocolate candy making & dipping wafers
Multi-colored or chocolate sprinkles (optional)
Directions
Preheat oven to 375°F. Spray a mini Bundt pan or a 6-cup jumbo muffin pan with non-stick baking spray.
Whisk all the dry ingredients for the cakes together using a Mix-Stir in a large mixing bowl. Add in the wet ingredients and mix. Add baking chips and mix again. Fill each well in mini Bundt pan or muffin pan with batter, filling about 2/3 full.
Bake 20-25 minutes or until a toothpick inserted in middle of cake comes out clean. Remove from oven and cool at least 20 minutes. Remove cakes from pan and place on wire rack.
To make the frosting, beat the confectioners' sugar, butter and cocoa powder together in a stand mixer on medium-slow speed until mixture comes together. Turn the mixer down to slow and add 1 tablespoon of milk. Beat until milk is incorporated. If the frosting is dry, add milk, a tablespoon at a time. Increase speed to high and beat until the frosting is light and fluffy. Chill for about 30 minutes before frosting the cakes.
To make the chocolate covered strawberries cover a baking sheet with parchment paper, wax paper or a non-stick baking mat. Wash and thoroughly dry each strawberry. Microwave dipping chocolate according to package directions. Dip each strawberry and place on baking sheet. Refrigerate for at least 20-30 minutes so chocolate can firm up.
To assemble the cakes, frost the top of each cake. Sprinkle with decorative sprinkles.
place one chocolate covered strawberry on top and serve.
Recommended Tools