Traditional Beef Stew With Potatoes and Carrots
1049 days ago
Skip to recipe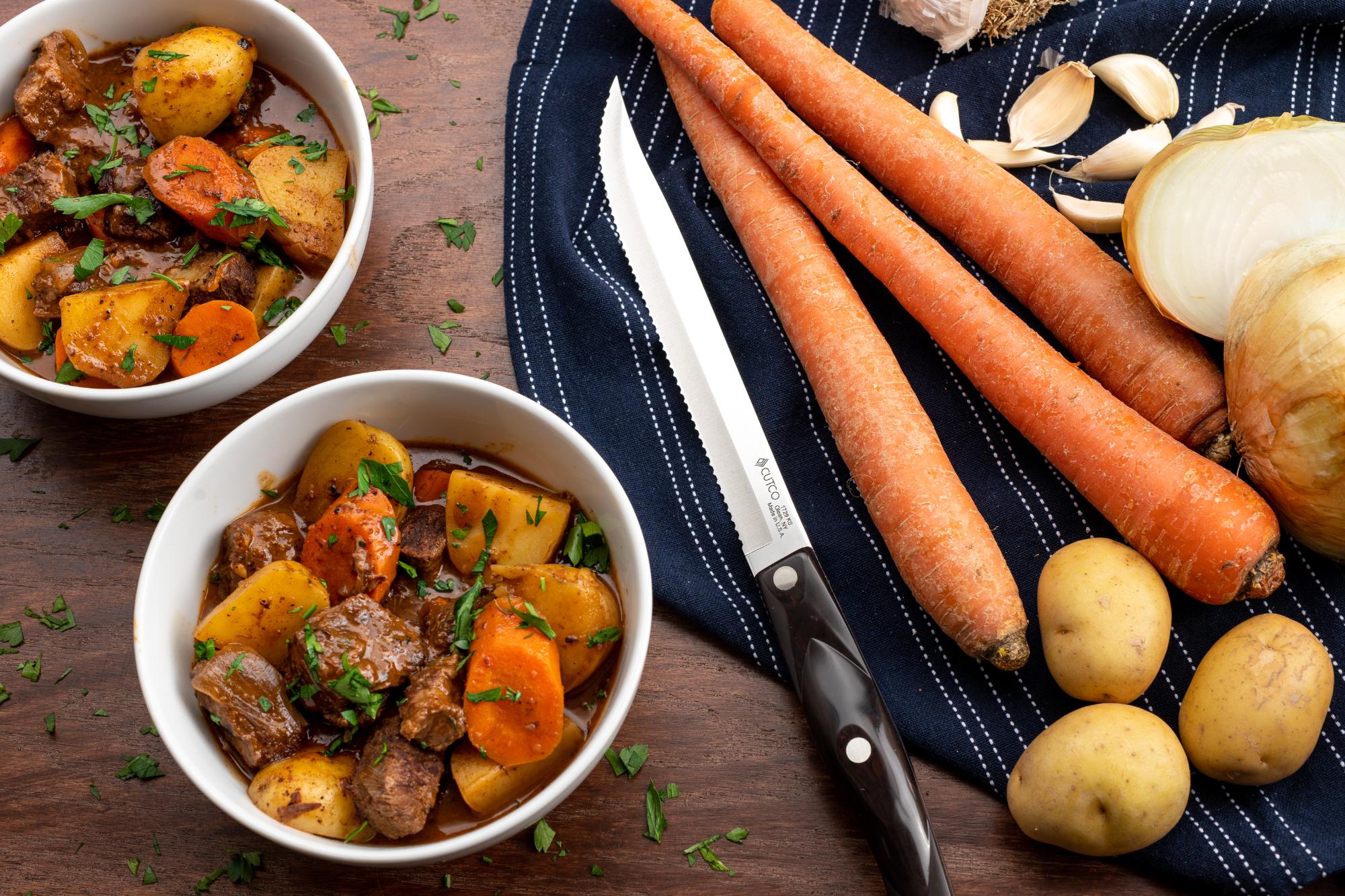 On a cold Saturday or Sunday, I love to put together a hearty meal that sits on the stove top, simmers away for a few hours and fills the house with wonderful aromas. I have found that my dogs appreciate my efforts as well since they seem to park themselves in the kitchen taking in all the scents. A Traditional Beef Stew with Potatoes and Carrots checks all of these boxes and the end result is a mouth-watering meal with tender chunks of beef in a rich broth with savory potatoes and carrots. It really doesn't get any better than this.
For me, the key to this dish is the layering of ingredients that, when allowed to cook together for an extended period of time, really brings out intense flavors. I've titled this recipe as traditional because it has all of the ingredients you expect in a beef stew including the beef, onions, garlic, broth, carrots and potatoes as well as a healthy dose of dry red wine and some herbs de Provence. A little tip – if you wouldn't drink the wine, don't cook with it. It's not that you need an expensive bottle of wine for this recipe, but you do want one with good flavor such as a cabernet sauvignon, a merlot or pinot noir and besides, you may want a glass to go with your finished stew.
To prepare this traditional beef stew recipe, you want to start with a boneless beef chuck roast that is well-marbled. I used the 6-3/4" Petite Carver to cut the meat into 1-1/2 inch pieces, making sure they were the same size for even cooking.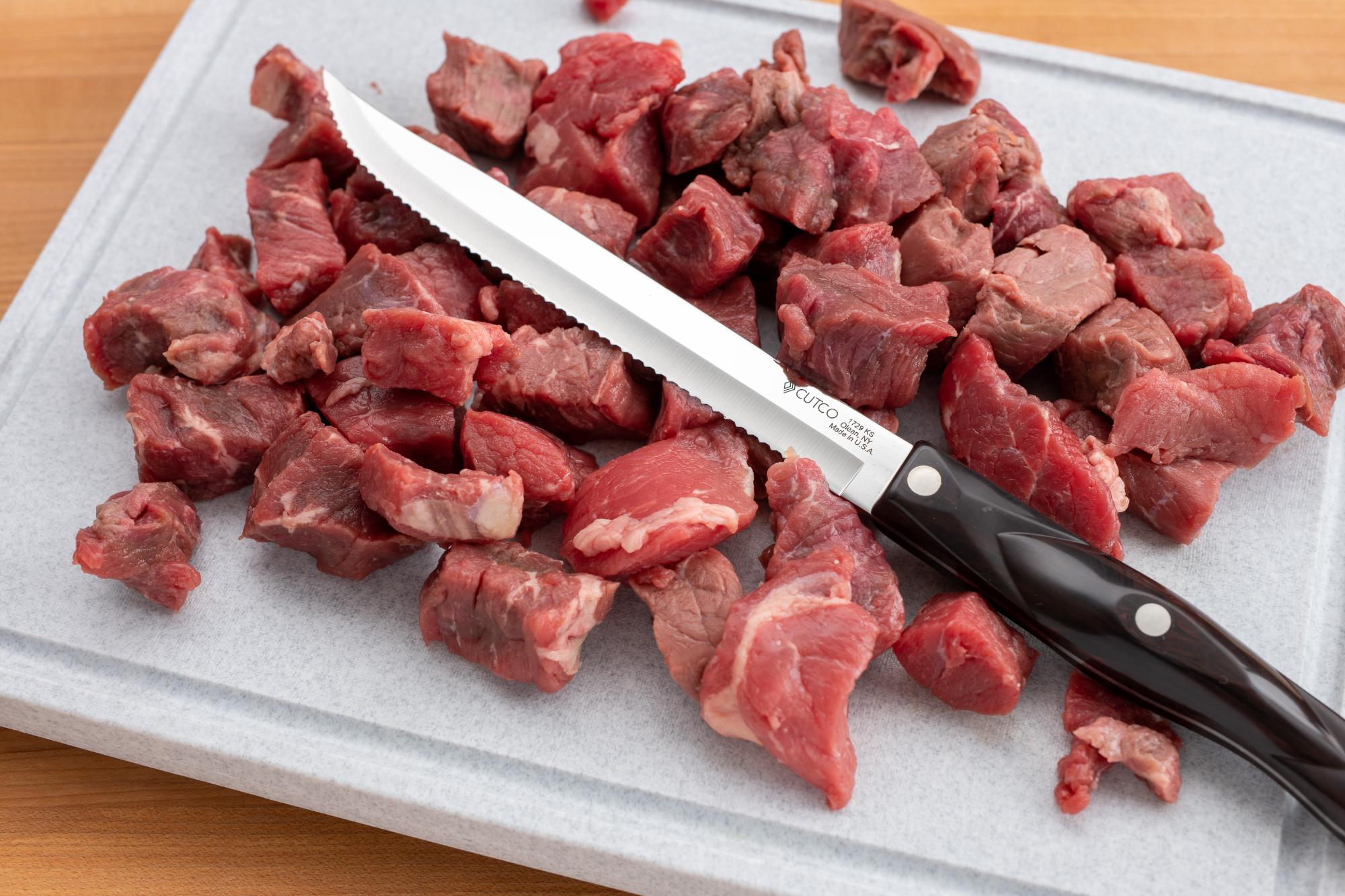 I then prepped all of the vegetables for this beef stew. I cut the onion into chunks with the 7-5/8" Petite Chef knife and then halved my potatoes.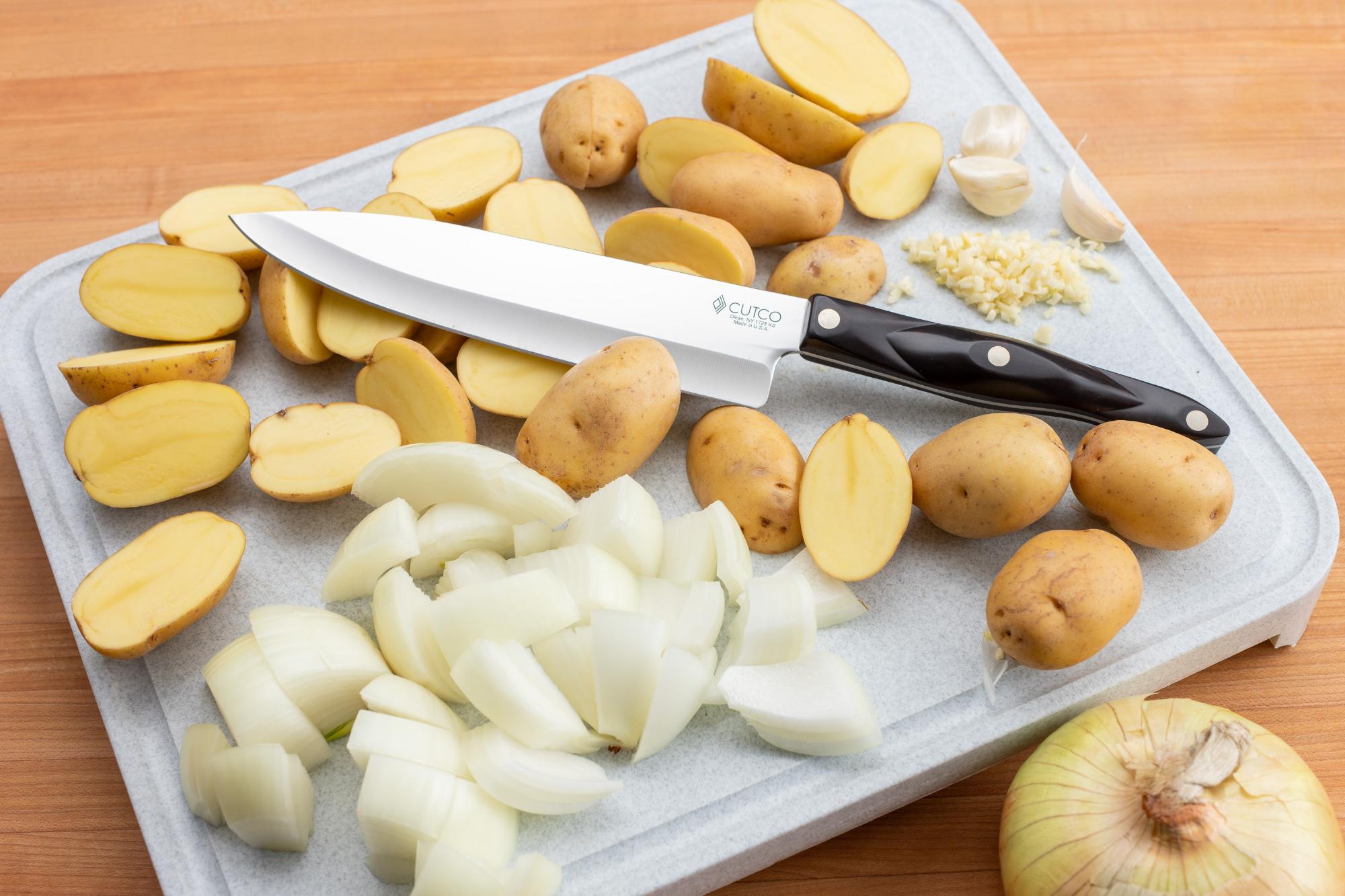 You really do want chunks of onion rather than diced and for the potatoes, since some of my potatoes were larger than others, I did quarter some of these as well. You can cut your carrots into coins but because I was going for a more rustic look, I cut them on the bias.
When all of your ingredients are prepped, it really is then about adding the ingredients together. You will want to take the time to cook the beef in stages, so you are able to brown the pieces evenly and form a nice crust on the meat. This gives the overall stew an amazing flavor. So just sear the meat in batches and when you're done with each batch, set it aside on a plate.
Another tip is when you cook your onion, garlic, red wine vinegar and tomato paste, make sure to gently scrape the bits from the bottom of the pan left from the searing of the meat. If you can't get them all, when you add the wine, broth and other ingredients, you should be able to easily deglaze the pan and remove the remaining bits. Again, this technique adds additional flavor to this stew.
Now it's a matter of being patient as you want the beef stew to simmer for approximately 1-1/2 hours. Occasionally lift the lid to skim any fat that has risen to the top of the stew and give it a quick mix to make sure everything is cooking evenly, and nothing is sticking to the bottom of your pot.
Once you've allowed everything to simmer for the allotted time, you'll add the carrots (allowing them to cook for 10 minutes) and then the potatoes. The idea is to cook the carrots and potatoes at the end of the simmering process, so they don't become mushy. Just make sure to keep an eye on the stew to see if you need to add additional broth or water to keep it from drying out.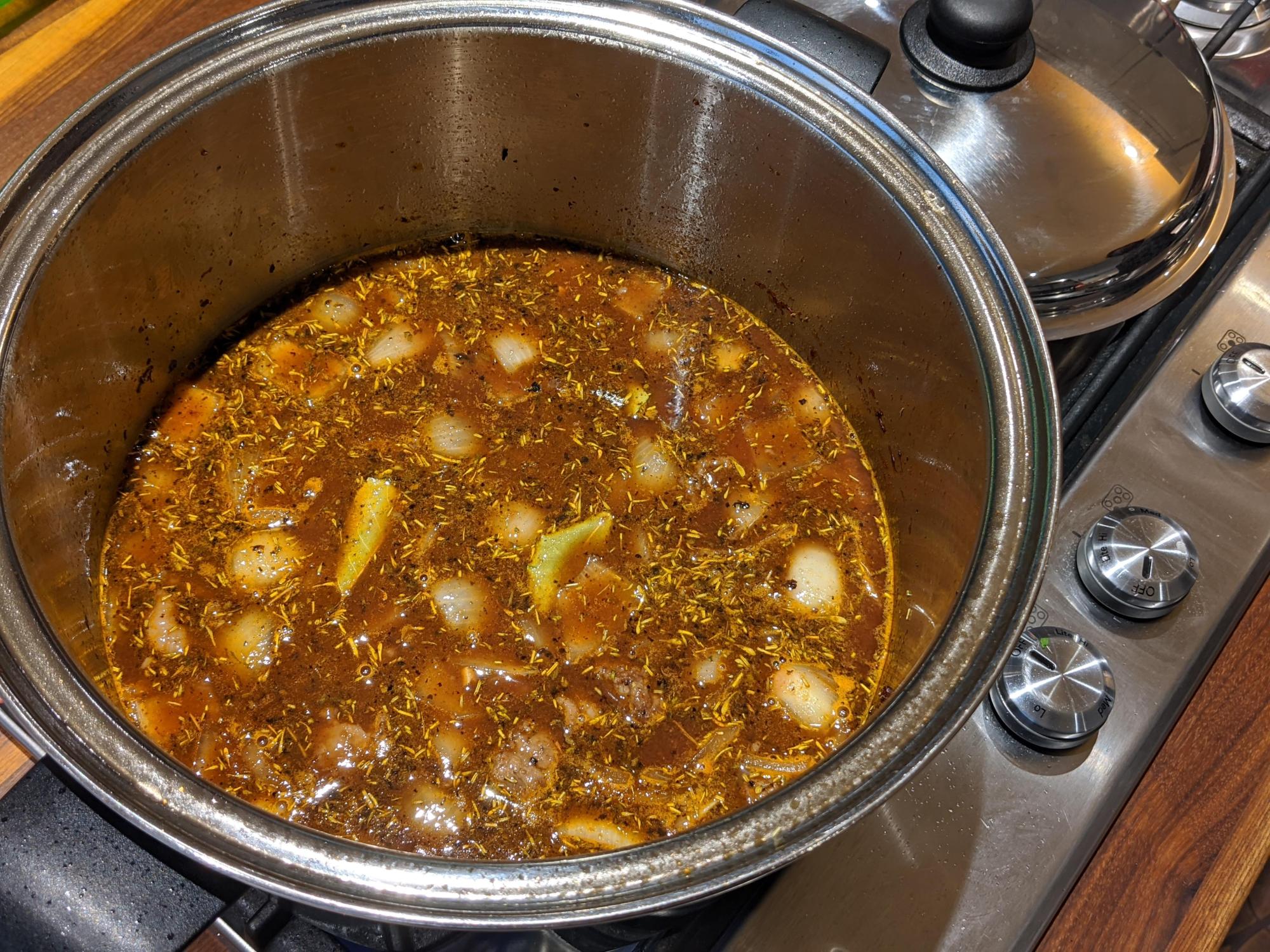 That's really all there is to it and while yes, there is a long cooking time for this Traditional Beef Stew with Carrots and Potatoes, it's worth it! Because of that extended cooking time, you have a hearty meal with tender beef and complex flavors that is meant to be enjoyed slowly. Everyone in the kitchen went back for seconds on this dish and the leftovers were equally amazing. We hope you enjoy this dish as much as we did.
Traditional Beef Stew with Potatoes and Carrots
Print Recipe
Ingredients
2 pounds beef stew meat (boneless beef chuck that is well-marbled), cut into 1-1/2-inch pieces
1 teaspoon kosher salt
1/2 teaspoon freshly ground black pepper
1/4 cup all-purpose flour
3 tablespoons olive oil, divided
1 large yellow onion, cut into 1-inch chunks
2 cloves garlic, peeled and minced
2 tablespoons red wine vinegar
1/4 cup tomato paste
2 cups dry red wine
3 cups low-sodium beef broth
1 tablespoon Worcestershire sauce
1 cup water
2 bay leaves
1 tablespoon of herbs de Provence
5 medium carrots, peeled and cut into 1-inch chunks
1-pound baby potatoes, halved
Fresh chopped parsley, for serving
Directions
Pat the beef dry.
In a large bowl, whisk together the salt, pepper and flour and add the beef, tossing to evenly coat.
In a large Dutch oven or heavy pot, heat 1 tablespoon of olive oil over medium-high heat. Add 1/3 of the meat and brown for approximately 5 minutes, turning with tongs ensuring you allow the meat to form a crust before turning again. Remove meat to a large plate and repeat the process two more times (adding a tablespoon of olive oil each time). Set meat aside.
In the same pot, add the onion, garlic, red wine vinegar and tomato paste and cook for approximately 5 minutes, scraping the bottom of the pot of with a wooden spoon to remove the brown bits.
Add the browned beef back to the pan along with the wine, beef broth, Worcestershire sauce, water, bay leaves and herbs de Provence. Stir the mixture to again loosen any brown bits from the bottom of the pot and bring this mixture to a boil.
Reduce heat to a slow simmer, cover the pot with a lid and cook until the beef is tender, approximately 1 1/2 hours. Make sure to skim the fat from the broth while cooking.
Add the carrots and simmer for 10 minutes.
Add the potatoes and simmer for an additional 30 minutes, until the vegetables are tender.
If the stew becomes dry, add more water or broth to finish the simmering process.
Remove the bay leaves and check if additional seasoning is needed.
Serve warm, ladled into individual bowls and topped with chopped parsley if desired.
Recommended Tools