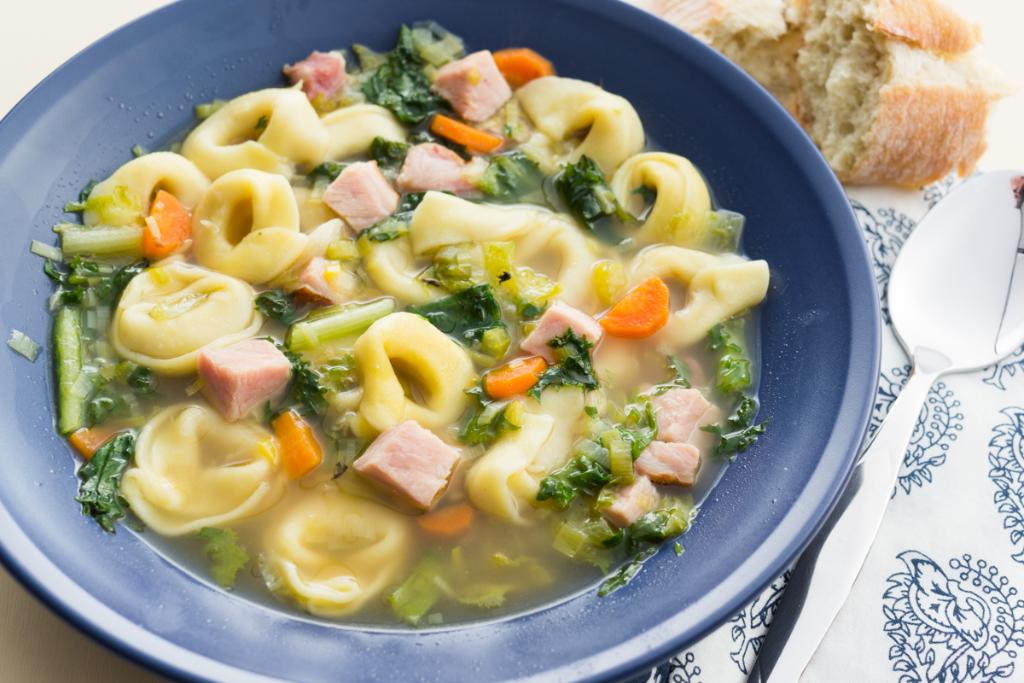 Soups are so good at this time of year. They hit the spot after a long day at work or school or even a day of outdoor fun. This Tortellini Soup is a stick-to-your-bones recipe that is satisfying and full of flavor.
It combines ingredients I wouldn't normally think about using. Thinly sliced leeks, strips of lemon zest, escarole, cheese tortellini and a smoked pork chop. The diced pork chop is a pleasant change from using chicken or beef in the soup. Nothing gets wasted here with the bone from the chop adding flavor to the soup broth.
If you're unfamiliar with fresh leeks or have not tasted them, they are an onion-like vegetable but much milder. In order to maximize the edible part of the leek, farmers mound the dirt up around the sprouting plant. This keeps more of it underground and white, but also means that dirt often gets between the layers, so leeks need careful cleaning before cooking.
How to Cut Leeks
Use a vegetable prep knife like the 7-5/8"Petite Chef to cut off the root end of the leek. Also cut off the dark green leaf end and discard it or save it for making stock. Halve the leeks lengthwise, thinly slice them and then place them in a bowl of cold water.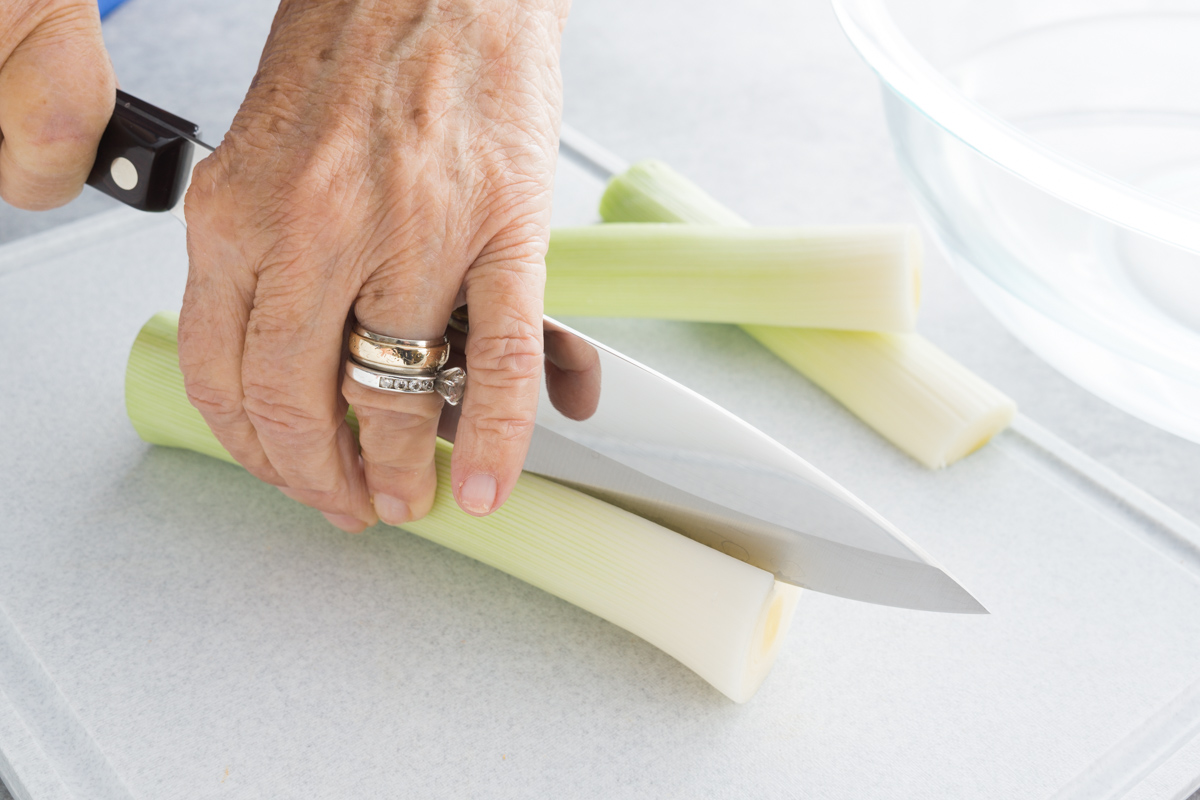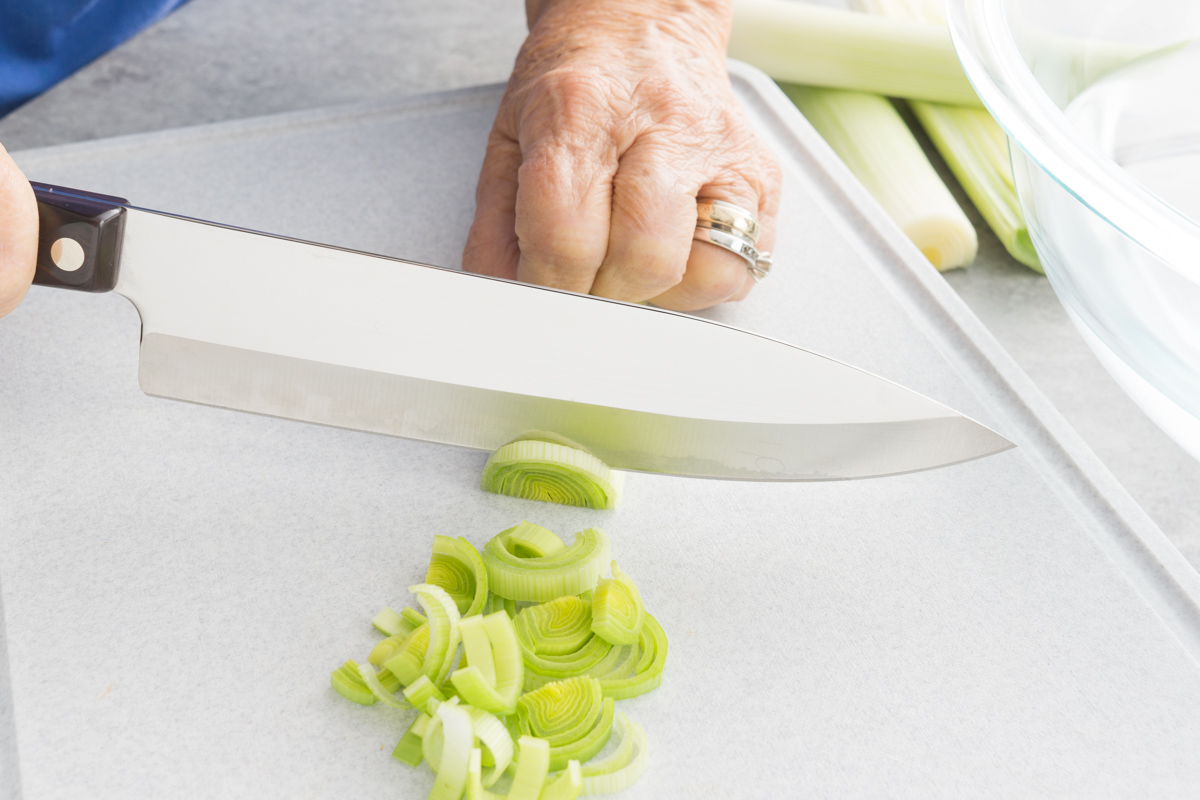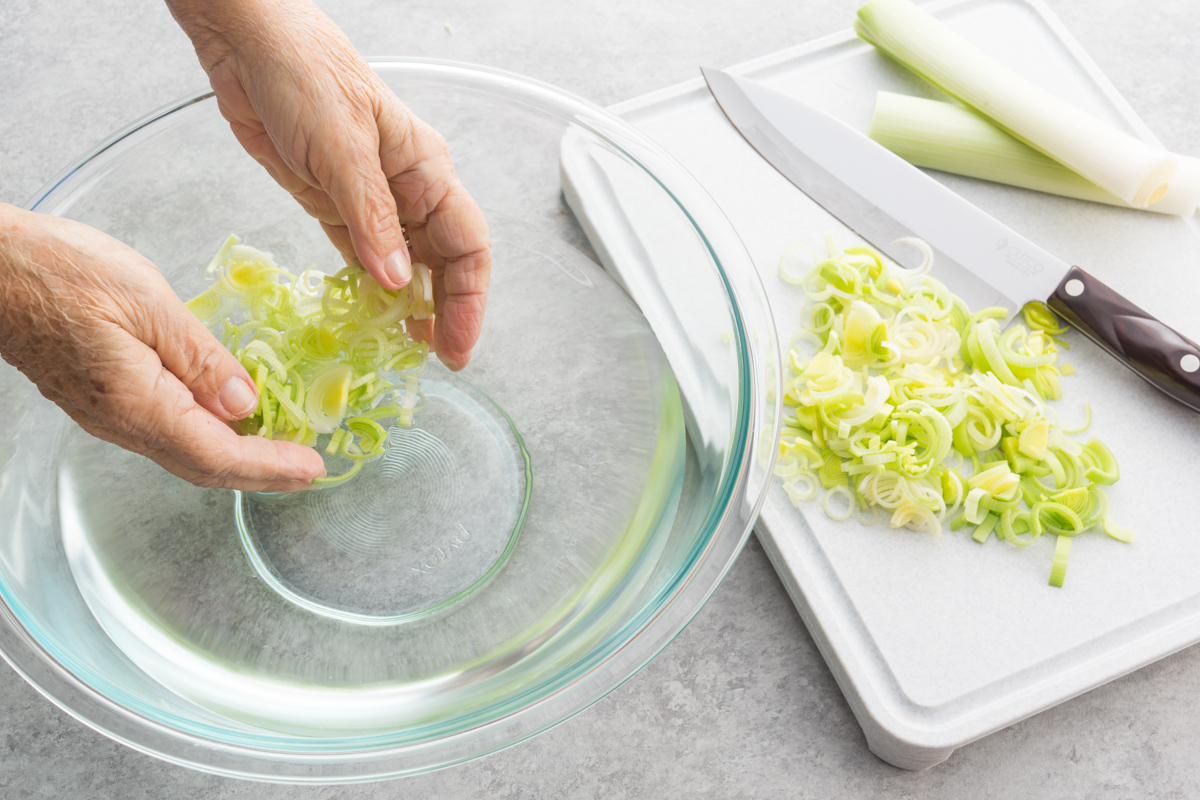 Give them a stir to remove any dirt between the layers. Allow the leeks to sit in the water for a few minutes and then remove them using a Slotted Spoon.
The Chef knife can also be used to cut the celery and carrots and crush the garlic.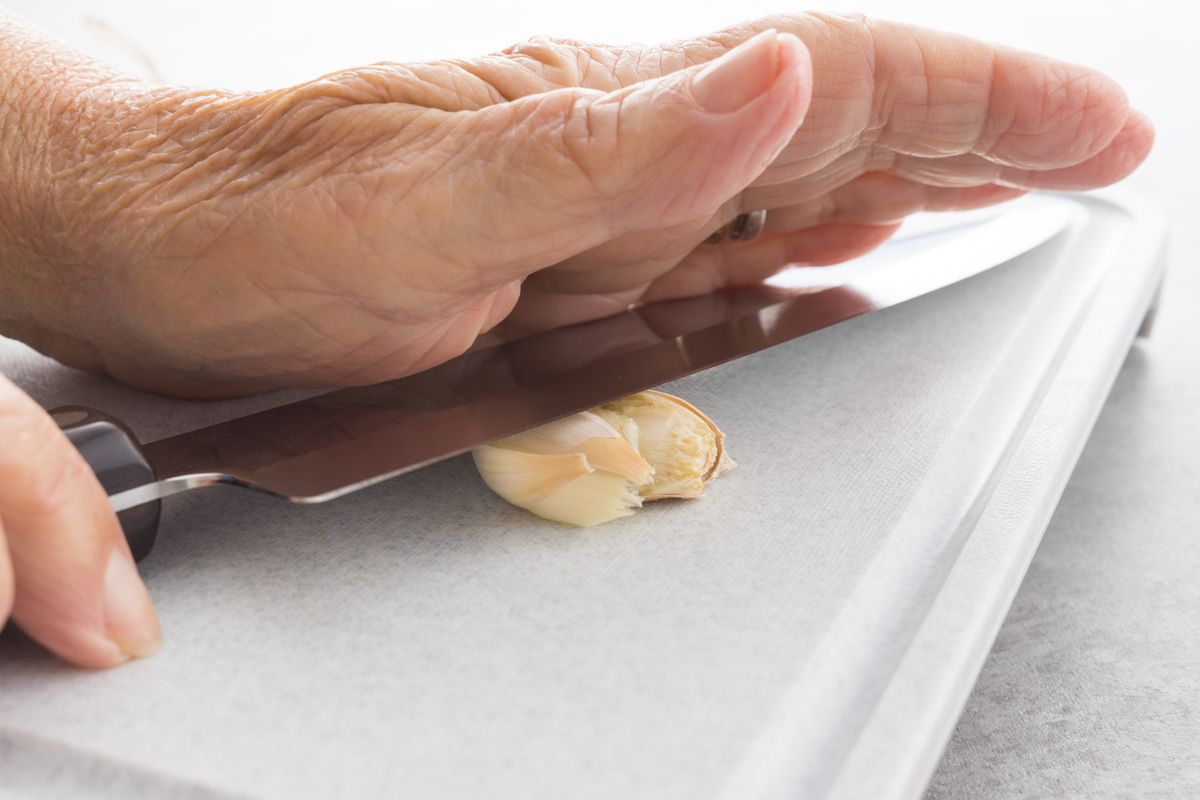 For the pork chop, after it's cooked, use the Cutco Trimmer to remove the meat from the bone. The sharp Double-D® edge and pointed tip maneuvers easily around the bone. Then use the knife to cut the pork into a small- to medium-sized dice.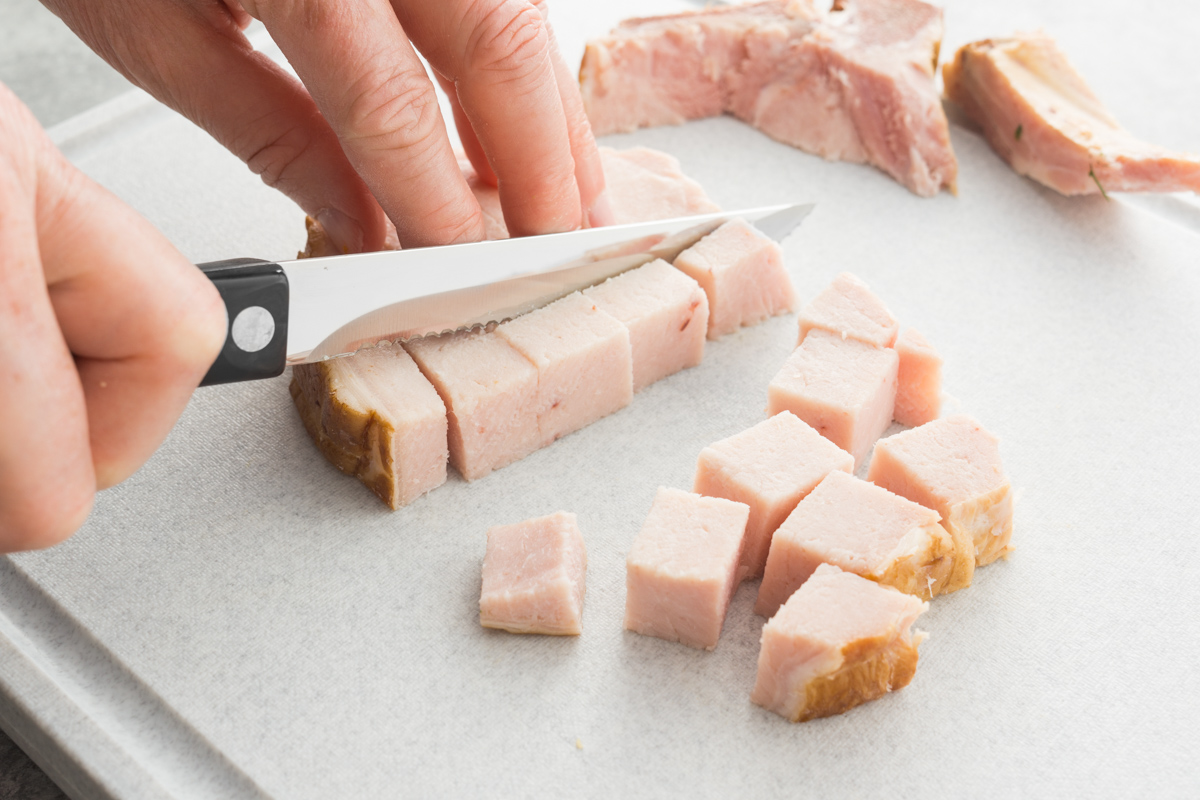 For shaving off Parmesan rind and lemon peels,a Vegetable Peeler works great.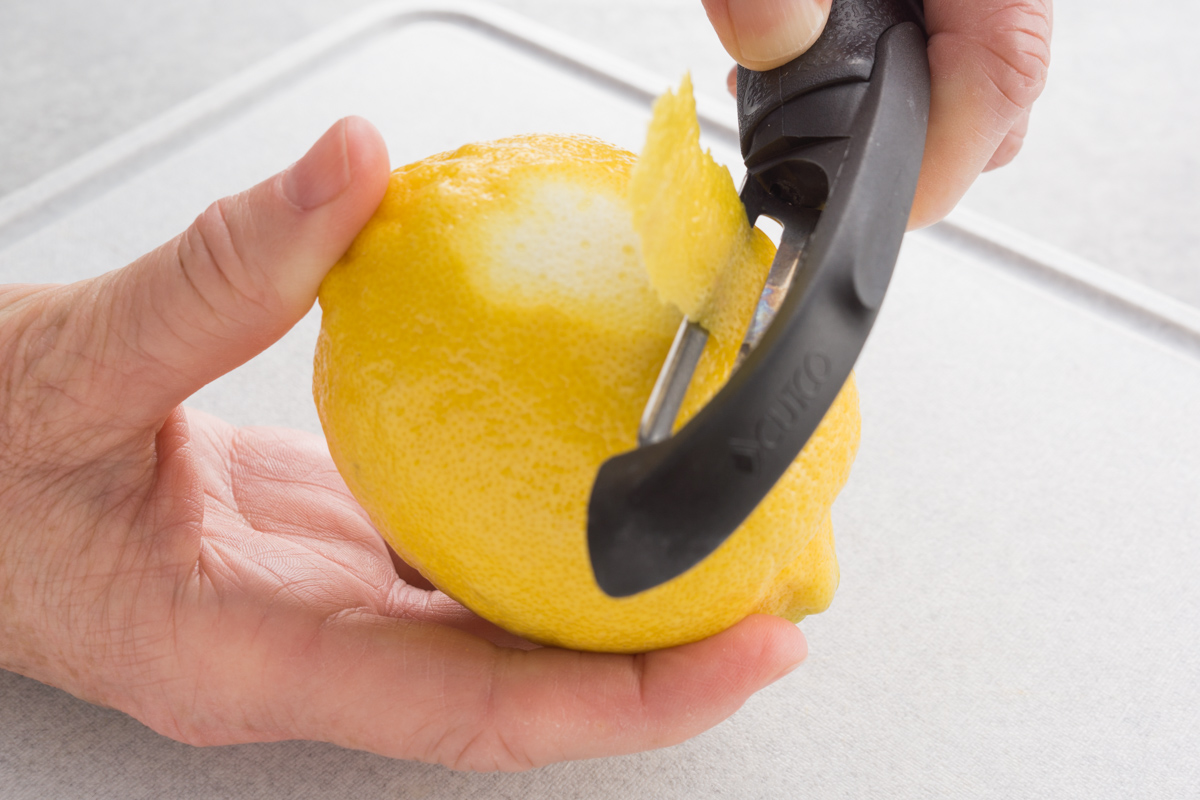 Prep time for this hearty soup is only about 30 minutes so it's ready to ladle into bowls and enjoy in no time.
Ingredients
2 tablespoons olive oil
2 leeks (white and light green parts only), halved lengthwise, thinly sliced and rinsed
2 carrots, halved lengthwise and thinly sliced
2 small stalks of celery, thinly sliced
4 cloves of garlic, smashed
2 cups water
4 cups chicken broth
1 small piece of Parmesan rind
2 wide strips of lemon peel
1 12-ounce bone-in smoked pork chop, diced (bone reserved)
1 9-ounce package refrigerated or frozen cheese tortellini (Note: if using frozen tortellini, thaw before adding to soup)
1 small head escarole, chopped
Freshly ground pepper
Directions
Heat the olive oil in a large pot over medium heat. Add the leeks, carrots, celery and garlic. Cook, stirring occasionally until the leeks wilt, about 5 minutes. Add water, chicken broth, Parmesan rind, lemon strips and pork bone. Bring to a simmer and cook until the vegetables are tender, about 15 minutes.
Remove the Parmesan rind, lemon peel and pork bone with a Slotted Spoon. Bring the broth to a boil over medium heat. Add the tortellini, escarole and diced pork, season with pepper. Cook until the tortellini and escarole are tender, 4 to 5 minutes.
Ladle into bowls and serve.
Recommended Tools