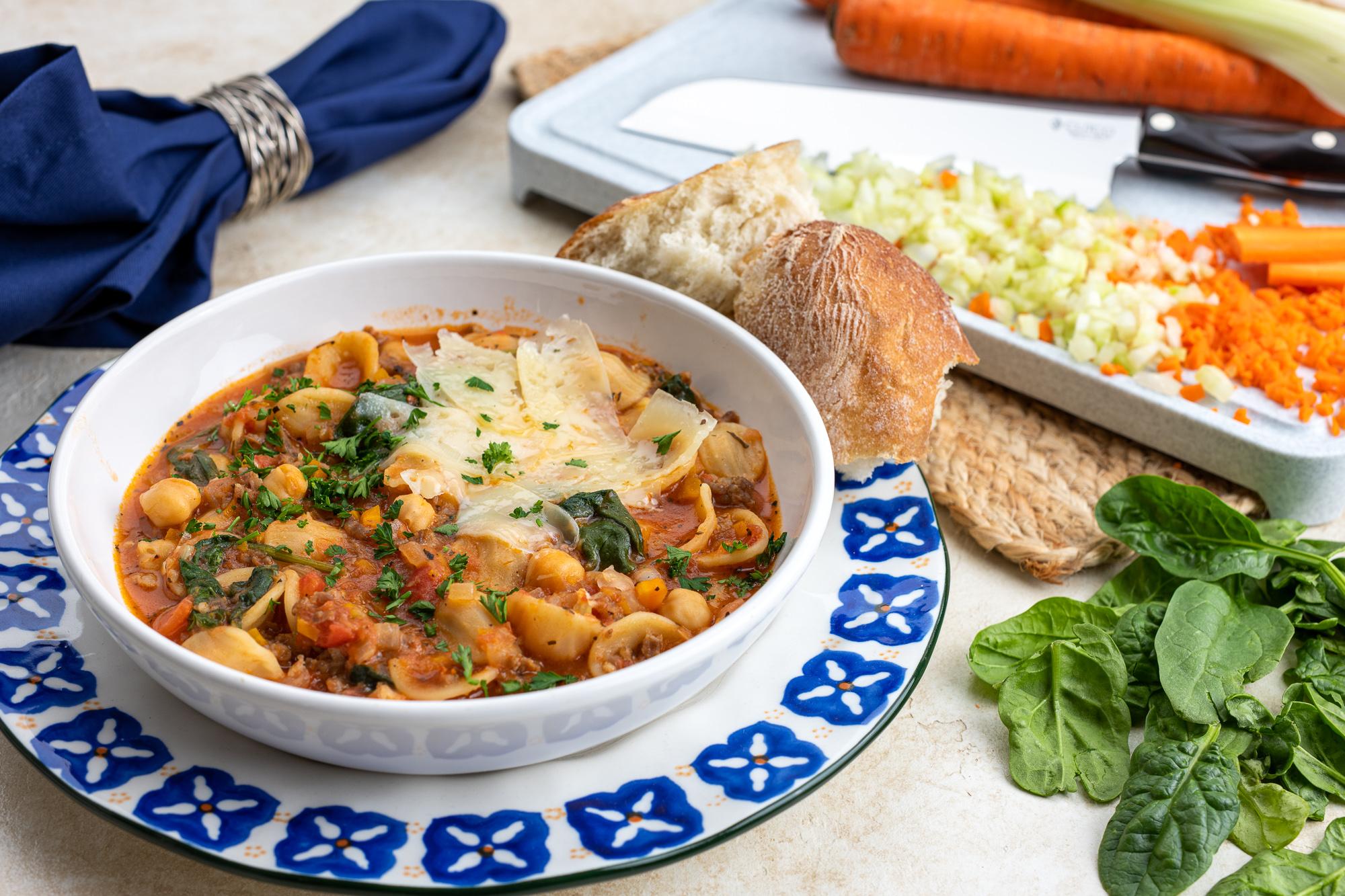 I'm a big fan of dinners that use just one pot for preparation, and I'm always looking for something that is quick and easy to prepare. This Tomato and Italian Sausage Pasta Soup checks both of those boxes and chances are, you have most of the necessary ingredients already in your pantry. This is a hearty dinner recipe that will warm you up on a cold winter evening.
What I really like about this dish is that I can change it easily depending on what I have in my pantry and based on what my taste buds are craving, such as mild versus spicy. When we made this pasta soup in the Cutco kitchen, I chose to go with mild Italian sausage, but you can certainly go with a more spicy option. I've also recommended orecchiette pasta for this dish as I prefer how this pasta floats in the soup, but you can use elbow macaroni, farfalle, cavatappi or whatever you have on hand.
One other tip is that you if you prefer a broth-heavy soup, I would recommend adding another one to two cups of chicken stock to this recipe. We used three cups plus the one cup of water as written in the recipe and it was more like a stew, not that we were complaining. In fact, I brought some of this soup home to my husband that night and had to make it again the following weekend since he enjoyed it so much.
To make this pasta soup recipe super easy, I recommend getting all of your chopping done at first. Using the 7" Santoku knife, I finely chopped the onion, garlic, carrot and celery. If you prefer larger chunks of vegetables in your soup, you could always go with a larger dice, just make sure they are all similar in size for even cooking.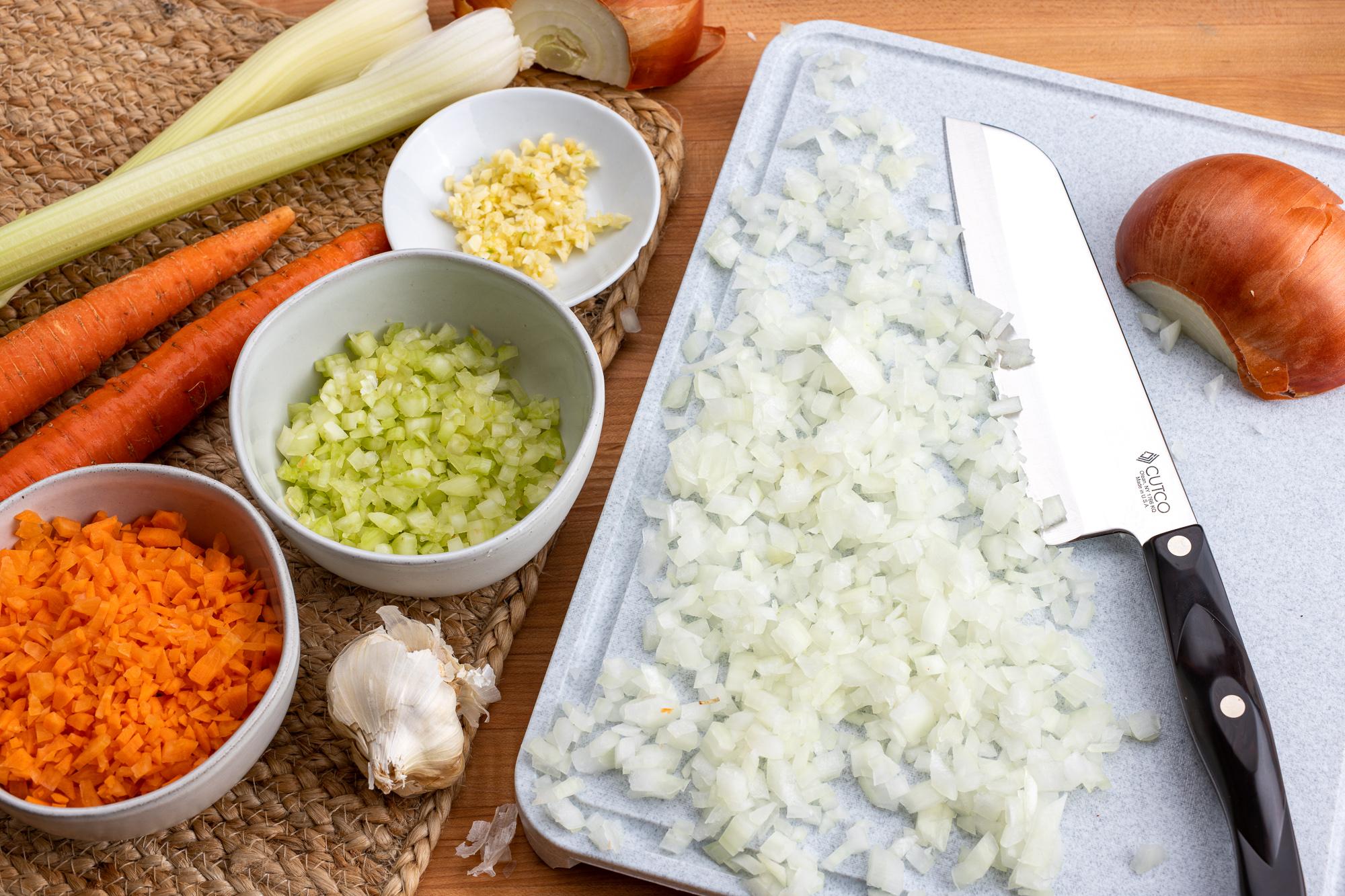 Once your chopping is complete, it is a case of just adding the ingredients to your stock pot in order and cooking for the appropriate time. I made sure to brown the Italian sausage and then added my vegetables to soften them before adding my seasonings, crushed tomatoes and chicken stock.
You want to bring this mixture to a boil and then add your pasta, cooking it until the pasta is al dente. A key tip here is not to add the spinach and chickpeas until your pasta is cooked. You want to avoid your chickpeas becoming mushy. After that it's a matter of adding some additional salt and pepper, if needed, and the grated Parmesan.
To serve this dish, we added some shaved Parmesan on top of each bowl as well as some chopped up fresh parsley. The Italian sausage added a wonderful flavor to this soup and I can't stress enough just how quick and easy this dish was to prepare. Tomato and Italian Sausage Pasta Soup is one dish I'm going to keep in my dinner rotation. It's a hearty dinner perfect for any cold evening.
Ingredients
2 tablespoons olive oil
1 pound ground Italian sausage, mild
1 onion, finely chopped
2 cloves of garlic, minced
1 carrot, finely chopped
1 celery stalk, finely chopped
Sea salt and ground black pepper
1/2 teaspoon dried basil
1/4 teaspoon chili flakes
28 ounce can crushed tomatoes
3 cups low-sodium chicken stock
1 cup water
1/2 pound orecchiette pasta (or other small pasta)
15.5 ounce can of chickpeas, drained and rinsed
1 cup baby spinach leaves
1/3 cup grated parmesan
Additional Parmesan cheese, shavings (optional)
Extra-virgin olive oil (optional)
Parsley, roughly chopped (optional)
Directions
Heat the oil in a large saucepan over medium-high heat. Add the Italian sausage and cook until browned, making sure to break the sausage into little pieces.
Add the onion, garlic, carrot and celery and cook until tender, about 6-8 minutes. Season with salt and pepper.
Add the dried basil and chili flakes and sauté for a minute or so. Then add the crushed tomatoes, stirring the mixture thoroughly to blend all the ingredients.
Pour in the chicken stock and water, bringing the mixture to a steady boil. Then add the pasta and cook until the pasta is al dente, approximately 10 minutes.
Stir in the chickpeas and spinach leaves, cooking until the spinach is wilted.
Add additional salt and pepper to taste and stir in the grated parmesan.
Serve this dish hot and add some Parmesan shavings and parsley to the top, along with a drizzle of olive oil (optional).
A great dish to serve with rustic bread for dipping.
Recommended Tools