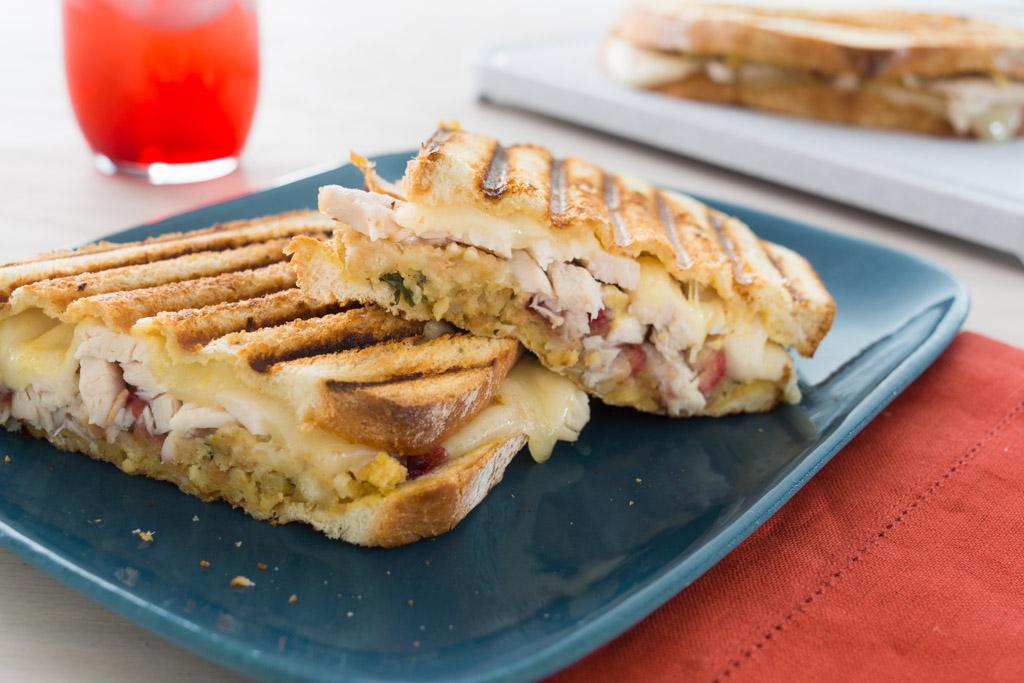 Now that we're all stuffed like the turkey we indulged in for Thanksgiving, what do we do with the leftovers? Of course, no one leaves the house empty handed. However, after everyone gets their to-go boxes, sometimes there's not enough left over for another dinner and, frankly, I really don't want to have another huge meal so soon.
A delicious way to finish up smaller amounts of the dinner fixings is to make a panini. It's like having Thanksgiving dinner between two slices of bread. It's crusty on the outside and hot on the inside with the added yumminess of melted cheese. This makes a pretty big sandwich so one will easily feed two people.
Ingredients
2 tablespoons Dijon mustard
2 slices bread (ciabatta, sourdough, Italian or your choice)
2 slices sliced Swiss cheese (I used thicker slices)
1/3 cup shredded roasted turkey
3 tablespoons cranberry sauce
1/3 cup leftover stuffing
2 tablespoons room temperature butter
Directions
Spread mustard on both slices of bread; put a slice of cheese on one piece. Arrange the turkey on top of cheese and place stuffing and cranberry sauce on the other slice.
Put the 2 halves together and spread the top side of the bread with 1 tablespoon of butter.
Place the sandwich, butter side down, onto a hot panini maker, grill pan or skillet over medium heat. Spread the top with the other tablespoon of butter.
If using a panini maker, grill the sandwich until the bread is golden and crusty, the fillings are hot and the cheese is melted. Flip the sandwich and grill the other side.
If using a grill pan or skillet, weight the sandwich down with another pan and grill per instructions above.
Recommended Tools