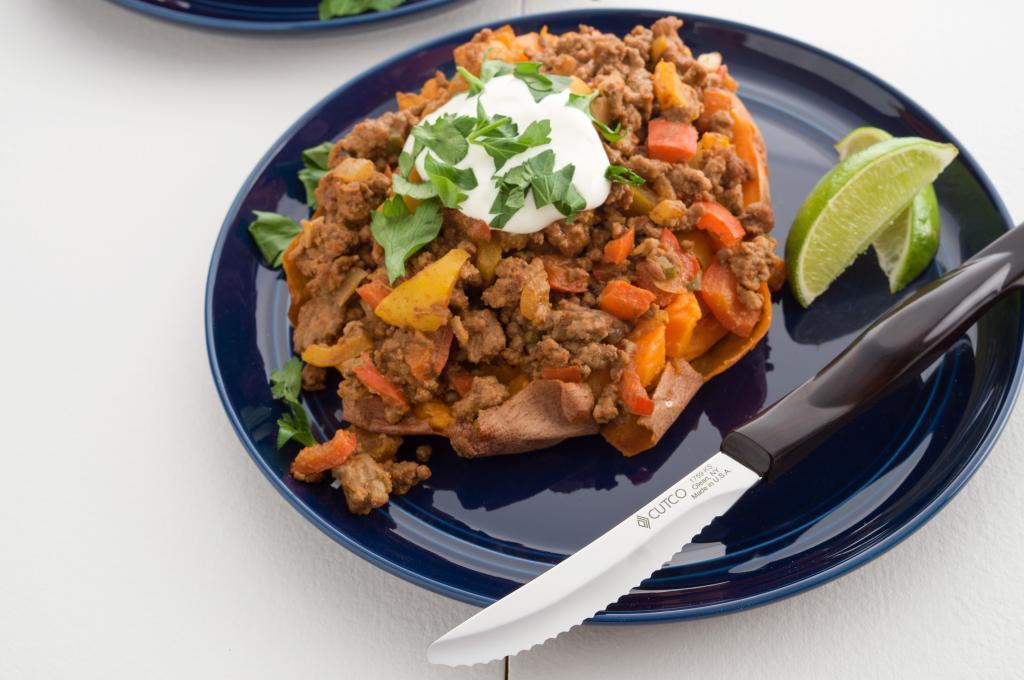 Taco night is pretty much a staple in our house. To throw a veggie packed spin on things, I'm ditching the infamous, break-and-make-a-mess taco shells and calling on the sweet potato as my vessel for holding all my taco goodness. These make a family-friendly meal for a quick weeknight dinner or a great prep ahead meal for lunch. This recipe is totally customizable, allowing you to change up the ground meat or use beans to make it vegetarian. Have fun adding different vegetables, as well as heart healthy fats such as avocado and olives. For dicing the peppers I used Cutco's Vegetable Knife.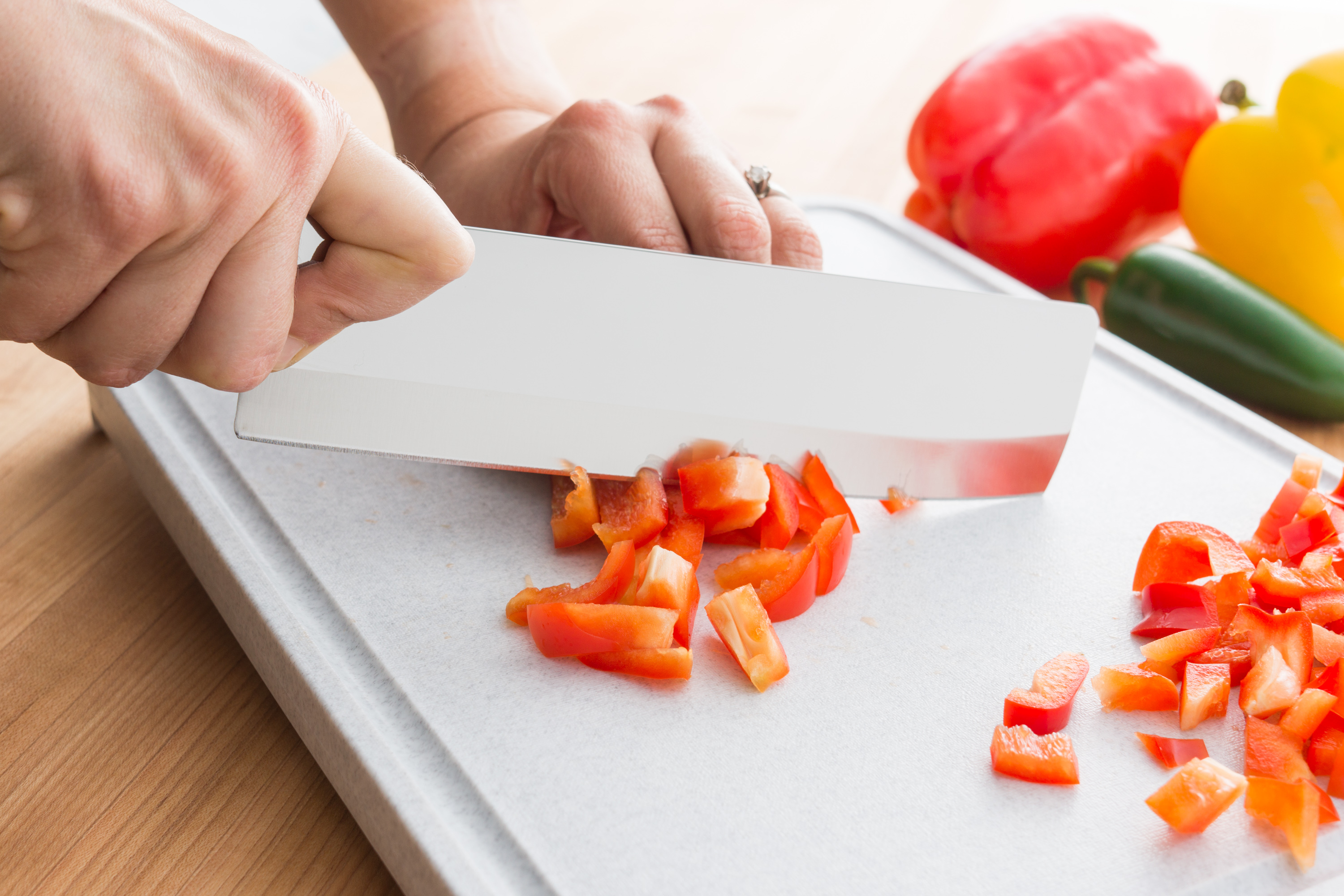 Along with being sharp, its wide blade makes it easy to scoop up the pieces to transfer to the pan. Meanwhile, a sharp knife with a pointed tip is essential for slicing open the potato since it's too hot to handle. The Trimmer with its sharp Double-D® edge and pointed dip sliced through the steaming hot sweet potato quickly and easily so you can open it up to add the taco meat.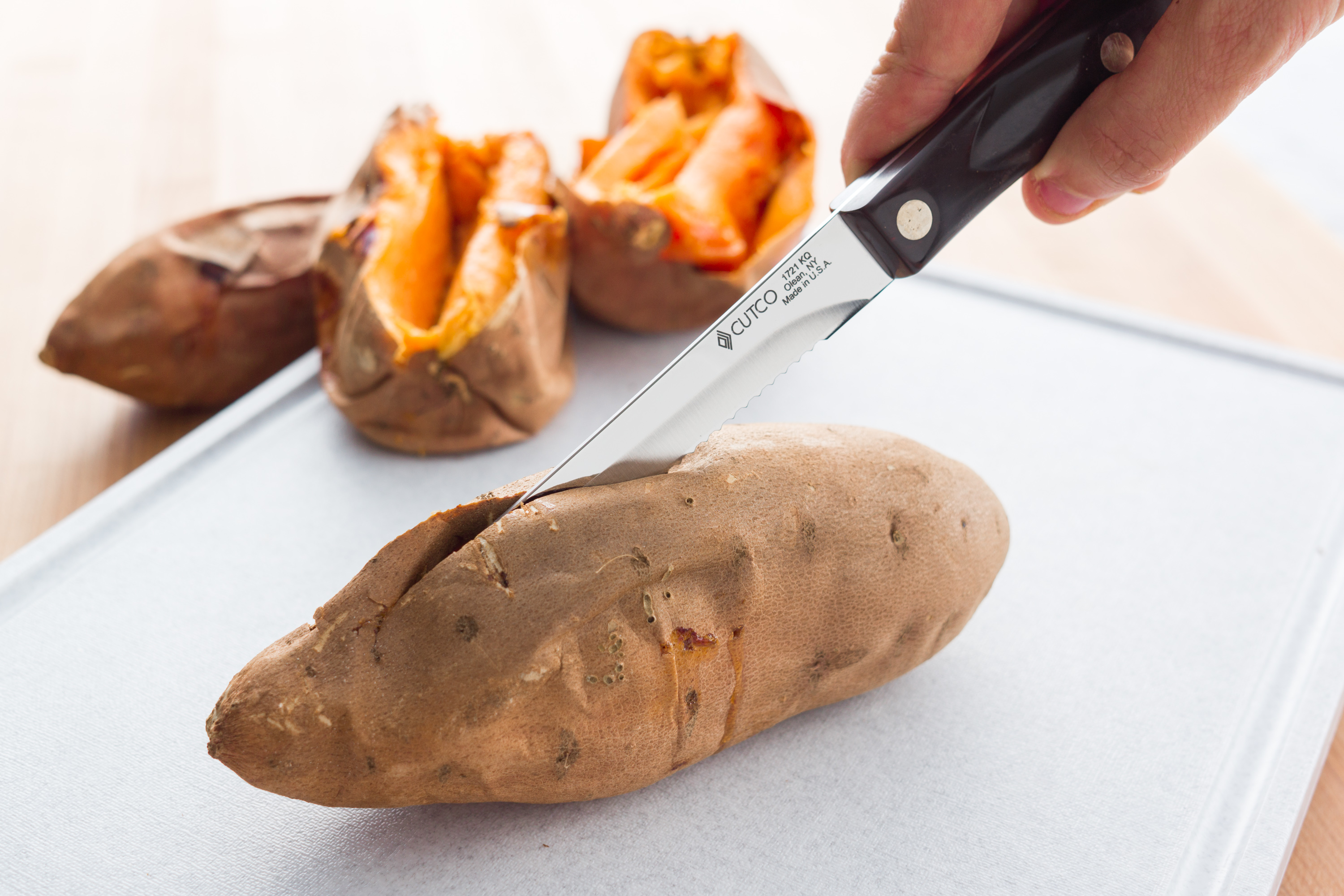 Nutrition info: Per serving : 488 Calories, 29g Fat, (10g Saturated), 269mg Sodium, 75mg Cholesterol, 34g Carbohydrates, 6g Fiber, 23g Protein
Ingredients
4 sweet potatoes
2 tablespoons olive oil
1 red bell pepper, diced
1 yellow bell pepper, diced
1/2 yellow onion, diced
2 garlic cloves, minced
1/2 jalapeno, diced
1 pound grass-fed beef or ground turkey
1 tablespoon chili powder
1 tablespoon cumin
1 teaspoon dried oregano
1/4 teaspoon paprika
2 tablespoon hot sauce
2 tablespoon lime juice
Cilantro, for garnish
Directions
For the Oven Roasted Sweet Potatoes: Prick your sweet potatoes each 2-3 times with a fork, then place them directly on the oven rack in the middle of the oven. Turn the oven on to 425°F. Bake for 45 minutes or until soft. Let the sweet potatoes sit in the oven for at least 30 minutes, but up to an hour.

For the Taco Meat: Add olive oil to a 12″ Gourmet Fry Pan and sauté bell peppers and onions over medium heat for about 5 minutes. Add garlic, jalapeno and ground meat and break into smaller pieces. After meat has browned, add spices, hot sauce and lime juice. Mix to combine completely.

Remove potatoes from oven, cut each in the middle, and pour taco meat inside. Garnish with cilantro.
Recommended Tools