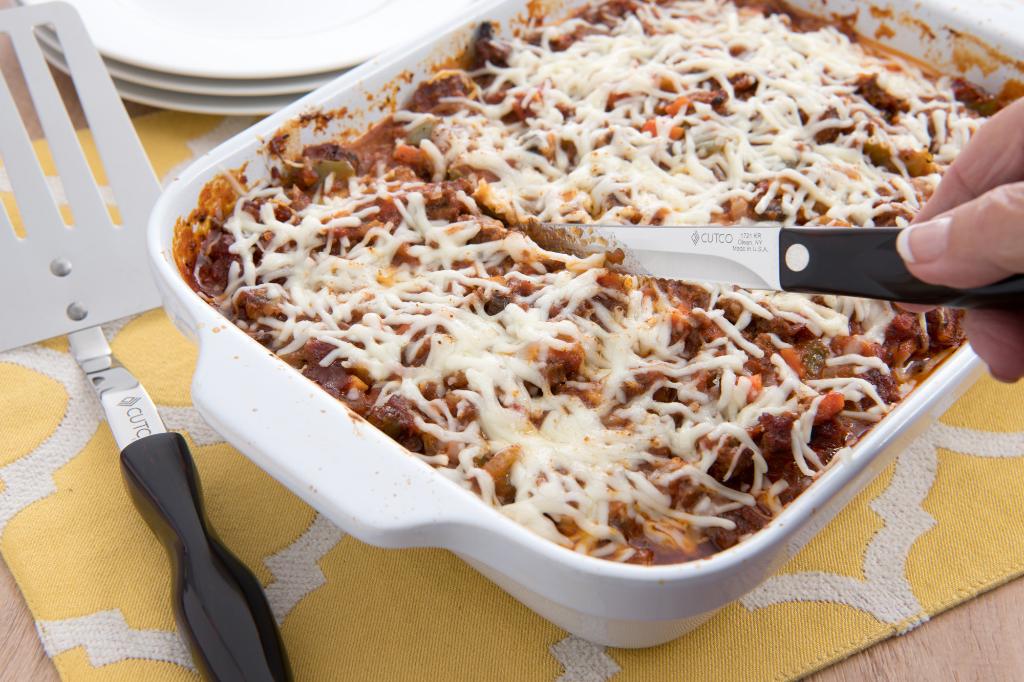 With summer comes lighter fare, although we sometimes crave heartier dishes even when it's hot. Lasagna is one of those dishes; however, this lightened up Summer Vegetable Lasagna replaces the pasta with strips of zucchini.
Even the sauce for this recipe is veggie-packed. Ground beef is combined with onions, green peppers, carrots and spicy marinara sauce making it lighter, but just as flavorful as the usual version. Instead of multiple layers of cheese, this recipe calls for just one layer of ricotta, mixed with a little dried oregano, basil, salt and pepper.
I used the 7-5/8" Petite Chef knife to cut the strips of zucchini, which worked great since the blade length matched the length of the zucchini. If you're using a longer zucchini, consider using the 9-1/4" French Chef knife instead.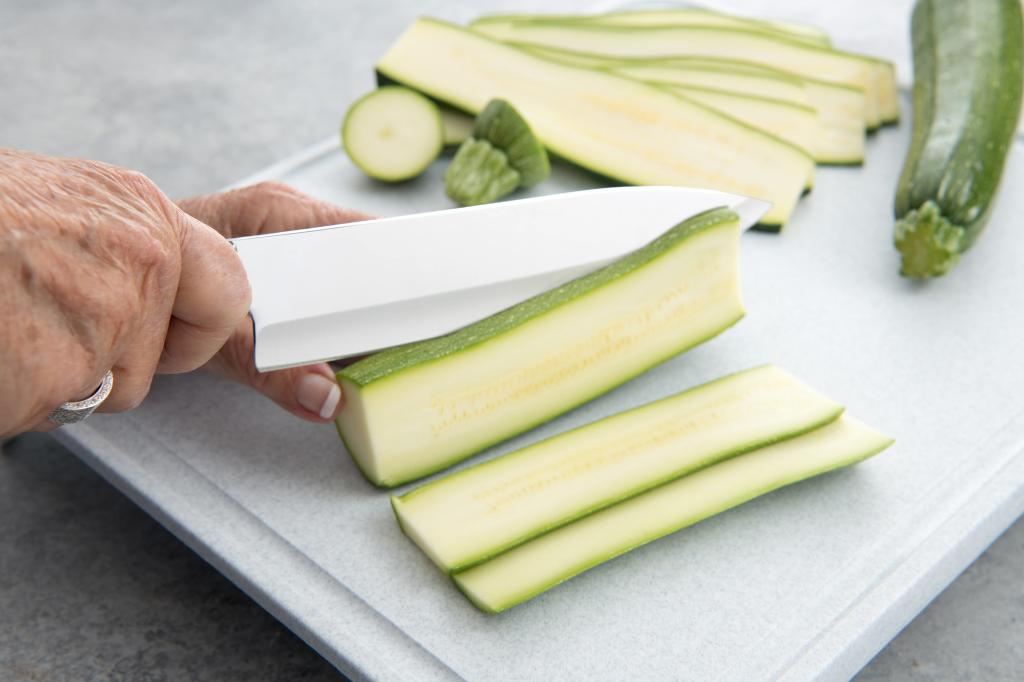 To assemble, line everything up in the order it's to be layered in the pan. That way it's just a matter of putting it all together.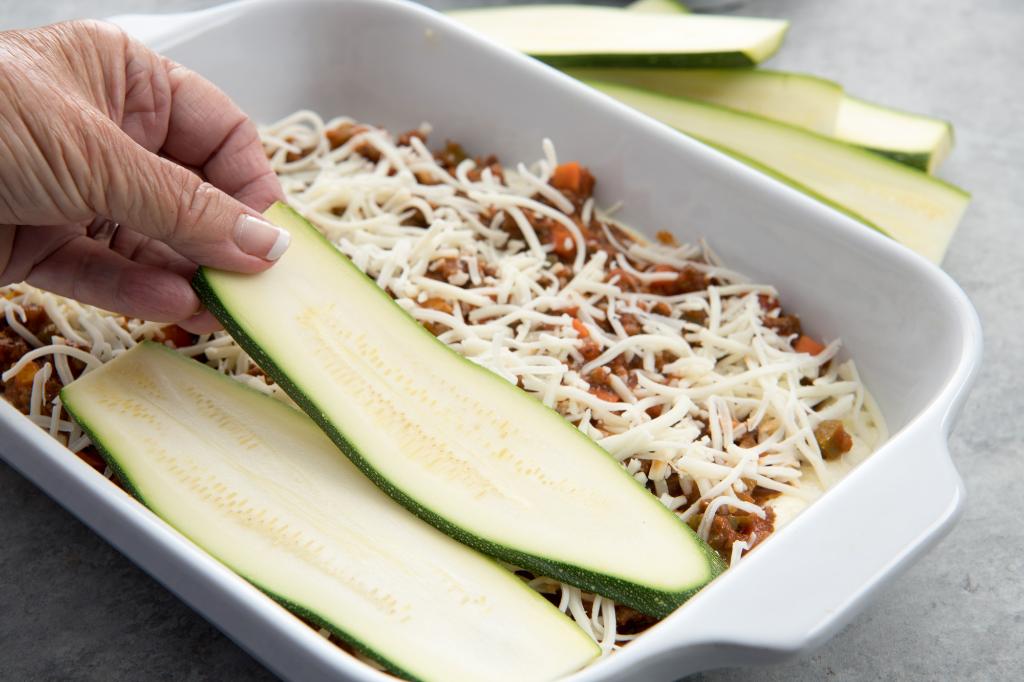 To serve the Summer Vegetable Lasagna, cut pieces with the Trimmer and then lift them out with the Slotted Turner.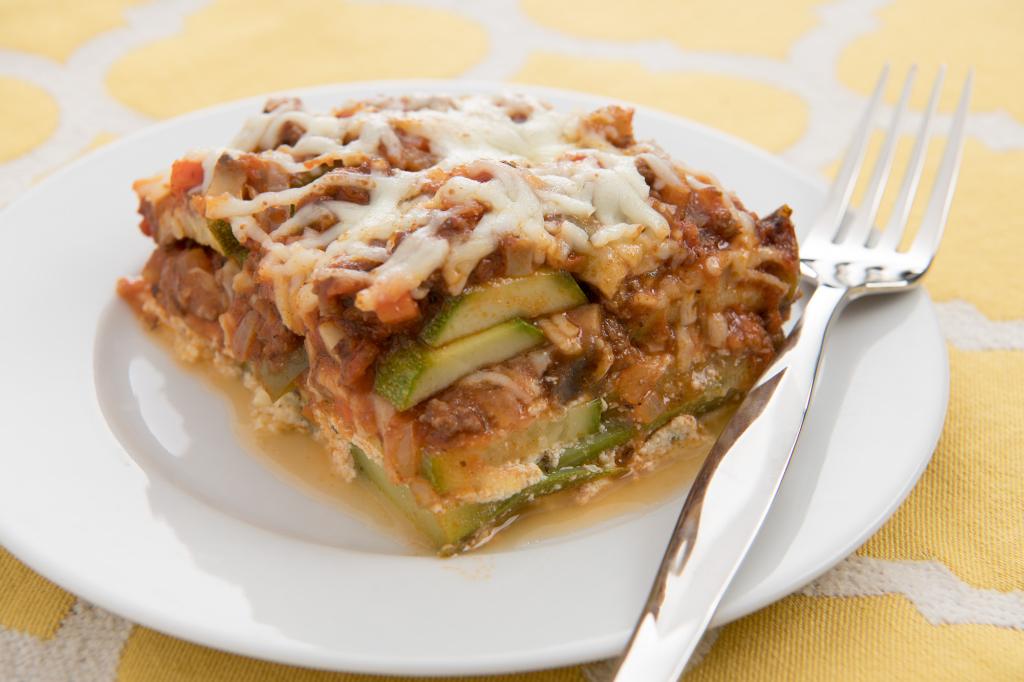 You could also use the Spatula Spreader to cut and serve this lasagna.
This is a recipe for everyone. Even though it has a lot of vegetables, it also has meat, and you could leave that out to make it fully vegetarian. I think you'll also enjoy the little kick the spicy red pepper sauce gave the dish.
Ingredients
1 pound ground beef
1/2 cup chopped onion
1/2 cup chopped green bell pepper
1/4 cup finely chopped carrots
1 cup chopped mushrooms (no stems)
2 cloves garlic, minced
1 24-ounce jar spicy red pepper marinara sauce
1 teaspoon dried oregano, divided
1 teaspoon dried basil, divided
Salt and pepper to taste
5 medium zucchinis, sliced lengthwise into 1/4-inch thick strips
1 egg
1 cup whole milk ricotta cheese
1 cup shredded mozzarella cheese, divided
1/2 cup grated Parmesan cheese
Directions
Preheat oven to 350º. Lightly spray a medium baking dish with non-stick cooking spray.
Cook the ground beef in a skillet over medium high heat until evenly brown. Drain. Add the onion, green pepper, carrots, mushrooms, garlic and marinara sauce to the skillet. Season with 1/2 teaspoon dried oregano, 1/2 teaspoon dried basil, salt and pepper. Bring to a boil, reduce heat and simmer until vegetables are tender, about 10 to 15 minutes.
Beat the egg, add the ricotta, 1/2 teaspoon dried oregano, 1/2 teaspoon dried basil and a pinch of salt and pepper. Mix.
Place a layer of zucchini strips in the bottom of the baking dish. Spread the ricotta mixture evenly over the zucchini. Spoon half of the beef mixture over the ricotta cheese layer and sprinkle with 1/2 cup mozzarella cheese. Layer with remaining zucchini strips (you may have some strips left over), beef mixture and mozzarella. Top with Parmesan cheese.

Bake 45 minutes. Let stand for 10 minutes before slicing.
Recommended Tools