Fruit Slab Pie With Peaches And Blueberries
616 days ago
Skip to recipe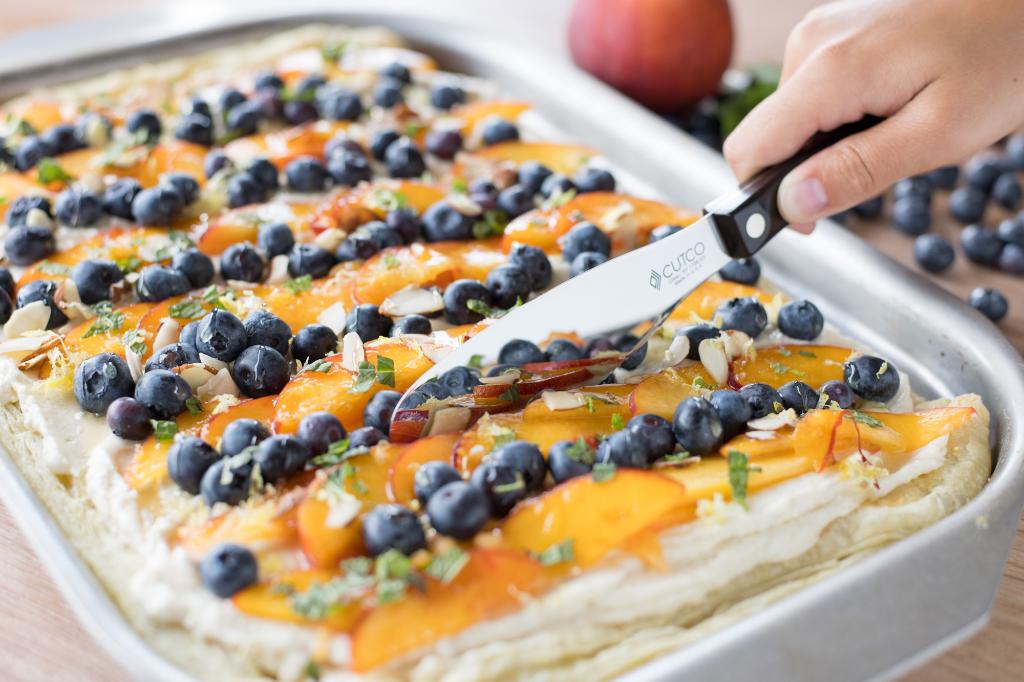 Here's a show-stopper dessert that is easy to put together, but so impressive. The only thing that needs to be baked for this Fruit Slab Pie with Peaches and Blueberries is the puff pastry. Once it's cooled, the pastry is topped with a creamy, fluffy spread of mascarpone cheese, almond paste, vanilla and fresh whipped cream.
Everything can be prepped ahead of time. However, it's important to assemble this fruit slab pie just before serving and then serve immediately so the juice from the peaches doesn't seep into the crust, making it soggy.
Just a heads up, the spread is quite almondy (if that is a word). I and the others who tasted it really liked it. In fact, some of us were eating it by the spoonful. If you're not a big almond fan, I think you could probably cut back on the amount of almond paste in the spread, but not too much because it would affect the consistency.
I used peaches and blueberries but you could use whatever fruits you like, even just one or as many as three. Some suggestions: strawberries, peaches and plums; blueberries, raspberries and strawberries; pineapple and kiwi.
Two valuable tools for making this slab pie are a Spatula Spreader and 7" Santoku knife. The Spatula Spreader works great for scooping up the almond-flavored filling and spreading onto the baked puff pastry.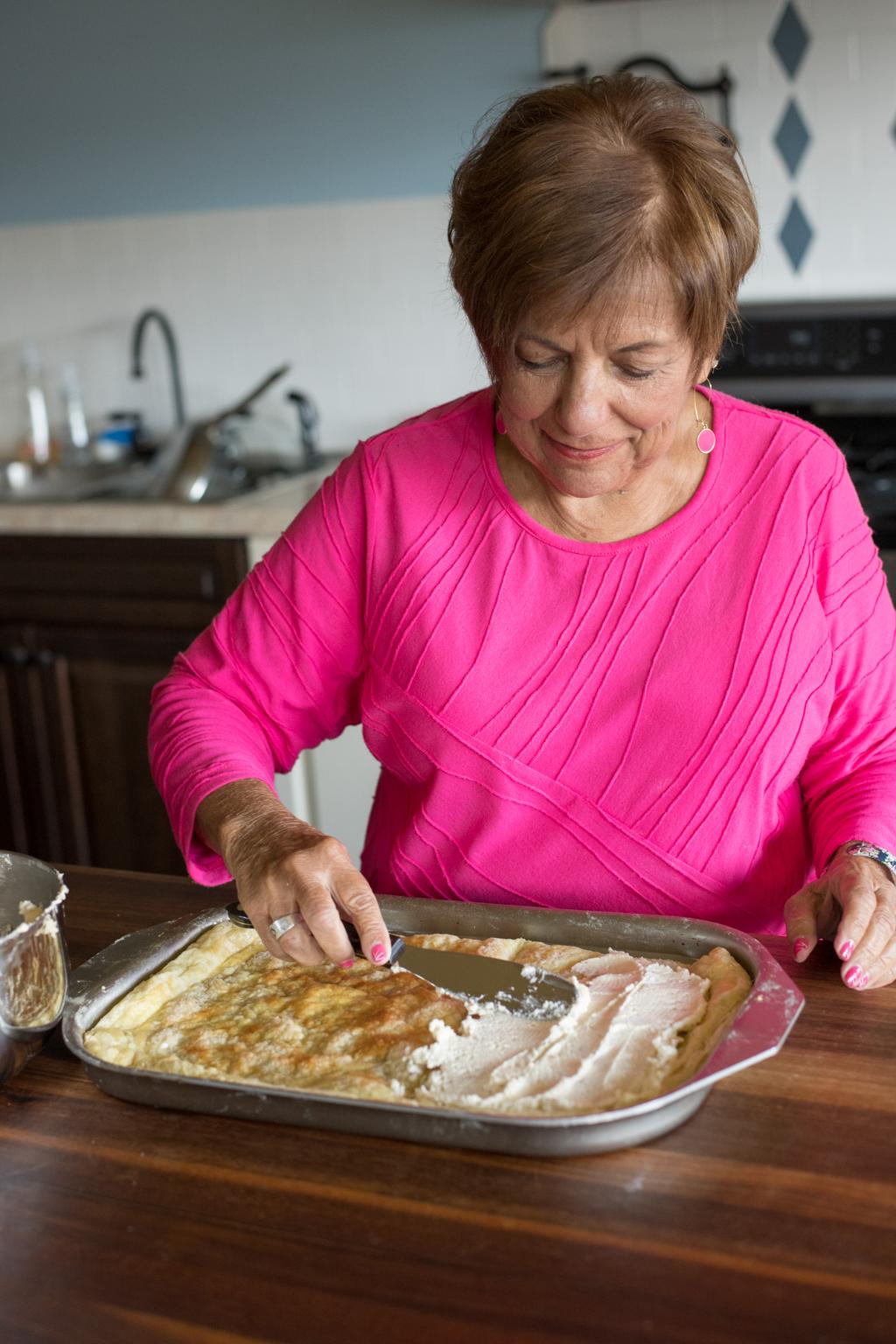 The Santoku knife is perfect for prepping the peaches. Cut along the side of the pit and then thinly slice into uniform pieces.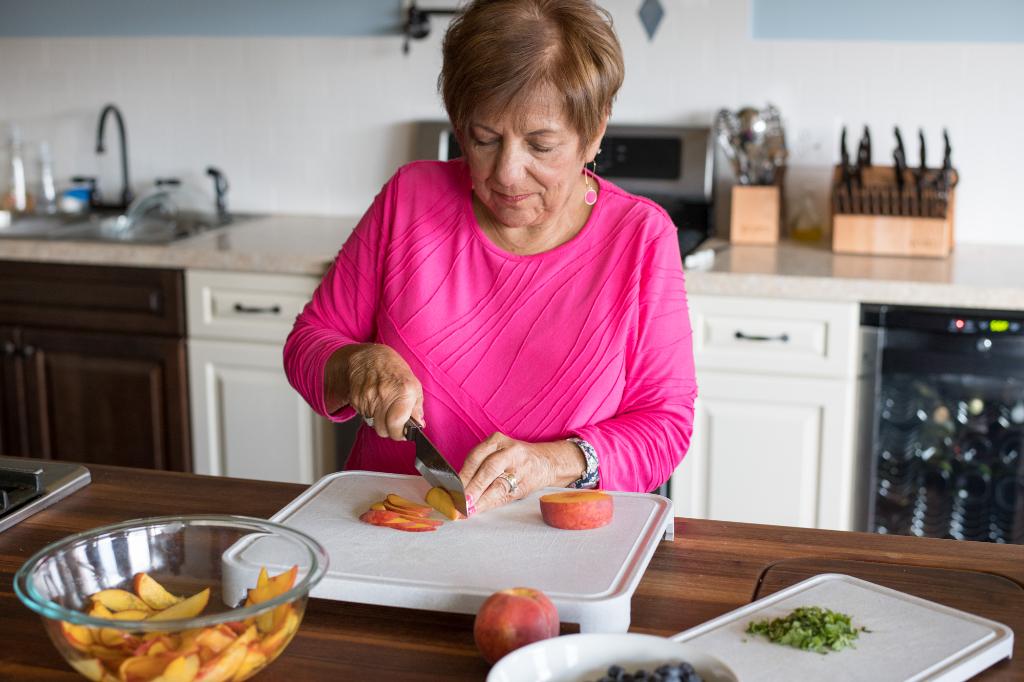 This dessert was a huge hit with everyone who tried it. Everything about it is light. It would be perfect to serve to guests you've invited over for coffee/tea and dessert, and equally perfect to serve after a leisurely summer dinner.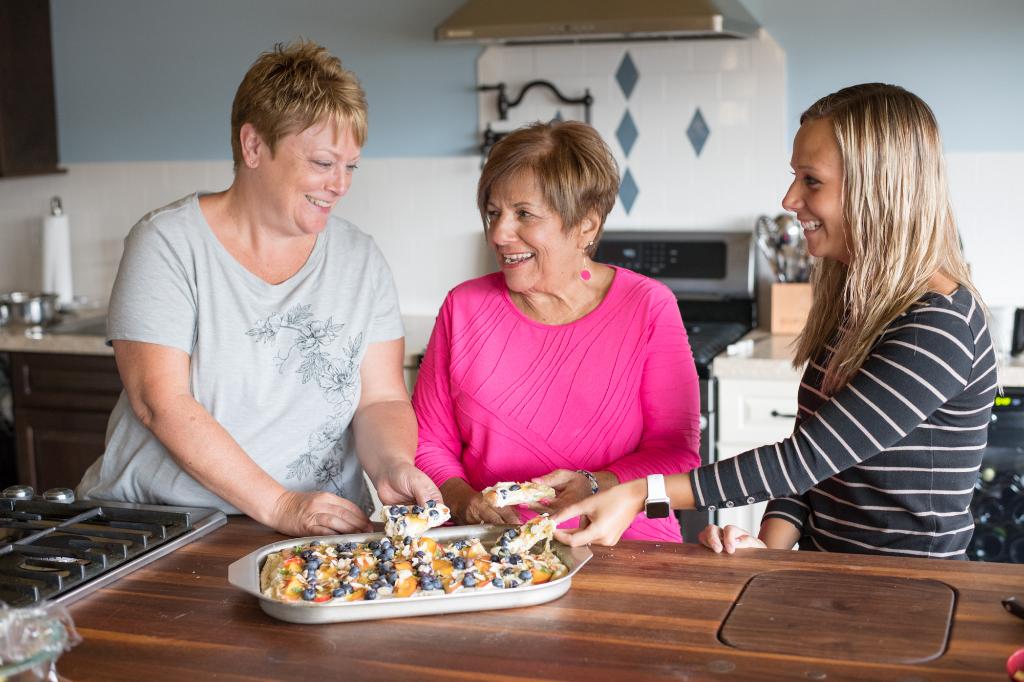 Ingredients
1 (17.3-ounce) package frozen puff pastry sheets, thawed
1 large egg
1- 1/2 cups, plus 1 tablespoon heavy cream
Sugar - 1/4 cup, 3 tablespoons (divided), 1 teaspoon
1- 1/2 cups thinly sliced fresh peaches (no need to peel)
1 teaspoon lemon zest, plus 1 tablespoon fresh lemon juice (from 1 lemon)
1- 1/2 cups fresh blueberries
8 ounces marzipan (almond paste) cut into 1/2 inch pieces
4 ounces mascarpone cheese, slightly softened
1 teaspoon vanilla extract
1 tablespoon chopped fresh mint leaves
Thinly sliced almonds
2 tablespoons honey
Directions
Heat oven to 400 F. Spray a jellyroll pan with non-stick cooking spray. Place thawed sheets of puff pastry on a lightly floured surface side-by-side, overlapping just a bit. Press with fingertips to adhere them. Use a rolling pin and roll the combined sheets to a 18x13-inch rectangle. Carefully roll the dough around the rolling pin and transfer to the pan. Press the dough up the sides of the pan and use a fork to prick holes all over bottom of dough, but not on the sides.
Whisk the egg and 1 tablespoon of cream together in a small bowl. Lightly brush the egg mixture over the dough and sprinkle with 1 tablespoon sugar. Bake until lightly golden brown, 10-12 minutes. Remove from oven and allow to cool.
Place the peaches in a bowl with 1 tablespoon lemon juice and 1 teaspoon sugar. Toss to coat and let stand at least 5 minutes.
Combine the marzipan, mascarpone cheese, vanilla extract and 1/4 cup sugar in a food processor. Process until smooth.
Beat 1-1/2 cups heavy cream and 2 tablespoons sugar with an electric mixer on high until stiff peaks form. Gently fold mascarpone mixture into whipped cream until combined.
To assemble the pie spread the cream mixture over the base of pastry crust, spreading to the edges. Arrange the fruits in a single layer over the cream mixture, sprinkle with sliced almonds, lemon zest and chopped mint. Drizzle with honey.
Cut and serve immediately.
Recommended Tools