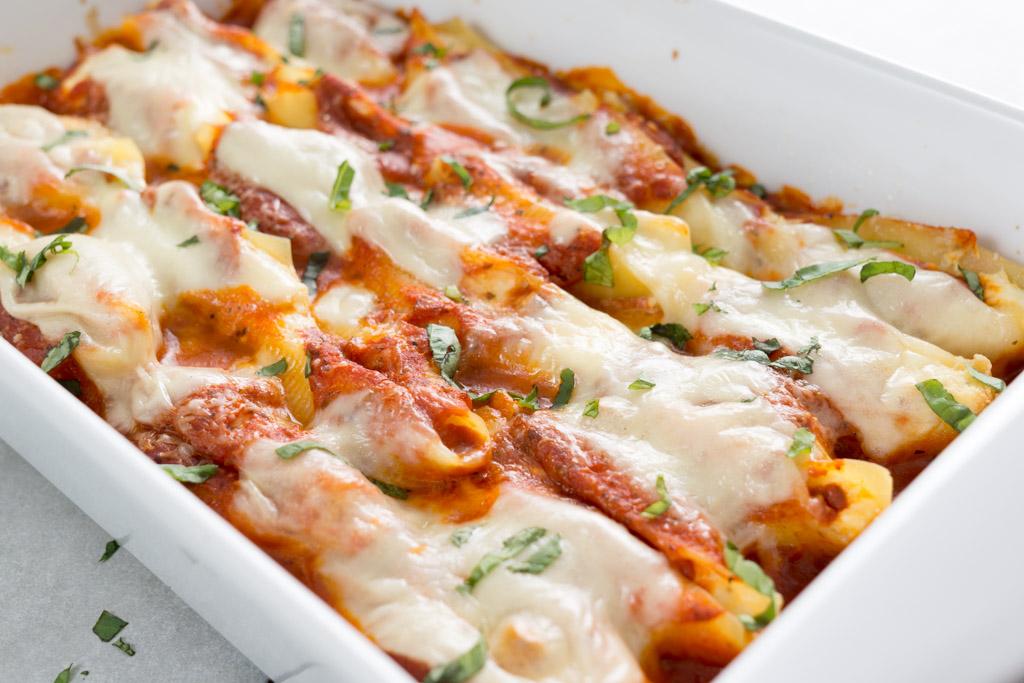 Does your Christmas to-do list look something like this?
Tree decorated – check

House decorated, inside and out – check

Presents wrapped – check

Cookies baked – check

Christmas Eve dinner ?
If so, I've got a recipe that will help you turn that question mark into a check mark. By now, your brain is in overdrive. For every task you complete, there is one or more to take its place. But in the end, you probably wouldn't want it any other way. After all, it is the most wonderful time of the year.
If you're hosting Christmas Eve dinner for several guests or planning a quiet dinner with family, prepping ahead of time is always helpful. These stuffed shells can be made early in the day, refrigerated and then baked later on. While they're baking, toss a green salad together; pop a loaf of homemade or store bought garlic bread in the oven and you'll have a delicious, easy-to-prepare dinner that can feed several.
Merry Christmas, Happy Chanukah and Happy New Year from the Cutco Kitchen.
Ingredients
1 pound jumbo pasta shells, cooked according to package directions
2 pounds whole milk ricotta cheese
2 eggs
2 tablespoons fresh parsley, chopped
1 cup Parmesan cheese, grated, plus additional for sprinkling
8 ounces shredded mozzarella cheese, plus additional for sprinkling
Salt and pepper to taste
4 cups or more of homemade or jarred meat sauce or marinara sauce
Fresh chopped basil
Directions
Preheat oven to 375°F. Lightly oil 2 13 x 9 baking dishes.
Mix the ricotta cheese, eggs, parsley, Parmesan cheese, mozzarella cheese and salt and pepper in a large bowl.
Put about 1 cup of sauce in the bottom of each baking dish.
Fill each pasta shell with the cheese mixture and place open side up in a single layer in the baking dish. Spoon another cup or more of sauce over the shells and cover with foil. Bake about 30 minutes.
Remove foil, layer additional mozzarella cheese on top and bake an additional 15 minutes or until the cheese is melted and everything is golden brown and bubbly.
Cool for about 10 minutes and garnish with fresh basil before serving.
Recommended Tools