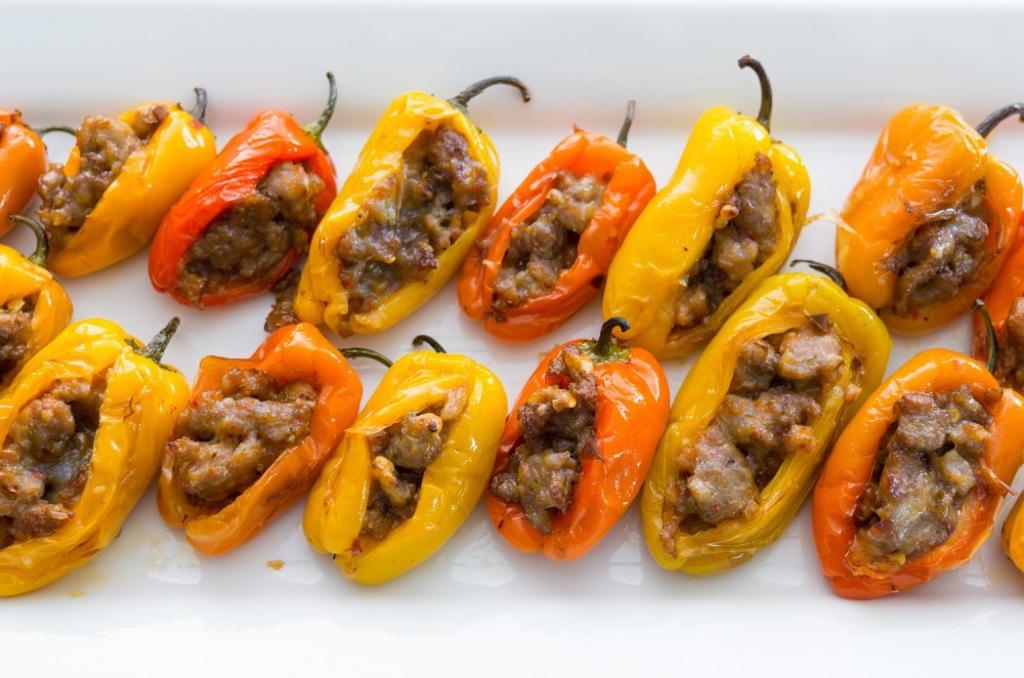 I'm always thumbing through magazines and cookbooks looking for ideas not only for what we post on the but for making and eating at home. I found quite a few recipes for many varieties of stuffed peppers. One that caught my eye is for mini stuffed peppers. They are just too cute.
The recipe can be halved, doubled or tripled depending on how many peppers you want to make. They are a perfect one or two bite appetizer. You can also serve them as a light supper by spooning some warmed marinara sauce over the top and adding a green salad.
I tried a couple of different stuffing combinations, one using turkey sausage and one using regular hot Italian sausage. I preferred the ones made with the Italian sausage. Any combination of cheeses such as five or six cheese Italian blends or just mozzarella and Parmesan work well too. It's whatever you like.
Ingredients
2 tablespoons extra virgin olive oil
1 pound assorted baby bell peppers (about 24)
1/4 cup onion, chopped
2 cloves garlic, minced
1/2 teaspoon dried oregano
1/2 teaspoon crushed red pepper or to taste
1 teaspoon kosher salt
1/2 to 3/4 pounds hot Italian sausage, casings removed
1/2 to 3/4 cups finely shredded Mexican blend cheese
Directions
Heat olive oil in a large non-stick skillet over medium heat. Add the peppers in a single layer and cook, turning, until the skins blister and start to brown, about 8-10 minutes. Transfer to a plate lined with paper towels.
Add the onion, garlic, oregano, crushed red pepper and salt to the skillet. Cook until the onion is tender. Increase the heat to medium high and add the sausage, breaking it up with a spoon. Cook until no longer pink, remove from heat and let cool. Crumble the meat mixture into small bits, stir in cheese.
Preheat the oven to 425°F. Make a slit in each pepper, cutting from the stem to the tip.
Using a teaspoon or your fingers, stuff each pepper with 2 or 3 teaspoons of the meat mixture.
Put on a baking sheet. Top with additional cheese. Bake until the peppers are hot and the cheese melts, about 10 minutes.
The peppers can be stuffed up to 4 hours ahead. Cover and refrigerate. Bring to room temperature before baking.
Recommended Tools