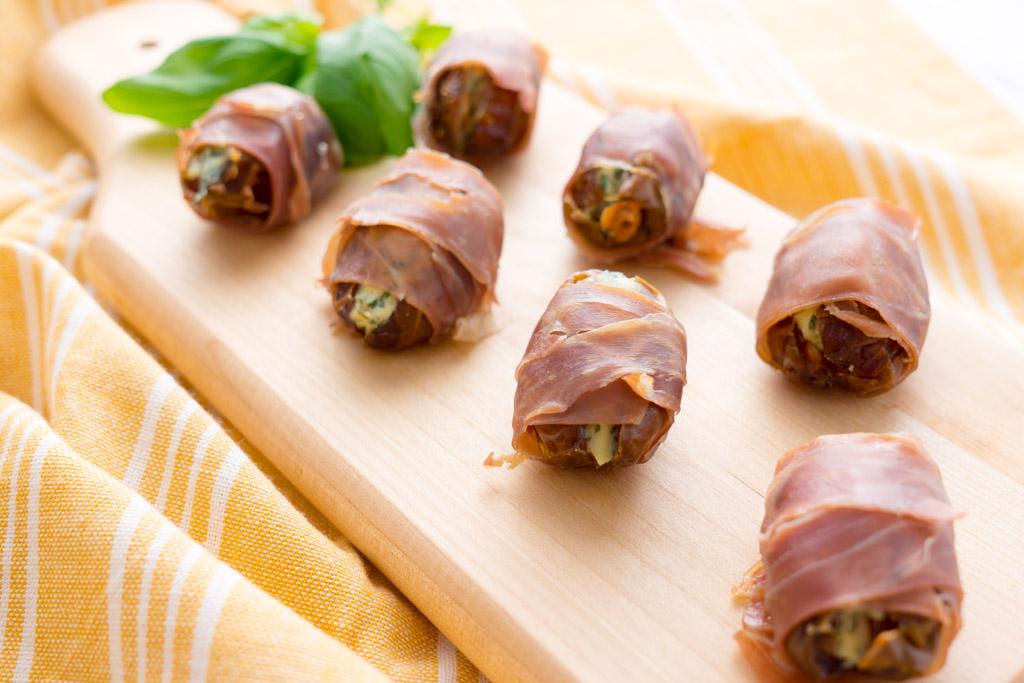 We recently welcomed Sharon into the department as our content marketing manager. She brings a wealth of business experience to Cutco as well as a love for cooking. She and her husband love to host dinners in their home for family and friends. Having lived in Italy for a time, she particularly enjoys preparing Italian dishes. She shared this easy and tasty stuffed dates appetizer which she calls her "go to" for serving at home or taking to a friend's house.
Medjool dates are the largest dates grown in North America and are graded in size as large, jumbo or super. I actually found what I would call large size for sale by the pound in the bulk food section of the grocery store. The curved blade on the Bird's Beak Paring Knife easily sliced the sticky skin of the dates. The pits popped right out and they were ready for stuffing in no time.
The combination of the cheeses and basil along with the sweetness of the dates and the saltiness of the prosciutto make this stuffed dates recipe a satisfying treat. Serve them cold or toss them in the oven until they're heated through and the prosciutto is a bit crispy.
Ingredients
1/4 cup (2 ounces) goat cheese at room temperature
1/4 cup (2 ounces) cream cheese at room temperature
1/4 cup finely chopped fresh basil
Kosher salt and pepper
16 Medjool dates, pitted
8 thin slices prosciutto, cut in half lengthwise
Directions
Mix the cheeses and basil together in a small bowl. Season with salt and pepper to taste.
Make a small lengthwise slice in the date with the Bird's Beak Paring Knife. Gently pull the date apart and remove the pit.
Stuff each one with about 1/2 teaspoon of the cheese mixture. Close the dates around the filling and then wrap a slice of prosciutto around each and secure with a toothpick. Arrange on a plate and serve.
To serve warm, after wrapping the dates with the prosciutto, place seam side down on a parchment lined baking sheet and bake in a preheated 375 to 400 degree oven for 6 – 8 minutes or until the prosciutto is slightly crisp.
Recommended Tools