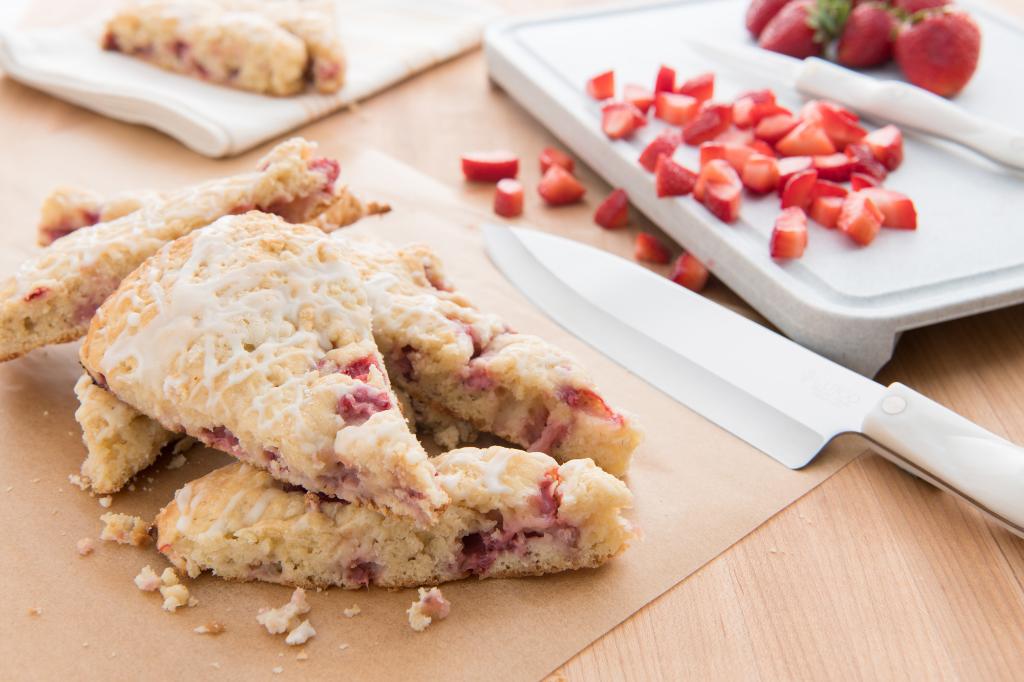 I've made no secret that I have a sweet tooth. It's hard for me to push my cart past the bakery section of the grocery store. The smell alone is enough to make my mouth water. I've gotten better at talking myself out of buying these sweet treats but my love for baking at home remains strong. I probably have more dessert recipes than anything else and I never miss an opportunity to try something new.
Scones are one of my favorites, although I have to admit I've only made them a few times. This basic dough comes together easily and from that point, the door is open to add sweet or savory ingredients, depending on your taste. I'm going on the sweet side with these Easy Strawberry Scones. After all, after what last year tossed at us, who doesn't want the comfort of crumbly, buttery and sweet scones?
I used fresh strawberries for this recipes, but consider adding whatever fruit you choose. You can also flavor them with things like cinnamon, chocolate chips or lemon zest. For the savory side, you could go with things like herbs, cheese or garlic. The beauty of scones is that once you have that basic dough, the possibilities are endless.
For this Easy Strawberry Scones recipe, I used fresh fruit. To prepare the strawberries, clean them by placing them in a colander and quickly rinsing them with cool water. Lay the berries on a kitchen towel or layers of paper towels and pat them dry. For this scone recipe, I used the 2-3/4" Bird's Beak Paring Knife for hulling the berries and the 3" Gourmet Paring Knife to chop them.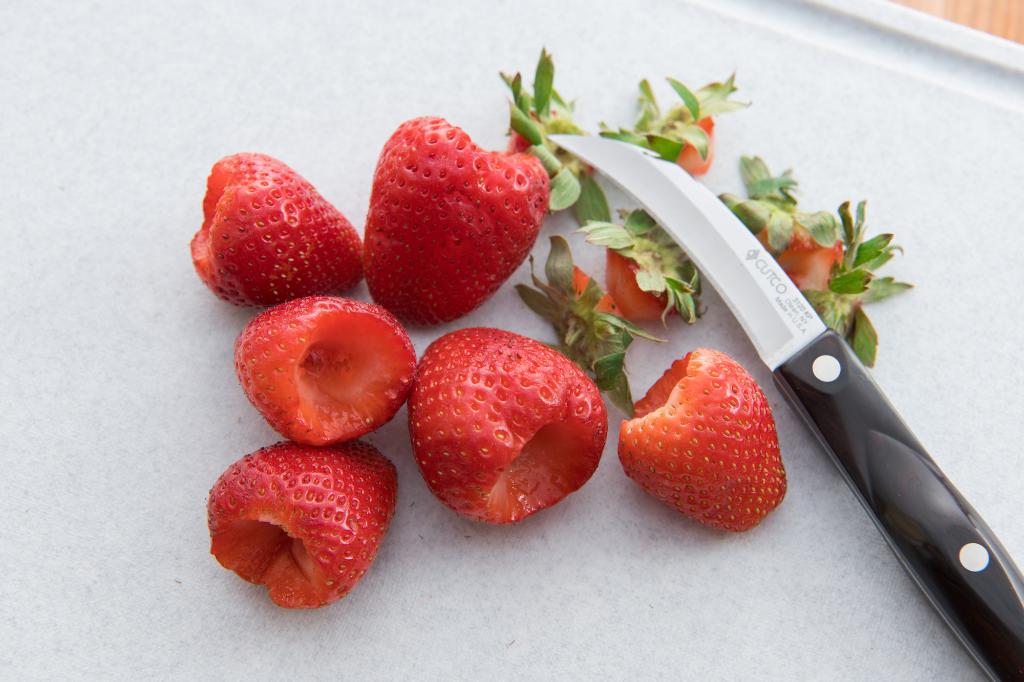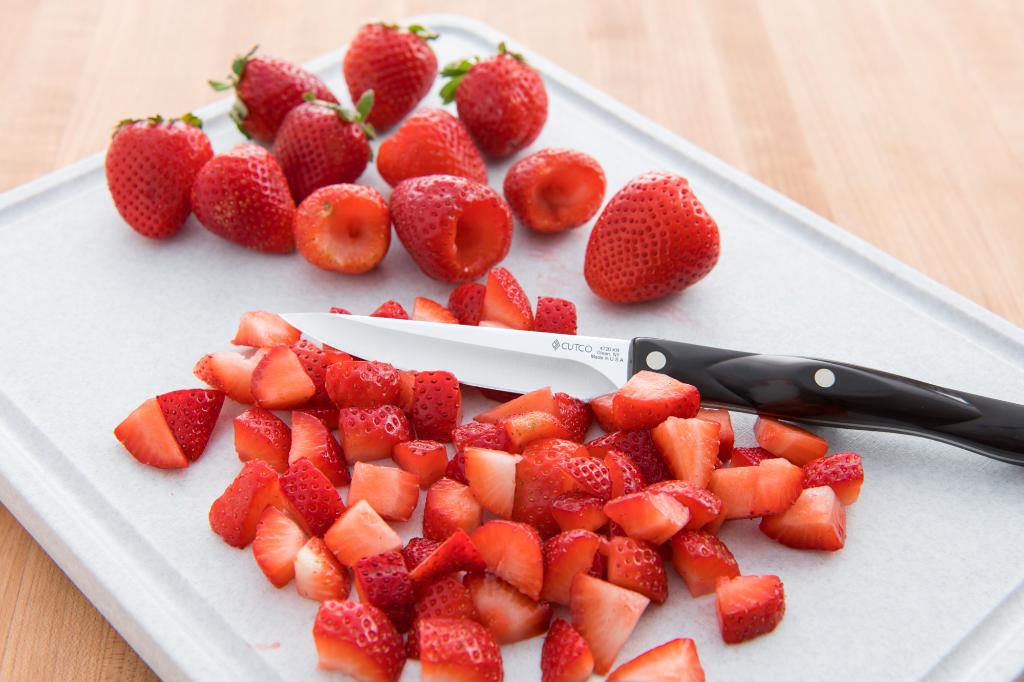 You can also use frozen berries for this recipe. In fact, one of the keys to success with scones is to use cold butter and keep the dough as cold as you can before baking – so that frozen fruit is a bonus.
The scone dough is cut into triangles before baking. For cutting it, use a large knife, like the 7-5/8" Petite Chef, so that you can make even cuts through the thick disk of dough.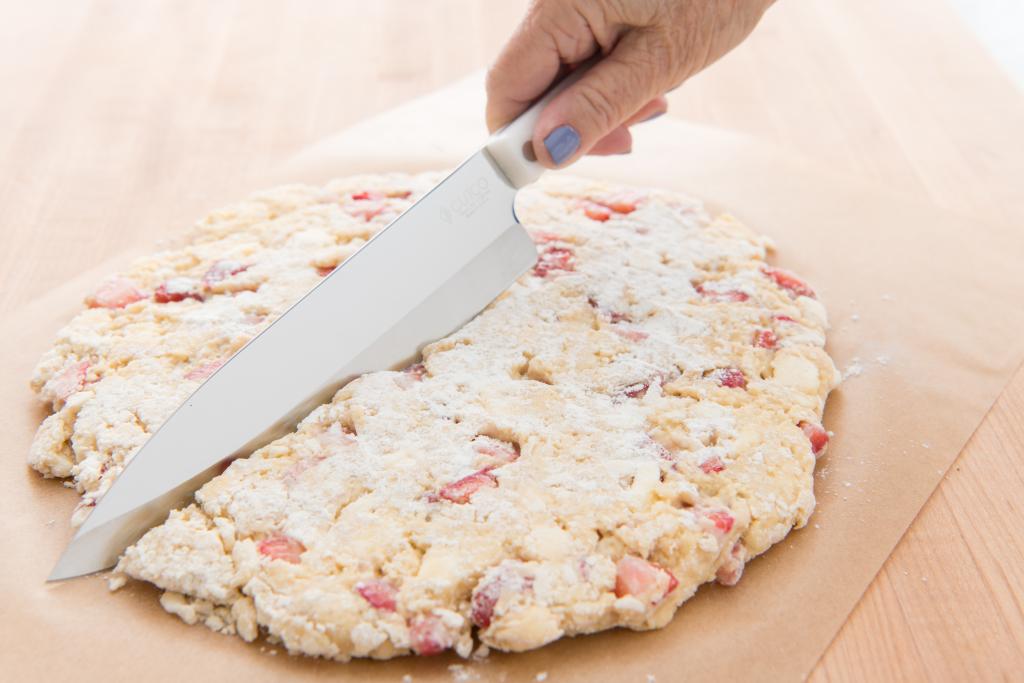 These Strawberry Scones bake up wonderfully light and I think taste best served warm with coffee or tea. They're perfect for brunch but can easily be served as a nice ending to dinner.
Skip the bakery and make these homemade treats yourself. It's so worth it to indulge in something warm from the oven.
Originally published March 24, 2018
Ingredients
For the scones
2 cups all-purpose flour, divided
2 tablespoons granulated sugar
1 tablespoon baking powder
1/4 teaspoon salt
1/2 cup unsalted butter (chilled and diced)
1 cup hulled and chopped fresh strawberries
2 eggs lightly beaten
1/2 cup heavy whipping cream
1 tablespoon milk to brush tops of the scones
1/2 tablespoon coarse sugar for sprinkling
For the glaze
2/3 cup powdered sugar
1 tablespoon milk
Stir together. If too thin, add more sugar, if too thick add more milk.
Directions
Heat oven to 400 F.
Stir 1-1/2 cups flour, sugar, baking powder and salt together in a large bowl. Add the diced butter and cut into flour mixture using 2 knives until mixture resembles pea-sized crumbs. Gently toss in the chopped strawberries. Make an indentation in the center and set the bowl aside.
In a small bowl, lightly beat the eggs and stir in the heavy cream. Add the egg mixture to the center of the flour mixture and stir gently just until moistened. Do not over mix.
Using the remaining 1/2 cup of flour, generously flour a sheet of parchment paper. Place the dough on it and shape it into a 3/4-inch thick circle. If the dough doesn't come together and is sticky, add a little more flour. Using a large knife, like a chef knife, cut the circle into 12 equal wedges and place about 1/2 inch apart on a lightly greased baking sheet.
Brush the wedges with milk, sprinkle with sugar and bake for about 15 minutes. Scones should be puffed and golden in color.
Allow scones to cool slightly and then drizzle with glaze. Serve warm or at room temperature.
Scones can be stored covered in the refrigerator. Microwave for 15 seconds to reheat.