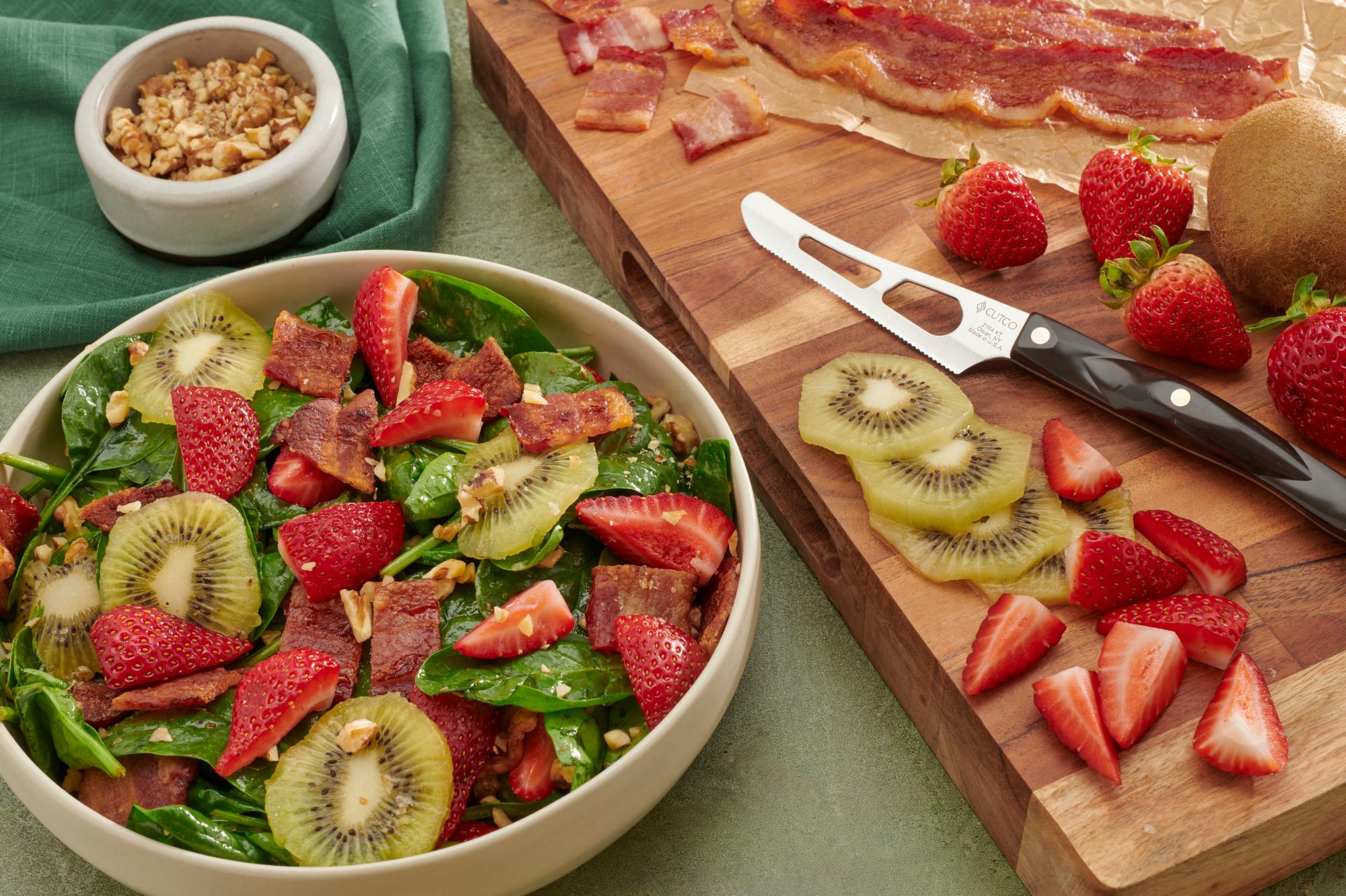 Here is a salad that is fruity, flavorful and nutritious. This recipe for Strawberry, Kiwi and Spinach Salad is simple, but has complex flavor, and if you're seeking something fresh, this is it.
Baby spinach with its mild, slightly sweet flavor pairs really well with tart berries and kiwi. And, the raspberry dressing really highlights that berry flavor.
Cutting the Salad Ingredients
Chopping the baby spinach into bite-sized pieces allows this salad to really combine well, and lets you gather up every ingredient with your fork for the perfect bite.
Make sure the spinach is dry before you cut it and use a 7-5/8″ Petite Chef knife to chop it up.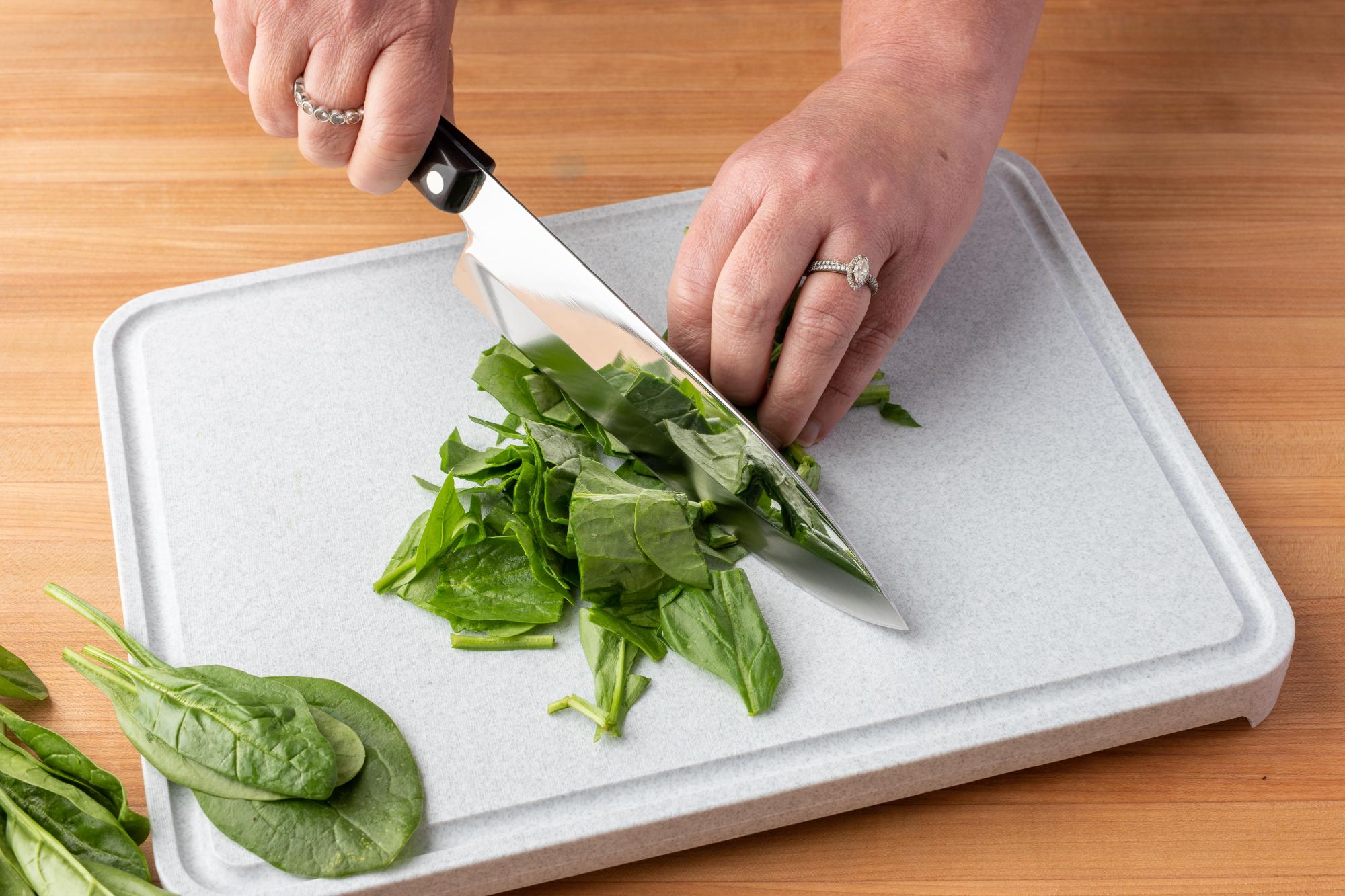 You can use the same knife to chop the walnuts by piling them into the center of a Large Cutting Board and rocking the knife over them.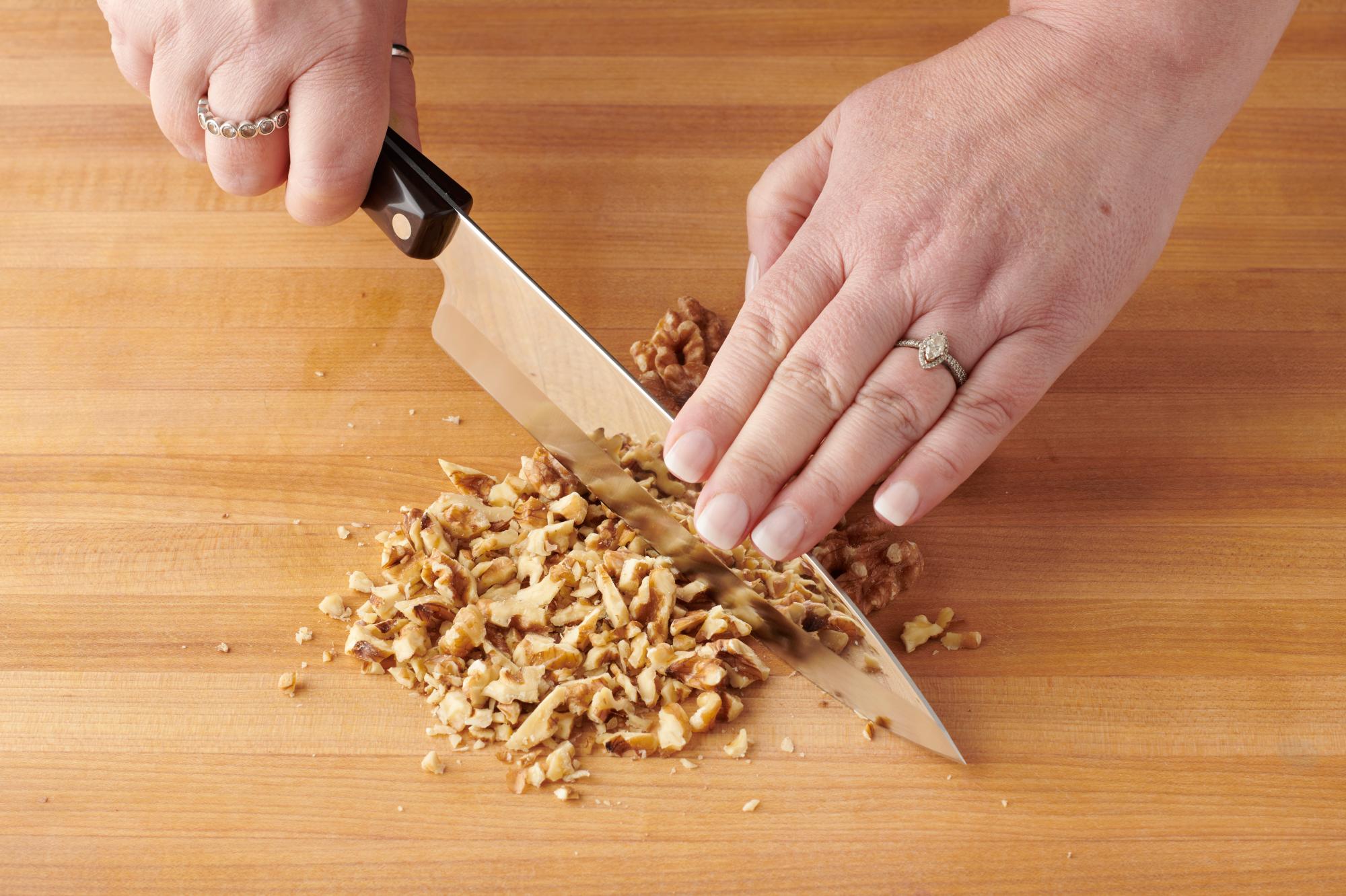 Because the fruit for this salad is on the smaller side, a smaller knife is required for preparing them.
A Santoku-Style 3″ Paring Knife works great for quartering the strawberries on a cutting board.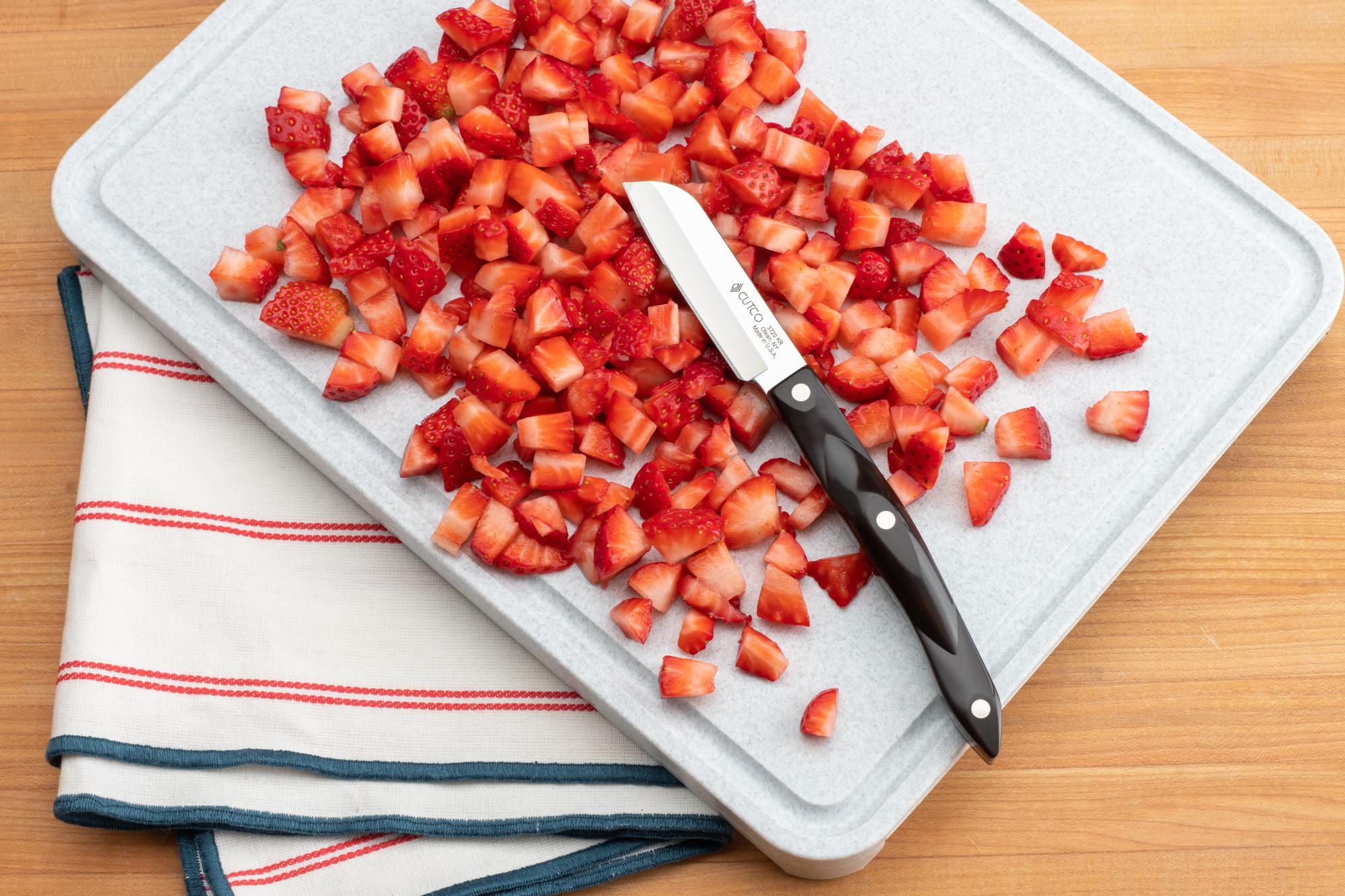 For slicing the kiwi, I highly recommend you try the Mini Cheese Knife. Not only is it sharp, the holes along the blade will prevent the sticky kiwi slices from sticking to it.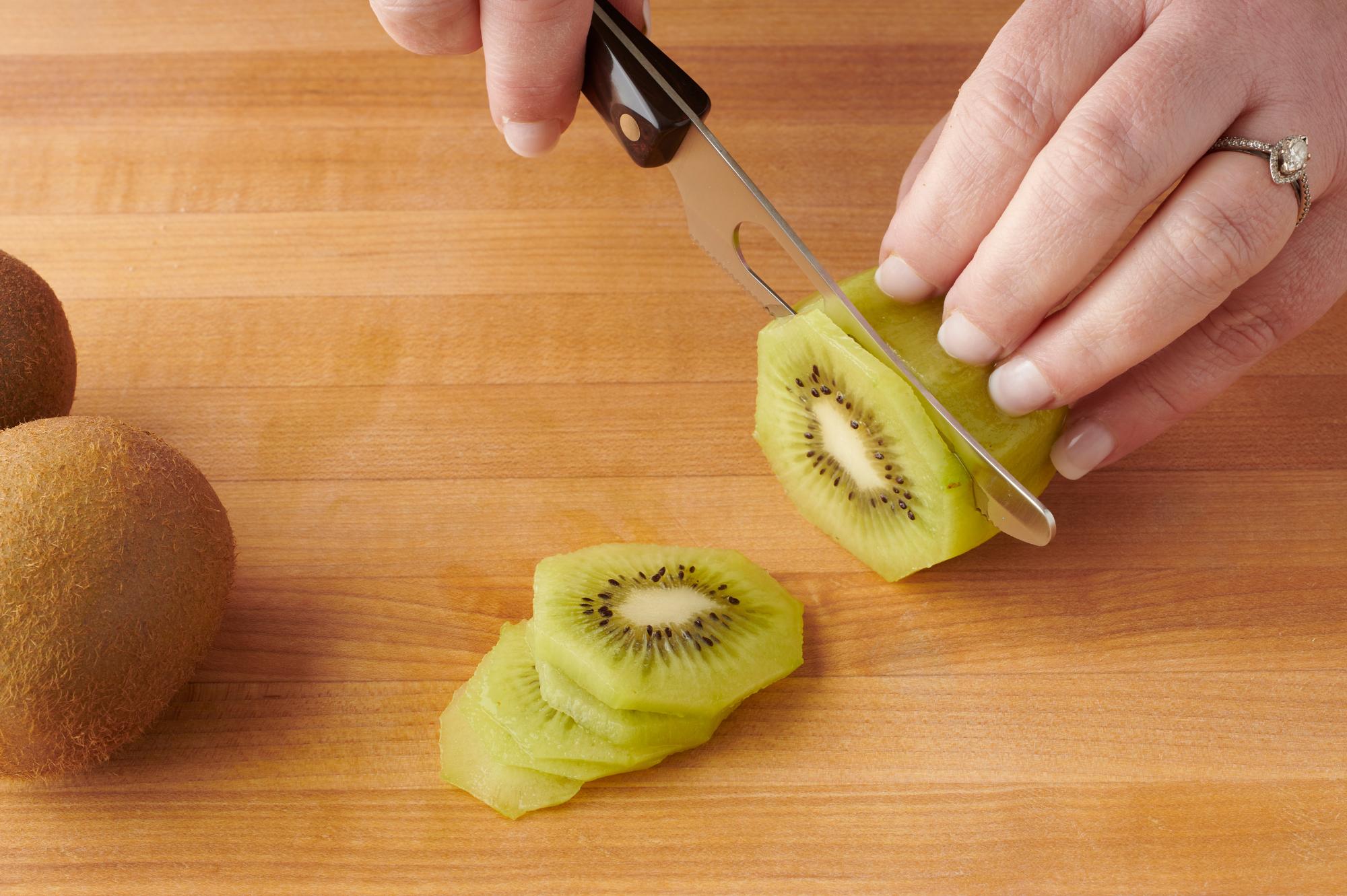 Bacon is listed as optional for this Strawberry, Kiwi and Spinach Salad, but I recommend adding it. The saltiness counterbalances the sweetness for added flavor.
Making the Raspberry Dressing
The dressing for this recipe is so good, you may want to make extra to have on hand for other salads. And, it only has three ingredients!
Toss the raspberry vinegar, raspberry jam and vegetable oil into a small container and shake it up, or you can whisk the ingredients together in a bowl with a Mix-Stir.
Once all the fruit and baby spinach are tossed together it's just a matter of drizzling on the dressing, topping it with nuts, adding bacon (if you're using it) and then digging in.
This salad is incredibly easy to adapt. While the walnuts are wonderful, so are almonds or pecans. And the spinach can be replaced with lettuce, like romaine or butter. Toss in some chopped chicken for a protein boost and consider adding some crumbled goat cheese.
Ingredients
2 tablespoons raspberry vinegar
2 1/2 tablespoons raspberry jam
1/3 cup vegetable oil
8 cups baby spinach, washed and chopped into bite-size pieces
1/2 cup walnuts, chopped
8 strawberries, hulled and quartered
2 kiwis, peeled and sliced
Bacon, optional
Directions
Mix together raspberry vinegar, raspberry jam and vegetable oil in a small container.
Combine spinach, nuts, strawberries and kiwi in a large salad bowl.
Drizzle raspberry dressing on spinach mixture, toss and add more dressing if needed.
Top with bacon (if using) and serve.
Store extra dressing in refrigerator for up to 5 days.
Recommended Tools