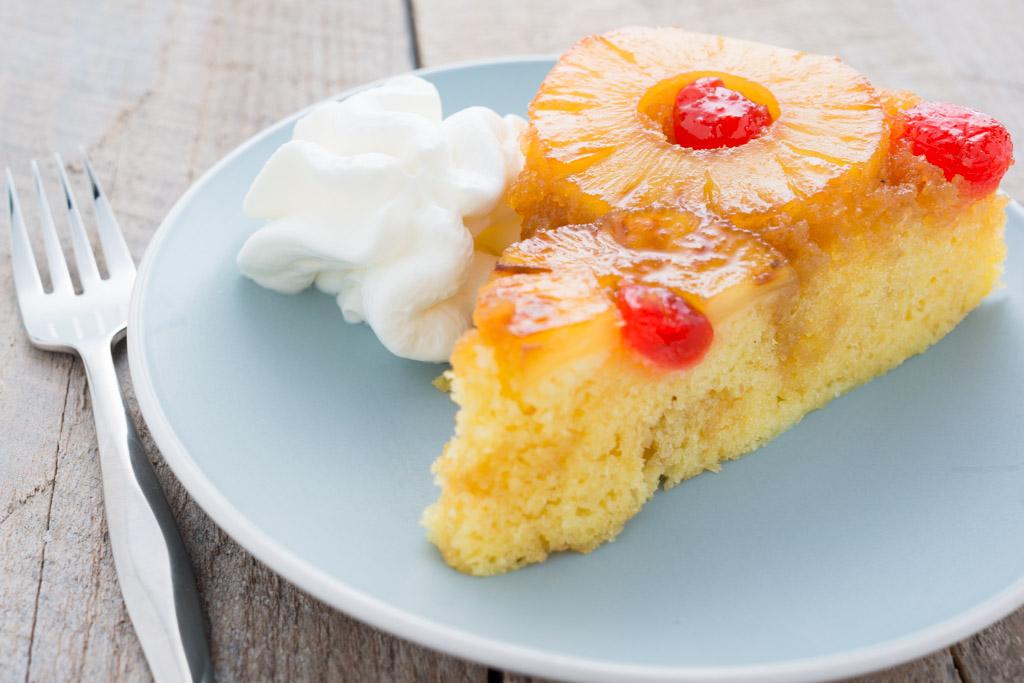 Can you make a Pineapple Upside-Down Cake in the 11-1/2" Cutco Skillet on top of the stove? You bet. It's so quick and easy you'll wonder why you haven't done this before.
My best friend, who's also a former co-worker, has been doing this for years. In fact, when I called her and asked her for the recipe she was in the midst of making a spice cake in the skillet so this method works for other flavors of cake as well. Just as you would do when baking a cake in the oven, make sure the skillet is greased or sprayed with non-stick spray so the cake doesn't stick.
This skillet method produces a moist and light one-layer cake that can be dusted with confectioner's sugar, frosted or served with a dollop of whipped cream. This cake can be a life-saver when you get a call from friends saying they'll be dropping by. If you're like me, you always have some kind of cake mix on hand.
Besides tasting better, it's so much more economical to make something yourself instead of buying it. Some additional combinations to try are cherry pie filling and chocolate cake or apple pie filling and spice cake.
Ingredients
1 20-ounce can sliced pineapple
1 package yellow cake mix
1 stick (4 ounces) butter
1 cup brown sugar
1 jar Maraschino cherries
Directions
Drain pineapple, reserving juice.
Using the Mix-Stir, prepare cake mix according to package instructions, using the reserved juice and, adding water if necessary, for the amount of liquid called for in the directions. Set aside.
Melt butter in the 11-1/2" Cutco Skillet over low heat, swirling it on the bottom and up the sides of the pan. Remove pan from the heat. Sprinkle brown sugar on top of butter.
Place pineapple rings on top of brown sugar. Place a cherry in the center of each pineapple ring and in the gaps between the rings.
Ladle the cake mix on top of the pineapple and smooth it evenly so it's about 1 inch from the top of the pan. Cover the pan with the lid and cook on low heat on the stovetop for 20 – 30 minutes. The cook time will vary depending on the type of stove – gas vs. electric. To test for doneness, insert a toothpick in the cake. If it comes out clean, the cake is done. If not, continue to cook, testing every couple minutes.
Cool in the skillet about 10 minutes. Run a knife around the edge and flip onto a serving platter.
Cool completely. Serve plain or with whipped cream.
Recommended Tools