Steak Sandwiches With Caramelized Onions and Mushrooms
2419 days ago
Skip to recipe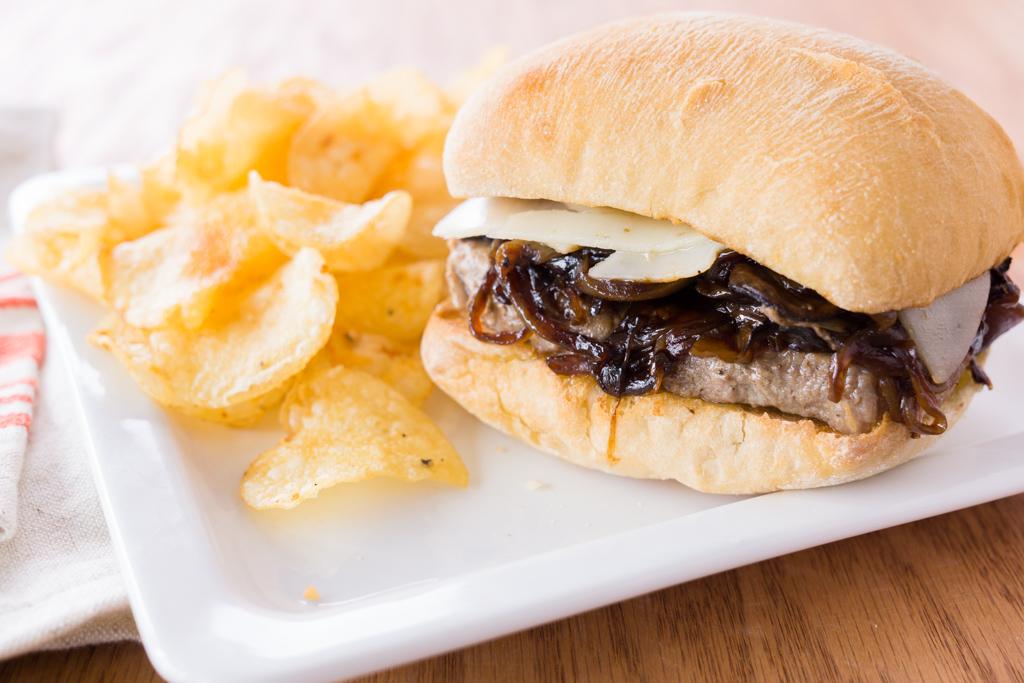 Steak Sandwiches with Caramelized Onions and Mushrooms
Print Recipe
Ingredients
Topping
2 tablespoons butter
2 tablespoons olive oil
2 medium onions, thinly sliced
2 teaspoons Worcestershire sauce
1/4 teaspoon garlic salt
1 tablespoon sugar
Salt and pepper to taste
1 pound white mushrooms, sliced
Steaks
1-2 tablespoons olive oil
4 minute steaks** about 1/8" thick (about 1 1/4 pounds)
Salt and pepper
4 ciabatta rolls, split
4 thin slices of provolone cheese
Directions
For the Topping: Heat the butter and the olive oil in a large skillet over medium heat-high heat. Add the onions, Worcestershire sauce, garlic salt, sugar and salt and pepper. Lower the heat to medium and cook for about 10 minutes, stirring occasionally.
Add the sliced mushrooms and continue to cook until the onions and mushrooms are evenly browned. Stir occasionally, scrapping up the brown bits on the bottom of the pan. If they start to dry out, add little more oil or a little water. The trick is to leave them alone to brown, but not so long that they stick to the pan and burn. After the first 20 to 30 minutes you may want to lower the heat a little.
Continue to cook and scrape until the onions are a rich, brown color. Keep warm.
For the Steak: Heat the olive oil in a skillet over medium-high heat. Add the steaks and cook about 1 minute per side. Season with salt and pepper.
Place the steak on the bottom of a ciabatta roll, top with the warm onions and mushrooms and a slice of provolone cheese and the roll top.
**Minute steaks are usually round or sirloin steaks that have been thinly sliced or pounded thin and tenderized by the butcher. They can also be sold as a cube steak. The main reason it is pounded is so it will cook quickly and retain its flavor. This type of meat is almost always pan-fried, usually in a skillet over medium or medium-high heat and seasoned lightly with salt and pepper. Pre-heating the skillet is one of the best ways to ensure even heat distribution and the steak usually only needs a minute or so on each side. The shorter the cooking time, the better the end result. If the steaks are not thin enough, lightly pound them between 2 sheets of plastic wrap.
Recommended Tools