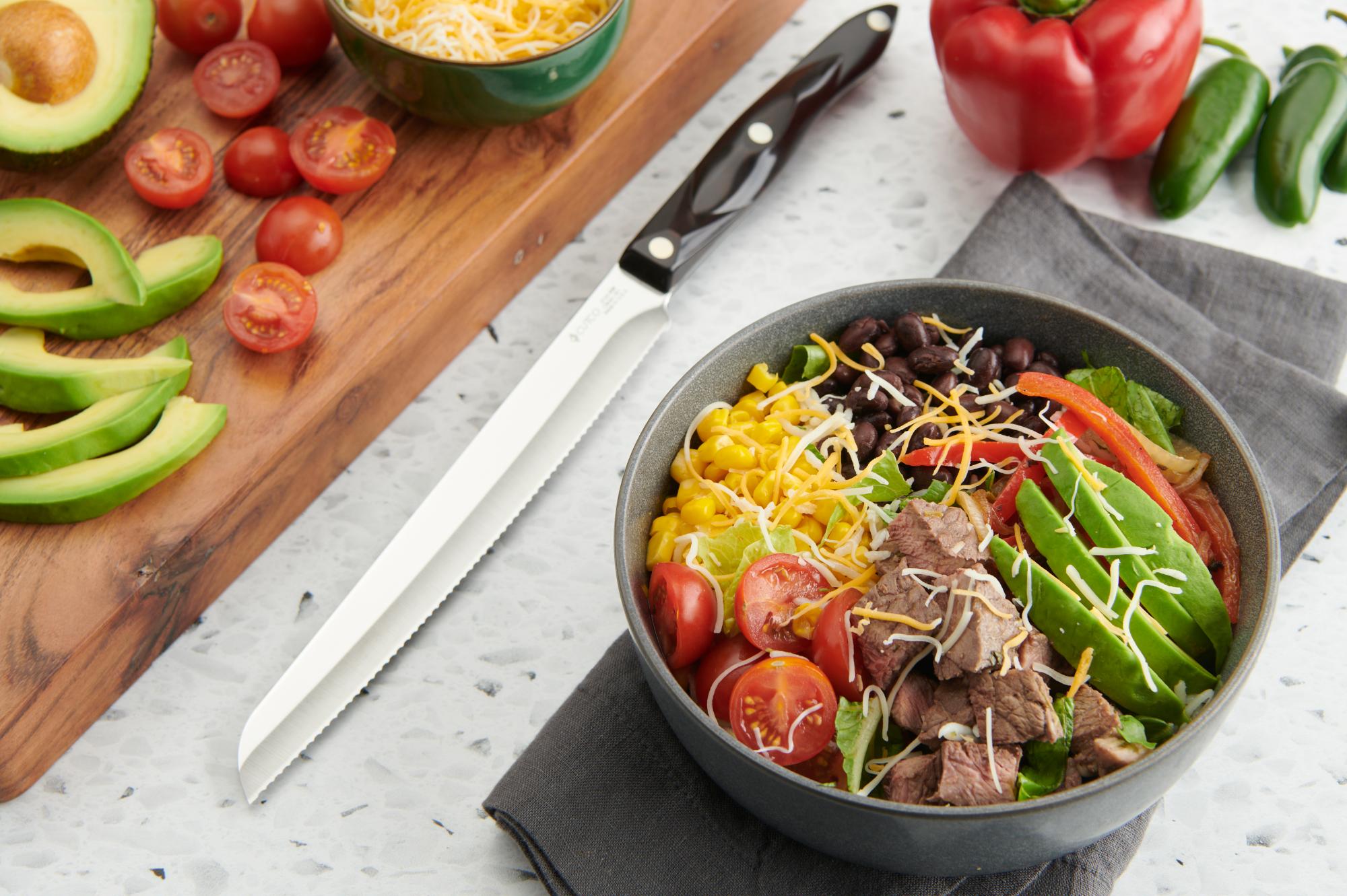 If you're a fan of having steak in your salad, these Steak Burrito Bowls should catch your attention. While lettuce is included in the recipe, it doesn't take center stage. It plays an equal role alongside cubed, marinated steak and a host of other vegetables and flavored rice.
Preparing the Steak
Any cut of steak will do for this recipe, however, I'm a big fan of using sirloin or flank steak. It will be marinated and take on the flavors of cilantro, lime, garlic and jalapeño.
Cook the steak for a few minutes in a hot skillet with some canola oil. Remember that after the steak is removed from the pan it will continue to cook a bit, so make sure to take it out just before it reaches your desired doneness. Our recipe cooks the steak to about medium.
Once the steak is cooked and has rested a few minutes, cut it into cubes using a sharp carving knife, like the Santoku-Style 8" Carver.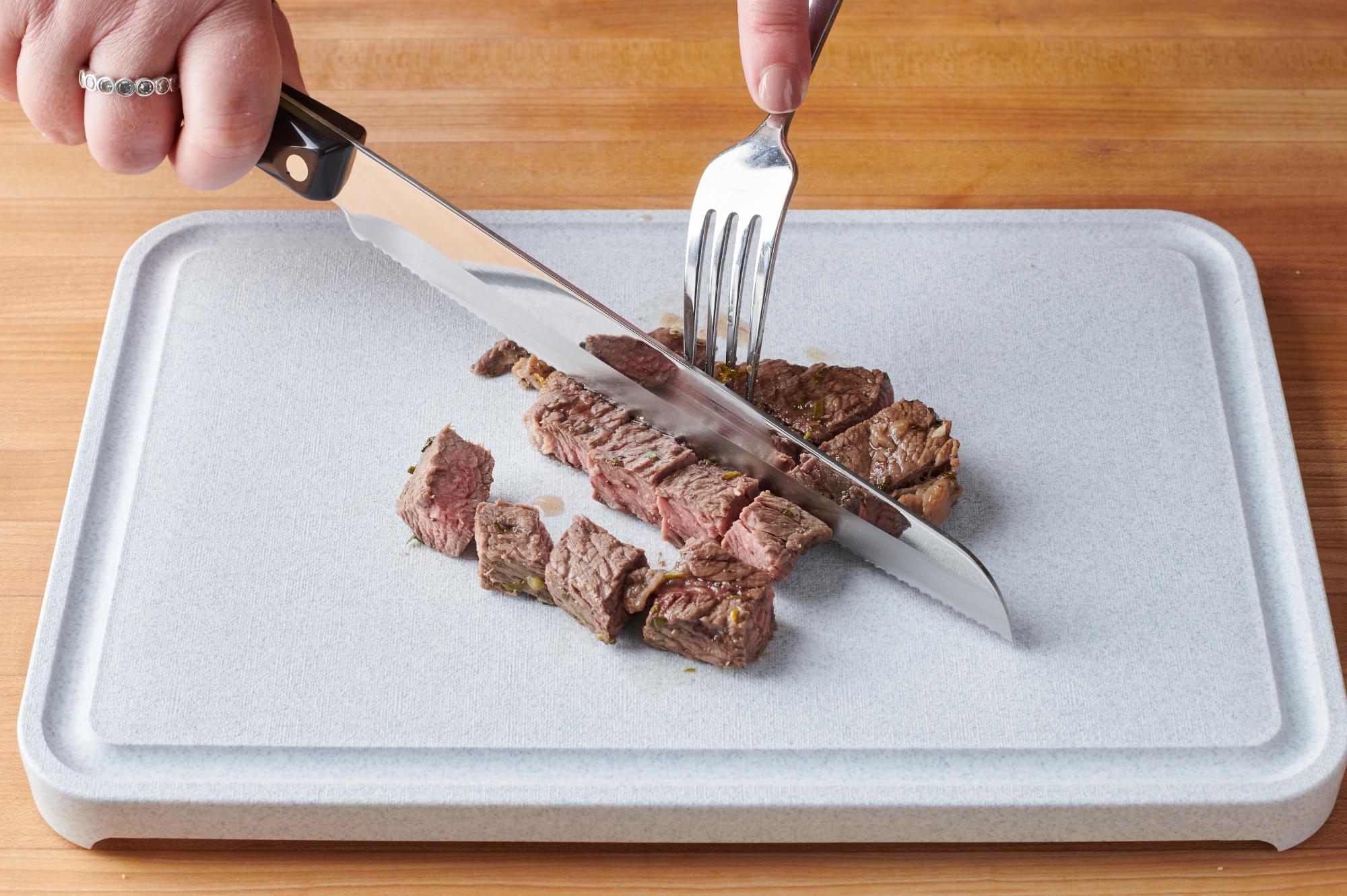 Cutting the Vegetables
When creating bowls like this, keep size in mind when you're cutting the ingredients. You want them to be a good size for scooping onto a fork and eating in one bite.
The 7-5/8″ Petite Chef knife is a good vegetable prep knife. Use it to dice the onion and the green pepper.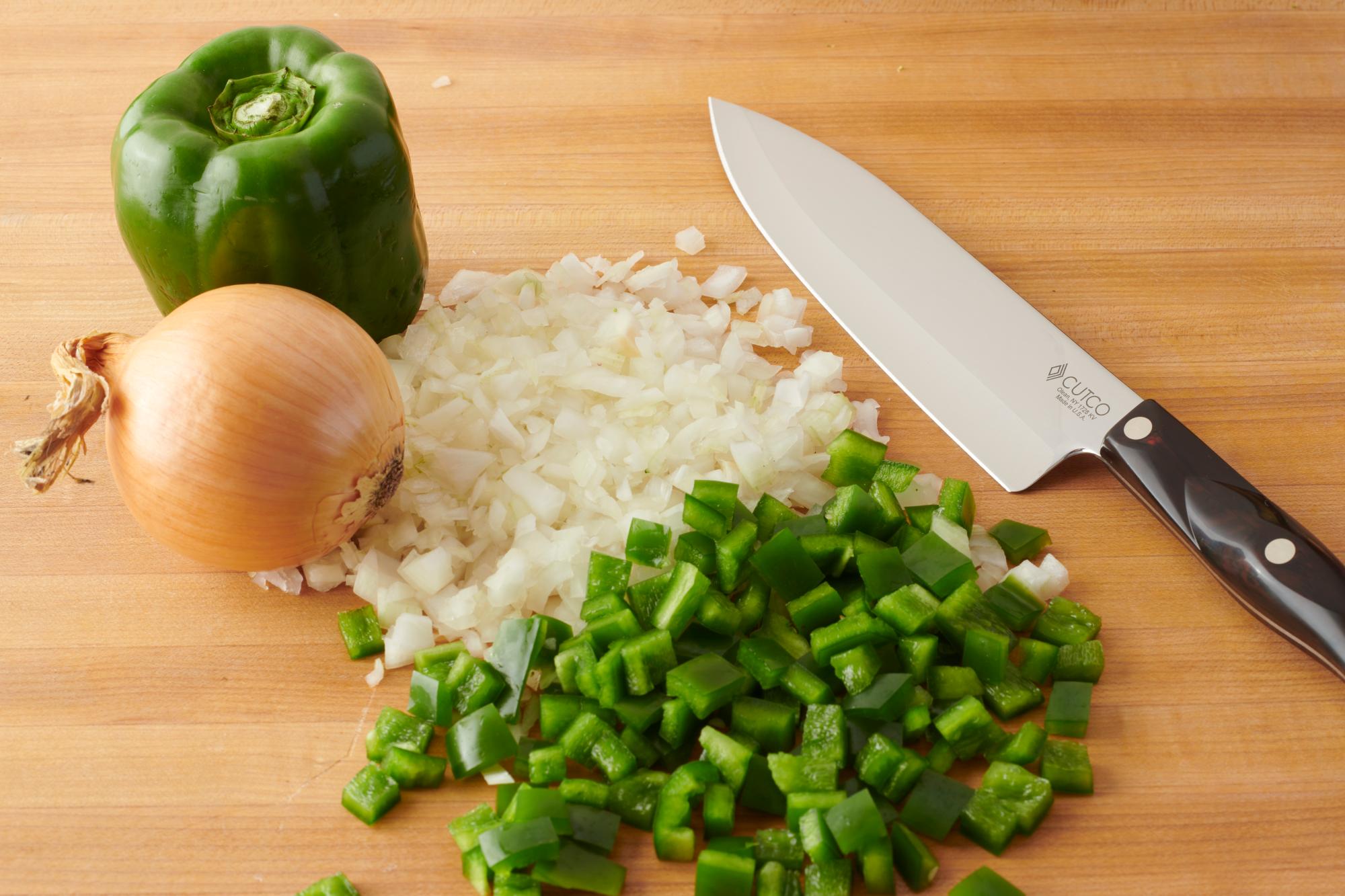 This recipe calls for a lot of cilantro. It is in both the marinade and used as flavoring for the rice. To chop it, also use the 7-5/8" Petite Chef.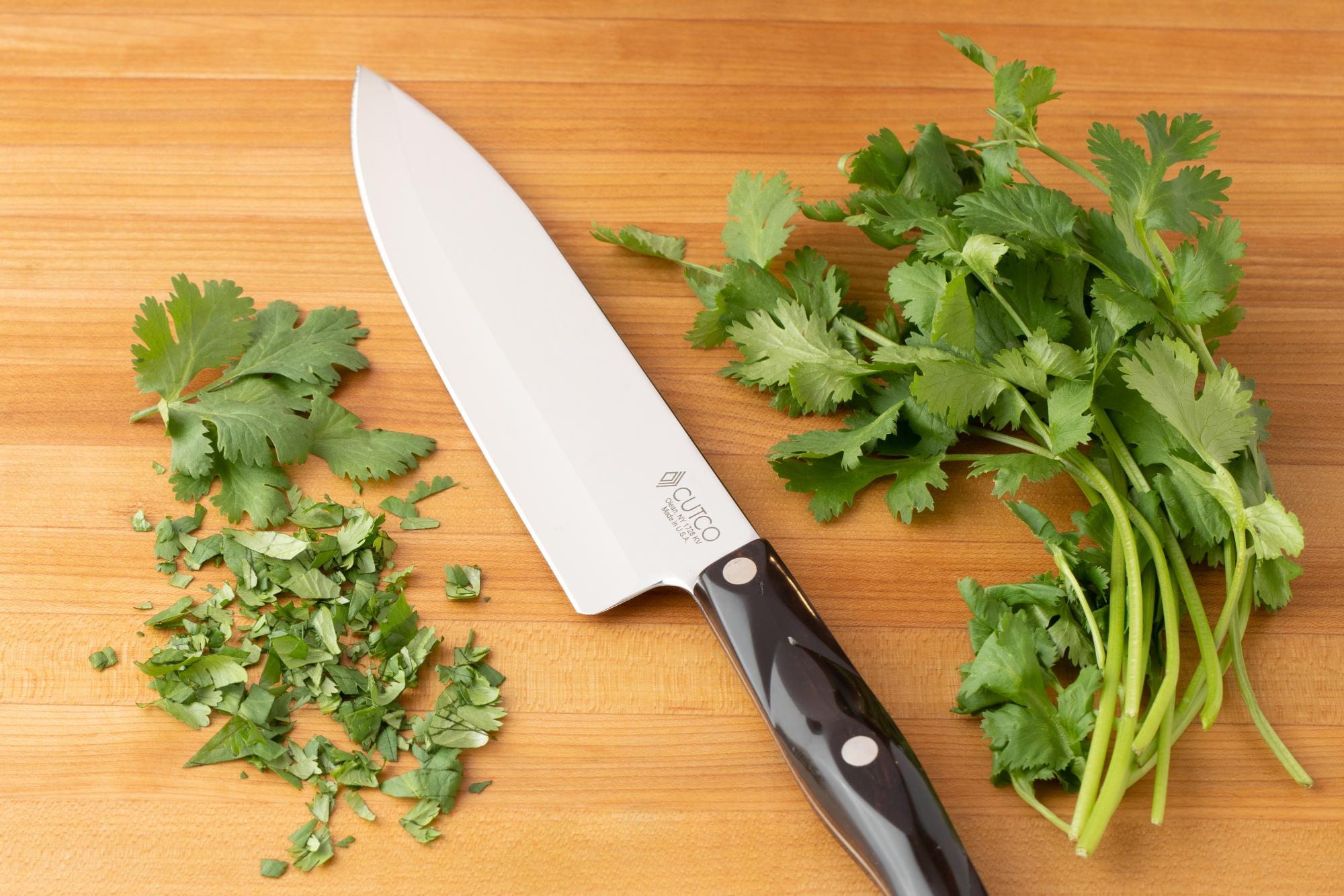 To shred the romaine lettuce, use a 7-3/4″ Petite Slicer to slice thin ribbons without ripping or tearing it.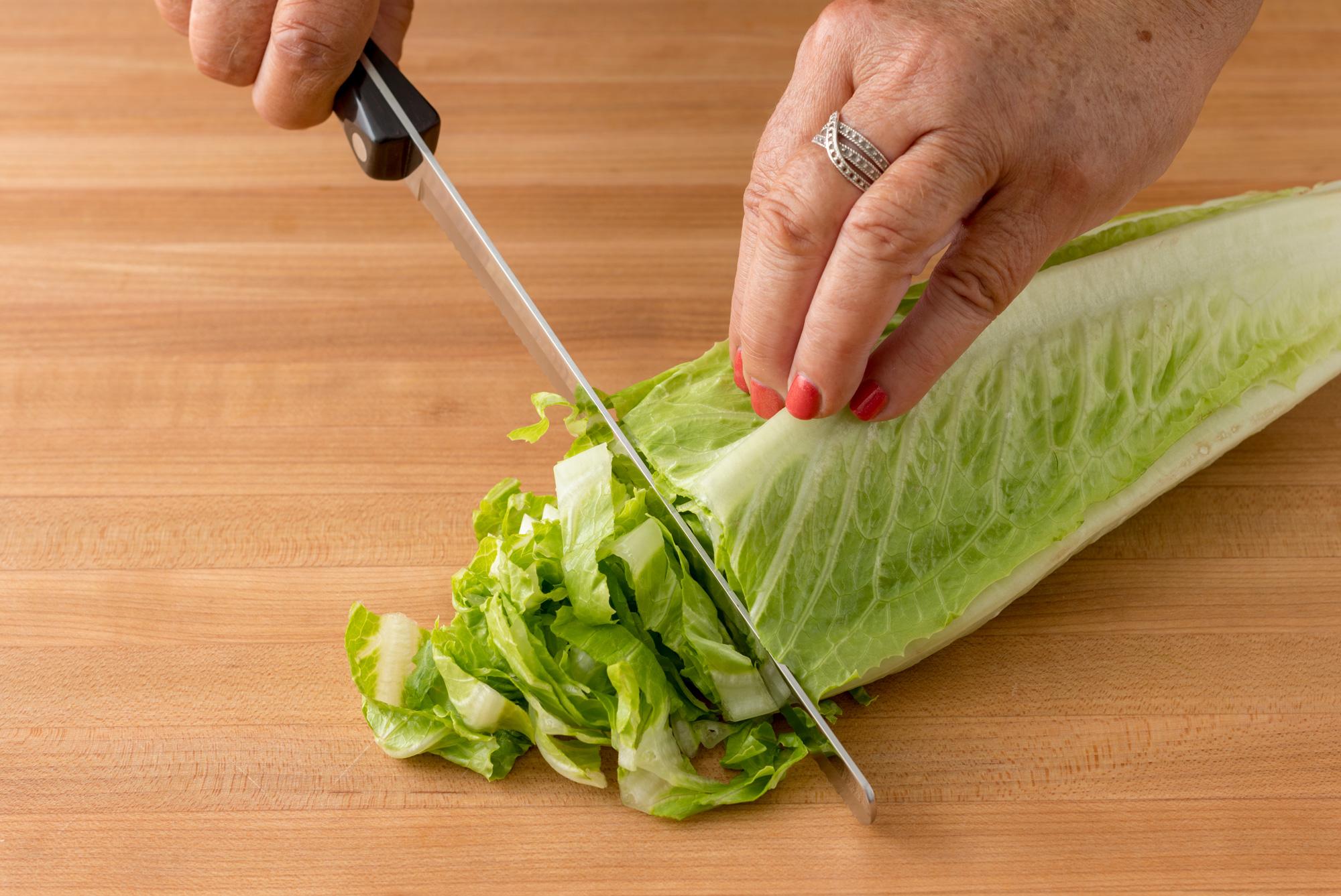 Building the Bowls
To make the bowls, add the rice, followed by black beans, tomatoes, corn, steak, cooked onions and peppers, shredded lettuce, cheese and avocado. What's nice about these is that if there's an ingredient you don't like, leave it out.
With each bite you'll get great flavor that I describe as citrusy and savory. The freshness of these Steak Burrito Bowls makes them great for any day of the week. Consider grilling the steak instead of cooking on the stovetop for a smokier, caramelized flavor.
Ingredients
For the marinade:
1 cup chopped cilantro
1 tablespoon fresh squeezed lime juice (or juice of half a lime)
1/4 cup olive oil
3 garlic cloves, minced
1 jalapeño, chopped
1 teaspoon kosher salt
1/2 teaspoon finely ground black pepper
For the bowls:
4 3-ounce boneless steaks, any cut
2 teaspoons canola oil, divided
1/2 cup thin sliced onions
1/2 cup thin sliced bell peppers
2 tablespoons melted butter
2 cups cooked rice
Bunch of cilantro, minced
2 teaspoons salt
Juice of 1/2 lime
1 cup canned black beans, drained
1/2 cup cherry tomatoes, halved
1/2 cup canned yellow corn, drained
4 cups romaine lettuce, chopped
1/2 cup shredded mozzarella or shredded Mexican blend cheese
Sliced avocado
Directions
Make the marinade by mixing the ingredients together in a bowl.
Marinate the steaks in the marinade for 2 to 3 hours. After the steaks have marinated, heat a skillet with 1 teaspoon of canola oil. Cook the steaks for 2 to 3 minutes per side, remove and allow to rest for 5 minutes before cutting into bite-sized pieces.
Add the other teaspoon of canola oil along with the onions and peppers to the pan and cook for 2 to 5 minutes.
Pour melted butter over cooked rice and toss with minced cilantro, salt and lime juice.
To serve, layer ingredients in small individual bowls as follows: rice, black beans, tomatoes, corn, steak, cooked onions and peppers, shredded lettuce, cheese and avocado.
Recommended Tools