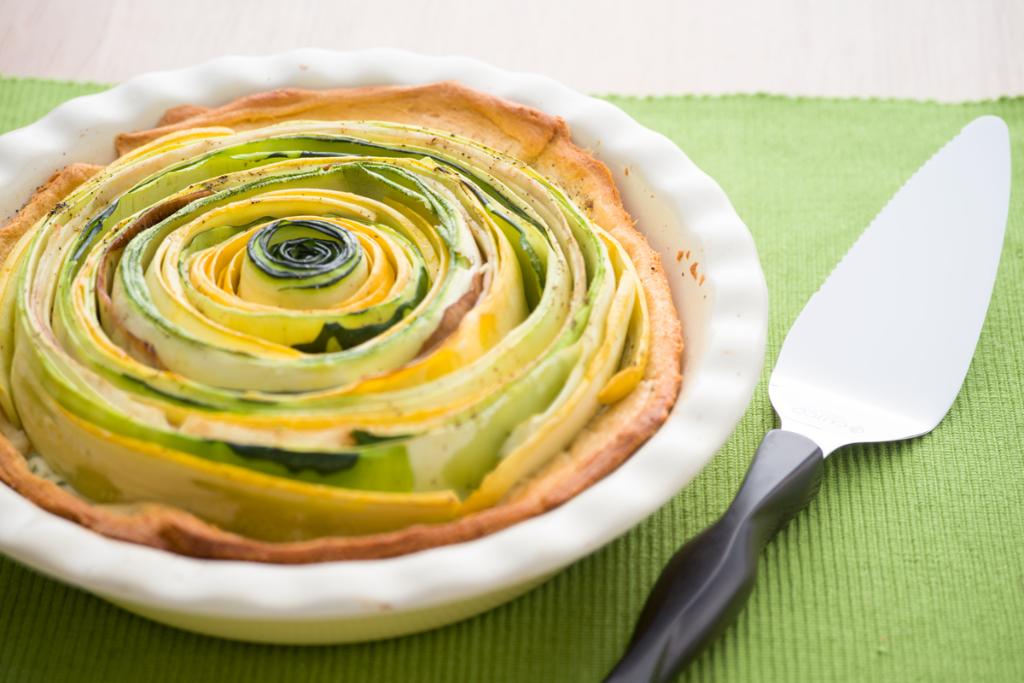 I love to entertain and find new ways to present old favorites to friends and family. I especially like to bring a bit of creativity to the presentation of a dish, and this Spiral Vegetable Tart was the perfect combination of flavor and fun. It looks absolutely beautiful on the table and it tastes amazing.
This tart also offers an opportunity to disguise your family's not-so-favorite vegetables. Because the vegetables are thinly sliced and wrap around each other to create the spiral, they'll never notice you slipped in some eggplant. At least my husband didn't, and he raved about this dish. You can also adapt this recipe to your taste by adding other vegetables, such as carrots.
Thinly Slicing Vegetables
A very sharp knife is required for this recipe in order to cut your vegetables thinly and evenly. Also, make sure the blade is long enough to slice through the length of whatever vegetable you're slicing. Another tip for smooth slicing is to move your knife forward and down as you cut.
For the eggplant, I used my personal favorite, the Vegetable Knife. This knife gave me the control to evenly slice the eggplant and I was then able to stack the slices to cut them so they had a straight edge.
For the zucchini and yellow squash, I turned to the 7-5/8" Petite Chef. The length of this knife was perfect for these particular vegetables and once again, offered me the control to make thin and even slices.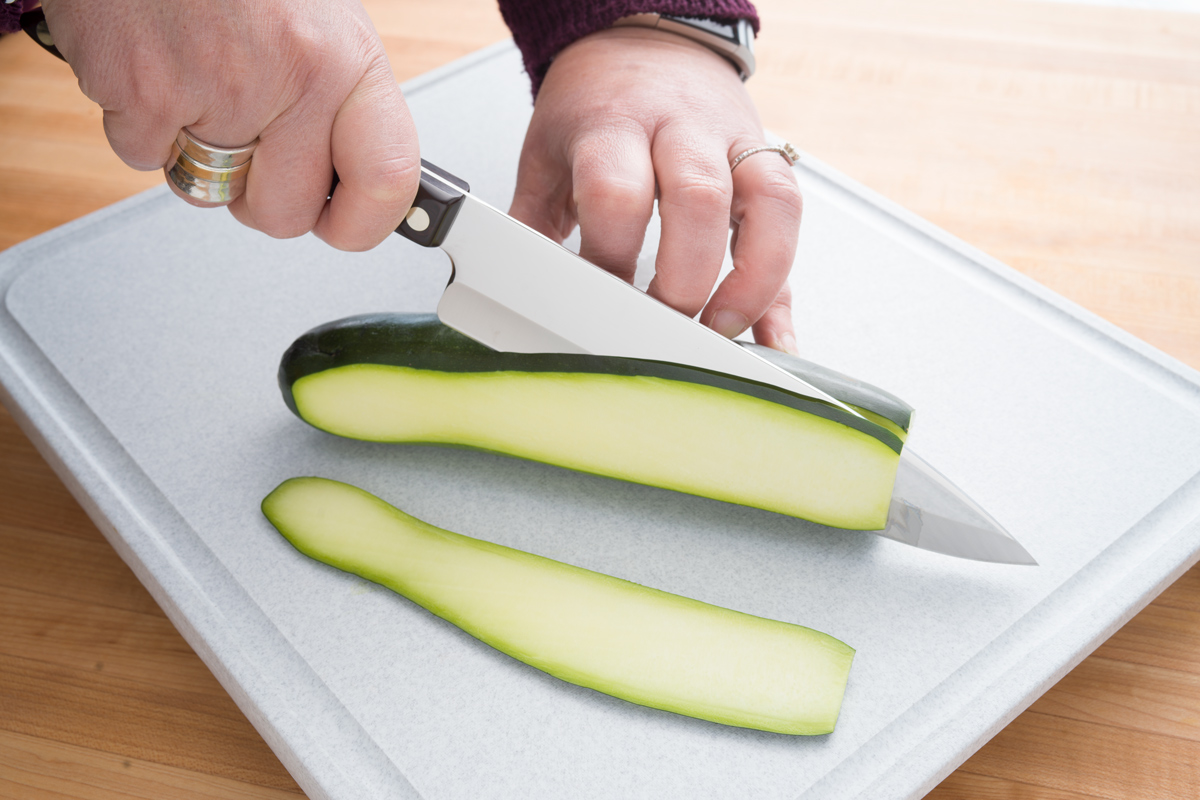 While the slicing of vegetables takes a bit of time, your effort will be well worth it when you place this vegetable side dish on your table.
Ingredients
1 tube refrigerated crescent dough sheet
8 ounces cream cheese, softened
1/2 cup freshly grated Parmesan
1/4 cup freshly grated Asiago
1 teaspoon lemon juice
1 teaspoon chopped fresh thyme
1 tablespoon chopped fresh parsley
Kosher salt
Freshly ground black pepper
1 large zucchini
1 large yellow squash
1 medium eggplant
1 tablespoon extra-virgin olive oil
Directions
Preheat oven to 350°F.
Unroll crescent dough sheet and place in an 8" pie pan. Trim dough if needed. Bake until slightly golden, about 10 minutes, then let cool slightly.
Meanwhile, in a large bowl, combine cream cheese, Parmesan, Asiago, lemon juice, thyme and parsley. Season with salt and pepper and beat until mixture is very smooth.
Lay each vegetable on a cutting board and thinly slice each vegetable lengthwise into long thick strips, about 1/8" thick. (You should be able to bend them.) You will then want to stack your slices and trim one side so the slices have an even edge.
Spread cream cheese mixture on baked crescent crust. Roll one of the vegetable strips into a tight coil and place it in the center of the tart, even edge down. Arrange vegetable slices in tight concentric circles around the middle, alternating colors, until the tart is filled. Slightly press the vegetables into the cheese mixture to secure them. Drizzle the top with olive oil and season with salt and pepper.
Bake until the vegetables are tender and the crust is a deep golden, 35 to 40 minutes. Serve warm or at room temperature.
Recommended Tools